How to Make 20 Dollars a Day Online in Your Spare Time
We foster relationships with brands we use and trust. The testimonials on our site represent real experiences, but they don't guarantee you'll achieve similar results. When you make purchases through our links to our partners, we may earn a commission. Your support helps us continue this work. You can read our full disclosure here.
I remember there was a time when an extra 20 dollars a day could've changed our lives. When I found out I was pregnant while working full time, I calculated our family budget dozens of times hoping to find a way to quit my job.
The numbers boiled down to needing to earn just a few hundred dollars per month to supplement my husband's income. I knew I could make it work, I just didn't have a clear plan at the time!
After I learned how to earn 20 dollars online per day, I've been able to duplicate the process many times over. As a result, I've replaced my full time income and much more.
If you need to make $20 instantly online and even turn it into a recurring income, then these legit opportunities might be right for you.
Quick Ways to Make $20 Online
It's not easy to learn how to make $20 right now when you don't even know where to start. To move forward, choose at least one side hustle on this list and commit to it. You can potentially build your income up to 20 additional dollars a day or more in time.
1. Take Surveys
There is a wealth of knowledge to be learned and much of that comes from learning through others. Companies like InboxDollars use this research tactic to enhance their partners' products and understand what consumers like. They do this through paid online surveys.
Take the opportunity to share your knowledge and experiences with the highest paying survey sites. Each time you take a survey, you get compensated for your responses.
Some paid surveys on sites like InboxDollars can be completed in just a few minutes. Find pockets of time during your day to complete surveys and make $20 instantly online.
2. Upload Your Receipts for Cash
When you think about all the money you need to allocate each month for groceries, this can put a huge dent in your budget. Take back that control and learn how to make 20 dollars just by uploading your grocery receipts.
There are several sites that pay you to upload your receipts. Whether it's groceries or buying new clothes for the constantly growing children in your home, receipt uploads might be the buffer you need each month to pad your wallet.
From a few cents here to a couple dollars there each week, making an extra $20 isn't too difficult to accomplish. Start with an app like NCP ReCap and upload the recent receipts you have on hand.
3. Test and Review Products
Research is one of the top ways our world is able to grow and improve. Companies need feedback about their visions and to do so, they need live testers to try their products. For this research, companies actually pay others to review and test products.
This can be a great way to make $20 fast as there are no limits to how many companies you choose to sign up with to test products. Simply test the product, fill out the questionnaire about the product, and get paid for your feedback. Easily add this into your weekend schedule or dedicate some time in your daily routine.
Opinion Outpost is a company that pays its members to test and review products. You can sign up and start receiving paid opportunities in just a few minutes.
4. Enter to Win Free Gift Cards
If you like getting free stuff, this one might just be for you. Who wouldn't like to win free money?
Find companies that are offering free giveaways such as gift cards. This is an easy way to try your luck at winning something completely free, even if the gift card isn't for a place that you like. Win free gift cards then exchange them for Visa Gift Cards.
Use that Visa Gift Card to convert into cash. If you do this often, you can surely increase your bank account quickly. You might be surprised to learn just how easy it is.
5. Post Ads Online
Partner with companies to display their brands on your own social media pages or website for some affiliate cash. You can do this by becoming a brand ambassador for a clothing brand, allowing another company to rent ad space on your website, or promoting products for other businesses and getting paid for the sales.
There are plenty of ways to get paid to post ads. This can help you make 20 dollars fast and possibly even more. Use this method continuously and watch your income grow.
Related: How to Become a Social Media Manager
6. Flip Smartphones
I recently purged my home and found some smartphones that had been collecting dust in a drawer somewhere. Little did I know that I was just leaving money to collect dust.
Find the old smartphones in your home and turn them into cash. Because they are older phones, they won't be worth what you paid for them back when you originally bought them. However, some of those phones could make all the difference for you this month.
Use Buyback Boss to exchange those dust collectors for cash. You could make $20 instantly online for turning in your old smartphones. Collect old phones from others around you to increase the amount you earn from Buyback Boss.
Related: How to Get Paid to Color in Your Spare Time
Ways to Make $20 Dollars a Day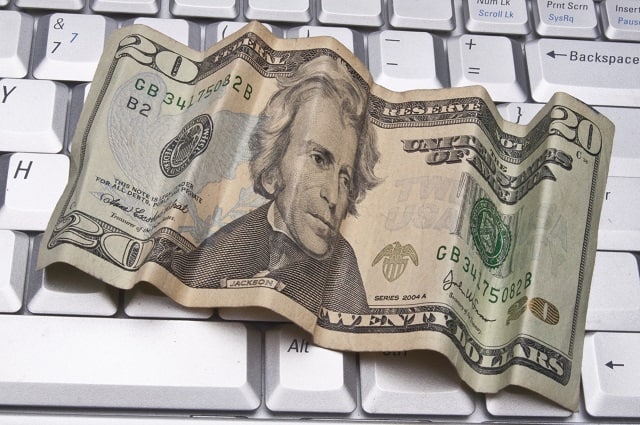 Earning $20 more per day doesn't seem impossible to do and it can make a difference in the budget if you really dedicate yourself to doing it daily. Here are more ways you can meet your goal.
7. Deliver Groceries
Spend a few hours per week delivering groceries to people in your neighborhood. This is a convenience many are willing to pay for so don't miss your chance to join the calling. Simply pick up the orders from local stores, deliver them to the customer, and get paid. You can also get tips for each delivery, which means you'll increase your income even more.
Join some of the best delivery apps to quickly earn $20 a day. You don't have to dedicate too much of your time doing it each day as long as you meet your personal financial goal.
8. Teach English Online
If you are someone who enjoys interacting with kids and helping them learn a new language, then this is the perfect opportunity for you.
Teaching English with VIPKid is a rewarding way to earn $20 online. Depending on your education and experience level, many teachers make around $8 per 25-minute class teaching children 1:1. All you need to do is teach three classes per day, which equates to 75 minutes a day, to meet your daily goal.
Additionally, VIPKid pays bonuses per class as well as for recruiting new teachers onto the platform. Check out how you can get started and navigate the VIPKid hiring process.
9. Proofread Articles
Proofreading is something many of us do on a daily basis. Whether it's reading recipes, looking at ads online, or driving to the store, there are several opportunities our brains engage with constantly that include proofreading what we see.
If you find joy in proofreading, then join Caitlin's free Proofread Anywhere webinar to learn how you can earn money proofreading books and blogs. Caitlin is a successful proofreader who has been showing others how to have the life they desire by working from anywhere in the world with proofreading.
Even just one proofreading client can help you make 20 dollars fast.
10. Be a Virtual Assistant
Virtual assisting is one of the most flexible jobs out there because you can typically work any time regardless of where you are in the world. This is a great opportunity for you if this is the lifestyle you crave.
Being a virtual assistant includes a wide range of tasks, such as creating and responding to emails, booking appointments, generating leads for a business, creating graphics, and more. As long as you are committed to completing daily tasks for your client, there is no reason why you can't make at least $20 daily.
It's okay if you don't know how to become a virtual assistant because Gina Horkey offers Fully Booked VA which will teach you how to get started. Gina is a mom of five who has successfully taught others over the years how to become virtual assistants. Her free workbook teaches others how to get into the virtual assisting industry and where to find clients.
11. Write or Edit Articles
Reading and writing are part of life, but not everyone enjoys doing them. If you are someone who does enjoy them, then consider freelance writing as your key to making $20 fast online.
As a freelance writer, you can easily make $20 per writing or editing project even if you only take on one client. Many freelance writers charge per word. This means that writers can roughly make up to $20 in an hour. Complete projects daily during your lunch break, nap time for the kids, or just before going to bed and have your income grow dramatically over the month.
12. Review Books
Get in on some exclusive material when you get paid to read books. Oftentimes, authors need another set of eyes to review their books before publishing them. This is your chance to read some great books before they get on the shelf.
Additionally, you can create a blog that is dedicated to book reviews. This will increase the number of books you read and help increase your monthly income at the same time. Get lost in a book while getting paid to do so.
13. Sell Your Photography
There are plenty of sites online that will pay you to take pictures. Notice what kind of images are trending, take pictures that match the trends, and sell them online. It's interesting to learn just what kind of images people will pay for.
You don't have to be a professional photographer to sell your photos. Start out small on places like Etsy before moving up to bigger sites. You can also sell pictures you've taken from your phone to make $20 in no time.
14. Invest Online
Investing can seem scary because it is a risk whether you'll see that money again or not. The premise surrounding investments is that you have to invest large amounts in order for it to be worthwhile. You'll be happy to know that there are legitimate ways to invest and make money daily that don't require large deposits up front.
There is no guarantee that you will make money with investing. However, your money also won't have the chance to grow if you don't try. Consider putting money aside for investing and watch it grow daily. You can make 20 dollars fast using this method.
Related: How to Invest in Amazon
15. Sell Clothes on Poshmark
Surely there are clothes in your closet that haven't been worn in a while. For gently used items that are in good condition, learn how to sell them on Poshmark. Poshmark is a site dedicated to selling items from one person to another. Articles of clothing for men, women, and children are hot items on the site.
Go through the clothes in your home and consider getting rid of some to make $20 fast. Use the Poshmark app to quickly list your items for sale with pictures and accurate descriptions of them.
Related: Best Places to Sell Clothes
16. Sell Printables on Etsy
Set up a passive income stream selling printables on Etsy. Spend time at the beginning creating and designing printables that others are looking to buy. Keep those items available for digital downloads for customers to continually purchase without you having to do much more work.
Customers like to purchase printables that include to-do lists, journal pages, calendars, grocery lists, etc. Create printables with your own flare to keep customers coming back to your shop. Set your prices at a range other printables are selling for and become a competitor in the market. Learn how to start an Etsy shop and start listing your printables to sell online.
Related: Best Things to Sell on Etsy
17. Start a Niche Site
Start a niche site and learn how to earn 20 dollars online. It's a simple strategy that takes time to implement at first, but if you stay consistent with it, your income can steadily rise.
Content marketing is a way to write about what excites you. If there is an audience for it, then you can write about it. Generate traffic to your site, display ads or set up affiliate links, and get paid. Create content that others will want to read to entice them back to your site day after day.
Related: How to Get Paid to Share Links
18. Edit Photos
Consider all the image types that are available to edit: real estate, wedding, floral arrangements, food, concerts, etc. There is no shortage of opportunities to edit photos for others. Offer photo editing services to photographers in your area.
Photographers get paid to capture the special moments and translate those into images that sell, regardless of the industry. Spending time editing photos can be cumbersome to photographers and can take away the opportunity for them to book more shoots. Your photo editing services can save them time and free up their days for more sessions.
Photo editing can be as quick as two minutes per image. Think about how many images you can take on and the time it will take to complete in order for you to set your prices. If you charge $20 per hour, then you could potentially edit 30 images in that time.
19. Write and Sell eBooks
eBooks are a great idea for generating passive income. Writing the eBook will take time initially, but once you have it up for sale, it can generate money again and again. If you are someone who can write eBooks on a consistent basis, then this is the perfect option for you.
Sell your eBooks on your site or on Amazon for others to buy. Purchases can happen at any time of the day. Therefore, the money you make with your eBooks can become a monthly recurring revenue.
Related: 36 Places to Get Paid for Your Inventions
What Will You Do to Make 20 Dollars a Day Online?
If you are willing to do some work, making $20 a day online isn't difficult to do. It really depends on the type of job you want to do and how quickly you can get it done. Thankfully, this list is filled with many ideas that can appeal to nearly anyone.
From simple receipt uploads to freelancing and even teaching others a new language, the opportunities available are enough to make a huge difference in your monthly budget. Consider all the options to ensure that the job you choose will be fun for you to do in addition to filling your pocket.
We all have our reasons for wanting to know how to make $20 right now. Regardless of your reason, you can make it happen.
Related: Best Things to Sell to Make Money
---
We appreciate the time you've spent reading this post and your interest is not lost on us. Your thoughts, questions, or experiences related to the topic are most welcome. Each comment adds strength to our community. We ensure every comment receives our attention, and we take the time to provide thoughtful responses. Once again, thank you for being a part of this conversation. Click here to leave a comment.