10 Ways to Get Paid to Share Links on The Internet
We foster relationships with brands we use and trust. The testimonials on our site represent real experiences, but they don't guarantee you'll achieve similar results. When you make purchases through our links to our partners, we may earn a commission. Your support helps us continue this work. You can read our full disclosure here.
If I had to summarize my career in just a few words, I would say that I get paid to share links. I affiliate with trusted brands to post my unique referral links in exchange for a commission – and you can do the same.
Link sharing entices people to click and eventually make a purchase. Getting paid to copy and paste links won't take up too much of your time, but I do recommend having some knowledge about or experience with the affiliate companies you use.
Start your own link-sharing side income by browsing through the organizations listed below, which pay for shared links. Many of them offer free services, making earning money from them that much more enticing.
How Does Link Sharing Work?
Affiliate marketing is the most popular way to get paid to share links on the internet.
This is beneficial for both the company itself and the affiliate (you) who shared the link. You will give the organization exposure to a new audience and get paid if people complete a sign-up or purchase through your unique link.
Related: How to Get Paid to Click Ads
Companies That Will Pay You to Share Links
1. Cash App
Cash App is a digital platform that allows its users to send cash to others. Participants can also use the app to make purchases with an attached debit card, earning Bitcoin and cash back.
Use this app to both send and receive money. You can also utilize Cash App to make money online for free by sharing links through its referral program.
When your friends and family members sign up for the app using your Cash App referral code, you will get paid for their participation and receive a bonus amount on your referral. Cash App will pay you up to $15 each time someone new enters your code and uses the app for the first time.
Related: Legit Surveys That Send Money to Cash App
2. InboxDollars
The online platform InboxDollars pays its members for playing games, browsing the web, completing offers, and taking surveys. The platform's name is derived from its method of sending surveys to affiliates' email inboxes.
InboxDollars also pays users to refer friends. Earn an extra $1 for each of the first five individuals who sign up using your referral link. You will also make an additional 30 percent recurring income on all of your referrals' earnings. Share your InboxDollars link online to start making extra money now.
Related: InboxDollars Review
3. Swagbucks
Swagbucks is a well-known loyalty and rewards program that offers members a variety of ways in which to get paid and save, like taking surveys and using promo codes, plus some cashback opportunities.
This platform also allows users to make money by sharing links through its "Invite Your Friend" program. You will receive 10 percent of the money that Swagbucks makes through your referrals.
Related: Swagbucks Review
4. Rakuten
Rakuten will put cash back into your wallet for the items you purchase from popular retailers like Macy's, Walmart, Nike, and Ulta.
Use the Rakuten refer-a-friend program to get paid to share links. Those who sign up for a free account through your link must make a qualifying purchase in order for you to be eligible for a bonus. That reward changes frequently, so keep an eye on current promotions.
At the time of this writing, you will earn $30 each time someone uses your link to create an account and make a purchase.
Related: Rakuten Review
5. Robinhood
The investment app Robinhood offers commission-free trading of stocks, ETFs, and Bitcoin.
Register and get a free stock signup bonus of up to $225 in value. What you receive will probably be worth much less than that, but it's still an exciting incentive to get started.
Invite your friends and family members, and you will both earn free stock. Use this method to get started investing and making money daily.
6. Amazon
We're all familiar with Amazon, the popular eCommerce platform that allows people to purchase literally anything, "from A to Z." This business giant makes it convenient for consumers to purchase products that will then be delivered right to their doors. This no-hassle, easy-to-use platform is hugely popular with online shoppers.
Become an Amazon affiliate and get paid to share links on the internet. Post your unique links online, highlighting why you've recommended those specific products. The commission you will make through this affiliate will vary, depending on the specific item.
Related: How to Become a Product Reviewer
Networks That Pay You to Share Links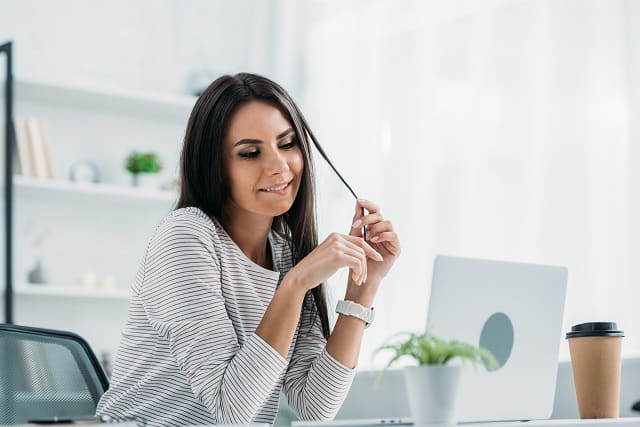 7. ShareASale
ShareASale connects businesses with affiliate users who make money sharing links. This large platform is home to many organizations that will pay you a commission for purchases made through your links.
Every participating business will offer its own commission and/or payment amount based on its products and services. Popular affiliates within ShareASale include Reebok, SHEIN, Cricut, Dollar Tree, and AeroFlow Dynamics.
Related: Is the $750 SHEIN Gift Card Real or Fake?
8. Involve Asia
Readers in Asia and surrounding areas should check out Involve Asia, a network dedicated to helping its affiliates make money by promoting brands.
Involve Asia influencers get paid to share links on Facebook or other social media platforms. Connect with the network to find brands you love, including Amazon, Shopee, Zalora, and Sephora.
9. FlexOffers
FlexOffers recruits affiliates to promote its partners' products. This large online affiliate marketing network offers more than 12,000 affiliate programs from which to choose.
Make money by sharing links using one or more of FlexOffers' affiliate program partnerships, which include companies like FlexJobs, LinkedIn, Norton, and Microsoft.
10. Commission Junction
Commission Junction – which is also known as CJ Affiliate – is the world's largest affiliate marketing network. CJ Affiliate helps brands grow their reach by connecting them with its affiliate social media influencers.
Online participants are paid a commission for sharing CJ Affiliate brand links to popular partnering companies like Barnes & Noble, IHG, Overstock, and Office Depot.
Related: Companies That Pay for Invention Ideas
Places to Share Links to Make Money
A Blog or Website
Promoting and sharing links on your own blog or website is a great way to entice your viewers to make a purchase or sign up through you. Share details about why you recommend a brand or company, and encourage them to make a purchase or sign up through your link.
You can include any type of content you want on your personal blog or website, so you could promote a plethora of products and brands – increasing your income even further. Using a blog or website is a great way to generate a passive income; you will have to write and publish a post only once, and it will continue to make you money for years to come.
Use this step-by-step guide to learn how to start your own blog and begin earning money right away.
Related: 100 Travel Blog Names Ideas
Social Media
Influencers on online platforms like TikTok and Instagram earn a commission any time a purchase is made using their links and codes.
Become a social media influencer to get paid to share links and promote the brands and products you already love. Build a social media following, gain your followers' trust, and showcase the products you love – all while getting paid.
Related: How to Get Paid to Like Instagram Photos
Forums
Join forums that apply to your chosen niche and use them to share your referral links. Internet users use forums to post questions about certain topics and get advice from others. Focus on the forums that are relevant to the products or brands you are promoting.
Never join a forum just to spam it with links. Read forum rules before you post, because some won't allow links at all; others only allow links at certain times. Keep abreast of the current guidelines to make sure you are sharing in an appropriate manner.
YouTube
Consumers flock to YouTube to learn more about various products and services. This site is full of content creators demonstrating the ins and outs of items they use and enjoy. Those YouTubers make money through their videos with links they hope their viewers will use when they make their purchases.
Learn how to start a YouTube channel to maximize your earning potential. Demonstrate the products you're promoting to grow your audience, one subscriber at a time. Make money by sharing your affiliate links with your viewers.
Related: Get Paid to Post Ads
Sharing Links Can Create a Great Passive Income
Sharing links can be an easy way to make 20 dollars a day online (or more), but you will need to use some strategic tactics to really maximize your earnings. The more time and effort you put into promoting and sharing links, the better your chances will be of making money.
Learn from existing influencers and start sharing the products and companies you already love. Once you start earning, you can expand your network and promote on more platforms.
Boost your income by implementing the above ways to get paid to share links on the internet.
Related: Places to Sign Up and Get Money Instantly
---
We appreciate the time you've spent reading this post and your interest is not lost on us. Your thoughts, questions, or experiences related to the topic are most welcome. Each comment adds strength to our community. We ensure every comment receives our attention, and we take the time to provide thoughtful responses. Once again, thank you for being a part of this conversation. Click here to leave a comment.