20 Best Delivery Drivers Apps to Make the Most Money
We foster relationships with brands we use and trust. The testimonials on our site represent real experiences, but they don't guarantee you'll achieve similar results. When you make purchases through our links to our partners, we may earn a commission. Your support helps us continue this work. You can read our full disclosure here.
I don't know about you, but I'm always looking online for ways to make some extra cash. It always seems like there's too much month left at the end of the money.
While I was doing some recent research, I noticed that many sites recommended working as a delivery driver. Traditionally, most of this kind of work has been done for companies like UPS and FedEx, which deliver items to people a few days or weeks after they purchase them online.
What I didn't know before exploring the web for odd ways to bring in cash was that it's possible to do work for several different delivery driver apps as an independent contractor. The best part is, all you really need to get started is a smartphone and some form of transportation.
If this is something that you would be interested in as well, keep reading and we will answer the following commonly asked questions:
What is the best-paying driving app?
What is the best food delivery app to work for?
What is the best app for delivery drivers in general (and why)?
What Are Food Delivery Driver Apps?
A food delivery app works like this: A customer visits the delivery app of his or her choice, like Instacart, DoorDash, Postmates, GrubHub, Shipt, or Uber Eats, then places an order. Once customers have checked out online, they wait for their food to be delivered.
Delivery drivers who work for that particular app and who have marked themselves as available to work are then notified when the order is ready. One of them will simply accept that delivery, collect the food from the store or restaurant, and then deliver it to the customer.
If you decide to apply as an independent contractor for one of these companies, you will not work for a specific restaurant or organization. You work for yourself. You'll also need to consider that you'll be responsible for sorting out all your own taxes.
You decide when to work, and what to deliver. Once you complete a delivery, you will get paid – and could also receive a tip.
Related: How to Get Paid to Drive Cars Across the Country
Top 3 Best Food Delivery Apps to Work For
There is a growing number of food delivery apps. But three in particular stand out as the best of the best for potential delivery drivers. Those three are explored below.
1. Instacart: The Best Paying Driving App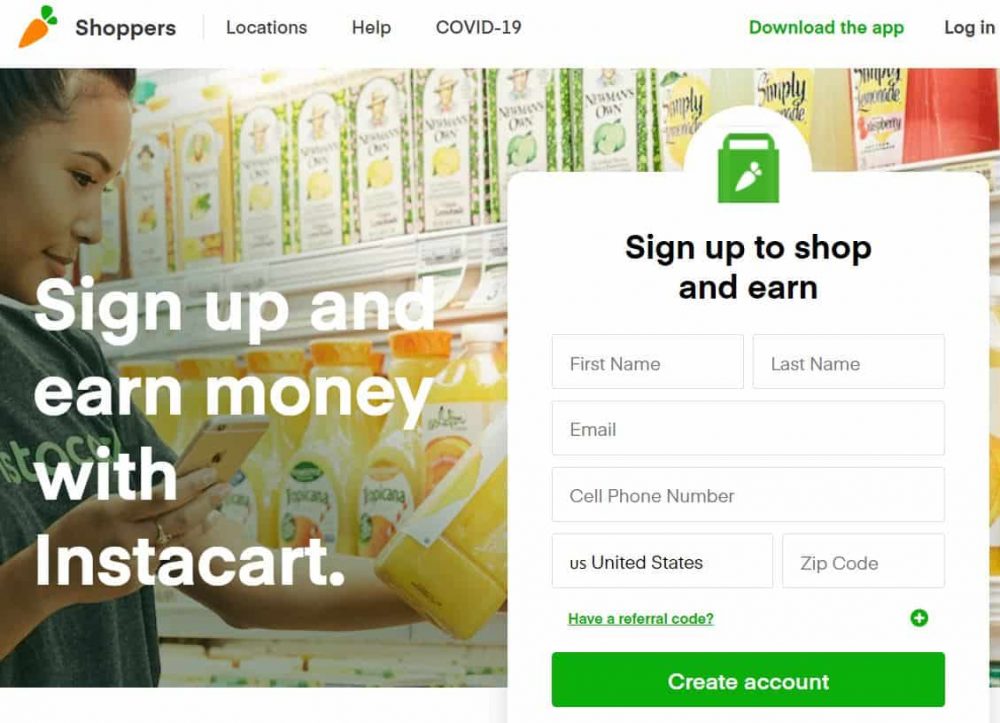 According to its creators, Instacart's goal is to offer its customers access to products from their favorite stores, while giving them more time to do the things that they love, instead of being stuck in a grocery store.
If you become a shopper for this grocery delivery service, you will be an invaluable part of giving customers back that time that they would have formerly spent in a grocery store every week. As an Instacart shopper, you will be responsible to both shop for, and deliver, customers' groceries. The company will issue you a prepaid card to use when you check out, so be assured that you won't be paying for anything with your own money.
Since Instacart boasts more than 300 retail partners in nearly 6,000 towns, villages and cities across the United States, there's no lack of work to go around.
Earnings
Instacart is typically the best-paying driving app across the board, depending on the demand in your area. The average hourly wage for a full-service shopper is $17.84, according to Payscale.com.
Your earnings will be immediately available for transfer to your bank account. Before you cash out, remember that customers have 24 hours to adjust their tips, so plan accordingly. Shoppers take home 100% of the tips they earn, and there are no withdrawal fees.
Related: How To Become A Woodworker
Requirements
To become an Instacart shopper, applicants must:
Be at least 18 years old.
Have the authorization to work in the United States.
Be able to lift 40 pounds without accommodation.
Have a reliable car.
Have access to a smartphone.
Pass a background check.
Apply to become an Instacart shopper here.
2. DoorDash: The Best App for Delivery Drivers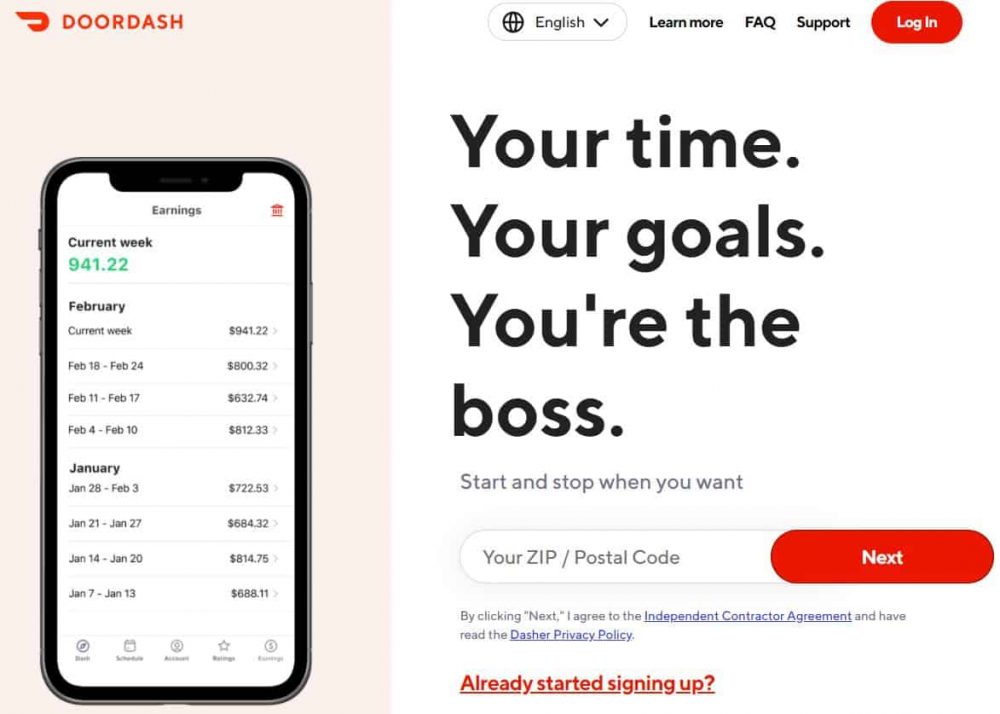 Become a "Dasher" with DoorDash and help this ubiquitous company with its stated goal of opening up a whole new world of possibilities for its customers.
While Instacart shoppers mainly work at grocery stores, Dashers pick up customers' orders from restaurants and deliver them to the people who placed the order. This app is available in more than 400 cities throughout the United States, Australia and Canada.
Earnings
The DoorDash website has its own compensation plan, called the Dasher Pay Model. This appears to be the most complicated of the three apps discussed in this post.
According to SimplyHired.com, Dashers' average hourly rate is $16.83.*
On top of the app's base pay (which ranges from $2 to $10 per hour) are the DoorDash "promotions," which allow Dashers to earn more money at certain times. Customer tips are then added; Dashers take home 100% of what they earn.
Compared to its competitors, DoorDash tends to make it more difficult for contractors to figure out how much they will actually take home until a job is complete.
Doordash offers a free weekly payout, or Dashers can withdraw their earnings daily for a $1.99 fee.
*For illustrative purposes only, actual earnings may differ and depend on expenses. Hourly pay is calculated using average Dasher payouts while on a delivery (from the time you accept an order until the time you drop it off) and includes compensation from peak pay, tips, and other incentives.
Related: Apps that Pay Real Money
Requirements
To become a Dasher, applicants must:
Be at least 18 years old.
Have a car (or scooter or bicycle, in select cities).
Possess a valid driver's license.
Hold a Social Security number (in the United States).
Pass a background check.
Why DoorDash is The Best Free App for Delivery Drivers
If you have the flexibility to work during peak hours, DoorDash is probably going to be the best app for you. Completing deliveries during these blocks of time will allow you to earn extra money during the promotional periods, when drivers are more scarce and customers are many.
3. Postmates: The Best Food Delivery App for Variety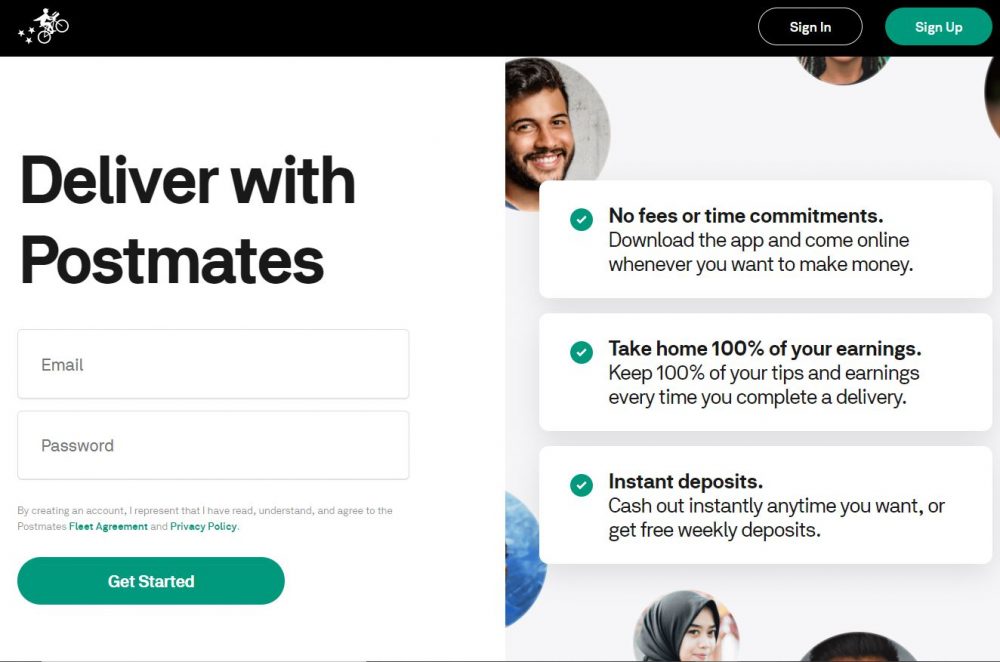 Postmates has been in the game for eight years, and aims to help its customers connect with their favorite restaurants without ever setting foot outside their front doors. Its 500,000 (and growing) fleet members are, themselves, affectionately known as "Postmates."
This delivery driver app works with 600,000 merchants and is available to 80% of American households across all 50 states. Postmates claims to provide the biggest selection of options across the country.
Postmates has also branched out in the delivery options that it offers, and if you become a driver with this app, you could find yourself supplying customers with household items and even clothes.
Earnings
Postmates drivers earn an average of $15.65 per hour, according to Indeed.com.
They keep 100% of the money they earn (including tips) for every delivery. As a Postmate, you will be able to cash out any time (for a 50 cent fee), or get free weekly deposits into your bank account.
Requirements
To become a Postmate, applicants must:
Be at least 18 years old.
Possess a valid U.S. driver's license.
Have a social security number.
Have a mailing address.
Live in (or near) a city that Postmates operates in.
Be able to upload a profile photo upon request.
Successfully pass a background check.
Related: 24 Plasma Donation Centers That Pay
Why Postmates is the Best Delivery App Overall
Postmates is the best food delivery app to work for if you like variety, low fees, and lots of jobs to choose from.
Variety. Boasting the widest variety of items available for delivery, you will never find a shortage of jobs with Postmates. And chances are, you will be able to find out about different restaurants and shops in your area that you didn't even know existed.
Availability. Since Postmates serves all 50 states, you can be confident that you will be joining an established company that can offer you the most work.
Fees. The early withdrawal fee of $0.50 is less than DoorDash.
More Delivery Driver Apps to Consider
Not all delivery driver apps are created equal. But there may be a reason why you can't/don't want to apply for other top 3 companies. Whether the service is not available in your area or the demand is too low, there are other apps for delivery drivers to consider.
Favor Delivery driver
Grubhub courier
Uber Eats delivery driver
Amazon Flex
Shipt delivery driver
Caviar delivery driver
Eaze
Saucey
Deliv
BiteSquad
Go Puff
Burpy
Dolly
Point Pickup
Our Take
FedEx
UPS
Related: Best Side Hustles for Dads
You Don't Have to Settle For Just One Delivery App
Before committing to just one delivery app, find out which service is the most popular in your area; this will help you decide which one will pay you the most to shop.
You could actually apply to become a delivery driver with all three of the best apps for delivery drivers. That way, when you have some free time to dedicate to deliveries, you can toggle among the odd job apps to pick up the highest-paying gig available.
If you don't think being a delivery driver is for you, take a look at these other ways to make some extra cash.
---
We appreciate the time you've spent reading this post and your interest is not lost on us. Your thoughts, questions, or experiences related to the topic are most welcome. Each comment adds strength to our community. We ensure every comment receives our attention, and we take the time to provide thoughtful responses. Once again, thank you for being a part of this conversation. Click here to leave a comment.