How to Start a Blog on WordPress (Step-By-Step Tutorial)
If you had asked me two years ago how I thought my blog was doing I would've laughed and said, "I quit." Two years ago I was 8 months into my first blog and things weren't looking great.
I had no traffic, my content sucked, and I didn't enjoy working on my blog at all. I was ready to give up!
Fast-forward to today and I earn over $70,000 per year because of the connections I've made due to this little blog! What if I gave up like I was so tempted to do two years ago? I wouldn't be staying at home with my babies full time, that's for sure.
If you think that you can stick to a year (or sometimes more) blogging with little to no profit, then you can potentially break through and hit the profits you dream of.
In the next few minutes, I will walk you through the 5 steps you need to take to start a blog on WordPress. Using my tutorial, you can have your blog set up and ready to go in less than a day.
Here is a little secret that helped me jump right in; do not get hung up on the details. If you wait until your blog looks perfect and has 25+ posts before you launch, you'll burn out before ever seeing any traffic or earning any money like I almost did. The goal is to get your blog set up and launched (while working through the details as you go).
After blogging for more than three years now, I can say that it is not easy. It is simple to start a blog, but it takes hard work to become a successful blogger and make money from it.
If you can put in the work and stick to it, then I encourage you to jump in and start your blog.
6 Steps to Start Your Money-Making Blog
Follow these next steps closely and you could publish your first blog post as soon as today.
Step 1: Choose a Niche
A niche is a specific market where you can promote products and services.
When choosing a niche or topic for your blog, start with something that interests you. That way you will enjoy writing each blog post.
Niche ideas:
Kids and Family
Homeschooling
Cleaning and Organizing
Parenting Tips
Gaming
Interior Design
Hunting
Sports
Relationships
Trending Stories
Step 2: Select a Blog Platform

WordPress.org is the best platform for a blog because it offers the most flexibility with free themes (templates) and plugins (features).
This is the platform that I've been successful with and recommend without a doubt.
Step 3: Choose a Host
Every blog requires a host in order to connect with readers. Think of a host as a "rental space" on the internet. It costs money to store your physical property in a storage unit, and similarly, it costs money to store your written blog posts and images online.
Bluehost is one of the most affordable host providers for new blogs. It has fantastic customer service and tech support that is available 24/7 via Live Chat or by phone.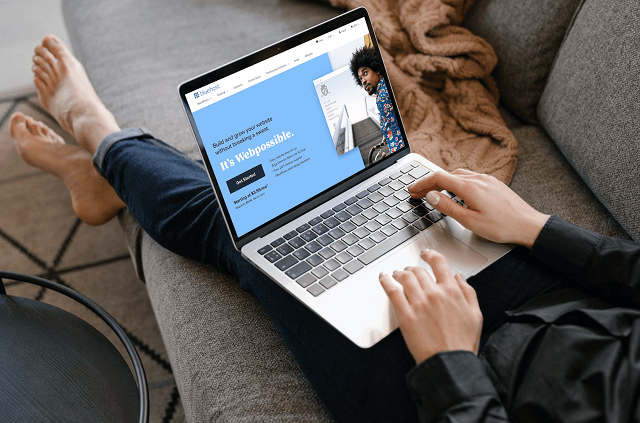 Why Bluehost? Because it's fantastic for new bloggers. You will hear lots of opinions on host options, but I strongly believe that it's 100% just fine to go with one of the cheapest hosts you can find–and Bluehost is cheap.
Now, am I saying that there will never be problems or times when you'll need to reach out to tech support for help? Of course not. But I don't know one hosting company that doesn't have some issues along the way.
To get started, click here to open Bluehost in a new tab. Select the dark blue/black "Get Started."
I recommend starting with the Basic Plan which is the most affordable option. If you can commit to a 36-month plan, you'll save even more in the long run. Carefully review the plans and what each one includes, and then make your selection by selecting the blue "Select" button.

Step 4: Choose a Domain Name (URL)
A domain name is a unique phrase that people can type into a search bar to find your blog, like www.name.com.
Bluehost gives new customers a free domain name for one year if they sign up for a 12, 24, or 36-month plan. A year+ plan will also provide the best value.
A domain name could be anything from your full name (if available) to a unique sequence of words that summarizes your blog's subject. You can always change the name later (I did).
You can either create a free domain here or type in your existing domain if you already have one. Then select "Next" to continue. You can also choose to skip this step if you need more time to think about your domain name.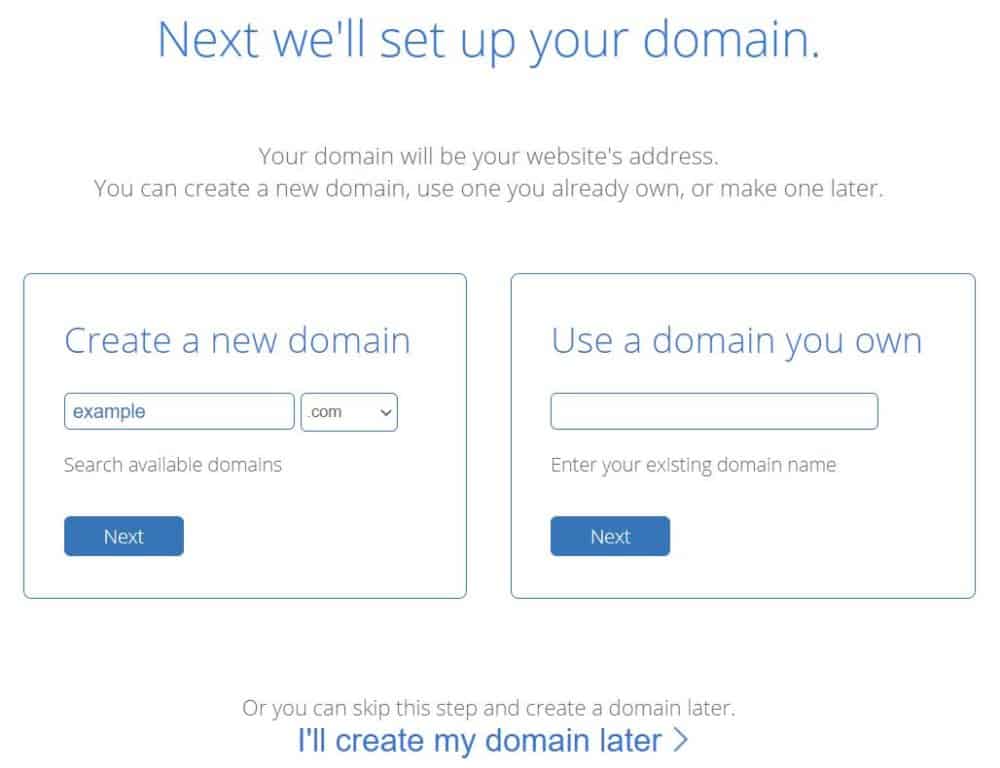 Step 5: Create Your Account
Enter your name, address, phone number, and email address in the first section. This information will establish your account for billing purposes.
Next, choose between a 12, 24, or 36-month hosting plan. If you can afford to purchase three years of hosting, DO IT. It will save you the most money. Bluehost has a 30-day money-back guarantee if you should need to request a refund for any reason.

Next, select any extra services you may wish to purchase. I don't subscribe to any of those services because there are usually free alternative WordPress plugins (except for domain privacy–you may want to keep your information private).
Finally, grab your credit or debit card and fill in your payment information. Review the terms of service, cancellation policy, and privacy policy. Check the box next to those documents and then select "submit" to finalize your order.
Bluehost is one of the best hosts for beginners. Its 24-hour support will help you choose a theme and set it up as soon as you've ordered your hosting package. Make sure to log into your new account and start a free chat session with tech support if you're not sure where to go next.
Step 6: Start Writing!
You can now add your very first blog post! Use this opportunity to introduce yourself, your mission, your expertise, and anything else that will tell readers why they should read your blog.
When I was in school, I hated writing. But once I started my blog, I realized that it's possible to love writing when you can choose the topics to cover.
Make a list of topics that you could talk about non-stop and write about those first. Keep your readers' best interests in mind, teach them something new, and your blog will be on its way to earning money.