How to Get Free Gift Cards Online Without Completing Offers
One of my favorite sites, Swagbucks, offers tons of ways to earn real cash online. If you're not already a member, give it a shot! Here are five things you can do to make easy money on the site:
Play games (up to $110 each)
Test apps (up to $150 each)
Submit receipts (easy cash)
Shop at your favorite stores (up to 10% back)
Answer surveys and polls (quick cash in minutes!)
Wouldn't it be great if there was a way to get your hands on free gift cards – and fast, to boot? Luckily for you, there are many opportunities out there to do just that, all from the comfort of your own home. In this article, we are going to show you how to do it – without completing a single offer.
It's so much fun to roll up to Starbucks and pay for a drink or snack with a gift card, knowing that it was all free.
What an awesome feeling.
Now you can have that feeling too, any time you spend a gift card online with any of your favorite places, like Starbucks, Target, Best Buy, Amazon and others. You will love how these 20 overlooked ways to get free gift cards fast do not involve completing offers.
I'm also excited to share my secret way for getting the most free gift cards online.
Click the button ⬆️ to subscribe to my YouTube channel where I share real ways to earn money.
Our Popular Money-Making Offers
Sign up with each of the following companies to maximize your earning potential.
$10 sign-up bonus
Pays to take surveys, complete offers, shop online, and much more
100s of other paid tasks
Awards cash and gift cards
$5 sign-up bonus
Pays to play games, watch videos, answer polls, and much more
100s of other paid tasks
Awards cash and gift cards
20 Overlooked Ways to Get Free Gift Cards Fast
We have this broken down into five categories:
Completing online tasks: This is all about doing fast, simple tasks online. All you need is access to the internet and a mobile device, like a smartphone, tablet or computer.
Answering questions online (surveys): This is one of the easiest ways to score rewards and gift cards. You get paid for sharing your opinion and answering questions, and will then be compensated with free gift cards.
Downloading apps: This is just what it sounds like. You get rewarded for trying out cool, new apps that you download right to your device.
Earn cash back for everyday shopping: This is like getting paid to shop. You will receive cash or rewards for your shopping.
Other odd ways to get free gift cards fast: This last category will consist of other odd ways you can score free gift cards.
Get FREE Cash Bonuses with a Cash App Account
Copy the referral code:



Download at cash.app
Swap $5 with a bestie*
Invite friends to join**
Set up a direct deposit***
*Ask a friend or family member to swap $5 with you through Cash App to activate the $5 sign up bonus.
**Get up to $15 for every friend who joins using your referral code.
***Deposits must equal $300+ within a 30 day period to activate the $100 cash Boost.
Related: How to Win Free Gift Cards Instantly
Completing Online Tasks to Get Free Gift Cards
When you're stuck in line at the store or lounging on the couch at home, it's easy to grab your phone and download apps that pay real money. The following companies offer lots of easy tasks that reward you with gift cards.
1. InboxDollars
InboxDollars pays you to complete tasks online. The company has paid out more than $59 million to its members.
Here are the types of activities that you could get paid to do for InboxDollars:
Take paid online surveys
Coupon cash rewards
Earn cash back for doing your regular online shopping
Read more about these in our InboxDollars review.
Through InboxDollars, you will get rewarded with PayPal cash, as well as gift cards to places like Amazon, Starbucks, Target, and more.
2. Swagbucks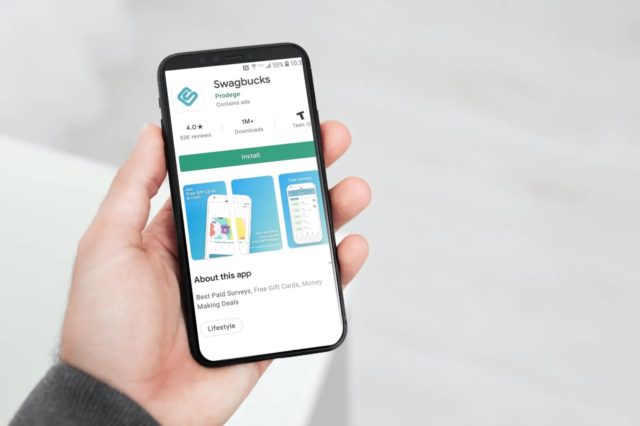 Swagbucks is one of the best places to score free gift cards online fast.
As a Swagbucks member, you will receive access to many paid online activities. The concept is simple:
Create a Swagbucks account for free.
Complete online tasks.
Earn points.
Redeem those points for rewards.
Swagbucks gives out 7,000 gift cards daily, to places like:
Amazon
Walmart
PayPal
Visa
iTunes
Uber
Dunkin'
Like with InboxDollars, Swagbucks will provide you with a variety of online tasks to do, which is great for those who want to stay busy and avoid getting bored. Check out our review of Swagbucks to learn more.
You will be able to watch videos, take paid online surveys, play games, discover deals, and more. This site has a low threshold for payout, and gift cards are available starting at $1.
Related: How to Get Free Gas Cards
3. MyPoints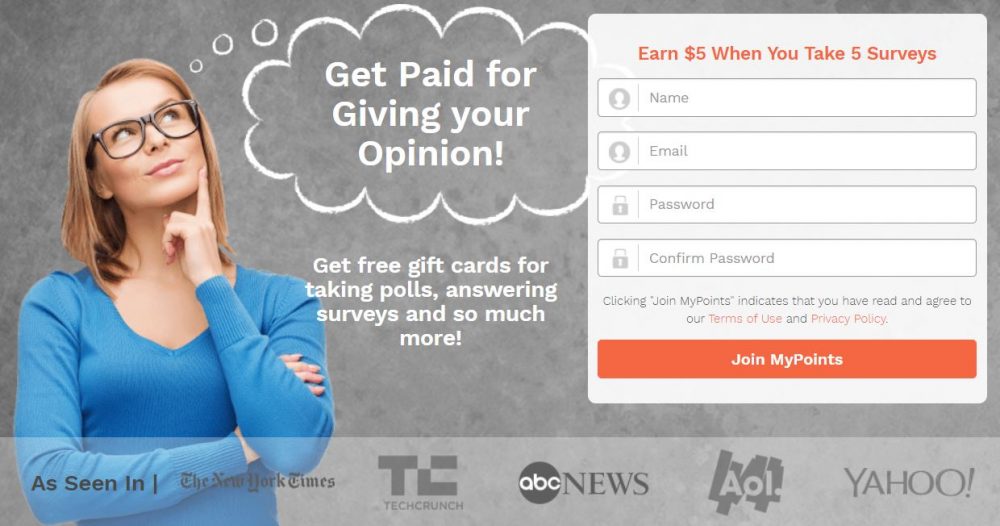 MyPoints rewards you for shopping. It's that simple. When you shop at your favorite stores (like Wal-Mart, Best Buy, and more), you will be able to earn up to 40 percent cash back.
Join MyPoints for free. Then start shopping, and earn points for your purchases. Your points can then be redeemed for free gift cards online to places like Best Buy, eBay and more.
It's like getting rewarded for the shopping that you'd be doing anyway. Read more in out MyPoints review.
You will love getting paid to shop with MyPoints.
There are no strings attached!
Answering Questions Online to Get Free Gift Cards
Earn gift cards for taking surveys about your favorite brands and services.
4. Opinion Outpost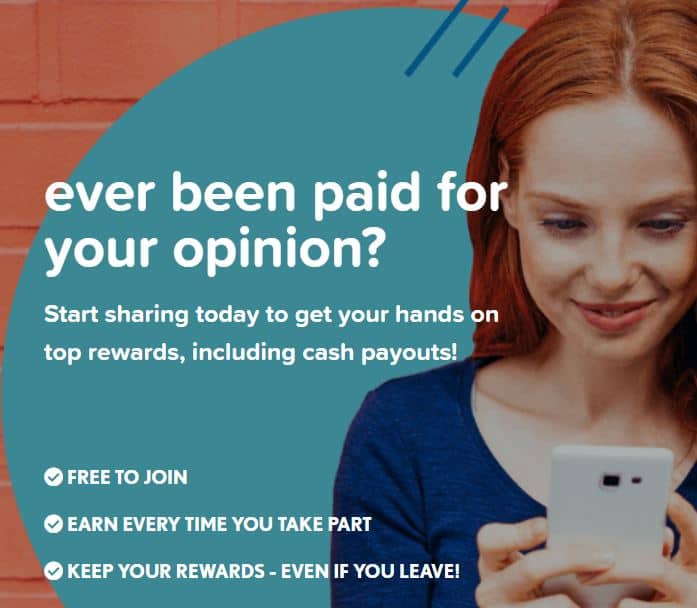 Opinion Outpost rewards you for taking surveys in your spare time. You can earn rewards via PayPal or Visa gift cards, or gift cards to Amazon, Home Depot, CVS, and other popular retailers.
Once you register for free, you will join the 2 million members who already participate on the platform, sharing their opinion and getting rewarded.
Surveys are sent out by invitation, and each survey takes 10-15 minutes to complete.
Related: Opinion Outpost Review: An In-Depth Look at the Company
5. Branded Surveys
Branded Surveys pays its members in cash, gift cards and rewards for taking paid online surveys.
Thousands of people sign up every week and earn cash and rewards for completing surveys. Start by registering for free, answering a few questions about yourself to build your profile. You will then be matched with surveys, and earn points for each survey you complete.
Points can be redeemed for PayPal cash, gift cards, or Branded Pay.
Once you reach 500 points in your balance, you can redeem them for rewards worth $5.
In addition to taking the online surveys, you will also be able to earn even more by inviting your friends to join Branded Surveys. The more friends you invite and join, the more points you can earn.
Through Branded Surveys, you may participate in the following:
Product reviews
Social glimpse video testing
Related: Branded Surveys Review
6. Survey Junkie
Survey Junkie lets you be an influencer by paying you to share your honest opinion in exchange for rewards. You will help companies create the highest-quality products for their consumers.
It's an easy process.
Take surveys, earn rewards, and get paid. That's it! You can read more in our Survey Junkie review.
After you register for free and build your profile, you will get matched with surveys. Just complete them to earn your virtual points, and then redeem those points for PayPal cash or gift cards to places like Amazon, Target, and more.
You will need to have a minimum balance of 500 points in order to redeem them for rewards through Survey Junkie.
7. Survey Club
Connect with the best paid research studies by joining Survey Club.
Become a member for free, complete your profile, get matched with studies in your area, participate, and earn free Amazon gift cards for your trouble.
There are more than 15 online studies available through this company right now, ready and waiting for participants to join.
Learn the full details in my Survey Club review.
8. LifePoints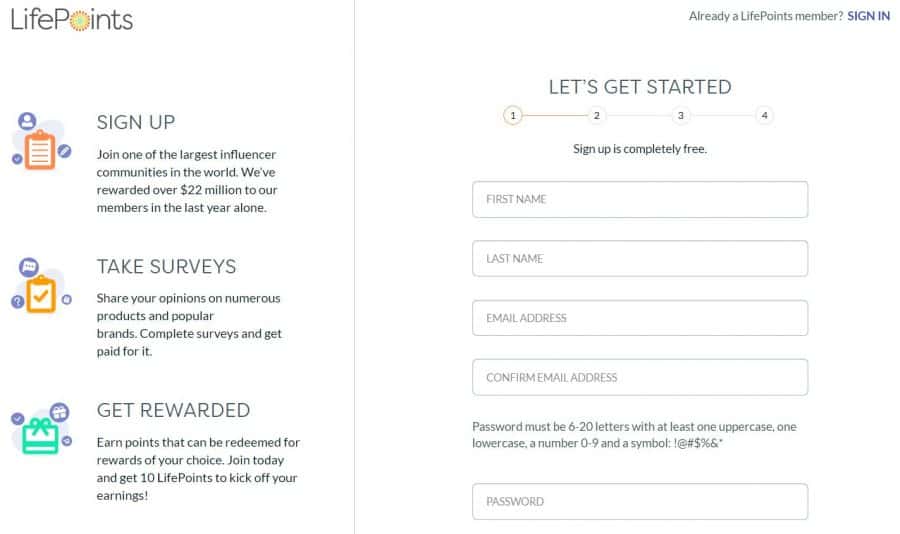 LifePoints rewards you when you share your opinion through paid online surveys.
To get started: Join for free. Then collect LifePoints for completing activities. Surveys are sent out by invitation, and you will be able to take them any time during the survey period.
In addition to taking the online surveys, you will also have the opportunity to be paid to record your behavior in a journal, or test products that are mailed to you.
LifePoints surveys cover a wide range of topics, including sports, travel, health and more.
You can redeem your points for rewards like PayPal cash or gift cards. There is no minimum threshold for points redemption. As long as you have enough points in your balance for the prize, you will be able to redeem it.
Learn more about LifePoints in our full review.
Download Apps to Get Free Gift Cards
Many legitimate companies will give you gift cards just for downloading and installing their apps on your mobile devices. This is an easy way to make money for doing nothing at all.
9. Nielsen Computer & Mobile Panel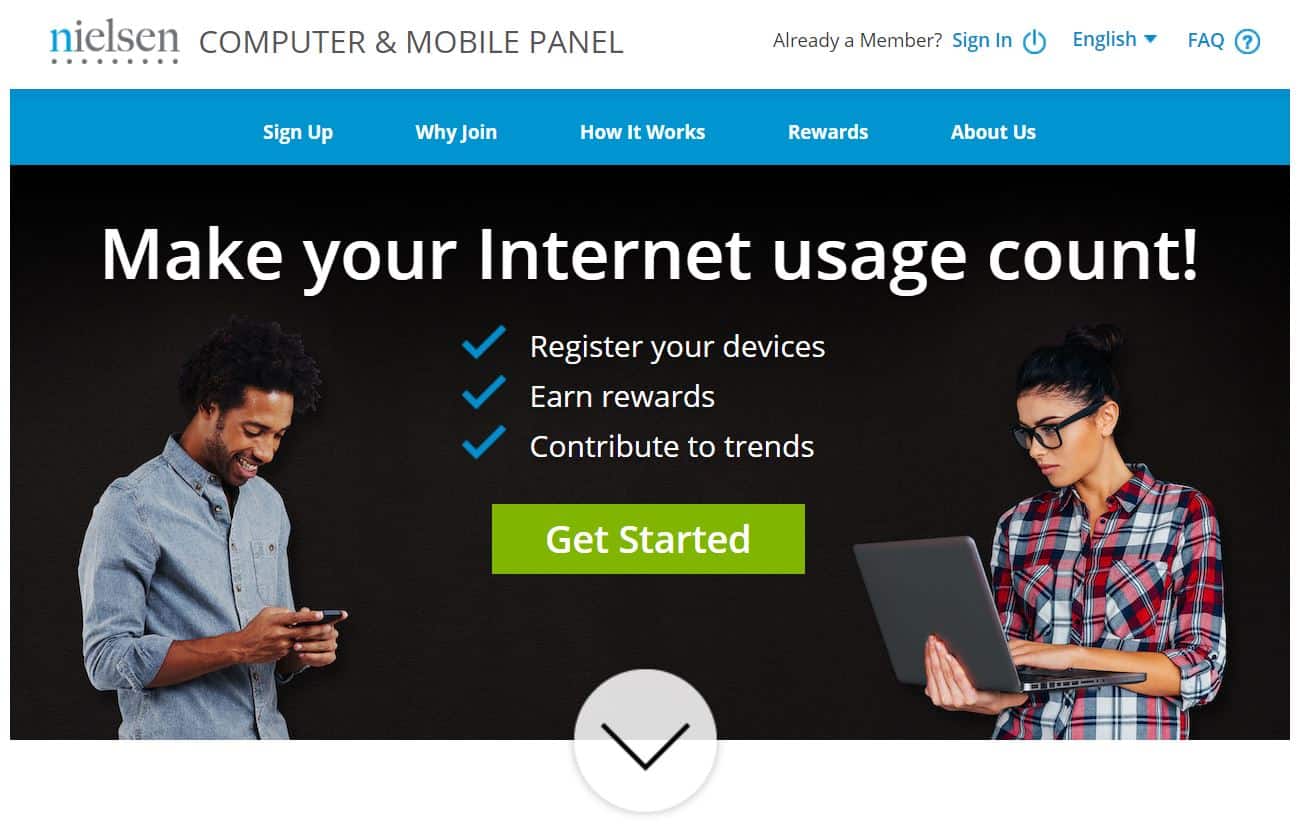 Download the Nielsen Computer and Mobile Panel app and earn passive income. Here's how it works:
Register your devices and then earn rewards. That's it!
With this method, you will contribute to trends and help companies improve their products through valuable market research.
After you sign up with Nielsen Computer and Mobile Panel, you will install Nielsen's safe app, which will collect data about your behavior, including which websites you visit and how long you stay on them, as well as other general mobile activity.
The company uses this information for data and research to learn about consumer behavior, demographics, and mobile use.
After you sign up, you will earn points for using your device as normal. You can redeem those points for gift cards and rewards. If you stay in the panel for a year, you can earn up to $50!
You will also be entered into the monthly Nielsen drawing, where you could win $10,000. This company also awards $1,000 prizes to 400 winners every single month!
Related: Nielsen Computer & Mobile Panel Review
10. MobileXpression
MobileXpression is an online market research community in which users are invited to join a panel and get rewarded for sharing their consumer user behavior. This is how to do it:
First, join MobileXpression for free and install its software on your mobile device. Your internet activity will be monitored, helping MobileXpression gain a better understanding of consumer behavior.
You get rewarded for your participation by receiving weekly credits that can be redeemed for gift cards (learn how to convert your Visa gift cards to cash).
Participate in MobileXpression as long as you'd like, passively earning rewards each week. It's an easy way to get free gifts without purchasing something first.
Related: 20 Ways to Get Free Xbox Live Gold Codes
Earn Free Gift Cards for Everyday Shopping
Since shopping for groceries and necessities is something you already have to do, why not earn free gift cards fast while you do it? The following apps offer cash back for some purchases that you can redeem for gift cards to your favorite stores and restaurants.
11. Rakuten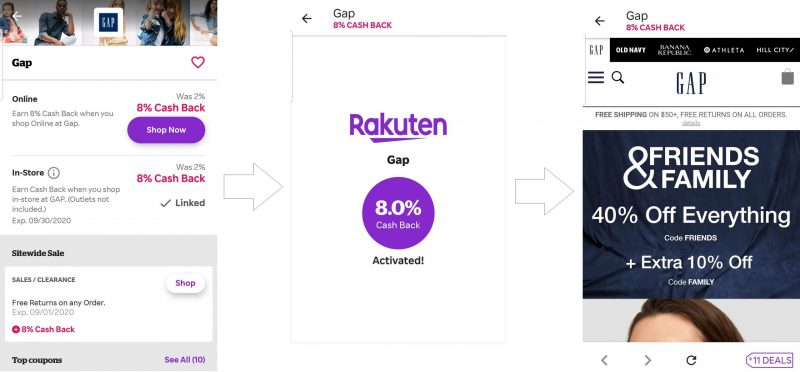 Rakuten is one of my favorite cashback sites. Through this app, you will literally get paid to shop.
Here's how it works:
Do your everyday shopping as usual, except instead of visiting the online store of your choice directly, access the retailer through the Rakuten portal, or install the free browser extension, which will activate on the retail site. This way, you will earn cash back on your account for every eligible purchase.
Related: How to Get Free Nike Gift Cards
Cash Back Through the Rakuten Portal
Going through the portal is simple. Just register for Rakuten for free, find your chosen retailer, click, and get directed to the retail site.
Rakuten will track your purchases and credit cash back to your account.
You can read more about the company in our Rakuten review.
Cash Back Through the Browser Extension
Simply follow the online instructions to install Rakuten's free browser extension onto your computer. When you land on a Rakuten-partner retail site, that extension will activate, showing you a popup of the available cash back on your purchase.
Accept the cashback amount (a flat amount or percentage), shop, and then check out as normal and enjoy your cashback savings, which will be credited to your Rakuten account.
Through Rakuten's referral program, if someone signs up through your unique referral link, they and you will each get rewards.
The minimum payout is $5, and Rakuten pays out quarterly via PayPal.
12. Ibotta
Ibotta is the best way to score cash back and rewards on your grocery purchases.
If you're looking for a way to save on your grocery shopping every month, Ibotta is the solution!
This is a great option for both online and in-person shopping. Ibotta offers multiple ways to save on your grocery shopping, plus cash back to other non-grocery retailers like Petco, Lowe's, Cabela's, Home Depot, and others.
Using Ibotta When Shopping Online
Through this program, you can score cash back on your phone or computer. If you use a computer, gain access to more than 500 offers for grocery pickup and delivery, along with savings at more than 700 online retailers. Use the Ibotta browser extension to access your savings options.
Using Ibotta for In-Person Shopping
Just download the Ibotta app to your mobile phone and start earning cash back on your mobile purchases. Visit retailers through the app, shop, and save!
The other features you'll love about Ibotta include:
Join Ibotta to start earning cash back for online and in-store purchases.
Paying with Ibotta: This mobile-pay feature gives you instant cash back on your entire in-store purchase. All you need to do is link the debit or credit card you will use to pay, and you're all set. Start shopping with 50-plus retailers through Ibotta.
Linking loyalty accounts: Easily link your loyalty accounts with Ibotta, shopping and saving, with cash back being applied to your Ibotta account within 24 hours.
Submitting your receipt: Shop like normal, then submit a photo of your receipt, scanning it with the app to get your cash back.
Related: Ibotta vs Rakuten: Can You Use Both Cash Back Apps?
13. Dosh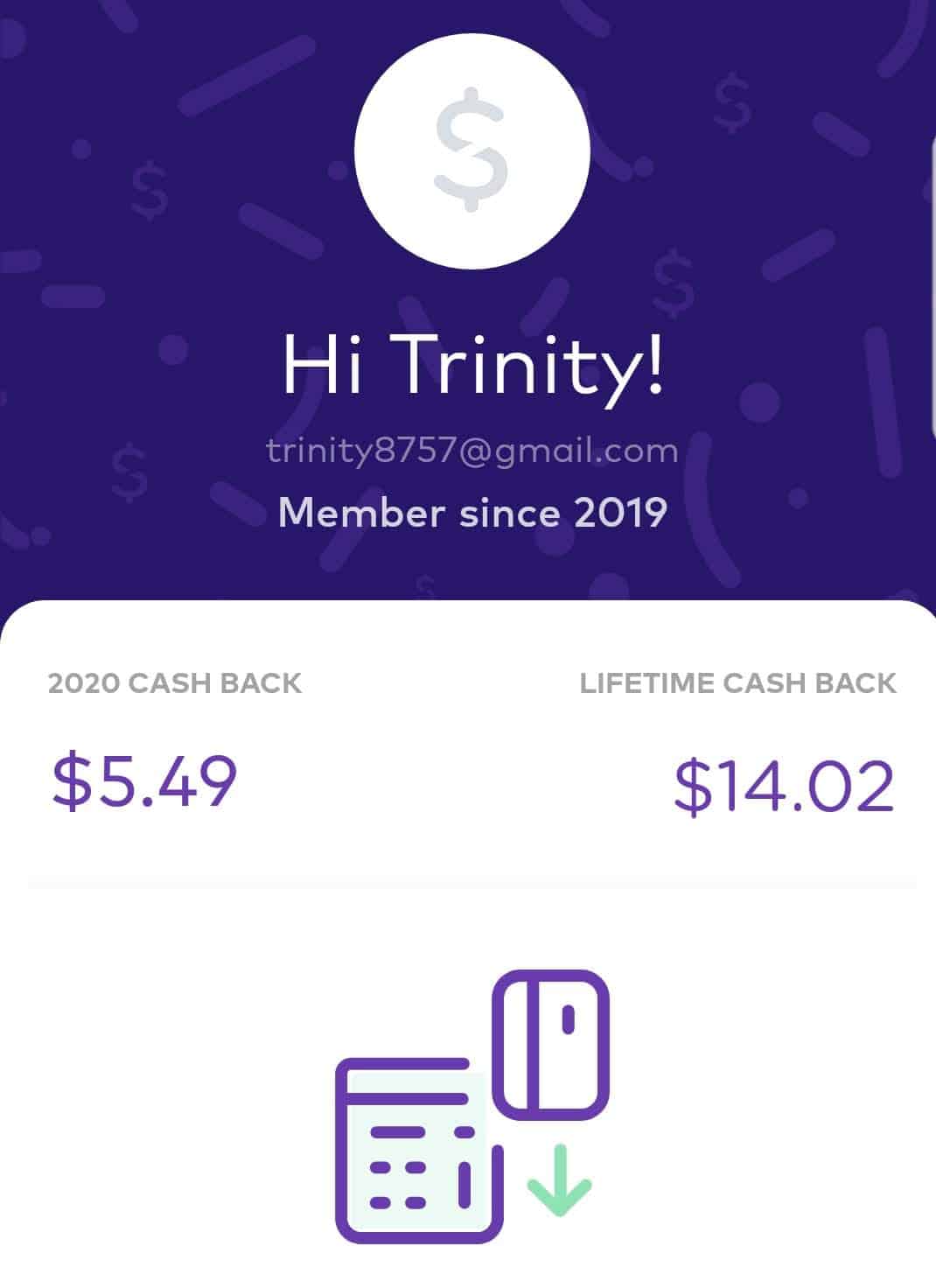 Dosh is a fun way to get deals and earn cash back for on-the-go purchases.
I've been using Dosh for years, and have earned a lot of cash back on local purchases to places like Wal-Mart and my favorite Chinese restaurant.
Install the free Dosh app on your phone, then link your debit or credit card.
The app will identify local deals in your area, and when you shop at those retailers using your linked card, you will receive cash back to your Dosh account.
This is a great way to automatically earn cash back. It's one of the easiest ways to be rewarded for shopping.
Once you've reached the minimum threshold of $25, you will be able to redeem what you've earned via cash, gift cards or rewards. You will also have the option of receiving direct deposit, PayPal cash, Venmo or gift cards, or donate your balance to charity.
Dosh partners with a variety of different retailers, including:
Wal-Mart
Pizza Hut
ASOS
Dunkin'
GNC
Related: Free $500 Gift Cards
14. Trunow
Trunow gives you cash back at gas stations.
The process is simple: Download the app, find deals at gas stations in your area on gas prices, restaurant deals and more. You can receive your earned rewards via cash back, or spend your savings at local retailers and restaurants.
The Trunow developers have called their app the only one that gives you cash back on your gas station purchases.
Related: How to Get Free PSN Gift Card Codes
15. Fetch Rewards
Fetch Rewards gives you free rewards on your grocery purchases.
Simply scan your grocery receipts to receive cash back. This way, you will have access to money-saving rewards on thousands of products.
Fetch Rewards has received more than half a million five-star reviews!
To get free gift cards, scan your grocery receipts after you shop as you normally would. You will earn points from the products you purchased on your receipt. Redeem your points for rewards.
Fetch Rewards also offers a bonus opportunity to earn.
Its referral program awards members (and their referees) 2,000 points each for participating.
There's no limit on the number of referral bonuses you can earn, so if your friends and family love saving, share your referral link so you can all get rewarded!
You will need to earn a minimum of 3,000 points to redeem them for rewards like gift cards to popular retailers, including Target, Amazon, and more.
Other Odd Ways to Get Free Gift Cards Fast
There are plenty of other ways to earn gift cards for free in your spare time. Here are a few more ideas that might work for you.
16. Sign up for Sweepstake Offers
If you're looking for ways to earn even more rewards and gift cards, consider joining sweepstakes. These can be underrated, and although they may not be the most reliable ways to earn gift cards, it's still worth a shot.
Vet all sweepstakes companies before you participate, and read the fine print to make sure that you are dealing with a reliable source.
Related: How To Get Free Money Right Now
17. Ask for Gift Cards for Your Birthday and Holidays
Ask your family members and friends for gift cards on special occasions like birthdays and holidays. It's one of the easiest ways to get free gift cards without completing offers, surveys, or other online tasks.
18. Pay People a Discounted Rate on Unused Gift Cards
You won't earn entirely free gift cards by using this method, but it is a good way to get a nice discount on your gift card purchase.
You can do this by buying used gift cards through marketplaces like Raise or Giftcard Granny, on which members sell the unused balances on their gift card for cash. You can find some good deals this way.
19. Reach Out to Brands
Email your favorite brands to ask if they have any current promotions to get free gift cards for things like signing up for a store credit card, making a minimum purchase, or just being a great customer.
It can't hurt to ask. At the very least, you'll probably get something for your effort, like a coupon or freebie
Related: Are Cash App Gift Cards Legit?
20. Become a Brand Ambassador
Some companies enter into collaborations with individuals whom they pay for using and sharing their brands on social media. In exchange, those people receive cash, points or gift cards for future purchases.
This is called brand ambassadorship.
If you can land a collaboration, you will receive freebies and gift cards, or you could be paid for simply sharing a brand with your network. Many companies have programs like this, so check with your favorite retailers about becoming a brand ambassador for a chance to receive free gift cards.
Related: How to Get Free Apple Gift Cards
The Secret to Earning Free Gift Cards FAST
As you can see, there are plenty of ways to earn free gift cards online without completing offers. If you're a fan of freebies, these opportunities are something to get excited about.
Here's the big secret to getting free gift cards fast: Sign up with a variety of sites that pay in gift cards.
Doing this will multiply the number of opportunities you will have to get free gift cards, and will give you the chance to be picky. Only participate in the tasks and cash back deals that pay the most!
Related: 20 Ways To Get Paid To Give Advice Online
---