6 Steps to Get Free Stickers From Over 600 Brands
We foster relationships with brands we use and trust. The testimonials on our site represent real experiences, but they don't guarantee you'll achieve similar results. When you make purchases through our links to our partners, we may earn a commission. Your support helps us continue this work. You can read our full disclosure here.
When I was young, I couldn't get my hands on enough free stickers.
Made it to the potty on time? Grab a sticker. A+ in Kindergarten? Grab a sticker. Great job during piano lessons? Grab a sticker. Even as I grew older, the novelty of stickers never wore off.
What I didn't know at the time was that there are hundreds of companies that give away stickers for free. You just need to find them and go through the proper process of requesting them. Some companies take requests by mail while others can be contacted online.
So, where do you find free stickers? While the 600+ companies on this list have been known to send stickers in the mail for free, you can follow this strategy to get stickers from almost any brand.
You'll just need to do a little investigative homework and make your request through each company.
If you're determined to get your hands on these hot commodities, then stick with me (no pun intended). I'll walk you through the exact steps on how to get free stickers by mail from some of the top companies and brands.
Things to Know Before Getting Free Stickers
To some, it may not make sense why a company would send out free stickers. If you wonder if it's legit or a scam to make such requests from a company, you may want to know this information first.
Why do companies offer free stickers?
Many companies give away free stuff for two reasons: to satisfy a potential customer and to get free advertising. When a consumer makes a simple request, companies typically try to respond cordially. Additionally, every company loves having their logo or business name displayed for more potential customers to see–which is why free stickers are popular.
Related: How to Get Free Gift Cards
Do I need to buy something to get a free sticker?
Each company decides if a customer should make a purchase before receiving free stickers. If you're a true fan of the company and you've purchased something recently, it doesn't hurt to attach your receipt as proof. But typically, a company will not deny your request for a free sticker, whether or not you've purchased something.
How do you get free stickers that are not branded?
Since companies don't reap any benefits for sending unbranded stickers to consumers, the chances of getting some are slim. You could, however, make hundreds of your own stickers out of nearly any picture or print. If unbranded, cute stickers are what you had in mind, check out this tutorial to make stickers yourself.
Related: 31 Free Heart Templates to Cut Out, Trace, Paste, and More
Is it really free to request stickers by mail?
Some companies will ask you to send a stamped, self-addressed envelope in the mail for them to return to you with free stickers. Keep in mind that doing this can get expensive quickly. First, you'll need a stamp for the request letter, and then you'll need to provide a second stamp for the company to send you the stickers by mail. You will save a lot of money by skipping those brands and going straight to the online contact method I'll discuss below.
Related: How To Get Free Money Right Now (On PayPal Or By Mail)
6 Steps to Get Free Stickers by Mail
Follow these exact steps to get free stickers sent to you in the mail. It's an easy process, but can be time-consuming if you try to request too many stickers at once.
Step 1: Bookmark This Page of Free Stickers
It's important to bookmark this page before you do anything else. There is nothing more frustrating than losing your page while reading a good book. Similarly, if you don't save this page, you won't know where you've left off on the list.
Plus, since there are so many companies the give away free stickers, you'll probably need a day or two to get through it. To bookmark the post on a laptop or computer, just select the star next to the article's URL like this: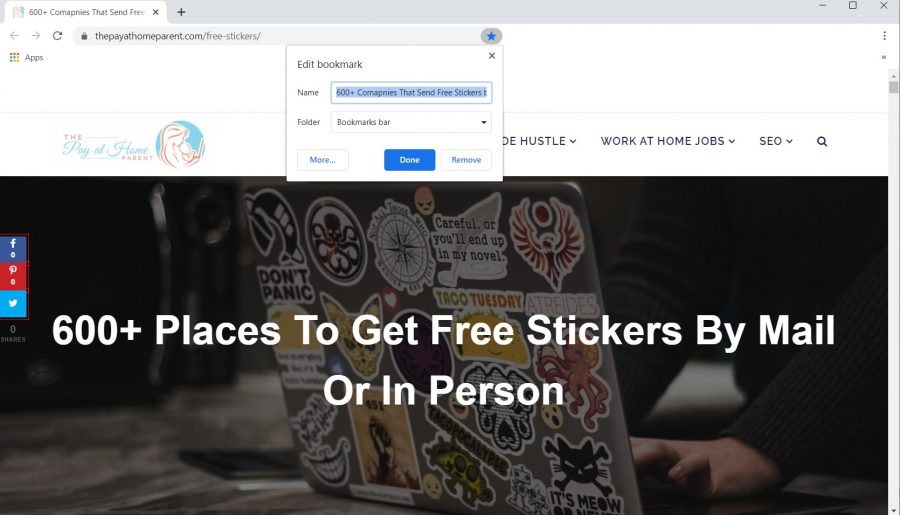 Step 2: Choose Familiar Brands from The List
I don't recommend you try to request stickers from all 600+ companies. It could take a year to make your way through this entire list. I do recommend, however, that you open a notepad and jot down the companies you recognize and would like to contact for some free stickers.
You can open a Google Doc, Notepad (on Microsoft), or use a good old-fashioned paper and pencil to keep track of the brands you'll send requests to.
Related: How to Get Free PSN Gift Card Codes
Step 3: Find The Company's Contact Information
Each company has slightly different rules when it comes to sending free stickers in the mail. Some require you to send a self-addressed, stamped envelope while others allow you to fill out an online form. You need to work through your list of favorite brands and make your requests to each company directly.
Since websites change frequently, it's futile to link to every company's contact information here. You'll have to do a single search per company to get your free stickers. Here's how:
First, choose a company from the list (let's use Pepsi as an example). Next, search this exact phrase on Google: [company name] "contact" and then click on the first relevant result. It's preferable that you locate the company's email address or contact form versus a physical mailing address. Here is an example search:

Step 4: Draft and Send Your Request
Whether it's a self-addressed envelope with a short note or a cleverly-crafted email, there are different ways to send your petition for free stickers. The clincher is to say the right thing in order to get your request fulfilled. You can use this template to ask for free stickers:
Dear [Company Name],

I am a huge fan of your brand. [Insert something unique about the company, or how you came to know the brand].

I would love to proudly display your logo or company name on my [insert item like notebook or backpack]. Please consider sending me some stickers in the mail.

My address is: [insert address]

I truly appreciate your brand and consideration,

[Your Name]
If you're requesting a sticker from Pepsi, you can make the request through their online contact form. Try to be as personable as possible so that the company knows you will appreciate and display the stickers they send.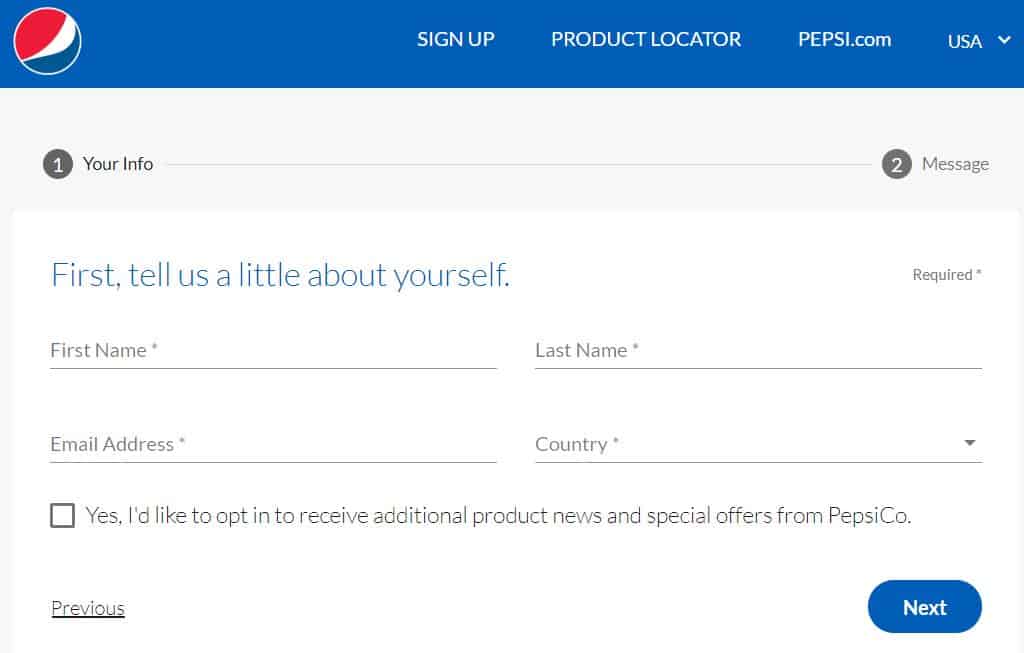 Related: How to Get Free Christian Books and Literature by Mail
Step 5: Wait for The Free Stickers to Arrive
Since you've done your part, you can sit back and relax while the company does their part. If the free stickers arrive, make sure to do what you promised with them! Whether it's to place them on your notebook, backpack, laptop, or another item.
Step 6: Rinse and Repeat
Don't stop after requesting stickers from one company. Send out lots of requests so that you have tons of free stickers to display. You can have fun sending out the emails (or form submissions) in your spare time.
Related: Highest Paying Survey Sites
600+ Companies That Have Been Known to Give Free Stickers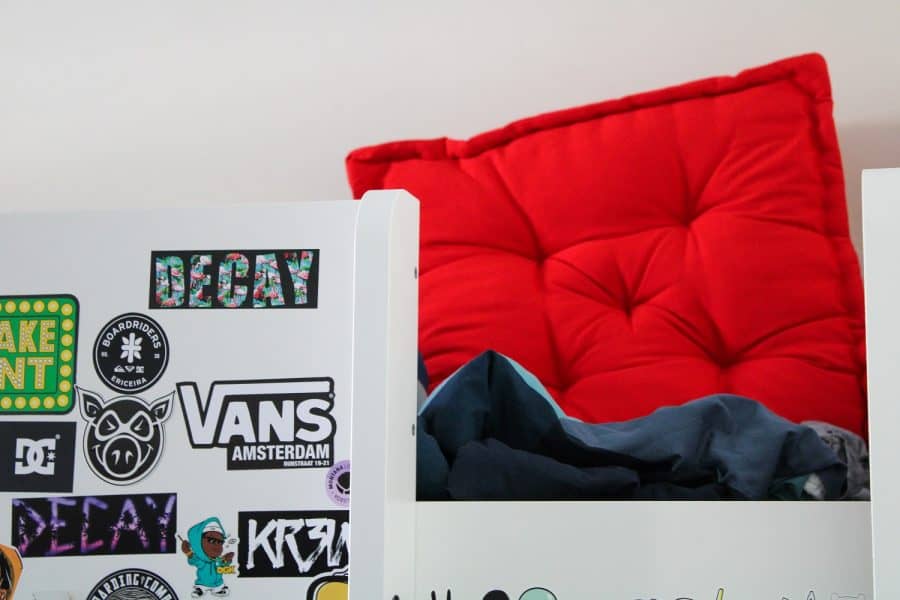 Now that you know how to get free stickers from your favorite brands, here is an extensive list of companies that have been known to fulfill requests. Follow the steps on the brands you love, and then move on to the next one.
Pro tip: you can use the steps above to send out requests to companies that are not on this list, too. Who knows–they just might send them to you!
Related: How To Get Free Airbnb Stays (Plus Make Money In The Process)
1. 5 Hour Energy
2. 7PHP
3. A Dandelion Girl
4. A Man is Not a Financial Plan
5. ACLU
6. Action Network
7. Adams Music
8. Adidas
9. AFTCO
10. AGI Solutions
11. Agni Products
12. Airhole
13. Alcohol Kills
14. All Downhill
15. Almost Skateboards
16. Alpenglow Adventure Sports
17. Alpine Glow
18. Alta Ski Area
19. Alzheimer's Association
20. American Alarm
21. American Experiment
22. American Express
23. American Farmland Trust
24. American Fish and Tackle Company
25. American Flag
26. American Ostrich Farms
27. Annie's
28. Annie's Homegrown, Inc.
29. Anotha Level Clothing
30. Appalachian Alumni
31. Appalachian State University
32. Apple
33. Apple Pay
34. Arizona Shine
35. Art of Adventure
36. ASPCA
37. Athletic Trainer
38. Atoll
39. Audio Love
40. Audio Technica
41. Autism Moms Know Safety (AMKS)
42. B.U.B.B.A Saves Lives
43. Backcountry
44. Bacon Rub
45. Bakersfield Motorcycle
46. Barbara Comstock
47. Barnett Tool & Engineering
48. Baxter Brewing Company
49. Bayview Prep
50. Be More Stoked
51. Beachgoer
52. Bear Safety
53. Belong Designs
54. Bernie Not Me. Us.
55. Big League Trump Supporter
56. Big Words
57. Bigshot Robot
58. Bike Helena
59. Billabong
60. Blockstack
61. Blue Chip Wrestling
62. Board Cave
63. BoardVitals
64. Boca Coast
65. Bolla Kills
66. Boreal Mountain Ski Resort
67. Boxy Mouse
68. Brandon Bair
70. Broaden Surf
71. BroadenSurf
72. Brooks Running
73. BUBBA Saves Lives
74. BUD Love
75. Buddha Pants
76. Buddha Teas
77. Buffalo Jackson
78. Burton Snowboards
79. Camp of Champions
80. Campsite Reports
81. Campus Activism
82. Cape Fear Farm Credit
83. Carb EO
84. Carlsbad Surf Shack
85. Cartel Circuit
86. Catholic Democrats
87. Catholic Radio
88. CCS Skateboarding
89. Center of American Experiment
90. Chaco
91. Champlain College
92. Change Gun Laws
93. Cheerwine
94. Cherry Grove
95. Chicago White Sox
96. Chipotle
97. Chobani
98. Chris Coons
99. Christian Coalition of America
100. Claar Cellars
101. Climate Change
102. Close The Camps
103. Coast Apparel
104. Coca-Cola
105. Code Karate
106. Coexist
107. Collared Greens
108. Comal Trails
109. Concept2
110. Cooler Smarter
111. Coppa Feel Shower
112. Cornell Lab of Ornithology
113. Corporations Are Not People
114. Cory 2020
115. Cotopaxi
116. Cover Me Veterans
117. Cow Tales Candy
118. Crayola
119. Create American Jobs
120. Creation Music Festival
121. Croakies
122. Curiosityness
123. D'Angelico Guitars
124. Daddies Board Shop
125. Dakine
126. Dakota Rural Action
127. Dallas Cannabis Co.
128. Danger Press
129. Daniel Defense
130. Dark Horizon
131. DCCC
132. Dead Punk
133. Debbie Stabenow
134. Defense
135. Democracy for America
136. Department of Health
137. Deuce Gym
138. Dickies
139. Discord
140. DIUA Support
141. DLCC
142. DNT TXT N DRV
143. Domino's
144. Don't Mess with Texas
145. Dr. Bronner's
146. Dr. Pepper
147. Dr. Rubin's
148. Dragon Alliance
149. Ducks Unlimited Decal
150. Dump Starbucks
151. Dutch Bros
152. Earth Can't Wait
153. Eastside Longboards
154. Edisto Beach
155. Einzelgan Motorcycle Gear
156. Element Skateboards
157. Elizabeth Warren for President
158. Empire BMX
159. End Citizens United
160. End Dissection
161. End of Alzheimer's
162. English Club
163. Equal Pay
164. Ernie Ball
165. Es Shoes
166. EVL Nutrition
167. Evo
168. Evolution of Smooth
169. Exalt Paintball
170. Extra Space Needed
171. Fab Kevin
172. Family Radio
173. Farmer Strong
174. Farmland
175. Fayettechill
176. FDR Social Security
177. Fight The Fake News
178. File Island
179. Finimize
180. Fire Island Bicycle Company
181. Fire Rescue
182. Fish For God
183. Fish Hippie
184. FishTrack
185. FLC Alumni
186. Flociety
187. Flux Bindings
188. Framed Biked
189. Free Cooking and Storage
190. Freestyle USA
191. Freezer Labels
192. FreezerLabels.net
193. FringeSport
194. Fruit of The Loom
195. G-Project Gear
196. G8 Auto Parts
197. G8only.com
198. Gatorade
199. Gear Aid
200. Geertsen
201. Geezer Skate
202. Generate Kindness
203. Get Drunk Not Fat
204. GG Magazine
205. Glesgadelic
206. Google Pay
207. GOP
208. Got Joy
209. Got Science
210. GrandTrunk
211. Grandy Oats
212. Grassroots Motorsports
213. Guide to Going Vegan
214. Haley and the Hound
215. Half-Moon Outfitters
216. Harley Davidson
217. Hatteras Island
218. Health Care is a Human Right
219. Health Reform
220. Heely's
221. Henry Made in America
222. Heybo Outdoors
223. Hiking with Shawn
224. Holden
225. Honeybee Gardens
226. Hook & Tackle
227. Hotbodies Racing
228. House Outdoors
229. Houston Astros
230. Howies Hockey Tape
231. Howl Supply Co.
232. HRC Equality
233. Human Rights Campaign
234. Hupy and Abraham
235. Hytest Safety Footwear
236. I am Legion M
237. I Believe
238. I Can Chu
239. I Flip Houses
240. I Love Big Holes
241. I Love KT
242. I Love My Chiro
243. I Love Soil
244. I Sit With John Lewis
245. I Stand with Israel
246. I'm Voting
247. ICANCHU
248. Impeachment Now
249. Import Crate
250. In-N-Out-Burger
251. Indiana Bike Law
252. Indiana Disability Awareness
253. Inequality
254. Intel
255. Intermountain Primary Hospital
256. International Forgiveness Institute
257. International Rescue Committee
258. Interstate Batteries
259. It's It Ice Cream
260. Ivory Ella
261. J Skis
262. Jack Link's
263. Jackfruit Company
264. Jadelynn Brooke
265. Jansport
266. Jeep Beach Jam
267. Jelly Belly
268. Jerk Your Meat
269. Jibij
270. Joe Biden
271. Jones Soda
272. Joyful Warrior
273. Jr. NBA
274. JS Bin
275. K2 SKIS
276. Kaleidoscope Coffee
277. Kamala Harris
278. Kavu
279. Keds
280. Keefer Testing
281. Keen Footwear
282. Keep Calm y Dream On
283. Kellogg's Rice Krispies
284. Kendra Scott
285. Kicker Audio
286. King Off-Road Racing
287. Knfilters
288. KOMATSU
289. Kreg Tool
290. Kubota USA
291. KVSC 88.1 FM
292. Lakeshore Veterinary
293. Lamar Smith
294. Land Sucks
295. Lauren James
296. Law Enforcement Fund
297. Leave The Phone Alone
298. Leo Moments
299. Leucine Zipper
300. Libertarian Party
301. Life is Good
302. Lightning Labels
303. Lindenhurst Fire Department
304. Litter Project
305. LIVIN Foundation
306. LIVSN Designs
307. Logantech
308. Long Island
309. Loome
310. Love Each Other
311. Lucky Knot
312. Lunartik
313. Madera Outdoors
314. Maglite
315. Magnaflow
316. Make America Great Again
317. Make it Missoula
318. Make Life Count
319. Makers Mark
320. Malone Tuning
321. Mammut
322. Manai Design Co.
323. Mario Badescu
324. Marker-Volkl
325. Marmot
326. Marshwear
327. MasterCard
328. Mazie Hirono
329. Medco Athletics
330. Medco Sports Medicine
331. Medi-Badge
332. Media Research Center
333. Medico Apparel
334. Mental Ninja
335. Merrell Upper Peninsula
336. MeTV
337. Mica Move
338. Mica Watches
339. Michelin
340. Michigan Radio
341. Military Times
342. Missouri Firearms Coalition
343. Mitchell Bat
344. Mobile Bay
345. Mobility Works
346. Mogu
347. Moment Skis
348. Momentum Ski Camps
349. Money Out Bernie In
350. Monogrammed Life
351. Moose Tracks
352. Moose Tracks Nation
353. Moosejaw
354. Morning Brew
355. Mountain Reservations
356. Mountain Standard Colorado
357. MoveOn
358. Mr. Yuk Poison Control
359. MTB Project
360. MuirSkate
361. Mustang Survival
362. Myriad
363. Nantlle
364. Naral
365. NLE Officers Memorial Fund
366. National Park Service
367. Need to Impeach
368. Never Better
369. Never Quit
370. New York Said
371. Next Adventure
372. Nextgen America
373. No Handbill
374. O-Mama
375. O'Neill
376. O'Reilly Auto Parts
377. Obamacare is a Lifesaver
378. Obey Giant
379. Occupy Your Heart
380. Odyssey BMX
381. Oklahoma City Thunder
382. Oklahoma Travel
383. Olukai
384. One America News Network
385. Only A's Wear Canada Goose
386. Operation Christmas Child Logo
387. Orange County Diesel
388. Osprey
389. OU Alumni
390. Outdoor Research
391. Outer Links
392. Over Under Clothing
393. OVPN
394. Pace Car
395. Pangea Printing
396. Pangolin Conservation
397. Partners in Health
398. Patagonia
399. Pelican Coast Clothing Company
400. Pennzoil
401. Pepsi
402. Pet Animal Rights
403. PETA Animals Rights
404. PETA Dissection Kills
405. PETA Fur is Dead
406. PETA Kids
407. PETZL
408. Phabricator
409. PhillyViews
410. Pierce County
411. Pimped EDU
412. Pittsburgh Poison Center
413. Playa Bowls
414. PopCorners
415. POW Gloves
416. Pray for America
417. Privacy
418. Project 7
419. Proof of Age
420. Properly Tied
421. Proud Democrat
422. Proven Men
423. PT Pintcast
424. Punisher Skateboards
425. Race Tech
426. Race401
427. Racer X
428. Rails to Trails Conservancy
429. Randal
430. Rapala Free Decals
431. Redding Club
432. Reddit
433. Reef
434. Rehash Skate
435. Rein Naturals
436. Repeal and Replace
437. Resistance is Local
438. Resurgent Skateboards
439. Revision Skis
440. Ripcurl
441. Riverbrain
442. Rome Snowboards
443. Ronnie Creager
444. Roofers Coffee Shop
445. Royal Trappings
446. Rum Connection
447. Russ Brown Motorcycle
448. RVCA
449. S.B. Surfboards
450. Sabian
451. Safe Clean Water
452. Salomon
453. San Diego Sticker
454. Saucony
455. Savage Race
456. Save Lives. Be a Nurse
457. Save the Bay
458. Save the Planet
459. Sayner-Star Lake
460. SB Surfboards
461. Scrub Daddy
462. Scuba Dive Jamaica
463. Seg Metrics
464. Servant Quarters
465. Seton Warning
466. Shake and Fold
467. Shark Love
468. Shipyard Brewery
469. Shoei Helmets
470. Sidewalk Dog
471. Sierra Club
472. Simple Machine
473. Simply Southern
474. Sinclair Oil
475. Sintax77
476. Sir Kensington's
477. Skatelite
478. Skip the Straw
479. Smith & Wesson
480. SOCCO
481. Soils.org
482. Southern Cross Apparel
483. Southern Fried Cotton
484. Southern Girl Prep
485. Southern Lure
486. Southern Marsh Collection
487. Southern Poverty Law Center
488. Southern Sail
489. Southern Tide
490. Sparks Radio
491. Sperry
492. Spicer Parts
493. Spirit 105.3 Radio
494. Spot The Tot
495. Stacked Marketer
496. Static Cling
497. Station of the Cross
498. Stay Away Jay
499. Stick No Evil
500. Sticker Genius
501. Sticker Mule
502. Sticker You
503. Sticky Art
504. StickyArtEU
505. STIHL USA
506. Still My President
507. StonerDays
508. Stop ObamaCare
509. Stop Sexism
510. Stop The Deportation Force
511. Stop The Shoot
512. Store your Board
513. Stretch Logic
514. Subaru
515. Sun Bum
516. Support the Troops
517. Surf or Sound
518. Swimmingly
519. System76
520. Take Care of Texas
521. Tax My Property Fairly
522. Team Expansion
523. Team Valvoline
524. Telluride
525. Tenacious Toys
526. Teva
527. Texas Oil
528. Texas Rising
529. TGM Skateboards
530. Thank FDR for Social Security
531. Christian Broadcasting Network
532. The Health Reformer
533. The House
534. The Hustle
535. The Kaleidoscope Coffee Co
536. The Light FM
537. The Lucky Knot
538. The Lux Crew
539. The North Face
540. The Wall Sticker Company
541. Tillys
542. Timberland
543. Tiny Tulip
544. TNT Fireworks
545. Together We Rise
546. Topo Designs
547. True North Trout
548. Turntable Lab
549. Turtle Fur
550. Under Armour
551. University of Wyoming
552. Upper Playground
553. V's Barbershop
554. Valvoline
555. Van Hollen
556. Vans
557. Vans Off The Wall
558. Vape Streetwear
559. Variant Tactics
560. Vegetarian
561. Vespoli
562. Veto Pro Pac
563. Vineyard Vines
564. Vinyl Disorder
565. VISA
566. Visit Cherry Grove
567. Volcom
568. VonZipper Eyewear & Accessories
569. Vultr
570. Waboba
571. WAFJ 88.3
572. Wallsticker
573. Warehouse Skateboards
574. Watch for Motorcycles
575. Watch for Trolleys
576. Watermark Plumbing
577. We Are Yoga
578. We The People Not The Wealthy
579. Wearata
580. WeKids
581. West Coast Outdoorsman
582. West Path
583. Weyhill & Wharf
584. Wham-O
585. What is My Browser
586. Where's Humphrey
587. Whimsical Wolf
588. White Sox
589. Wife.org
590. WILD Hat Co.
591. Wildlife Conservation Society
592. Wingman
593. Wonderful
594. Woodford Reserve
595. Woodstock Farm Sanctuary
596. World Radio
597. World's Deadliest
598. Y'all Means All
599. Yellow Dog
600. Yelp
601. Yeti
602. Yield to pedestrians
603. You Are Beautiful
604. Young America's Foundation
605. Z88.3FM
606. Zachary Tinkle
607. Zion Oil
608. Zumiez
Show Me Your Stickers!
If you've made it to the end of this massive list of places to get free stickers, congrats! You're one step closer to loading your surfaces with amazing logos and designs.
I would love to hear about your experience with any of the companies listed above. Did they send you free stickers? If there are companies you've received stickers from that are not on this list, please share those, too! I know there are plenty of people who would like to know which companies do send stickers and which ones have discontinued this free offer.
Happy sticker requesting!
Related: How to Get Free Steam Codes
---
We appreciate the time you've spent reading this post and your interest is not lost on us. Your thoughts, questions, or experiences related to the topic are most welcome. Each comment adds strength to our community. We ensure every comment receives our attention, and we take the time to provide thoughtful responses. Once again, thank you for being a part of this conversation. Click here to leave a comment.