Branded Surveys Review: Is It Legit or Worth Your Time?
One of my favorite sites, KashKick, offers tons of ways to earn real cash online. If you're not already a member, give it a shot! Here are five things you can do to make easy money on the site:
Play games (up to $125 each)
Test apps (up to $125 each)
Buy lottery tickets (an easy $8)
Try popular brands (always changing)
Answer surveys (quick cash in minutes!)
When I first came across Branded Surveys, I was worried it was just another sketchy survey site. It's hard to find trustworthy options among scam sites these days.
If you're like me, you're probably on the lookout for ways to bring in extra money each month. With minimal time here and there, surveys seem like an easy way to earn some extra cash. Depending on your income goal, sites like Branded Surveys just might help you reach it.
I admit, signing up with a new survey site causes hesitation, especially since I've had bad experiences with other sites that don't pay well. Surveys can absolutely be a waste of time when I'm looking to earn a lot of money in a short amount of time. However, Branded Surveys is a legitimate site that offers surveys worth taking–as long as you don't prioritize them over your day job.
In this Branded Surveys review, I'll show you each piece of the puzzle to help you understand whether taking a chance on the site is worth your time or not. Decide for yourself if Branded Surveys is right for you.
Our Popular Money-Making Offers
Sign up with each of the following companies to maximize your earning potential.
$10 sign-up bonus
Pays to take surveys, complete offers, shop online, and much more
100s of other paid tasks
Awards cash and gift cards
$5 sign-up bonus
Pays to play games, watch videos, answer polls, and much more
100s of other paid tasks
Awards cash and gift cards
Branded Surveys Review Summary and Quick Facts
Branded Surveys, formerly known as MintVine, was founded in 2012. In 2017, the site rebranded to Branded Surveys and focused on performing market research through paid survey opportunities. Users receive points upon completion of surveys that they can later redeem for payment.
Branded Surveys Pros
No cost to join and you get a 100-point signup bonus
You can increase your earning potential the more you are involved on the platform through its badge system
Surveys are relevant to many known brands
Low $5 payout threshold
The minimum age to join is 16 years old with parental consent
Paid out over $20,000,000 to their members since 2012
Over 40,000 positive Trustpilot reviews
The surveys pay up to $5
Earn up to $100/month
Branded Surveys Cons
No app available- all surveys must be taken from its webpage
No guarantee that you will be approved to take specific surveys
Branded Surveys BBB Rating
B+ (Branded Surveys is under the MintVine business profile. Common user complaints include users having their accounts flagged for activities that were deemed inappropriate on the site, but not disclosed in the terms. This disqualifies members from receiving payouts.)
Related: More Ways to Make $20 a Day Online
What is Branded Surveys and How Does it Work?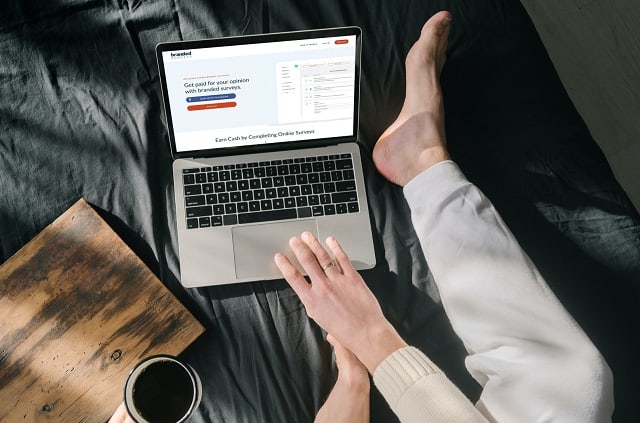 Branded Surveys is one of the top survey sites that pay cash instantly. It is a market research company that connects users to companies seeking user input. This input is contracted in the form of surveys and polls. In exchange, it rewards members through points for completing surveys.
Each survey will be worth a different amount so there is no guarantee how much you'll get paid. Essentially, users get paid to share their opinions, which can make a difference in new products and services that will come on the market in the future.
Branded Surveys has partnered with well-known companies like Nielsen and Fortune 500 companies. The platform has paid out over $20 million dollars to its two million members since 2012.
Related: Nielsen Computer and Mobile Panel Review
1. Sign Up for Branded Surveys

The sign-up process for Branded Surveys is quick and easy. Simply enter your email, create a password, and select your gender to create an account. You can also choose to sign up with your Facebook account profile. Before you can proceed with your Branded Surveys account, you must agree to the terms of service and privacy policy.
2. Complete Your Profile
Make sure your profile for the site is complete so that you have access to appropriate surveys. It's important that your profile accurately reflects your age, where you live, and your gender to ensure surveys that come in can be paired up correctly. Otherwise, you may waste your time trying to qualify for surveys that don't match your experiences or lifestyle.
Additionally, you will have to verify your identity through a series of questions. When your profile is complete, you can receive a 100 point bonus.
Related: Swagbucks Review
3. Begin Taking Surveys
The more questions you answer, the more you can increase your earnings by being matched with even more surveys. Branded Surveys rewards users who are loyal to the platform with an increase in available opportunities. This means you will gain access to more rewards with each new survey.
Surveys on this site take a few minutes to complete. The longest average survey time is approximately 20 minutes, which you can easily complete on a lunch break or while watching an episode of The Office. There is no limit to how many surveys you can take on the site. Thankfully, you are able to view how much time each survey should take before you begin so that you know if you have the time to finish it.
If you are disqualified from taking a survey, you still receive about two to three points for your time. The range for survey rewards is typically between 100 and 500 points which are worth $1 and $5 respectively.
Branded Surveys also rewards loyal users by increasing the amount they get paid for surveys. This is done through a badge system. There are three badges you can get: bronze, silver, and gold. With each level increase, you get a pay rise.
4. Get Rewarded
Each survey you complete means you get points added to your account. In order for you to redeem your points for money, you have to have a minimum of 500 points, which is equivalent to $5. One point is equal to one cent.
When you cash out, you have the opportunity to choose if you want cash sent to your PayPal account or if you'd prefer a gift card to places like Amazon, Apple, Visa, and more. You can also have your money deposited to your Branded Pay account.
Related: Pinecone Research Review
More Popular Money-Making Offers
Earn more money in your spare time with these reputable companies.
Free PayPal cash
Paid surveys and web searches
Earn easy cash back
Get paid directly to your PayPal
PayPal, Visa, Amazon, etc.
Pays you to do NOTHING (with SJ Pulse)
Simply install the software
Participate in paid surveys & studies
Other Ways to Earn Money With Branded Surveys
There are a few other ways to earn with Branded Surveys as well to increase your earning potential.
Branded Elite Referral Program: Must have a bronze, silver, or gold badge to receive 50 points per referral who earns their silver badge.
Partner Surveys: Survey offers from research partners that allow you to complete survey after survey and then be redirected back to the Branded Surveys site.
Leaderboard: Friendly competition among users. Top 50 point earners each day receive 50 bonus points, top 50 earners each week receive 200 bonus points, and top 20 earners each month receive 300 bonus points.
Poll Streak: Complete daily polls multiple days in a row to receive extra points. For every 10 consecutive days completed, you can get a 25 point bonus.
Related: InboxDollars Review
Branded Surveys Q&A
It's natural to still have questions about a site new to you before signing up. Check out these common questions from other users.
Is Branded Surveys safe?
Yes, Branded Surveys is a safe site. It has been proven to pay users and has a B+ rating on the Better Business Bureau site, which is a true testament to this company's legitimacy. It also has a 4.3/5 star rating on Trustpilot where members rave about excellent customer service, receiving payments quickly, and a user-friendly experience on the site.
What countries are Branded Surveys available In?
Currently, Branded Surveys is only available to users who live in the US, UK, or Canada.
Related: Opinion Outpost Review
Are there any Branded Surveys hacks to earn more money?
Be cautious of your time and use it wisely. If you can see how much you can potentially earn with a survey, compare the amount of time it will take you to complete. Consider if it is worth your time to complete. If not, move on to find one that is worth your time. This is the only Branded Surveys hack to help you increase your earnings faster.
Keep in mind, your account can be flagged for any false information you submit to your profile. To prevent wasting your time on surveys and not being able to collect your payment, be as truthful and honest as possible when creating your account. Lying will only cause frustration and losing out on hard-earned money.
What should I do with the Branded Surveys verification text?
In order to cash out your payment, you must have a valid phone number and be able to verify it through a confirmation text. Simply follow the directions in the text message to verify your number. Branded Surveys does not accept any VOIP phone numbers or landline numbers.
Is there a Branded Surveys referral program?
Yes, there is a Branded Surveys Referral program that is only available to bronze, silver, and gold badge users. Each referral who joins and makes it to a silver badge means an additional 50 points for you.
Related: Get Paid to Share Links Online
Branded Surveys Final Review
Taking surveys to earn gift cards or cash isn't for everyone and it definitely won't replace your full-time income. If you understand this ahead of time, you won't be surprised or frustrated when you discover how long it might take you to reach the payout threshold. If you are someone who doesn't enjoy surveys, then this site won't be for you.
Everyone has a different amount of available time in the day. It is up to you to fill that time with money-making opportunities to reach your financial goals. Branded Surveys rewards those who are using the platform consistently. Finding pockets of time to complete surveys will be beneficial.
Earn extra money through surveys, polls, friend referrals, and leaderboard opportunities to get more in your pocket. Branded Surveys is one of the top paying survey sites because it is legit, pays users, and offers more opportunities to earn versus other survey sites. It is also one of the higher-paying sites compared to others.
Try Branded Surveys out for free. You have nothing to lose and much to gain if you put in the time and effort.
---