Kashkick Review: Is It Worth Signing up For?
It's no secret that there are many sites available that will pay you for tasks like taking surveys. The trick to these opportunities is finding legit sites that are safe and have been proven to pay people. It can be difficult to differentiate between scams and legit opportunities so I decided to create a review of one of these sites for your peace of mind.
Kashkick is one of the many options out there that offers surveys in exchange for payment. In a world where you struggle to make ends meet and need a few extra dollars in your pocket, taking surveys is a great way to pass the time while earning much-needed money. You can learn about other companies and products out there while discovering a little more about yourself as well through survey questions.
Unfortunately, there are scam sites that claim they will pay you to take surveys only to leave you high and dry after they have collected all your information from you in one of their "surveys." Don't let this happen to you; do your research about the sites and only sign up with real opportunities. This Kashkick review will help you discover a legit opportunity to complete surveys for money.
Take the chance to try something new and sneak in some surveys during your lunch break, while your kids are napping, or during commercials in your favorite show. It's never a bad time to earn money. Generate extra income to save or help pay the bills with Kashkick.
Our Most Popular Money-Making Offers
Opinion Outpost - A high-paying, trusted survey site that rewards its members in free Amazon gift cards or cash.
Branded Surveys - A legit survey site that rewards its members in cash just for sharing their opinions.
InboxDollars - Get a $5 new-member bonus for joining a site that pays you to play games, search the web, answer polls, and complete paid offers and surveys.
Instacart - Earn up to $20 per hour to shop for and deliver groceries on your own schedule using your own car (and keep 100% of your tips!).
Cash App - Get $185+ in free cash and Bitcoin, invest in Bitcoin and stocks, and send and request money for free. Use my referral code for a cash bonus:
Kashkick Review and Quick Facts
Kashkick has much to offer members of the site. It differs from other survey sites in many ways. Each survey will vary in the amount that you will earn.
Kashkick Pros
Free to sign up and participate
Members get paid in cash instead of points or credits
Direct payouts to PayPal
No charge for cashing out
Pre-qualifies you for surveys
Kashkick Cons
Only available in the USA
No mobile app (but it can still be accessed via your phone's web browser)
Must meet $10 payout threshold minimum before you can get paid
Payouts are bi-weekly, which means you must wait at least two weeks before seeing your money
Kashkick Trustpilot Rating
It's important to be fully transparent in this Kashkick review. I've included true ratings and reviews from Trustpilot to give you an even deeper understanding of what it is like to use Kashkick.
3.8 out of 5 stars – of the 45 reviews, there are several complaints that users' accounts have been deleted with no warning or reason, leaving them with no access to any of the money they have earned up to that point.
Related: InboxDollars Review
What is Kashkick and How Does it Work?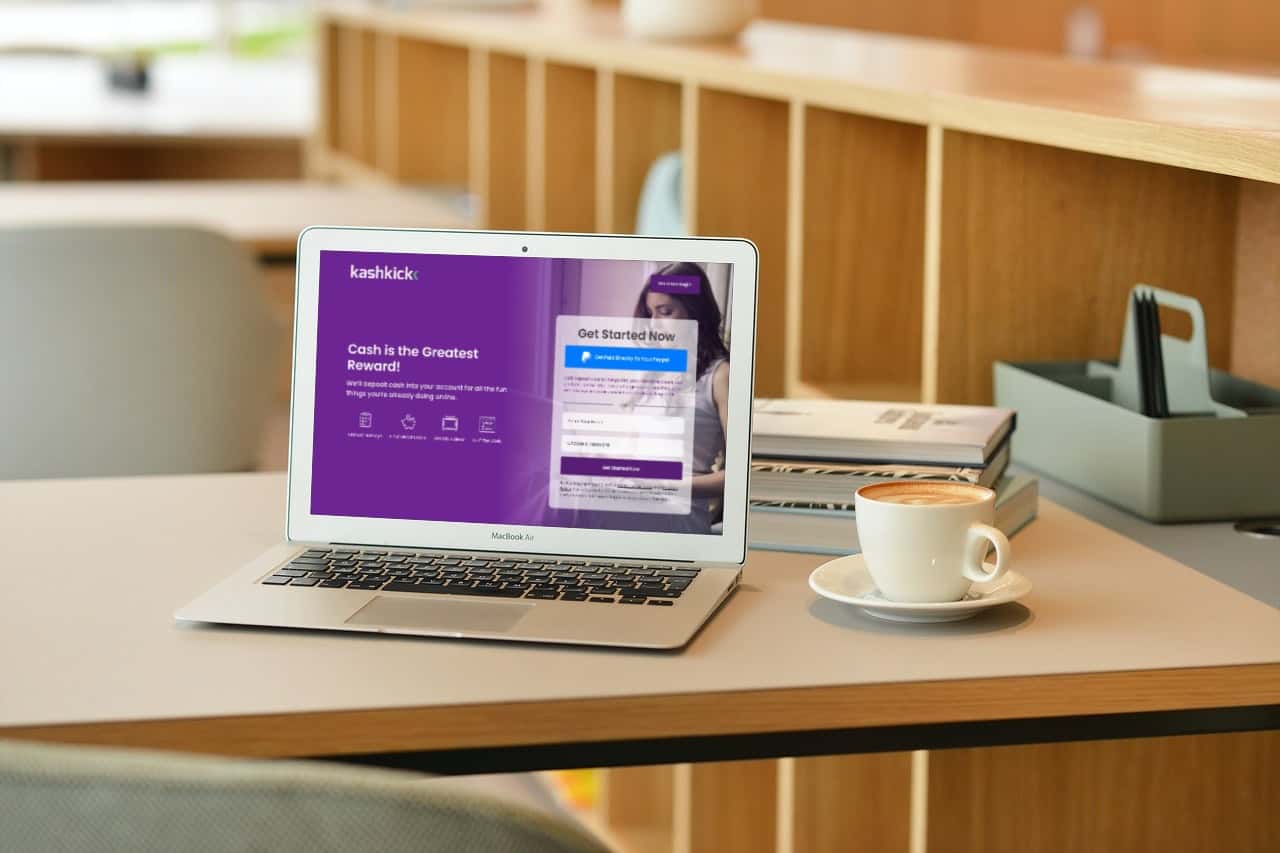 Kashkick is a legitimate online rewards site that allows members to complete surveys for money. It is not a scam. However, the income you generate will not replace a job. Completing surveys online is something you can do in your spare time to earn some extra spending money.
There is no limit to how many surveys you can complete. Easily sign up for an account and start taking the surveys as soon as possible. Collect cash for each survey you complete.
Simply put, companies pay Kashkick for connecting them to members like you. These companies want feedback from members about their new products so connecting with you would give them the feedback they need to make the product even better.
All you have to do is have a good internet connection, spend a few minutes filling out the forms, and get paid for it.
Related: How to Become a Product Reviewer
1. Sign up for Kashkick
The first step is taking advantage of the opportunity to have a free account with Kashkick. You have two options to sign up with Kashkick. Choose to sign up with your PayPal account so that your account is linked for direct payout, or use your email address and create a unique password to get started.
2. Confirm Your Account
Check your inbox for a confirmation email from Kashkick. Once you click the link provided to verify your account, you can then sign in and get started taking surveys on the platform.
Related: Best Sites to Take Surveys for Gift Cards
3. Complete Your Profile Information
It's important to complete the profile information before beginning any of the surveys. This will help match you with surveys that are relevant to you, your experiences, and your demographics.
Kashkick actually matches and notifies you of survey opportunities that fit your profile specifically. This is different from other sites because they typically have you answer qualifying questions before allowing you to take the survey. This is a waste of your time if you end up not being qualified for the survey you're trying to complete. Kashkick takes that step out for you to save you time and optimize your earnings.
4. Start Taking Surveys
Complete the surveys that are right for you. If Kashkick notifies you of a survey, you don't have to accept it if you don't want to. However, you will earn more cash the more you engage and complete the surveys. It's up to you how much money you are trying to make with surveys.
Related: Cash App Surveys for Money
5. Getting Paid
Kashkick has one of the lowest payout thresholds in the industry. You can begin requesting your payment once you have earned at least $10 in your account. Other sites require a $20+ minimum threshold, which means you have to go longer without any monetary gratification for the work you are doing.
Simply request your payout and your money is directly deposited to your PayPal account. It's convenient, free, and safe to use.
Each survey will pay a differing amount depending on how long it takes to answer the questions. Check before starting the survey how much you will get paid to answer questions so that you know it's worth your time.
As with any rewards site, surveys won't make you rich. However, if you spend your time wisely on surveys that pay well, you will be pleased with the outcome.
Other Ways to Earn Money With Kashkick
Kashkick offers a variety of ways to make money in addition to participating in surveys. Maximize your earning potential by completing even more tasks.
Play games – select the games that appeal to you and earn cash for playing.
Watch videos – videos are short ads and you will need to watch a specific amount of videos before getting paid.
Surf the web – allow Kashkick access to your browsing behavior for studying purposes and make money for it.
Find deals – take advantage of coupons or cashback opportunities.
Related: Get Paid to Play Games on Your Phone
Kashkick Q&A
Making the decision to partner with any online site can be nerve-wracking at times. Take a look at common questions new users ask about Kashkick before signing up with the site.
How do I withdraw from Kashkick?
It's a simple process to request a payout. Kashkick only offers deposits to PayPal accounts at this time so there is no guessing over what kind of reward you get. Ask for your deposit and it will be available in your PayPal account.
Keep in mind that you can request your payout as long as you are over the minimum threshold amount. However, you might not see the money right away. Kashkick makes payments every other week so if you request your funds at the beginning of the new pay period, you might not see your funds for about two weeks.
Related: How to Exchange Visa Gift Cards for Cash
Is Kashkick safe?
Yes, Kashkick is safe and legit. It is not a scam site. It has been proven to pay members for their time completing surveys and other tasks. The withdrawals are also done securely and safely to ensure you receive your hard-earned money.
Is Kashkick available worldwide?
At this time, Kashkick is only available to citizens and residents of the United States of America as seen in the Terms and Conditions policy. Users must also be at least 18 years old to participate and get paid to take surveys on Kashkick.
Related: Is Cash App for Minors?
Is there a Kashkick referral program?
Users report receiving referral bonuses by sharing their unique referral links on social media or on blog posts. Kashkick offers a 25% commission to you as the referrer for any subscriptions, promotions, and sponsored surveys your referral participates in.
Kashkick Final Review
There is no doubt that you have many options when it comes to choosing the best site for you to make money with surveys. Each site comes with both pros and cons. The real question is asking yourself what is the most important aspect of the site you want to partner with to earn extra money.
This Kashkick review is meant to help you make an informed decision on whether or not it is the right site for you. Having the peace of mind that Kashkick is legit and safe is the most important part of the decision-making process.
You have nothing to lose and all the opportunity to gain by signing up with Kashkick. Do something in your spare time that truly pays. Try it out for yourself and learn about the site and other products at the same time. Make your own decision from this Kashkick review.