How to Become a Social Media Manager and Find Clients
Try Bingo Cash, the ultimate bingo app for turning your skills into extra cash while enjoying colorful and engaging head-to-head matches. Win up to $83 per game and experience the classic bingo thrill in the comfort of your own home. Test your daubing skills and become a big winner today!
Bingo Cash™ is FREE to download and play! However, cash tournaments are not available in the following states: AZ, IA, LA, SC & WA.
We all know how important social media is in everyday life. By important, I don't mean it's something we can't live without. However, there is no denying that learning how to become a social media manager now is an ideal opportunity, especially if you are willing to learn how to maximize your reach.
Social media is what businesses use to connect deeper with their audiences, customers, clients, etc. These businesses can attract more views on their brands on social media platforms like Facebook, Instagram, Twitter, and Tik Tok which essentially leads to more money down the pipeline.
Over half of the world's population uses social media, which only goes to show how much of an audience you can capture on your social media pages. When all eyes are on the platforms you are using, then you can promote yourself in new ways each day to attract more business. This is where a social media manager comes into play.
One of my favorite sites, Swagbucks, offers tons of ways to earn real cash online. If you're not already a member, give it a shot! Here are five things you can do to make easy money on the site:
Play games (up to $322 each)
Test apps (up to $150 each)
Submit receipts (easy cash)
Shop at your favorite stores (up to 10% back)
Answer surveys and polls (quick cash in minutes!)
Our Popular Free Guides
How to Start a Permanent Jewelry Business - If you are patient, have social skills, and love interacting with others, then a permanent jewelry business may be for you.
How to Become a Sleep Consultant - Help parents and babies, and be the difference for families worldwide who are desperate for more Zzzs in their life as a sleep consultant.
How to Become a Proofreader - There are five basic steps to working from home as a proofreader. As long as you're willing to put in the work, you can become a proofreader!
What is a Social Media Manager?
A social media manager receives access to the social media accounts a client wants to use to gain more attention, grow their following, and essentially increase their revenue. As a social media manager, it is your job to research your client's ideal customer and create content based on what would attract that customer.
For example, if your client is in the hair care industry, you would want to create content related to hair tips, styles, products, and inspiration. If you post consistently and make engaging content, your client's social media account will grow, which leads to more business.
A social media manager also engages with other accounts under the premise that the client is the one engaging. The social media manager will spend time commenting, liking, and sharing other accounts' information to create connections and build a larger presence online.
Related: How to Become a Social Media Influencer
Does a Social Media Manager Require a License?
A social media manager does not require a license. However, there are several online education options you can choose to take to increase your knowledge in social media managing strategies. These education options typically reward you with a certificate of completion that would be beneficial to display to potential clients.
Other Social Media Manager Requirements and Qualifications
When you're learning how to become a social media manager, there is much more that goes into being a successful one. It's not just slapping some pictures and words together online. There is an art behind the process and a skill to know how to beat the algorithms.
Social media managers should be patient, dedicated, and trustworthy. You will be handling accounts for clients. That means they will have to share passwords and other private information about themselves with you. They need to know they can rely on your discretion with that kind of information.
Communication and sharp grammar skills are also necessary to become a social media manager. Some employers may look for a degree in a related field, but this is not always the case.
Related: How to Become a Proofreader
Social Media Manager Salary or Pay Expectations
According to PayScale, the average yearly salary for a social media manager in the United States is over $52,000. This salary will vary depending on many factors such as the area you live in and the area of business you serve.
Since social media managers mainly work online, this opens up more opportunities to take on clients in a different area than where they currently live. This means they can increase their pay to match that of the area the client lives in.
Additionally, newer social media managers will start out making less than experienced managers. As you gain more experience, you can increase your rates.
Related: How to Get Paid to Like Instagram Photos
6 Simple Steps to Become a Social Media Manager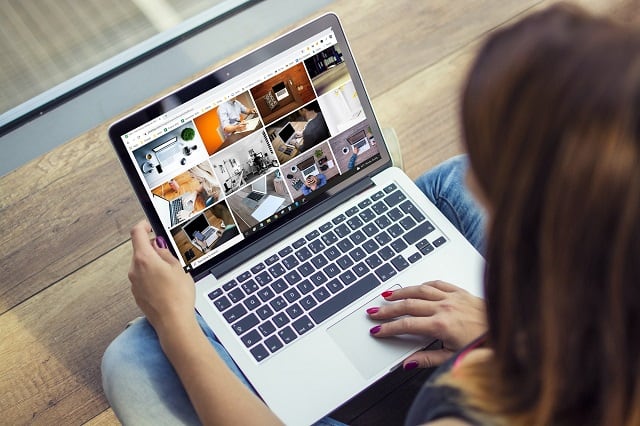 Becoming a social media manager doesn't happen overnight. Take a look at the steps you should take to start off with your best foot forward.
1. Decide Your Niche
Picking a niche as a social media manager is important because it gives you a direction as to what kind of audience you want to serve. If you have a passion for things relating to motherhood, then offering your services to a tech company may not work out for a number of reasons.
Each niche has a specific language, look, and overall feel. You have to know these things about the niche you want to serve in order to produce relevant content and happy clients.
Similar to going for a job interview, the person looking to hire will want to know if you have any experience in the position you are applying for. As a social media manager, your future clients will want to know what niche you have experience in before deciding to hire you.
Related: How to Become a Brand Ambassador
2. Search for Clients
Create your own social media manager pages on the platforms you will specialize in and generate a following there. Not only will this increase awareness of your services, but it will also show prospective clients that you know what you're doing because you have proof with your own social media accounts.
You can also join a variety of entrepreneur groups on Facebook to make connections and respond to posters when they are searching for social media manager recommendations. Reach out to family and friends to see if they know of anyone looking for a social media manager. There is no limit to where you can go to attract clients.
3. Advertise Yourself
Optimize your social media profiles with information about your services and how clients can get in touch with you. Promote your services in Facebook groups with posts that tell readers what you specialize in and how you can help them.
Never miss an opportunity to tell others what you can do. Additionally, if you're going to become a social media manager, then you have to leverage your social media platforms for yourself before you can do so for your clients.
Related: Best Service Business Ideas
4. Ask for Client Testimonials
With each client that you serve, ask for a testimonial about the work you did for them. The best way to grow as a social media manager is to provide that social proof everyone is looking for. Social proof shows you are a legitimate manager who can do the job well.
Written testimonials are good to use in addition to video testimonials. Take advantage of both types of testimonials when you ask your client for their recommendation.
5. Set Your Rates
This step is often one that stops aspiring social media managers in their tracks. It can be difficult to nail down a rate. It's even more difficult to know what other people are charging. Ask around in the connections you make to inquire about the kind of value other social media managers are bringing. Understand how much their clients are paying for it.
In the end, it's all about what you can do for your client, how much time you spend on their accounts, and the content you create.
The good thing about rates is that you don't have to stick with just one rate for your whole career. You can give yourself a raise after each client assignment you complete.
6. Set Yourself Apart from Others
Social media managers seem like a dime a dozen these days. Because of this fact you have to find something that sets you apart from the others. Consider questions like: What kind of special service can you provide that others don't? What makes working with you the better option than working with anyone else?
Related: How to Become a Graphic Designer
KashKick is a great find for gig workers, offering many ways to make extra money doing what you enjoy. Try it out - it's free! Here are five easy ways to start earning money on the site:
Play games (up to $125 each)
Test apps (up to $125 each)
Buy lottery tickets (an easy $8)
Try popular brands (always changing)
Answer surveys (quick cash in minutes!)
Questions New Social Media Managers are Asking
As a new social media manager, make sure you fully understand what this job entails. Find out what other questions are being asked.
How many years does it take to become a social media manager?
Truthfully, there may be some employers who require that you have some kind of degree to become a social media manager. A degree can take a minimum of four years to complete. However, don't get discouraged as there are plenty of brands and businesses out there who do not require this.
In a fast-moving world, oftentimes it's about proving that you can do the job. It's not necessarily about how many years you spent in school to get a degree.
Technically, you could decide overnight that you want to become a social media manager. However, to be successful in this role can take months to years depending on how much time you dedicate to it.
How do social media managers get paid?
This can take place a few different ways. Some managers get put on a client's payroll and get paid by direct deposit. Other managers are freelancers and choose their own methods of payment whether that be through a check in the mail, a PayPal deposit, or another online payment service.
Related: Get Paid to Answer Phone Calls From Home
Is social media managing a good job?
Your own definition of what a "good job" is will determine the answer to this. In general, this is a good job if you are willing to put in the work, dedicated to getting results, and have built up a solid client base. If you enjoy doing this work then that makes it all the more worth it.
Is it hard to become a social media manager?
It takes time to become a social media manager but it is not hard to do. However, having patience will get you further than if you try to rush things along the way. You need time to grow your presence and gain experience. The most difficult part of it all is the time it can take to see that traction.
Are social media managers in demand?
Social media managers are in constant demand. The more social platforms are used to grow businesses and brands, the more managers will be required in those businesses.
Having a business is all about that customer relationship. If you can start that relationship through social media before that person actually becomes a customer, then you are ahead of the game.
Many brands and businesses simply don't have the time to devote to their social accounts. Therefore, a social media manager will be the person they look to for help.
Related: Best Home Based Business Ideas for Moms
Who Should Become a Social Media Manager?
The best person for this role is someone who wants to learn and grow while helping clients reach their potential customers. You have to be willing to stay on top of current events and views to better understand who your client needs to reach out to through their profiles. Your intuition can serve you well in this role.
In this role, you can't slack off. You have to stay on top of the ever changing algorithms on the various platforms. You also have to find creative ways to grow your client's presence. If this is something you can do, then pursue the possibility of how to become a social media manager.
Truly consider the niche you want to serve, remind yourself that this venture takes time, and don't give up when it seems like you're not gaining enough momentum yet in this new journey. Focus on being the best social media manager you can be.
Related: How to Become a Virtual Assistant
---