31 Legitimate Ways to Get Free Money Right Now
We foster relationships with brands we use and trust. The testimonials on our site represent real experiences, but they don't guarantee you'll achieve similar results. When you make purchases through our links to our partners, we may earn a commission. Your support helps us continue this work. You can read our full disclosure here.
When finances become tight, we all begin to search for quick solutions, such as methods to obtain free money. Maybe you're in a spot right now where you need some extra cash right now. This guide is here to help you through those tough times, with easy-to-follow steps to boost your finances.
Just keep in mind, even though we talk about getting 'free money', there's usually something small you need to do in return. But don't worry, if you've got a bit of spare time, you can try out the different methods in this guide to help cover your immediate money needs.
Get Free Money Right Now With Your Smartphone
1. Enter Swagstakes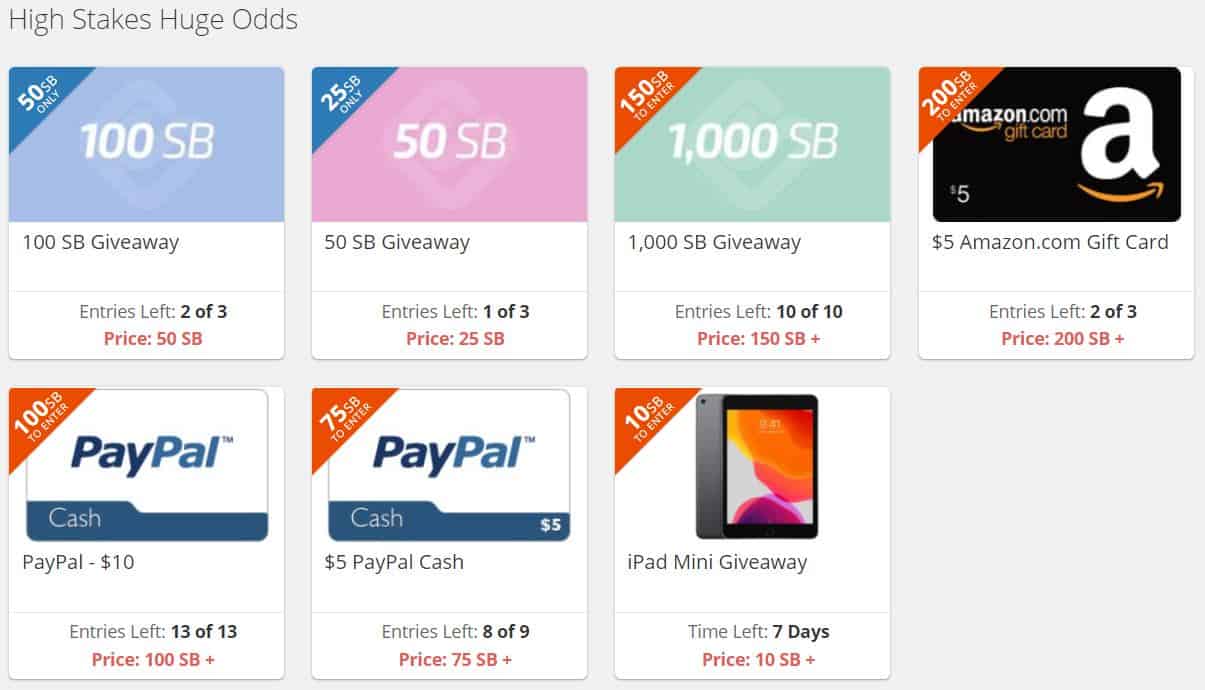 If you're feeling lucky, you could potentially win free money instantly on sites like Swagbucks by entering Swagstakes. I would never suggest gambling when you're in dire need, but there are plenty of Swagstakes you can enter using the SBs (Swagbucks) in your account instead of your own money.
Sometimes you can find other sweepstakes and giveaways online, but be very cautious when entering your information on unknown sites. There are few opportunities to win, and often they require your permission to receive relentless sales calls in order to enter the contest (yuck).
Consider skipping those and just get started with a $10 bonus on Swagbucks! There are tons of easy ways to get free money once you join the platform.
2. Play Blackout Bingo for Real Money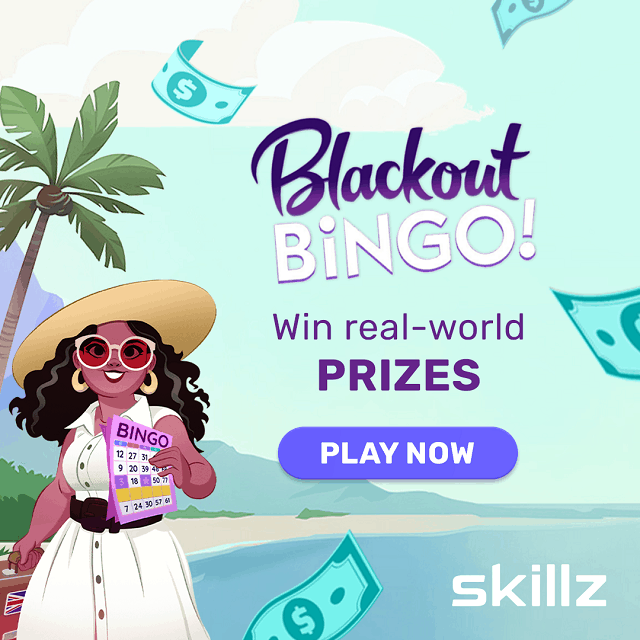 A popular game that is making waves for offering ways to get free money is Blackout Bingo. It is a Skillz mobile game that offers fun, exciting ways to earn money at the palm of your hand.
With Blackout Bingo, you can play for free or pay to play games where you can actually win real money. Clear out your Bingo card quickly and daub fast all before the clock runs out. If you do that consistently, you could potentially get loads of money while never leaving your couch.
Play against real people who are playing for money, too. Get your adrenaline going by racing against the clock while racing against another person. The winner gets to collect their earnings by cashing out through PayPal, American Express, Visa, MasterCard, or Apple Pay.
Enter the Skillz promo code APget5 and get FREE bonus cash with your first $5+ deposit.
Please Note! Cash tournaments are available in most of the world. Cash tournaments are not enabled in the following states: AR, CT, DE, IN, LA, ME and SD. If you don't live in a prize-enabled region, you can still play for free.
3. Complete Easy Tasks on KashKick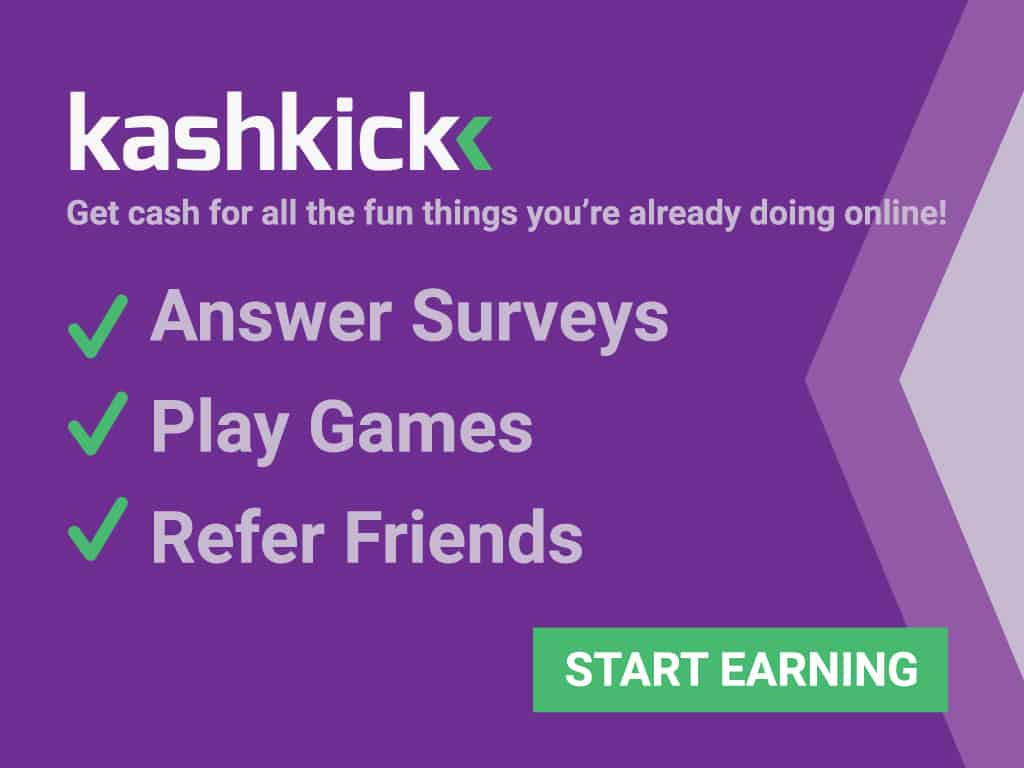 Kashkick is an innovative online platform that offers users the opportunity to earn extra cash during their spare time. By participating in simple activities such as taking surveys, watching videos, and completing offers from various brands, users can easily accumulate rewards that can be redeemed for cash. This makes KashKick a fun and engaging way to make the most of your free time while generating some additional income.
What sets Kashkick apart from other similar platforms is its user-friendly interface and diverse range of tasks, catering to people with different interests and skill sets. Users can conveniently choose activities that align with their preferences, making the experience enjoyable and more rewarding.
As an added bonus, the quick payout process ensures that users can reap the benefits of their efforts without delay. Overall, Kashkick presents itself as a great way to get free money in your spare time, allowing individuals to transform their idle moments into productive and gratifying sessions.
4. Refer-a-Friend for Free Money Now
It's one thing to refer friends to spammy websites, but it's a whole other thing to legitimately help friends also get free money now. There are plenty of high paying survey sites where you can earn a decent referral fee without asking your friends or family to pay a dime. The best way to convince friends to sign up is to try the companies out yourself and genuinely share the ones you like the most.
Here are some refer-a-friend bonuses that can add up fast:
---
InboxDollars

InboxDollars is a free microtask website that pays members to do all kinds of tasks like playing games, shopping online, answering surveys, signing up for free offers, and much more. Get $5 for signing up, then refer friends to join for a $5 bonus and earn 30% of each referral's income.
---
MyPoints

MyPoints is a free cashback shopping portal and survey center that rewards members in points, which can later be redeemed for gift cards and PayPal cash. You'll get a $5 bonus for signing up and completing your first five surveys.
You can refer friends using your unique referral link and earn 25 points for everyone who joins plus 10% of all of their earnings going forward. For each friend who uses the shopping portal to earn cash back (optional), you'll earn 750 more points when they spend at least $20 within the first 30 days. For each friend who earns 1,000 points within the first 30 days, you'll both get a 1,000 point bonus.
---
Respondent

Respondent.io is a company that pays its members to participate in research studies about products and services you already use. Earn free money by participating in those studies, plus get $20 to refer friends to the general website or $50 to refer them to specific studies.
Related: How to Get Paid to Share Links Online
5. Complete Paid Offers for Free Money Now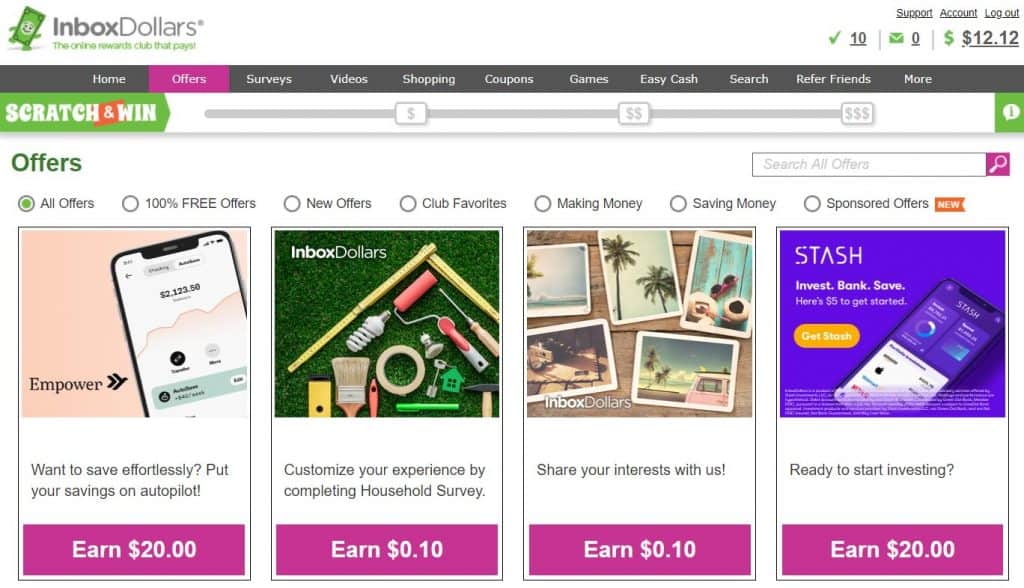 There are companies that will pay you to sign up and complete offers like free trials, games, sample reviews, and more. Earning cash for doing the things you already do is the best hack for free money to date.
InboxDollars is my all-time favorite place to go scavenge for paid offers. I've earned money by doing easy tasks like requesting a free insurance quote, watching short video ads, playing games, trying free products, and much more. This company keeps a dedicated page updated with free offers that pay good money.
I've had hundreds of dollars in free money mailed to me from InboxDollars just for hopping on the website in my spare time. As a new member of InboxDollars, you can get free money right now just for signing up.
Related: InboxDollars Review
6. Review Free Products and Services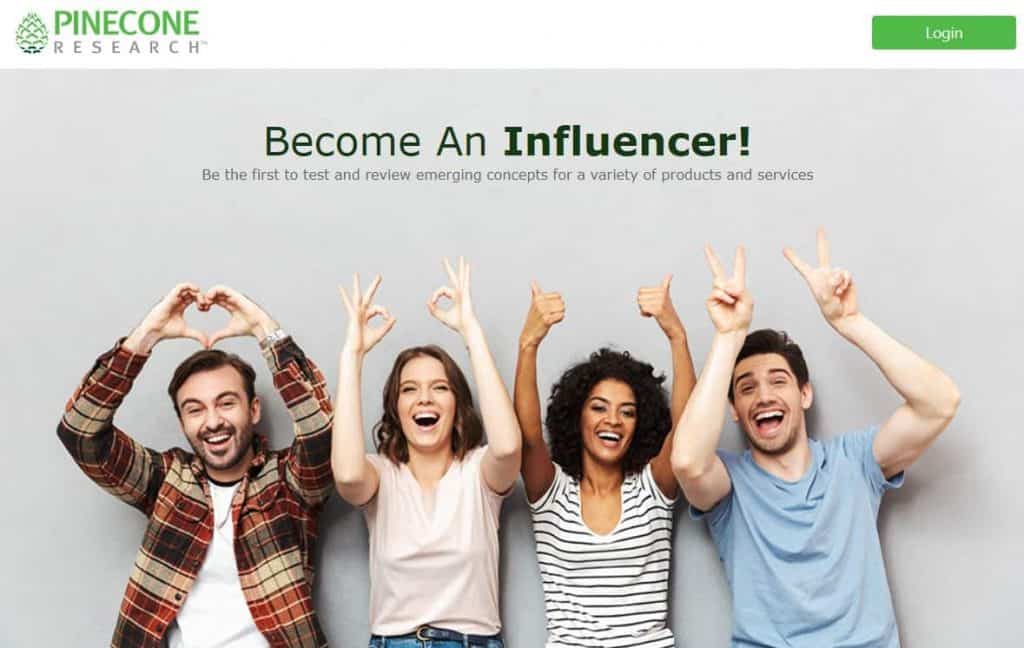 Become a member of Pinecone Research to earn some quick cash for testing and reviewing products and completing questionnaires about the products and services you use. The free site pays up to $3 per brief task.
You can sign up for a free account and start earning money as soon as you fill out a few demographic questions. This information helps the company match you with eligible offers. Sign up with Pinecone Research to get free money for reviewing the products and services you already use.
Related: Pinecone Research Review
7. Negotiate Lower Payments With Your Creditors
If you need money today for free, consider putting up to 25% of the money you spend on monthly bills back into your pocket using Trim. It's an easy way to get free money instantly to put back into your budget.
The company negotiates with your creditors on your behalf and keeps your bill payments as low as possible. Check out Trim to see how much money it can get you every month.
When you need money now, saving money fast could make all the difference.
8. Download Apps to Earn Money in Your Sleep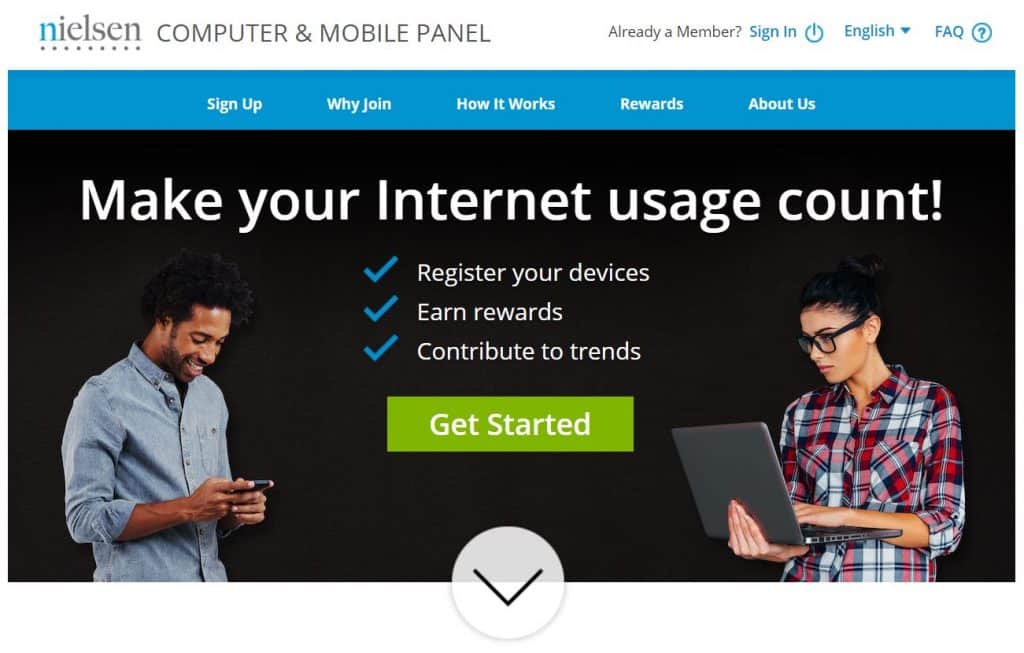 Nielsen Computer and Mobile Panel is an app that runs in the background of your phone (or computer) and offers legitimate opportunities to win cash or gift cards every week.
The company collects anonymous data usage from thousands of smartphone users and uses it to predict market trends for big brands. It helps marketers keep up with the demands of consumers, without encroaching on anyone's privacy. Nielsen offers an easy way to earn money in your sleep.
To earn an easy $50 per year doing absolutely nothing, download and install Nielsen Computer and Mobile Panel on your devices. For as long as you decide to keep the app installed, you can continuously earn points and credits toward future rewards!
Related: Nielsen Computer & Mobile Panel Review
9. Upload Your Receipts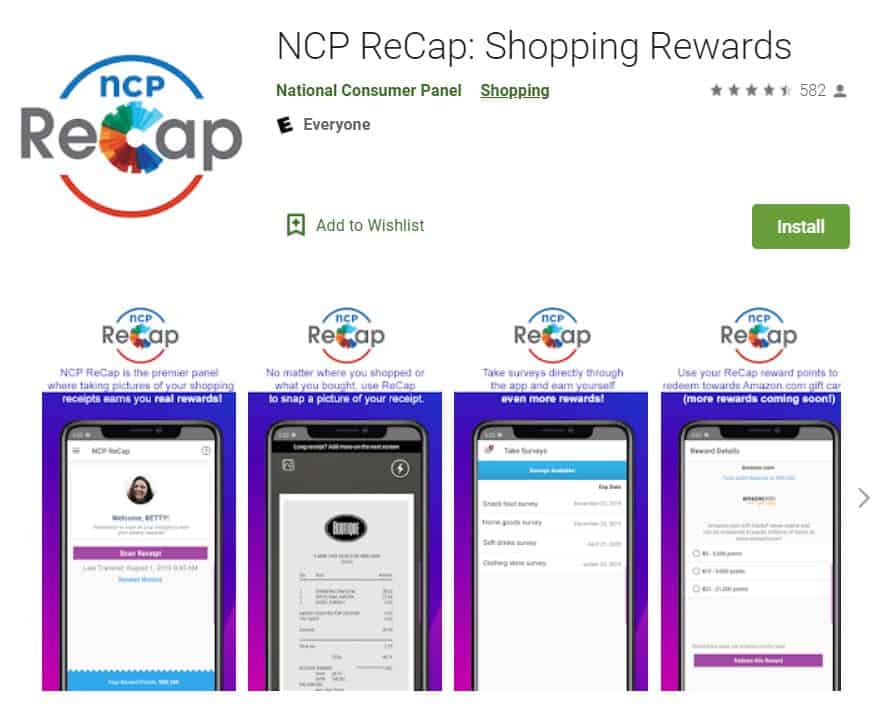 Are you a serial paper receipt saver? I know I am! If you have a stash of them lying around, you can actually get paid to upload receipts to different apps.
NCP ReCap is a free app that pays you for your receipts. Neilsen is one of the leading companies in consumer research, and it has been in business for over 98 years.
You can download the app to your smartphone for free and start uploading the receipts you've saved right away. You'll earn rewards no matter where you shop, and you'll even earn free entries into Nielsen's sweepstakes.
If you are looking to get free money now, then put those receipts to good use and upload them to NCP ReCap here.
Related: Is Prizegrab Legit?
10. Get Free Money Now to Shop
Earning cash back while using a credit card is old news, but not everyone knows that there are apps that give you free money back after you shop. Sites like Rakuten and Ibotta get paid to promote popular brands and then turn around and split the earnings with you. It's an easy way to earn money while shopping for the things you already need.
Rakuten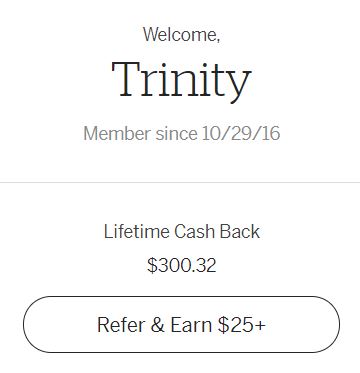 Rakuten is a free cashback website that helps you put money back into your pocket when you shop online and in certain stores. I've used it on and off over the years and have received just over $300 from the company!
This is one of my favorite cash back apps. Right now, you can get a $30 bonus as a new Rakuten member! In order to get the free money, you must spend at least $30 at a participating store. But that's an amazing deal since you can get $30 worth of purchases absolutely free using Rakuten.
If you end up loving the company, you can earn an additional cash bonus for each friend you invite to use the app! It's easy to convince friends to give it a try since they will also get free money now to spend online.
Related: Rakuten Review
Ibotta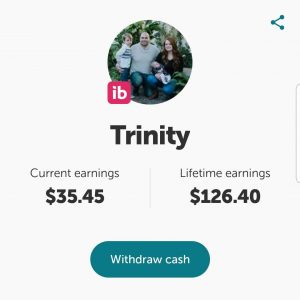 Ibotta pays you to shop for necessities like groceries. While you jot down your next shopping list, hop on the app to see what cash back deals it has going on. The deals change every week so you can watch for your favorite brands (and try some new ones!).
Related: Ibotta Review
11. Get Your Cell Phone Bill Paid For
What's the closest thing to getting free money right now without an actual exchange of cash? It's getting a necessary bill completely paid for. Your phone bill comes each month without fail, and if you don't pay it, your phone gets cut off.
Instead of prioritizing your $50 to $100+ phone bill, check your eligibility on NO COST cell phone service by TruConnect's Lifeline plan. If you qualify, you'll get a full year of free service and potentially put between $600 and $1,200 (or more) back into your budget.
The year 2020 was unkind to consumers, and 2021 didn't show amazing improvements. Don't worry about how you're going to pay your phone bill in 2022.
How to Get Free Money Right Now Online
12. Get an Instant Offer on Your Electronics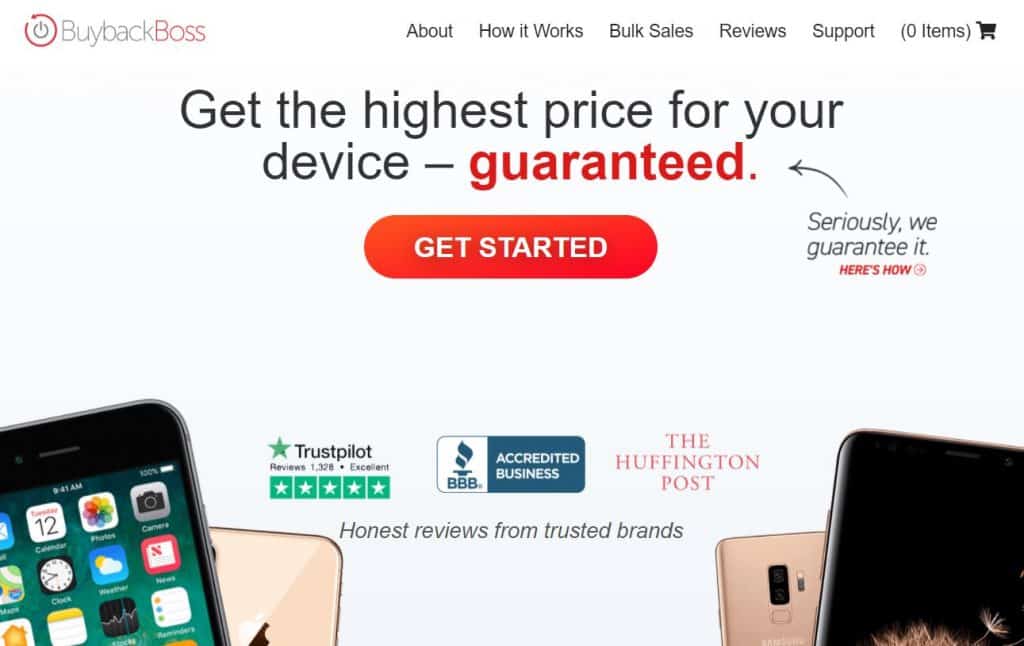 When I need cash, I look for things to sell that I no longer use.
BuyBack Boss provides instant cash offers for used smartphones and tablets. If you have some devices on hand that you're no longer using, you can turn them into quick cash online.
Simply visit BuyBack Boss and request an instant price. If you like the offer, go ahead and accept it! Buyback Boss provides a free shipping label so that you don't have to shell out any money to send in your device(s).
You can learn more about it in our BuyBack Boss review.
13. Make and Sell Printables Online
Printables are one of the best things to make and sell on Etsy or other online marketplaces. You can make them once and sell them over and over. I created an Etsy store with a few simple printables and earn a small residual income from them each month. As time allows, I will create more designs and continue to make money doing nothing.
There are tons of different types of printables that people will pay for. Just think of what would make your life easier like a printable checklist, schedule or journal pages, then create them and start selling digital copies. If you need some inspiration, check out this FREE eBook that will help you decide which printables to make and sell during the right seasons.
You can open an Etsy store and list your first 40 items for free to see if this method could help you make $2,000 fast. After you've sold 40 items, Etsy charges just $.20 per listing plus a 5% processing fee. It's easy to cover these costs with digital items like printables because it doesn't cost you anything to supply the product.
If you need some tips on how to start an Etsy shop, check out my full guide here.
Before you start selling printables on Etsy, make sure to check out this free resource!
14. Design Graphics to Print on Clothing and Handbags
You don't have to be a professional graphic designer to create the perfect t-shirt. There are platforms that let you upload graphics you design to place on shirts, sweaters, leggings, handbags, smartphone cases, and more.
You can list your designs online and sell them to get free money instantly. Once a customer places an order, the platform handles the printing, packaging, and shipping. You just handle the designing and marketing side of the business.
Related: How to Become a Dropshipper
15. Build a Subscription Box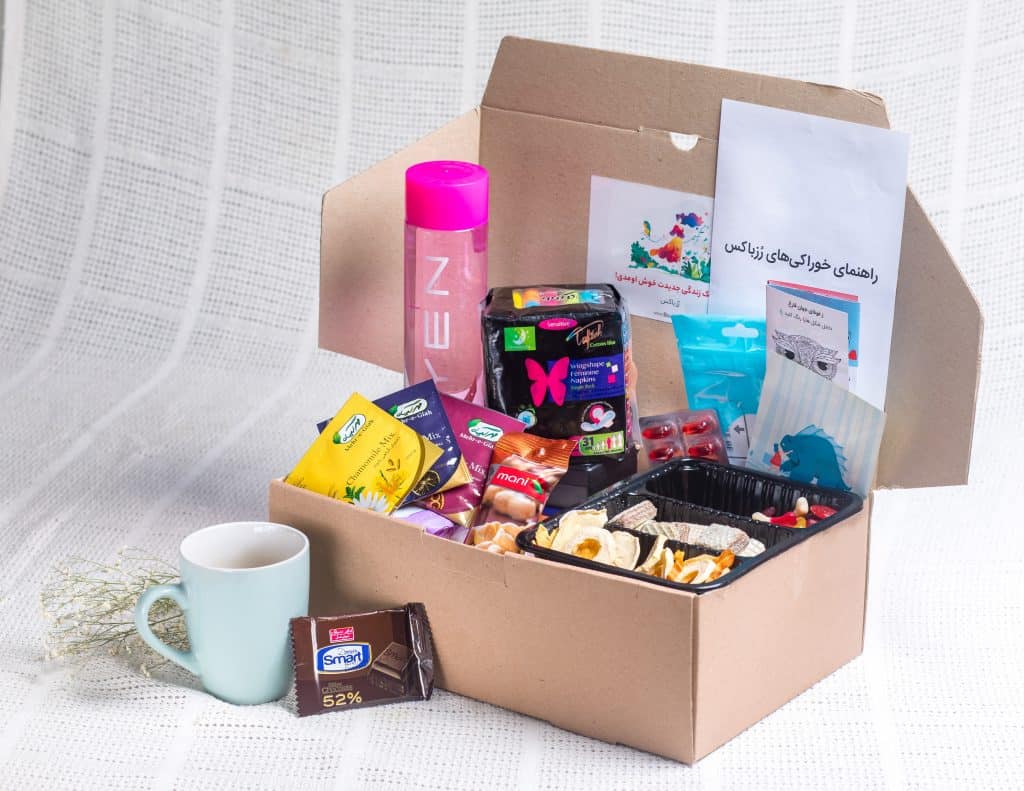 Life is all about convenience. Subscription box businesses make life simpler and a bit more fun. You could potentially make money quickly by starting a subscription box business online.
Getting started is simple. The hardest part is deciding what to put in your subscription boxes. To decide, think about the audiences you can reach on social media, then build the perfect box just for them. Check out these 50 subscription box ideas to help inspire you to get started.
16. Create Content for Online Businesses
Since the content on the internet increases exponentially by the day, there's no shortage of work in this industry. To capitalize on this era, you can become a content creator. There are all kinds of content you can create such as articles, video content, and voice recordings. There are endless opportunities to put your writing skills to work as a content creator.
17. Publish eBooks
I used to think it would be difficult to become a published author. Then one day I planned out an entire eBook and wrote it over the next three long weekends. Now I earn a residual income from selling copies every month.
You can make money selling eBooks on all kinds of topics. Choose a topic you know well, research it to make it even better, and put it all together to make the perfect Guide. Once you've published your first book, you may be addicted to the income and decide to start writing more books immediately.
Related: 10 Places to Sign up And Get Money Instantly
How to Get Free Money Right Now in Person
18. Flip Stuff for a Huge Profit
Flipping things for cash has been a popular way to make money for many years now. High ticket items like houses aren't the only items that make good money either.
You can flip all kinds of treasures like books, toys, fitness gear, clothes, and much more. Find deals at flea markets, garage sales, thrift stores, and even junk piles. Finding junk that's actually worth money is one of the simplest ways to get free money instantly.
19. Ask for Free Money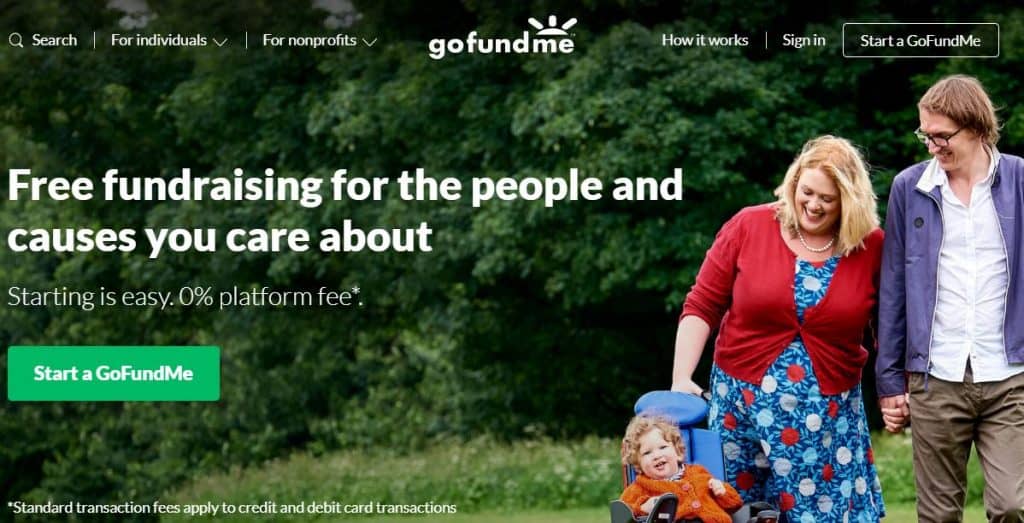 When it comes to needing free money in a bind, sometimes the answer is right in front of you–just ask for it. You don't have to find ways to finesse money if your cause is legitimate and convincing on its own.
In order to get money now, start a GoFundMe account. Of course, getting money this way to buy a dirt bike would be extremely difficult, but sharing your story on an accident that requires payment on medical bills could tug at the heartstrings of potential donors. Share your campaign on social media to get it in front of the most eyes possible.
Do you have friends or family who might be willing to give you free money? If so, share your GoFundMe campaign with them or ask them for cash.
Related: How to Transfer a Visa Gift Card to Your Bank Account
20. Deliver Food Without a Commitment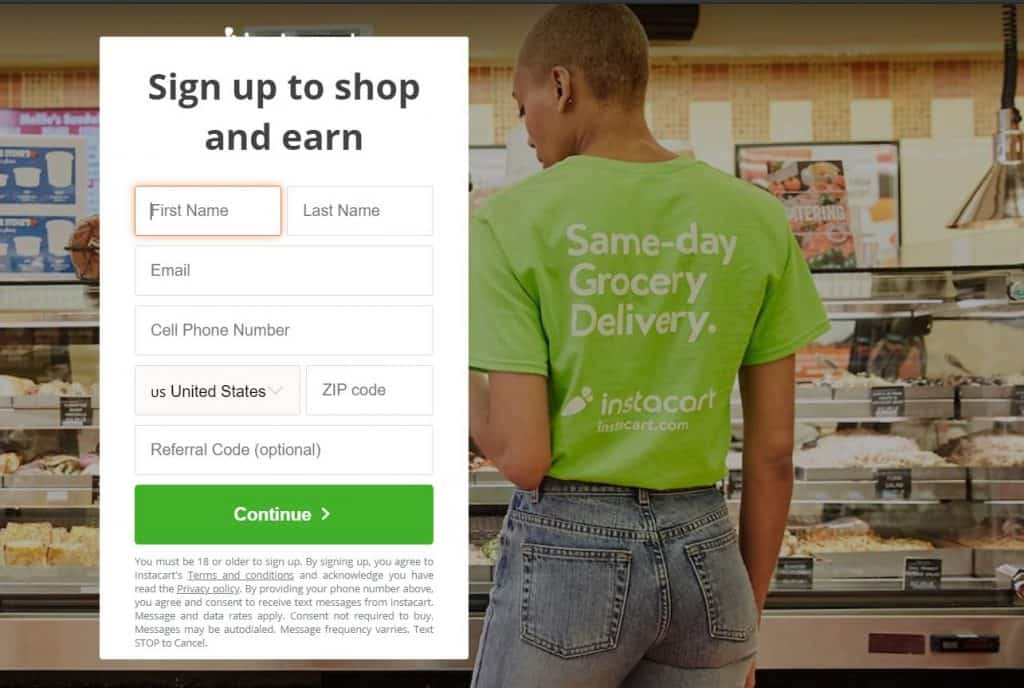 If you have a reliable car and some extra time, sign up as an Instacart shopper. Between your other side hustles to earn $2,000, you can fill your spare time delivering groceries. Customers can leave you tips that will help you get closer to your earning goals. The nice thing about Instacart is that there are no minimum requirements. You can pick up as few (or as many) orders as you would like.
Related: 3 Best Food Delivery Apps
21. Walk Your Neighbor's Dog
Chances are you have a few dogs in your neighborhood that are dying to go for a walk. You can list your local dog walking and sitting services on Care.com. Make sure to share your listing in local Facebook groups and forums in order to get fresh eyes on your service offerings!
22. Rent Out a Room in Your Home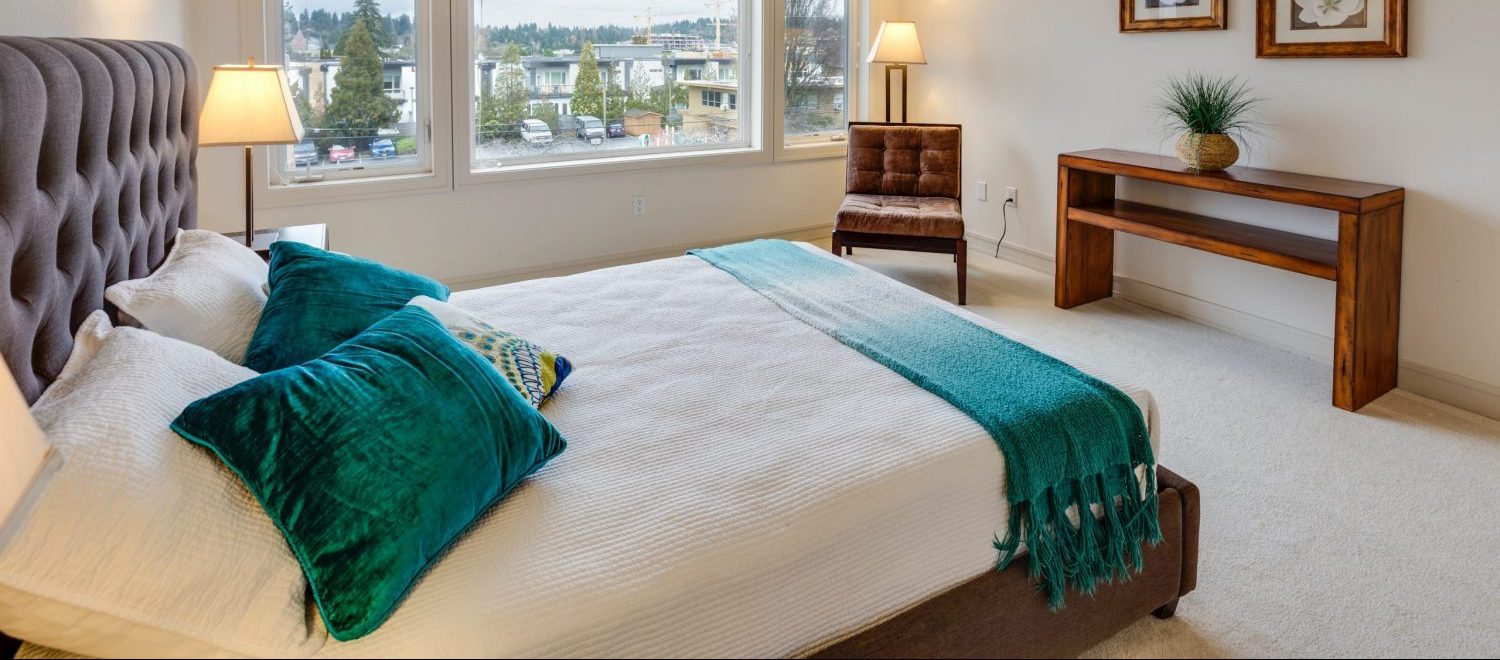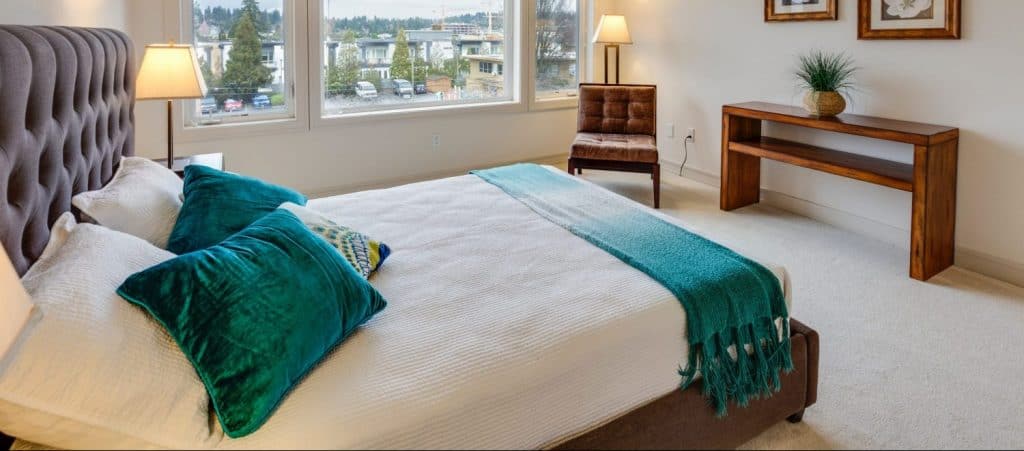 If you're traveling, or simply have a few extra rooms in your home, you can get free money fast by listing your space on Airbnb. It doesn't take long to describe your living area and make a complete listing on the platform. The more popular your town, the more you can charge each night a guest stays.
If you're really in a bind for money, consider listing your home on Airbnb and staying with local family and friends when your home gets rented.
Related: How to Get Free Airbnb Stays (Plus Make Money in the Process)
23. Rent Out Your Stuff on Fat Llama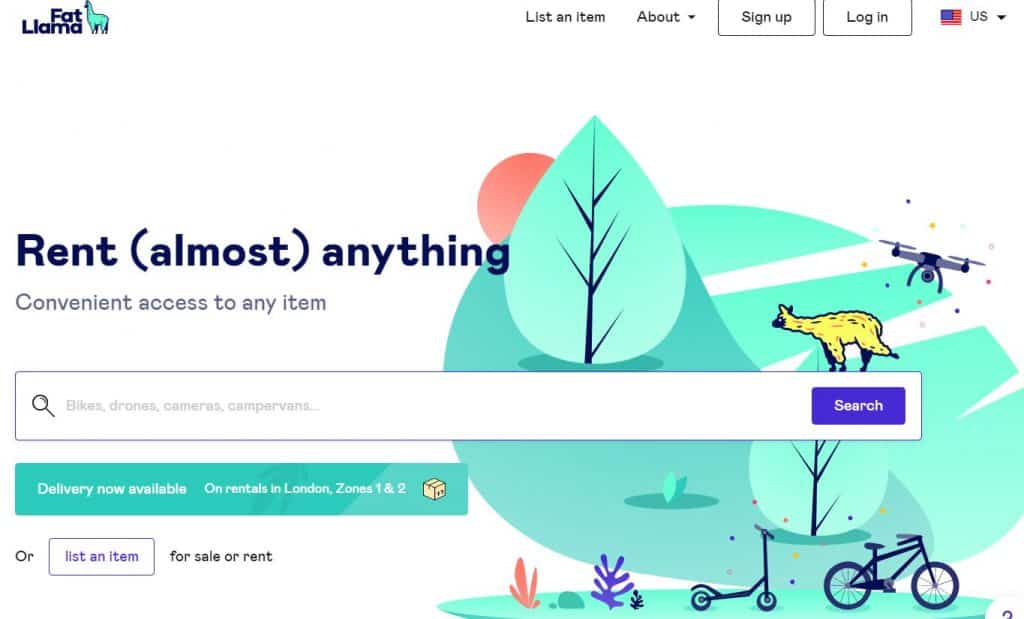 If you have some photography equipment, tools, or other gadgets that you're not willing to sell for quick cash, then consider listing them on Fat Llama and renting them out to people in your area. This is a great way to earn money on items that you aren't currently using. If you have a larger item like a boat or RV, you could get a lot more per day.
Other Odd Ways to Get Free Money Right Now
24. Flip Land Fast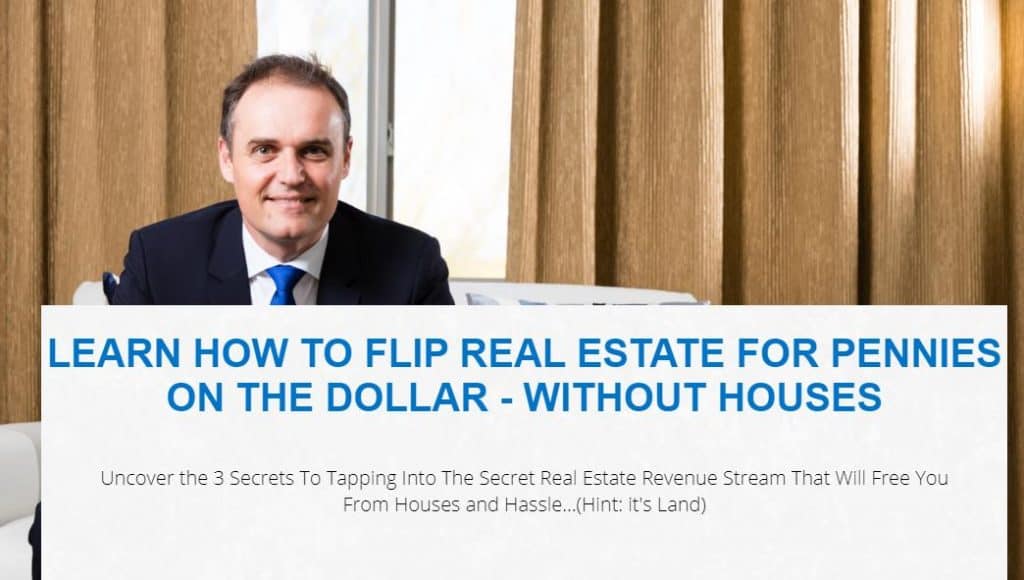 I've heard of flipping houses for a decent income, but never thought of it as a fast way to make money. Typically it requires a lot of hands-on labor or money to hire contractors to make the house worth more. But then I came across this free land flipping online class and it clicked. You don't need to buy and fix up a house in order to make good money with this strategy! Flipping land is much faster than selling a house since there's no preparation required.
Sign up for Jack's free online class to see how he makes good money flipping land.
25. Refinance Your Student Loans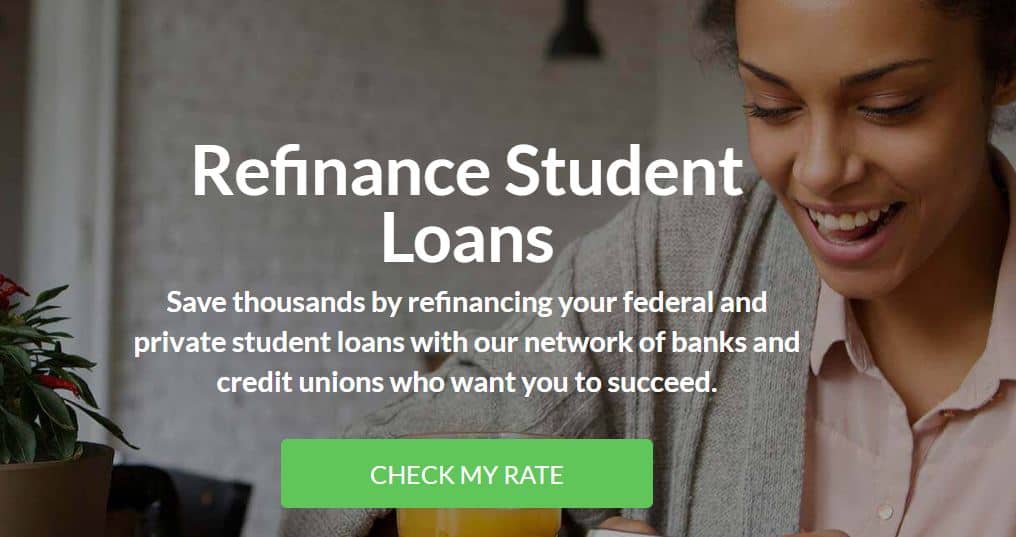 In some ways, saving money is the same as making money because it adds more cash back into your budget. One odd way that people are doing this is by refinancing their student loans. You can quickly check how much money you would keep in your wallet using an estimation tool like the one LendKey offers. Visit the website, click "Check Your Rate," add your information, and submit the form. The company does all of the work of finding the best rates and recalculating your interest and loan payments.
Don't underestimate the power of saving money fast when you're in a bind. You may end up reaching your goals without ever earning an extra dime!
Related: FutureFuel.Io Review: How It Saves You Money on School Loans
26. Get Free Money From Robocallers
Did you know that you can potentially make $500-$1,500 per illegal robocall or text made to your mobile device? If you receive calls like this all the time, you just might be able to cash out fast. Gather the proof and send in your demand letter today.
Demanding money from companies that solicit their products and services using illegal robocalls is one of the most legitimate ways to finesse money. It takes some clever wording to get each caller or texter to release their company's information because they know what they're doing is illegal. But it's more than possible!
How to Get Free Money From the Government
27. Apply for the Star Credit (Or Other Credits in Your State)
I didn't realize until recently that I could get free money mailed to me from my state for the Star Credit. In New York, the state will return a hefty chunk of change based on your school tax bill if you earn less than $500,000 per year. Make sure to check your state's tax credits for these gems because I spent the first six years of homeownership paying the full amount in school taxes (which is not cheap in my county!).
28. Apply for Unemployment
If you've recently lost your job in the US and don't know where to turn, you can apply for unemployment through your state's website. Each state has different requirements so read through them before you apply.
29. Apply for Disability
If you are unable to go to work due to health issues, check with your state to see if you are eligible for disability. You may need to visit your primary care doctor to request the proper documentation for the application.
30. Apply for Foodstamps
You don't have to be unemployed or disabled to receive food stamps, but there are certain income requirements. You can apply for food stamps online to see if you're eligible.
31. Check for Unclaimed Money
On occasion, people forget about old bank accounts, property, or investments from past years. You can check to see if the government is holding some of your unclaimed money here.
Don't Wait to Get Free Money
It doesn't have to take weeks to earn an extra paycheck or two. The best thing to do is to choose multiple ways to get free money right now from this list and implement them. If you don't make enough overnight, then add another one or two ways to your schedule. The more ideas you try, the more money you can get.
The nice thing about the ideas to get free money now on this list is that they are not all one-and-done tasks. You can come back to them time and again to continue earning money as needed. We use freelance services and blogging to make the most money, but there are so many more opportunities to consider! What will you try in order to get free money now?
We appreciate the time you've spent reading this post and your interest is not lost on us. Your thoughts, questions, or experiences related to the topic are most welcome. Each comment adds strength to our community. We ensure every comment receives our attention, and we take the time to provide thoughtful responses. Once again, thank you for being a part of this conversation. Click here to leave a comment.