10 Easy Jobs for Lazy People (That Pay Surprisingly Well)
Try Bingo Cash, the ultimate bingo app for turning your skills into extra cash while enjoying colorful and engaging head-to-head matches. Win up to $83 per game and experience the classic bingo thrill in the comfort of your own home. Test your daubing skills and become a big winner today!
Bingo Cash™ is FREE to download and play! However, cash tournaments are not available in the following states: AZ, IA, LA, SC & WA.
Life can be exhausting, especially when you already work a full-time job. If you're low on energy but still need to make some extra cash, there are plenty of jobs for lazy people.
Being lazy doesn't mean you aren't willing to do the work; it just means life has thrown you some curveballs and you're tired. Earning money while lounging on your couch may sound like the best option for you right now.
Thankfully, there are many succussful yet lazy ways to make money from home. I've personally earned most of my six-figure income from the comfort of my favorite recliner (don't judge me, please!).
Life doesn't have to always be hard. Be good to yourself by making more money without overexerting yourself. You might even discover that flexible part-time or freelance work pays more than your current full-time job.
Start padding your wallet and learn how you can make money the lazy way.
One of my favorite sites, Swagbucks, offers tons of ways to earn real cash online. If you're not already a member, give it a shot! Here are five things you can do to make easy money on the site:
Play games (up to $322 each)
Test apps (up to $150 each)
Submit receipts (easy cash)
Shop at your favorite stores (up to 10% back)
Answer surveys and polls (quick cash in minutes!)
Our Popular Free Guides
How to Start a Permanent Jewelry Business - If you are patient, have social skills, and love interacting with others, then a permanent jewelry business may be for you.
How to Become a Sleep Consultant - Help parents and babies, and be the difference for families worldwide who are desperate for more Zzzs in their life as a sleep consultant.
How to Become a Proofreader - There are five basic steps to working from home as a proofreader. As long as you're willing to put in the work, you can become a proofreader!
10 Jobs for Lazy People (Who Deserve a Break)
If you want to score some lazy jobs that pay well, the following ideas will get you there. Some of these ideas are inspired by lazy ways moms can make money while others work for just about anyone who is fed up with traditional work.
1. Become a Proofreader
Proofreading is my top pick for jobs for lazy people. Imagine cozying up on your couch with your favorite drink in hand and just reading. This is what proofreaders do.
Proofreaders around the world make money reading other people's written work. Your job as a proofreader is to mark any grammatical and spelling errors. That's it! You are not in charge of editing the work, just proofreading it.
Being a proofreader means you get to set your own hourly rate and work whenever it's convenient for you. Set up your days to lazily lounge on the couch with some reading material in hand and make money.
If you are interested in learning how to start your own proofreading business, take a look at Caitlin Pyle's free Proofread Anywhere webinar to learn what it takes. While the startup process takes some extra effort to learn the necessary skills, it's well worth it to slide into the opportunity to get paid to proofread from home.
2. Sell Digital Products on Etsy
Set up your own Etsy shop and sell items you can create from the comfort of your couch. Think about items you can design on your computer such as printables, templates, website layouts, and other digital downloadable products. All you have to do is set yourself up in a comfortable position and start creating.
Once you have the products completed, you can then list them for sale on Etsy. The more items you list to sell, the more your shop will increase in popularity. This is especially helpful for your shop so that people will have more opportunties to find your products in Etsy's search results.
Etsy takes a small fee out of each sale, but it's completely free to get started. It's one of the lowest cost startups that can lead to a steady stream of income from your products. You just have to create the digital products once and then they can sell over and over again.
3. Start a Niche Site
Creating a niche site has been a way for people to make money for quite some time now. Content creators pick a niche they want to specialize in and publish articles surrounding that niche.
A niche is essentially a topic. Think about the skills you possess and how you could write about them in article format to help others. Readers generally like to view "how to" posts so that they can learn a new skill or solve a problem they have. But they also consume reviews, lists of ideas, and other helpful formats.
As a niche site creator, you can make money from your site in a couple of different ways. The first way is through ads. Incorporate ads into your posts and get paid when readers see the ads and clicks on them.
You can also use affiliate links to get paid even more. Whenever a reader makes a purchase of a product you recommended, you earn a commission from that sale if they used your special link or code. And you never have to leave your comfy spot to do this lazy job.
KashKick is a great find for gig workers, offering many ways to make extra money doing what you enjoy. Try it out - it's free! Here are five easy ways to start earning money on the site:
Play games (up to $125 each)
Test apps (up to $125 each)
Buy lottery tickets (an easy $8)
Try popular brands (always changing)
Answer surveys (quick cash in minutes!)
4. Become a Freelance Writer
Freelance writing is one of the top jobs for lazy people. You never have to leave your home to get the job done. Simply find clients you want to work for and partner with them for a set rate that you are comfortable with earning.
The best part about becoming a freelance writer is that you can set your own hours and work when you want to as long as your work is submitted by the deadlines. Simply work with your clients to set deadlines that don't add unnecessary stress to your already busy life.
With freelance writing, you can write emails, blog posts, articles, website content, and more. Figure out what you like to write and then consider the topics you would be interested in covering. Start out by taking on clients at lower rates to build your portfolio. Freelance writing could replace your full-time income in no time at all.
5. Create a YouTube Channel
YouTube is a great place to create video content that can be used for entertainment or information. You can choose the type of content you want to create. If you want to stick with the lazy theme, you can simply make videos from your couch and post them. Talk to your audience about topics in your expertise, play with a new activity set on the coffee table at your feet, or read a book aloud to your viewers.
There really is no limit to what you can create on YouTube, so long as you are following the platform's rules. YouTubers make money by posting ads on their videos. Each time an ad is viewed, the channel gets a commission. If the ad is clicked, the channel makes even more money.
There are also affiliate links that can be incorporated into your video descriptions. Partner with brands you like and promote their products or services to your viewers. Each time a sale is made using your unique code or affiliate link, your channel makes a commission.
Related: How to Get Paid to Watch YouTube Videos in Your Spare Time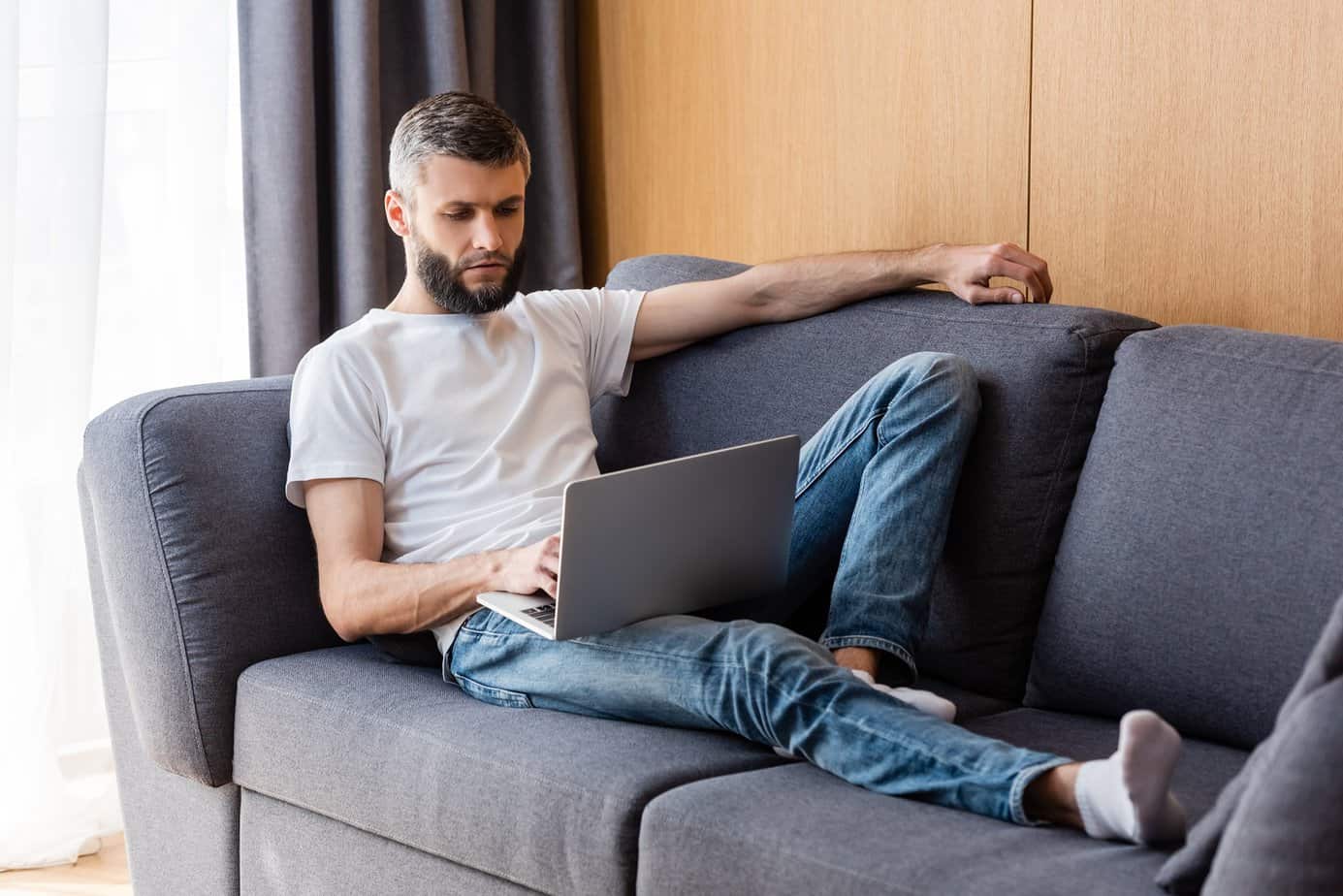 6. InboxDollars
On the list of lazy ways to make money is InboxDollars. This platform is dedicated to rewarding members for their time spent completing tasks from their phones. This could incude taking surveys, reading emails, or clipping virtual coupons. Find tasks that interest you on InboxDollars to complete and make money.
With InboxDollars, your account is rewarded with the exact money you have earned. When you are ready, use that balance to get free gift cards to places like Target, Sephora, Amazon, and other major brands and retailers.
You can even earn $5 just for signing up with InboxDollars. It doesn't get any lazier than that.
7. Swagbucks
Swagbucks is a rewards site that offers ways for members to make extra money. You can log in to the app from your couch to complete easy tasks for money.
Search for surveys, product testing, mobile games, and even online shopping opportunities with cash-back options. You can make a difference in your income each month by being active on Swagbucks.
For each task you complete, you are rewarded in SBs. These SBs can be traded in for monetary value such as gift cards to big brand stores or a deposit to your PayPal account. Earn your first $10 as a welcome bonus when you sign up for a brand-new account.
8. Become a Netflix Tagger
If you haven't heard, you can get paid to watch movies and shows on Netflix as a tagger. Netflix hires specifically for this role within the company. Your job would be to watch the assigned show or movie and tag it with the appropriate categories. For example: humor, children, horror, action, romance, and more.
Tagging helps viewers find the right content they are seeking and it gives them a better experience on Netflix. This means more money for Netflix. Search on the job postings board on Netflix to find your tagger position. Set up some popcorn, lounge on the couch, and start tagging for money.
Related: How to Make Money on TikTok by Watching Videos
9. Become a Graphic Designer
A graphic designer might sound like an active job, but truthfully the only activity going on here is the activity in your brain. All you need to do is hone in on your creative skills to create graphics for your clients. You can do this from your bed or couch.
Graphic designers partner with brands and companies to create compelling visual marketing or for other business needs. If you have the skill and time to make graphics for clients and make something that they would like, then add graphic design to your list of jobs for lazy people. Set your own rates and hours to really maximize your quality of life.
10. Become a Virtual Assistant
Virtual assistants get paid to do work for their clients such as sending out emails, creating schedules, taking calls, and other similar tasks. If there is a specific skill you have, offer it as a virtual assistant to attract more clients to you who would need that specific skill.
Virtual assistants take direction from the clients. You get to create your schedule and charge what you want. Ensure you communicate with your clients about any changes needed in your tasks or hours so that everyone is happy with the arrangement.
Related: Best Virtual Assistant Training Courses
It Is Possible to Be Lazy and Still Make Money
Whether you choose to become a freelance writer, virtual assistant, or someone who gets paid to answer questions from your phone, it is possible to make a difference in your income while still being lazy. You just need to be strategic about the type of work you are willing to do and ensure it can be done from home.
There is no right or wrong way to make money the lazy way. Find the best options above that will work for your lifestyle and plug them in where you can during your daily routine. Some of the ideas are good for replacing your full-time income while other ideas might be good to help you buy groceries here and there. The lazy way can still be productive.
Related: Best Online Jobs for Introverts
---