How to Invest and Make Money Daily (12 Legit Ways)
We foster relationships with brands we use and trust. The testimonials on our site represent real experiences, but they don't guarantee you'll achieve similar results. When you make purchases through our links to our partners, we may earn a commission. Your support helps us continue this work. You can read our full disclosure here.
You can create daily wealth by investing your time and money into passive income streams. It's about time your hard-earned money started to work in your favor for a change.
That's what investing is all about. It's about taking an educated leap of faith that the money you invest will return positive rewards. Some days, it's a risk. The strategy is knowing how to invest and make money daily.
If you desire to have your money work for you instead, consider all the ways you can invest. Thankfully, there is no shortage of investment opportunities to profit daily from.
Note: The Pay At Home Parent provides general educational information on various topics on this website as a public service, which should not be construed as financial, real estate, investment, or professional advice. These are my personal opinions only. See my disclaimer for more information.
Passive Ways to Invest and Make Money Daily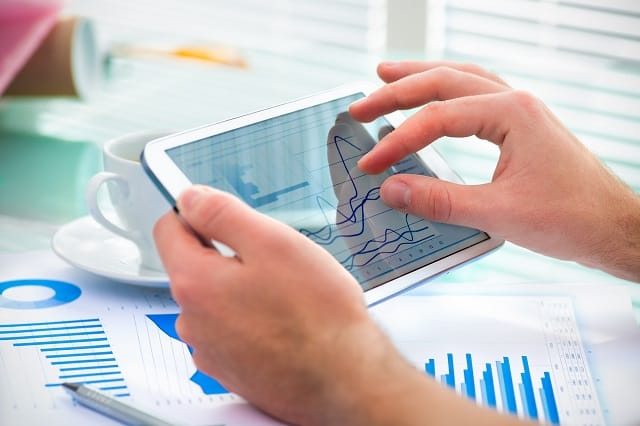 Due to the nature of investments, it's a given that your money can rise and fall on any given day. To see daily income, it's a smart choice to diversify your investments to make money passively.
1. Fundrise

If you've been interested in investing in real estate, Fundrise may be for you.
Fundrise is a real estate investment company for private real estate options. It believes in offering high investment return options for people to receive the same rewards as professional investors. With real estate being sought after time and time again, Fundrise makes it easy to invest with a low cost portfolio.
Decide to invest in commercial or residential real estate and begin building your portfolio. Receive a higher return on investment based on the low fees from Fundrise. Investors pay an annual fee of 0.15%, which could be waived. There is also a standard advisory fee of 0.85% annually.
2. Acorns

If you are interested in automatic investing options, Acorns has many to consider.
Acorns is a micro- and robo-investment company with five investment portfolio options to choose from. Start investing with as little as $5. Invest your spare change into diversified portfolios, education investments, and more. It also offers kids' investing accounts so that you can help them plan for the future.
There is no commission fee. However, there are account maintenance fees ranging from $1-$5 per month. Learn how to invest and make money daily with Acorns' guided support and watch your income grow.
3. Wealthsimple

Wealthsimple is a Canada based company that believes in an automated way to invest money online and earn daily. Its features include automatically investing your spare change and high interest savings.
Add the funds you wish to invest and Wealthsimple diversifies that money into stocks all across the stock market. You choose the risk level you want to participate in and the company does the rest for you. Use options like auto-deposits, dividend reinvestment, and automatic rebalancing to maximize your investment returns.
Wealthsimple is a commission-free investment company. Choose from the three levels of accounts you wish to deposit into. Please keep in mind that account fees will vary.
Related: 20 Ways to Make Instant Money Online
4. M1 Finance

M1 Finance is an online investing market centered around the investor. It offers automation features and low account fees. It believes in long-term investments, meaning that day-to-day trading is not prominent.
Invest money for free in an M1 account and set it up to maintain automatically. Choose the stocks you want to invest in or select a portfolio that was created by an investment expert. Use funds to invest in fractional shares as well.
There are no account maintenance fees with M1 Finance; it is a free investing platform. Easily start an account using the app or online.
5. Crowdstreet

CrowdStreet is a real estate investment company that allows investors to put their money into diverse commercial investment opportunities.
Choose how you wish your funds to be invested whether that be diversified, direct real estate options, or tailored by an investment manager. Investment managers advise you on how to invest and make money daily.
The majority of the investment opportunities require a minimum deposit of $25,000. Only accredited investors may invest on the platform. There is no fee to open an account with CrowdStreet but based on the type of investment you choose, there is a fee ranging from 1-2.75%.
Related: Get Paid to Sleep
6. Roofstock

A first time investor can have success with real estate investment options.
Roofstock is a company that allows new investors and experienced global asset managers to invest in real estate. Investors can purchase and own residential real estate from anywhere in the world.
Search for available properties, analyze the property you are interested in, submit a free offer, and close on an investment property.
Roofstock charges a fee of 0.5% of the contract price or $500 (whichever is higher).
7. Robinhood

The name says it all; the wealthy aren't the only ones who can invest with this company.
Robinhood creates financial products that help anyone begin investing at their own pace. It is a company that strives to give everyone, no matter their current socioeconomic status, the ability to access financial markets.
Investing options start as little as $1 with no minimum account balance requirements. It offers fractional shares so that you can invest the amount you want and then the company will convert those dollars into parts of a whole share.
Robinhood is a commission-free trading service so you won't pay any fees on the money you make. A sign-up bonus includes a surprise stock that appears in your account after linking a bank account.
8. Stash

This is a great choice for easy investment options for anyone.
Stash offers fractional share options with investment opportunities under $5. It is a long-term investment trading site. Choose from multiple available plans to invest with, choose the investment type, and invest how you want. Use the Stock Back Card, which allows you to earn stock for your spending.
Stash also offers frequent stock parties where users can earn fractional shares of stock. Maintenance fees begin at $3 per month and range up to $9 per month based on the plan you choose. Experience the benefits for yourself with a complimentary one-month trial.
9. Masterworks

If you are a fan of art and appreciate unique masterpieces, then you'll be interested in investing with Masterworks.
Masterworks is an investment option for individuals to invest in masterpieces, such as artwork by Pablo Picasso, Andy Warhol, Claude Monet, and so many more. Each masterpiece offers a share opportunity where investors receive a share of the art piece that they profit from once the piece has sold.
Masterworks offers art pieces to invest in based on the trends and current momentum of artists. You invest in a share of the piece and wait 3-10 years until Masterworks sells the piece before collecting your income. You collect pro rata proceeds after Masterworks receives its fee, which is a 1.5% annual fee and 20% of the profits.
All investment options include blue-chip artwork. To sign-up, new members must request an invitation and proceed with an interview before being allowed to access the platform.
Related: Masterworks Review: Is It Worth It?
Proactive Ways to Invest and Earn Daily Profit
The secret to building a six-figure income with investments is to put in the time now and reap the rewards later. I've personally put time and money into my businesses and believe it's the best way to invest money online and earn daily. Here are some options that you can use to grow your income, too.
10. Invest in Learning a New Skill
When I first quit my 9-to-5 office job, it wasn't because I had tons of money saved or a profitable business bringing in income. It was because I had invested in learning some skills that other businesses would pay me for.
Content services have always been my specialty–I've been paid to freelance write, assist with virtual website tasks, optimize for search engines, proofread, and more. All of these are viable services that are worth money.
But the secret is that I could employ these services with clients while learning to build my own business. I always knew that if someone would pay me to do something for their business, then their business must be worth it. So, strengthening my skills and learning how to provide virtual services was an amazing time and money investment for me.
Additionally, I learned early on that my time was limited. In order to focus more time on my own business, I subcontracted some of my writing tasks. That way I could make sure a paycheck would still come in while I built a business from scratch.
Investing in a new skill is investing in yourself to increase the possibility of earning more money daily. There are plenty of short certificate programs to invest in that can help you fast-track your success as a service provider.
This type of investment will return rewards based on your willingness to apply yourself to make money daily.
Related: How to Get Paid to Learn
11. Start a Niche Site
While offering services, I started my first niche site. And then another site. And then another. I'm not even sure how many I have at the moment. But what I am sure about is that starting a niche site has been the #1 most profitable investment I've made in my entire life.
As a content marketer, it can take some time to get started. We all know time is money, so consider investing in educational items that help you get started quicker. Additionally, not everyone is tech-savvy or knows how to design even a simple website. That's totally okay because you can invest in freelancers on places like Fiverr to get help with:
setting up your website
designing a logo
writing content
and so much more
The way a niche site generates daily income with affiliate marketing is simple. You invest the time now into creating helpful content on topics like, "best car seats for 3-year-olds". In that article, you insert links to affiliates like Amazon. When someone reads your article, clicks on a link to Amazon, and buys anything on the platform within 24 hours (not just the car seat you recommended), you earn a commission on their purchase. Many affiliates have windows of up to 90 days for your referrals to buy something and award you a commission!
Invest and make money daily by starting a niche site and driving an income through your website. I can't tell you how much it has changed my life.
Related: How to Flip Money
12. Buy a Profitable Online Business
Starting a business from scratch can be overwhelming. Especially if you've never done it before. While starting an online business is relatively less complicated than a local business, it's still a learning process!
If you want to get a headstart and earn money right away, research online businesses you would want to invest in and buy those businesses.
Check out sites like Flippa, an online marketplace where you can find available online businesses to purchase. You can choose from businesses such as Amazon FBA stores, digital services, blogs, apps, and more.
According to Flippa, there are more digital assets than there are homes. Buying online businesses is perfect for entrepreneurs, side hustlers, and other online business owners.
Related: How to Invest in Amazon and Earn Money Passively
Snowball Your Investments to Make Money Fast
There is no one-size-fits-all with investing. Investment options are abundant and unique. Choose how to invest and make money daily by snowballing your investments.
The more money you invest, the more you can potentially grow your money. While investing can provide many unknowns, you won't know how investing will work for you if you don't try.
Find multiple ways to invest that work for you and your unique needs to earn daily profit. Take a leap of faith and try a new investment strategy. No matter how you invest, ensure you do your research beforehand to confidently put your money where it will grow.
Related: Work from Home Finance Jobs for The Money-Minded
---
We appreciate the time you've spent reading this post and your interest is not lost on us. Your thoughts, questions, or experiences related to the topic are most welcome. Each comment adds strength to our community. We ensure every comment receives our attention, and we take the time to provide thoughtful responses. Once again, thank you for being a part of this conversation. Click here to leave a comment.