How to Convert Your Visa Gift Card to Cash (or Transfer to Bank)
Try Bingo Cash, the ultimate bingo app for turning your skills into extra cash while enjoying colorful and engaging head-to-head matches. Win up to $83 per game and experience the classic bingo thrill in the comfort of your own home. Test your daubing skills and become a big winner today!
Bingo Cash™ is FREE to download and play! However, cash tournaments are not available in the following states: AZ, IA, LA, SC & WA.
If you're anything like me, you've probably unearthed forgotten gift cards while cleaning under your refrigerator or emptying out your car's console. These cards are often to restaurants or movie theaters, with Visa, Target, and sometimes Starbucks cards thrown into the mix.
My gift cards often get lost in the folds of my wallet. I find myself stumbling upon them months later, wishing they were actually cold, hard cash. It's at these times that I've wondered if there was a way I could turn my Visa gift cards into cash.
The good news is, there's no shortage of ways to do exactly that. While gift cards are typically given by well-meaning friends or loved ones, at the end of the day, cash is simply more appealing. Check out the below list of ways to get cash for your gift cards and pad your bank account instead of filling your wallet with unnecessary weight.
One of my favorite sites, Swagbucks, offers tons of ways to earn real cash online. If you're not already a member, give it a shot! Here are five things you can do to make easy money on the site:
Play games (up to $322 each)
Test apps (up to $150 each)
Submit receipts (easy cash)
Shop at your favorite stores (up to 10% back)
Answer surveys and polls (quick cash in minutes!)
Our Popular Free Guides
How to Start a Permanent Jewelry Business - If you are patient, have social skills, and love interacting with others, then a permanent jewelry business may be for you.
How to Become a Sleep Consultant - Help parents and babies, and be the difference for families worldwide who are desperate for more Zzzs in their life as a sleep consultant.
How to Become a Proofreader - There are five basic steps to working from home as a proofreader. As long as you're willing to put in the work, you can become a proofreader!
How to Transfer a Visa Gift Card to Your Bank Account
Check out the many apps and sites below that you can use to transfer a Visa gift to your bank account. Simply choose the one that will work best for you.
1. Download the Prepaid2Cash App
The Prepaid2Cash app takes gift cards from many big-name companies – such as Visa, MasterCard, Nike, Target, and hundreds more – and transfers the funds to members' bank accounts. All you will need to do is hold the card in the frame on the app, link your bank account, and receive your funds in as few as 15 minutes.
The app will take part of the card's value, leaving you with up to 92 percent of the money. Prepaid2Cash will verify the gift card amount and make you an offer, detailing how much it will pay you. You do not have to accept the offer presented, and can instead choose to hold onto the card. You will incur a 15 percent fee (plus $1.50) for instant transfers, or a 7.5 percent fee (plus $1.50) for next-business-day transfers.
Related: How to Get Free Money on Cash App
2. Add Your Visa Gift Card to PayPal
The well-known platform PayPal offers a way to transfer money from gift cards to a bank. Make an online payment with your prepaid gift cards, or transfer the entire balance to your bank account. You can turn Visa, MasterCard, American Express, or Discover gift cards into cash.
If you already have a PayPal account, upload the gift card to your PayPal wallet. Transfer the funds from PayPal to your bank account for free when done locally, and your funds will be deposited within one to three business days. A 1 percent fee will be applied for instant transfers.
Related: Cash App Gift Cards
3. Add Your Visa Gift Card to Venmo
Venmo also allows users to transfer Visa gift cards to their banks. Add a Visa gift card as a "funding source" in your Venmo account and then use the funds to pay for items online, or transfer the money into your bank account.
Apps like Venmo are generally free to use for personal transactions. Simply set up an account and link your bank to your wallet. Venmo does not charge a fee to upload gift cards or to transfer money into your bank account. The funds will reach your bank within a few business days.
Related: Cash App vs Venmo
4. Buy a Money Order
Money orders can be deposited into your bank account just like a regular check. Visit your local bank, post office, Western Union, or Walmart and use your Visa gift card to purchase a money order. This method will give you cash in your hand within minutes.
Some locations charge a small fee for money orders. You may be able to complete this transaction at a bank if you already have an account. Do your research to find out the pricing in your area before deciding if this technique is right for you.
Related: How to Get Free Gift Cards
How to Turn a Visa Gift Card Into Cash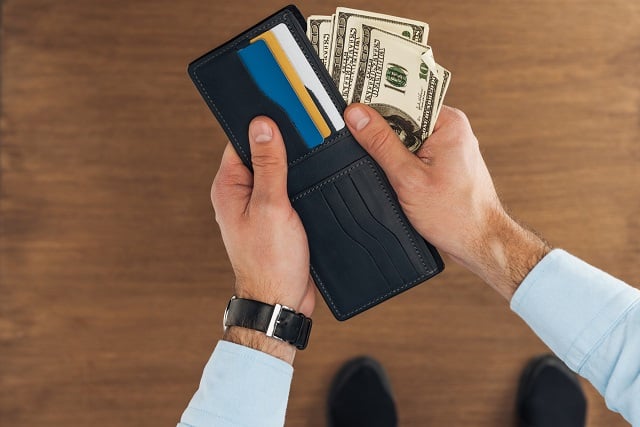 Get rid of the plastic card and instead convert your Visa gift cards into cash. Use the methods listed below for quick results and money today for free.
5. Add Your Visa Gift Card to Amazon
Amazon sells nearly every item that you can think of to fit your household, personal, and lifestyle needs. If you already plan to shop on Amazon, use your Visa gift card to complete your transaction. You will essentially add the card to your account as if you were adding a debit or credit card to your wallet.
Amazon doesn't allow split payments, so your purchase will need to align with your gift card amount. You could also purchase an Amazon gift card for the value of your gift card and add that to your wallet. Select the option to "use Amazon gift card balance first."
6. Sell it for a Cash Discount
Sell your unwanted gift cards on Facebook Marketplace, or offer them to your friends and family members. Sell them at a discount to get the cash in hand faster. Pass along the savings to someone else who will actually use the card, and replace it with cash in your wallet.
Related: Things to Flip for Cash
7. Jour Cards Store
The eCommerce site Jour Cards Store exclusively sells gift cards to many retailers and big businesses. This platform exchanges Amazon, Walmart, iTunes, and Cashu gift cards for cash. You will receive up to 83 percent of your iTunes cards' value, 70 percent with Amazon and Walmart, and 90 percent with Cashu.
Funds are processed within 72 hours and loaded into your virtual wallet on the platform. Simply fill out the purchase form with the gift card information to start getting money for your gift cards.
KashKick is a great find for gig workers, offering many ways to make extra money doing what you enjoy. Try it out - it's free! Here are five easy ways to start earning money on the site:
Play games (up to $125 each)
Test apps (up to $125 each)
Buy lottery tickets (an easy $8)
Try popular brands (always changing)
Answer surveys (quick cash in minutes!)
8. Buy Groceries With Your Visa Gift Card
Think about how often you go to the grocery store each month and how much you pay to feed your family. We all know how quickly it can add up. Use your Visa gift cards for your next grocery purchase.
Related: Best Delivery Driver App Jobs
Other Ways to Turn Store Gift Cards Into Cash
If you're stuck with a gift card to a retailer you never patronize, such as Barnes and Nobles or Spencer's, there are still other ways to turn it into cash. Try the ideas listed below.
9. Sell Your Gift Card on the Raise Marketplace
Use Raise to get cash for your gift cards. This online marketplace was designed to allow users to buy and sell gift cards. Even if your gift cards are partially used, you can still list them for sale on the platform. The process is completely free.
As soon as you sell a card, convert the proceeds into a bank transfer, or purchase a gift card to a business you actually enjoy.
10. Visit a Local Gift Card Exchange Kiosk
Research places in your area that will allow you to turn your Visa gift cards into cash. Simply search for "gift card kiosks near me" to find the locations closest to you. Read more about each place before you visit to find out about any fees or if the services are limited to specific gift cards.
Related: Highest Paying Plasma Donation Centers
11. Buy a Gift Card to Another Store
Check the gift card racks at retailers where you already have gift cards. Pick out either a Visa gift card or a gift card to another store that you enjoy. Use the balance on the store gift card to buy and activate the new gift card. For example, you could use a Target gift card to purchase a Visa card.
If you do buy a Visa gift card, use the ideas above to help you transfer the funds to your bank. If you purchased another store gift card, at least you will actually use this one instead of letting it sit in your wallet, taking up space and weighing you down.
12. Buy an Item and Return It Without a Receipt
Make a purchase using a gift card and then return the item without a receipt. Some stores will give you cash back on this type of return. Check the store's return policy before trying this method, as some retailers will only take returns with a receipt.
This isn't the ideal way to turn a Visa gift card into cash, as it can seem scammy in nature. Only do this if you are fully comfortable with it. Some stores credit receipt-less returns with a store credit or gift card, which will defeat the purpose of attempting to get the cash instead. Do your research before going through this hassle.
Related: Get Paid to Upload Receipts
13. Regift the Gift Card
We often purchase gift cards for friends or loved ones so that they can pick out something special for themselves. If your wallet is full of gift cards you aren't using, regift them to others and call it even.
This will let you get rid of an unwanted gift card and bless someone else without having to spend any money. It's a win-win. There is no need to run out and buy a different present for them when you have gift cards they can use instead.
14. Buy Something Valuable and Sell It Online
If you've made it all the way to the bottom of this list and are still looking for a different way to turn your Visa gift card into cash, then this one is for you.
Use your gift card to make a purchase, and then resell that item online. For example, use that old Barnes and Noble gift card to purchase some books and then resell them online.
Although you probably won't earn back as much as you paid for the items, you'll at least have the cash in hand to replace the unneeded gift card.
Related: How to Win Free Gift Cards Instantly
Use Up Those Visa Gift Cards Once and for All
Clear out your wallet, make room in your bag, and use up those unwanted Visa gift cards. Stop letting them collect dust, and pick one of the methods listed above to finally transfer the funds into your bank account.
Visa gift cards are a great gift idea, but many would prefer to have cash in hand instead. If this applies to you, turn your Visa gift card into cash to put toward the things you need or want. Using one of the options listed above will put money into your hand or bank account, instead of letting it sit on a card you won't ever use.
Money can't buy you happiness, but it sure does have a way of making things feel less stressful. Don't wait any longer to turn your gift cards into money.
---