How to Convert Your Visa Gift Card to Cash (or Transfer to Bank)
One of my favorite sites, Swagbucks, offers tons of ways to earn real cash online. If you're not already a member, give it a shot! Here are five things you can do to make easy money on the site:
Play games (up to $110 each)
Test apps (up to $150 each)
Submit receipts (easy cash)
Shop at your favorite stores (up to 10% back)
Answer surveys and polls (quick cash in minutes!)
If you notice how your wallet is being weighed down or won't close all the way, you're probably like I am with a bunch of Visa gift cards stuffed in there that you forgot about. The cards are often for places like restaurants or movie theaters with Visa, Target, and sometimes Starbucks cards mixed in there.
Truthfully, those gift cards get lost in the folds of my wallet. I find myself shuffling through them months later forgetting they were even there only to wish they had actually been cold, hard cash instead. I have often wondered if there was a way I could turn my Visa gift cards into cash.
Nowadays, there is no shortage of ways to convert a Visa gift card to cash. While gift cards are typically a well meaning gift from others, let's be honest that the cash is more appealing. The ways listed here to get cash for your gift cards can fill your bank account instead of filling your wallet with unnecessary weight.
Our Popular Money-Making Offers
Sign up with each of the following companies to maximize your earning potential.
$10 sign-up bonus
Pays to take surveys, complete offers, shop online, and much more
100s of other paid tasks
Awards cash and gift cards
$5 sign-up bonus
Pays to play games, watch videos, answer polls, and much more
100s of other paid tasks
Awards cash and gift cards
How to Transfer a Visa Gift Card to Your Bank Account
There are many apps and sites you can use to transfer a Visa gift to bank accounts. Check out the options here and choose one that will work best for you.
1. Download the Prepaid2Cash App
Prepaid2Cash is an app that takes gift cards from many big name companies such as Visa, MasterCard, Nike, Target, and hundreds more and transfers the funds to your bank account. Simply hold the card in the frame on the app, link your bank account, and you can have your funds in as few as 15 minutes.
The app gives you up to 92% of the card's value. The app verifies the amount on the gift card and makes you an offer for how much it will pay you for the card. You do not have to accept the offer presented if you choose to hold onto the card instead. There is a 15% fee + $1.50 for instant transfers or a 7.5% fee + $1.50 for next business day transfers.
Related: How to Get Free Money on Cash App
2. Add Your Visa Gift Card to PayPal
PayPal offers a way to transfer money from gift cards to a bank. Choose to pay for something online with your prepaid gift cards or transfer the balance entirely to your bank account. Use Visa, MasterCard, American Express, and Discover gift cards only and turn them into cash.
If you have a PayPal account, upload the gift card to your PayPal wallet. Transfer the funds from PayPal to your bank account for free when done locally and you will have your funds within 1-3 business days. For instant transfers, a 1% fee is applied.
Related: Cash App Gift Cards
3. Add Your Visa Gift Card to Venmo
Venmo offers a way to transfer a Visa gift card to a bank. Add a Visa gift card as a "funding source" in your Venmo account. Choose to use the funds to pay for items online or directly transfer those funds to your bank account.
Apps like Venmo are generally free to use for personal transactions. Simply set up an account and link your bank to your wallet. Venmo does not charge a fee for uploading gift cards nor does it charge to transfer to your bank account. Funds reach your bank within a couple of business days.
Related: Cash App vs Venmo
4. Buy a Money Order
Money orders can be deposited into your bank account just like a regular check. Visit a local bank, post office, Western Union, or Walmart to purchase a money order. Use the funds on your Visa gift card to pay for the money order and have cash in your hand in minutes.
Some locations charge a small fee for money orders. Some banks do not charge a fee if you have an account with them. Check the fees from your area for accurate pricing before deciding if this method will work for you.
Related: How to Get Free Gift Cards
How to Turn a Visa Gift Card Into Cash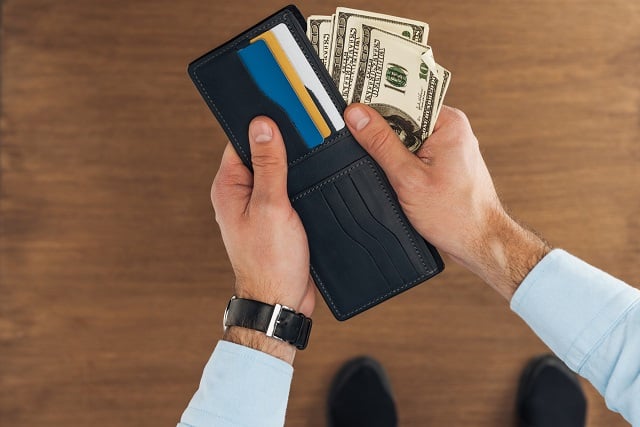 Get rid of the plastic card and instead convert Visa gift cards to cash. Use the ways listed below for quick results and money today for free.
5. Add Your Visa Gift Card to Amazon
Amazon has nearly every item you can think of to fit your household, personal, and lifestyle needs. If you are shopping on Amazon anyway, you can use your Visa gift card the next time you shop. Essentially, you will add it to your account as if you were adding a debit or credit card to your wallet.
Amazon doesn't allow split payments. So your purchase needs to align with your gift card amount. Additionally, you can purchase an Amazon gift card for the value of your gift card and add it to your wallet, which you can apply to a purchase balance of any amount. Select the option to "use Amazon gift card balance first."
6. Sell it for a Cash Discount
Use Facebook Marketplace to sell gift cards or sell directly to friends and family. Discount the gift cards so that you can get cash in hand faster. Pass along the savings to someone who will use the card and replace it in your wallet with cash instead.
Related: Things to Flip for Cash
7. Jour Cards Store
Jour Cards Store is an ecommerce site that exclusively sells gift cards to many retailers and big businesses. Exchange your gift cards with Jour Cards Store for cash. It exchanges gift cards to Amazon, Walmart, iTunes, and Cashu for cash. iTunes cards are given up to 83% of the card's value, Amazon and Walmart are 70%, and Cashu is 90%.
Funds are processed within 72 hours and loaded into your virtual wallet on the platform. Simply fill out the purchase form with the gift card information to start getting money for your gift cards.
8. Buy Groceries With Your Visa Gift Card
Think about how often you go to the grocery store each month and how much you spend to feed your family. It adds up quickly. Consider the Visa gift cards you currently have and use them toward your grocery purchase. Groceries are as good as cash because you need them anyway.
Related: Best Delivery Driver App Jobs
Other Ways to Turn Store Gift Cards Into Cash
If you're stuck with a gift card to a place that you will never shop at, such as Barnes and Nobles, there are still other ways to turn it into cash. Try these ideas.
9. Sell Your Gift Card on the Raise Marketplace
Use Raise to get cash for your gift cards. Raise is an online marketplace designed to buy and sell gift cards. Even if the gift cards are partially used, you can list the card for sale on the platform. It's free to list cards for sale.
As soon as you sell a card, you can convert that into a transfer to your bank or buy a gift card to a place where you will actually shop.
10. Visit a Local Gift Card Exchange Kiosk
Take a look around your area and research where you might be able to turn your Visa gift card into cash. Simply search for "gift card kiosk near me" and locations closest to you will come up. Check each place before you head over there to ensure you are aware of any fees or if their service is limited to specific gift cards.
Related: Highest Paying Plasma Donation Centers
11. Buy a Gift Card to Another Store
Check the gift card racks at stores that you have gift cards for. Pick out either a Visa gift card or a gift card to another store where you will actually shop. Use the balance on the store gift card you currently have to buy and activate the new gift card. For example, use a Target gift card at a Target store to purchase a gift card from the gift card rack.
If you end up purchasing a Visa gift card, use the ideas above on this list to transfer your Visa gift card to your bank. If you purchased another store gift card, at least you will actually use this one instead of letting it sit in your wallet taking up space and weighing you down.
12. Buy an Item and Return It Without a Receipt
Make a purchase at a store using a gift card then return it later without a receipt. Some stores will accept returns on items without a receipt and will give you cash for them. Check the store's return policy before you do this. Some stores may only take returns with a receipt.
Also, this isn't an ideal way to turn a Visa gift card into cash as it can seem scammy in nature. Only do this if you are comfortable. Additionally, stores may credit receiptless returns with a store credit or gift card, which will defeat the purpose of trying to get the cash instead. Do your research on the policies before going through this hassle.
Related: Get Paid to Upload Receipts
13. Regift the Gift Card
Oftentimes, we purchase gift cards for others for special occasions so they can buy what they want/need. If you already have gift cards that you aren't using, consider regifting them to others and call it even.
You get rid of the gift card and don't have to spend any money on a gift for someone else. It's a win-win. There is no need to spend cash on a different gift for them when you have gift cards to give instead.
14. Buy Something Valuable and Sell It Online
If you've made it all the way to the bottom of this list and still need another option to turn your Visa gift card into cash, then this one is for you.
You can always buy something with the gift card that someone will appreciate and then try to sell it online. For example, use that old Barnes and Noble gift card to purchase some books and then resell them online.
Most likely, you won't get as much as you paid for the items. However, you'll at least have the cash in hand to replace the unneeded gift card.
Related: How to Win Free Gift Cards Instantly
Use Up Those Visa Gift Cards Once and for All
Clear out your wallet, make room in your bag, and use up those Visa gift cards for good. It's never too late to learn how to transfer a Visa gift card to a bank account.
Visa gift cards are a great gift idea, but many would prefer to have cash in their account instead. If this is you, don't hesitate to turn your Visa gift card into cash to use toward things you need/want. Consider all the options listed here and quickly have money in your hand or account instead of letting it sit on a card you don't plan on using.
Money can't buy you happiness. However, it sure has a way of making things feel less stressful sometimes. Don't wait any longer to transfer gift cards to money.
---