How to Invest in Amazon and Earn Money Passively
One of my favorite sites, KashKick, offers tons of ways to earn real cash online. If you're not already a member, give it a shot! Here are five things you can do to make easy money on the site:
Play games (up to $125 each)
Test apps (up to $125 each)
Buy lottery tickets (an easy $8)
Try popular brands (always changing)
Answer surveys (quick cash in minutes!)
As a parent, I know the value that Amazon– the world's largest online retailer— brings to my life. Amazon has become innovative and all-around convenient for many purposes in life. This just proves how much more it will continue to grow, and why investing in Amazon stock can be a great way to diversify your investment portfolio.
Amazon is the giant of e-commerce platforms designed to sell anything from A to Z. Not only does it sell everything, but it also delivers to your doorstep quickly so that your life doesn't need to be interrupted with trips to the store or the mall. The convenience and ease of use it provides make it so that this monster of a company won't be going out of business any time soon.
Our Popular Money-Making Offers
Sign up with each of the following companies to maximize your earning potential.
$10 sign-up bonus
Pays to take surveys, complete offers, shop online, and much more
100s of other paid tasks
Awards cash and gift cards
$5 sign-up bonus
Pays to play games, watch videos, answer polls, and much more
100s of other paid tasks
Awards cash and gift cards
Why Invest in Amazon Stock?
Investing in Amazon stock can help people grow their income passively. Aside from the initial investment deposit and purchase of the stock, there is little else you need to do. You can watch your investment grow over time through your phone. Amazon investments are a great option for saving for things like retirement, a large purchase, or just for a rainy day.
If you are looking for ways to increase your income passively, learning how to invest in Amazon stock is a great way to do that. It takes very little time and effort to get going and you can grow your money without taking on an extra job. Take a peek at how you can get started today.
Note: The Pay At Home Parent provides general educational information on various topics on this website as a public service, which should not be construed as financial, real estate, investment, or professional advice. These are my personal opinions only. See my disclaimer for more information.
4 Easy Ways to Invest in Amazon Stocks and Earn Money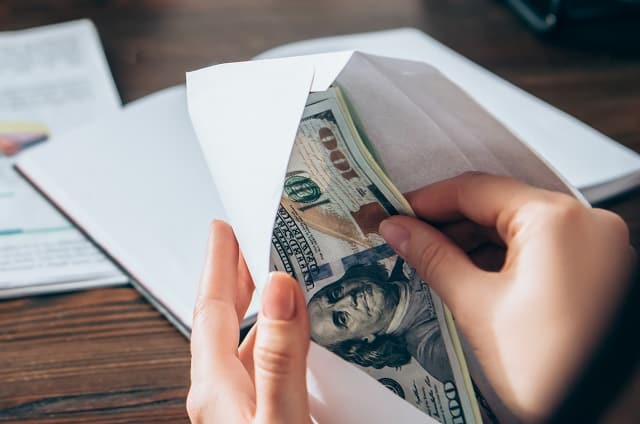 There is more than one way to invest and make money daily. These five investment tools are for anyone who desires to put Amazon in their portfolio without putting up thousands of dollars first.
1. Robinhood
Robinhood is an app that allows investment opportunities for those who desire to have big companies in their portfolio without the big price tag. It is a commission-free investment and trading app. When you sign up, you get your first stock for free.
Robinhood is a fractional share investment site. It's up to you how much you want to put into your Robinhood account for investment opportunities. There are over 7,000 stocks to choose from, including Amazon.
There are no minimum account balances required with Robinhood. As an account holder, you also have access to the Robinhood debit card feature that allows you to use your account funds to make daily purchases. The site and app are both easy to use and perfect for beginner investors to start learning about Amazon investments and trades.
Related: Get Paid to Sleep
2. M1 Finance
M1 Finance is a platform that offers many financial solutions, specifically automated investing and trading. One of the investment options includes Amazon investment opportunities through fractional share investing. The platform is a great option for those who seek control over their portfolio specifications.
M1 Finance doesn't charge a fee to use the investment features. There are no commission fees- it is completely free to use. However, accounts with less than $20 that sit dormant with no trading activity after 90 days get assessed a fee.
There are over 6,000 investment options with M1 Finance. Use your funds to invest in fractional Amazon stock or a plethora of other big-name companies. There is no minimum initial deposit to get your account started.
You can receive a sign up bonus of $30 for depositing $1,000+ into your new account. In addition, if you use the M1 Finance debit card, you can earn 1% cash back on your everyday purchases, which gives you more money to put toward your investment options.
Related: Sites With Sign Up Bonuses
More Popular Money-Making Offers
Earn more money in your spare time with these reputable companies.
Free PayPal cash
Paid surveys and web searches
Earn easy cash back
Get paid directly to your PayPal
PayPal, Visa, Amazon, etc.
Pays you to do NOTHING (with SJ Pulse)
Simply install the software
Participate in paid surveys & studies
3. Stash
Stash is an online platform offering simplified strategies for investing in stocks like Amazon. The platform has an app you can use to diversify your portfolio with fractional shares easily from your phone. It is an ideal site to use for beginner investors and offers over 3,000 stocks to choose from.
With Stash, you can open an account with as little as $5. Additionally, you can earn stocks just by using the Stock-Back card for shopping. It's an opportunity to invest while you spend. There is also a $5 bonus for new Stash accounts.
Stash has three account options to choose from depending on the features you want. The Stash beginner account is $1 per month and is perfect for new investors who want to learn how to invest in Amazon shares and earn money for their personal portfolio. The next option is the Stash Growth for $3 per month, which opens up options for retirement portfolios. Finally, there is the Stash+ account for $9 per month, which offers family financing and insurance access.
Related: How to Make $20 a Day Online
4. Start an Amazon FBA Business
If you're not interested in learning how to buy Amazon stock directly, consider starting an Amazon FBA business instead. While not the typical investment opportunity in terms of buying and trading, if you invest in an FBA business, you can potentially earn money on autopilot.
Amazon FBA offers the opportunity to own a drop shipping business. FBA stands for "fulfilled by Amazon" meaning customer orders are processed and shipped by Amazon. There is no inventory you have to keep on hand, package, and ship off to customers; Amazon does it all.
Down to the nitty gritty of the customer service side as well, Amazon does it for you. All you have to do is the initial investment, set-up process, and make money passively with your shop.
There are individual plan fees starting at $0.99 per unit sold up to $39.99 per month (regardless of how many units you sell) for professional plan fees. Some Amazon FBA business owners have been known to make around $1,000 per month while other owners have been known to make over $250,000 per month. It depends on what you are selling and your advertising strategies to sell on the platform.
Related: Get Paid to Advertise for Companies
Amazon Investing Can Be Risky
It's easy to get stars in your eyes when thinking about how much money you can make with Amazon investments. Maybe you've done the math in your head and calculated how much money you can make with a diverse portfolio in a perfect world where the stock market continues to rise. The reality is that long term investments and diversification are key to having success with investing.
It's not enough to purchase one full stock of Amazon and hope to get rich quick. To be a successful investor, you need to spread your money into a few different stocks, maybe even starting with ETFs or fractional shares first. To have the best outcome with stocks and trading, you can't just pull the money out after a month or two in the market. Letting it sit for a longer period of time will prove to be more rewarding.
As you know with any investment, there is always a risk of losing your money. Amazon investing won't guarantee that you can make money doing nothing. Truly consider if learning how to invest in Amazon stock and earn money is the right move for you.
As the saying goes, "Don't put all your eggs in one basket." Diversify, invest long term, and your outcome can be much more favorable later in life.
---