23 Under the Table Jobs That Pay in Cash Only
We foster relationships with brands we use and trust. The testimonials on our site represent real experiences, but they don't guarantee you'll achieve similar results. When you make purchases through our links to our partners, we may earn a commission. Your support helps us continue this work. You can read our full disclosure here.
Under the table jobs that are cash tendered are usually simple and flexible, but pay quickly.
If you need to bring in some extra cash, working with a small company that doesn't hire employees could be your answer.
Of course, working jobs under the table doesn't mean you don't have to pay taxes on your income; it just means that the company or individual you work for won't be responsible for withholding or reporting your taxes.
If you have any tax questions about cash paying jobs, I suggest you meet with a tax professional.
Some of the best jobs that pay under the table can be done on a laptop or mobile device. Or you can strike a deal with local clients to pay you in cash if that is important to you.
Under the Table Jobs Online
The internet opens the door to so many ways to make money. Some of these online opportunities pay in PayPal cash, visa gift cards, or store gift cards.
1. Surveys that Pay in Cash or Gift Cards
If you're looking for an extremely flexible job that's paid under the table, you can become a respondent and fill out surveys for money in your spare time. It's a simple task that you can do while standing in line at the bank or watching a movie on the weekend.
Start with a legitimate site like InboxDollars and get a $5 sign-up bonus. You can earn money by answering questions about the products and services you already use. It's easy to cash out your earnings via PayPal when you complete surveys that pay cash instantly.
Another site to consider is Swagbucks which offers a $10 sign-up bonus. This site has plenty of opportunities to take surveys and complete easy tasks for cash. Payment options include PayPal cash and Visa gift cards. If you're looking for under the table jobs, cashing out in Visa gift cards and converting them into cash is the perfect solution.
Start with the highest-paying survey sites to make the most money for your time.
2. Consign Stuff Online
People often throw things in the trash without a second thought. You could instead help them make an extra buck (and earn money yourself) by offering to consign their unwanted items online.
There are tons of mobile devices listed on local marketplaces. You can scan through listings and hop on BuyBack Boss to get an instant price for the device. Just offer a lower price to the seller, and you can turn around and make guaranteed money when you send the device to BuyBack Boss for payment.
You can take a similar approach using a popular giant like Amazon. Just visit Amazon, search for the item you have your eye on, and see if you can resell it for more than the seller is asking.
Related: BuyBack Boss Review
3. Proofread for Local Businesses
It can be satisfying to read through someone else's work and find errors that need to be fixed. This is called proofreading and it's an awesome under-the-table job if you work for local businesses and request payment in cash. If writing isn't your thing and you'd rather proofread, then go for it.
Proofreading is when you take someone else's work and read through it. You'll need to check for spelling and grammatical errors. When you find an error, you mark it for your client to fix.
One of the best proofreading courses is Caitlin Pyle's FREE 76-minute Proofread Anywhere webinar. She teaches how to proofread and make good money from your efforts.
Related: Best Places To Find Proofreading Jobs From Home
4. Transcribe Audio
Transcribing audio is something that thousands of people do from home. It's when you listen to audio recordings and type what you hear into a document. If you enjoy putting someone else's thoughts into words, then you might like to transcribe audio as an under-the-table job.
There are many reasons people may need audio transcribed. Conference calls, dictation, interviews, and more can all be transcribed. It's a powerful industry that can allow you to work from home.
If you would like to learn more about transcription, check out Janet Shaughnessy's free transcription mini-course, General Transcription: Theory & Practice.
Related: Online Transcription Jobs That Pay Up To $39 Per Audio Hour
5. Freelance Writing
Work on your own time as a freelance writer. You can write blog posts, information articles, guides, or even website content. Freelance writing is an easy way to get paid under the table if you work with local, cash-paying clients.
Learning how to make money freelance writing could be the perfect job that pays under the table.
6. Freelance SEO
As a freelance SEO (search engine optimizer), you can help local, cash-paying clients increase their website traffic. It's amazing how a few simple changes in search engine optimization can help anyone's website or blog.
Working as a freelance SEO, it's important to stay up-to-date on the strategies that will help your clients improve traffic. If you're considering this profession, grab my eBook Get Your Keywords Together. It will help you to do in-depth keyword research for your clients.
Related: Best Jobs for Stay-at-Home Moms
Local Under the Table Jobs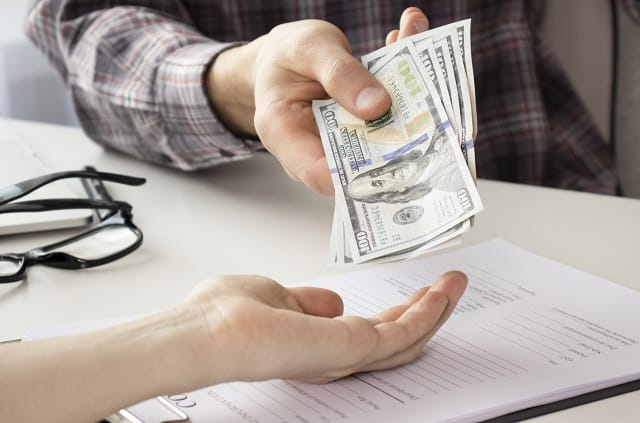 If you need to find cash only jobs, then you'll have to keep your work local.
7. Walk Dogs
Walking dogs is a fun job that pays well and can also be a great source of exercise. This could turn into an under-the-table job that you actually love. Whether you have your own dogs or you get along well with other peoples' pets, consider getting paid to walk dogs.
One platform you can use to start walking dogs for cash is Care.com. This is an online marketplace in which people can offer different services. While dog walking is one of the services you can offer on Care.com, you can also offer pet sitting.
Related: Get Paid to Exercise
8. Sell Clothes
Clothing is something that everyone needs, but not everyone wants to pay full price for. If you have clothes to sell, then this may be a good opportunity to make money under the table. Plus, there are lots of places to sell clothes.
Selling clothes on the side could include shopping at a second-hand store for items to resell. You could also sell your own clothing you are no longer using. Or consider buying clothes in bulk and selling them in local Facebook groups.
You may be surprised how many clothing items are in your house that you can sell! Take some time to go through closets and drawers to find clothing that has no stains or rips in them. Clothing is very sellable and a great way to make money under the table.
Related: Best Things to Flip for Cash
9. Sell Your Music Skills
If you're a musician, one of the jobs under the table that may make the most sense is selling your music skills. Yes, many people really make money with music.
You can do things like create an instructional music course online, create music videos, write songs for other musicians, and so much more. Get creative and think about how else you can sell your musical talents.
Consider creating royalty-free music for YouTubers and content creators on Facebook who rely on tunes to go with their videos. Check out similar listings on Fiverr for further inspiration.
10. Landscaping or Snow Removal
If you live in an area that gets a lot of snow, then you can start a winter side hustle doing snow removal. This is great if you have a truck and plow and can remove snow for commercial or residential customers. You don't need to have a truck to remove snow though; you can easily use a shovel and offer your services around your neighborhood.
After the snow melts, there are lots of people who need help with landscaping. Get clients by offering great customer service, awesome prices, and doing the job right the first time. Landscaping and snow removal can prove to be a very lucrative cash paying job.
Related: How To Start A Worm Farm For Profit
11. Offer Handyman Services
It's a gift to be able to fix anything that's broken. If this is you, consider offering handyman services. There are many people out there that cannot fix things themselves and need your help.
Start taking before and after pictures of the things you fix in your own home, and soon enough you'll have an entire portfolio to share with potential clients.
Related: Get Paid to Assemble Furniture
12. Detail Cars
Since you're looking for under-the-table jobs, detailing cars in your area may be one that interests you. It can pay really good money, too.
As a car detailer, you'll be making sure the inside of the vehicles you clean looks spotless. Detailing a car can include cleaning the upholstery, vacuuming the carpet, cleaning under the seats, washing out cupholders, and even handwashing the vehicle. You set your own prices for the services you provide.
13. Offer Cleaning Services
There is a lot of money to be made offering cleaning services. Most families have garages, attics, basements, and many other spaces that need to be cleaned out. Or you can do regular household deep cleaning in kitchens, bathrooms, and living areas.
Start offering cleaning services to those in your area to earn cash under the table. Since you set your own prices, you could make good money from being great at cleaning things.
This is also a great home-based business idea to start with a partner. If you work well with other people, consider teaming up and offering cleaning services around town.
14. Manage Properties
Oversee other people's properties by becoming a property manager. Whether the owner lives out of the area, doesn't have time to manage the property themself, or simply doesn't want to take on the added responsibility, you can get paid in cash to manage the properties for them.
Take care of just one property if you are looking for a small side hustle. Or manage multiple properties if you want to really boost your income. You can specify to your clients that you want to get paid in cash only in the terms of your agreement to be their property manager.
While the role of property manager may not be a difficult one, it can be time consuming for the owners. Offer them the peace of mind and flexibility they're looking for with the assurance that you can handle the work for them.
More Jobs that Pay Cash Only
The key to landing cash only jobs is to ask for them. You can offer all kinds of services to people in your area, but if you don't ask them to pay in cash, they may hand you a check.
15. Flea Market Flip
If you've ever been to a flea market, then you know you can score some really cool stuff. Flea market flipping is when you buy something at a flea market, fix it up, and then sell it for cash. It can be a lucrative way to make money under the table if you know what you're doing.
You can start flipping valuable items from flea markets, garage sales, and garbage piles and potentially turn it into a full-time income.
Another way to may money at a flea market is to set up a table of items to sell. You can start with items from your own garage and then grow your business by sourcing second-hand items from around your area.
Related: Best Things to Sell to Make Money
16. Sell Custom Woodwork
If you enjoy making pieces of art with wood, then an under-the-table job in woodworking may be for you. Did you know that you can make money woodworking?
Not everyone who chooses this route has been woodworking their whole life. You can easily watch some YouTube videos to learn how to make different pieces that you could sell.
It may take some time and effort, but woodworking could be a hobby turned side business that could help you pay the bills.
17. Sell Crafts
There are so many people out there who are amazing at making crafts, you may even be one of them. If you've considered selling crafts, then Etsy is a good place to set up shop and sell them for cash (under the table).
Get an idea of what kind of crafts would do well and start crafting. You could make a decent living by doing something you're already good at.
Look at some of the crafts that you have made in the past to see if they're worth recreating and selling today. Plus, you may have inventory lying around that you can go ahead and post for sale.
Related: 100 Best Things to Sell on Etsy to Make Money
18. Have a Garage Sale
If you have items that are just sitting in storage, consider having a garage sale. Some people have so much stuff that they don't need. Anything you make from selling your stuff vs. throwing it in the trash is pure profit.
You could even team up with other people who want to have a garage sale with you. More people will attend a garage sale that has a lot of valuable items.
You can advertise your garage sale in the newspaper or in local Facebook groups to let people know that you are having one.
19. Scoop Ice Cream
There are many people in the world who love ice cream and you may be one of them. If you are wanting to earn extra money and don't know what you'd like to do, consider scooping ice cream.
You can usually find easy summer jobs at local ice cream shops. Some locations are seasonal and hire for jobs under the table. Plus, scooping ice cream is a nice way to cool off when it's really hot outside.
20. Babysit
Offering babysitting services is one of those weekend jobs that not everyone is willing to do. If you don't mind giving up your nights or weekends, it could help you pay the bills.
You can choose to watch a few children or just one at a time. Usually, the more kids you watch at once, the more you can charge for your services.
Just make sure you actually enjoy being around kids and working with them. You don't want to become a babysitter just for the money. You will not have a good experience if you look at things from this perspective.
Related: 18 Part Time Jobs Online That Pay Daily
More Places to Find Jobs Under the Table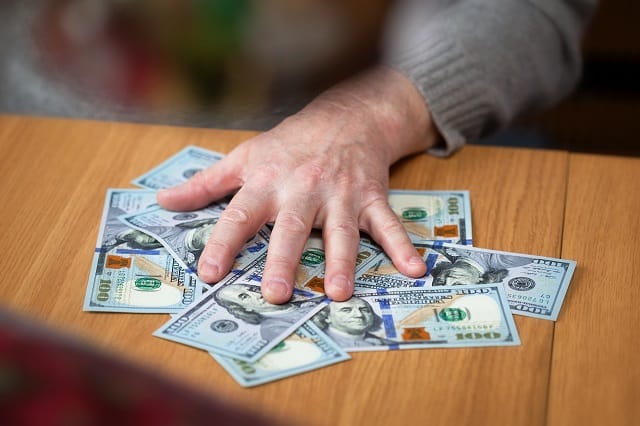 There are hundreds of under-the-table jobs in your area, you just need to know where to search for and find them. Try these four places if you need additional ideas.
20. Local Job Boards
Yes, local job boards still exist. If you're looking for places to find jobs under the table, then find local job boards to post your services on.
To find a job that works for you, you'll want to look for opportunities close to home. Look daily, too, because jobs change often. You may be able to find a job today that wasn't available yesterday. You may even find cash paying jobs to help you make $3,000 or more fast when you need it.
21. Community Facebook Groups
Facebook has become an awesome place for people to find jobs. You can look in community Facebook groups or Facebook's dedicated local job listings. You'll find that people are always looking for someone to clean, do yard work, or babysit.
You should be able to find some under-the-table jobs on Facebook, which means you'll be paid cash. No messing around with payroll and cashing checks.
22. Craigslist
Many people have forgotten about the great service that Craigslist has provided to communities. It's always been a great "job board" for those looking.
Being able to find various gigs on a place like Craigslist is still possible. When you search for jobs in your area, you might find an opportunity where someone needs their house painted. Or you may find tutoring jobs, house cleaning jobs, or even seasonal work. Most of these opportunities pay under the table.
23. Ask Your Friends, Family, and Neighbors
Ask your friends, family, and neighbors if they know someone looking for help.
Whether it's for cleaning, doing handyman work, or landscaping, there may be some type of work out there that you can do
Word of mouth is one of the best ways to get information out that you are looking for work. Be specific in the type of under-the-table work that you're looking for!
Related: Get Paid to Live in a House
Under The Table Jobs Don't Always Pay Good Money
Don't search for cash only jobs just because you think they pay better or you'll save a few dollars on taxes. Under-the-table jobs often pay less than jobs that require you to be on a company's payroll or provide a 1099 for your services.
I've worked as a 1099 independent contractor for multiple companies. That doesn't mean I work under the table since I'm not an employee or on payroll, it just means that I report my own income to the government and pay my own taxes. An employer, on the other hand, would withhold your taxes and pay the government on your behalf.
Don't get caught up in whether a job is under the table, on payroll, or just happens to pay in cash. Ultimately, it's just helpful to choose a position that both pays well and pays on time.
---
We appreciate the time you've spent reading this post and your interest is not lost on us. Your thoughts, questions, or experiences related to the topic are most welcome. Each comment adds strength to our community. We ensure every comment receives our attention, and we take the time to provide thoughtful responses. Once again, thank you for being a part of this conversation. Click here to leave a comment.