How to Become a Sleep Consultant and Earn $100k+ a Year
As a mom of two, I know first-hand the struggle of sleep deprivation. You wake up in the middle of the night for the fourth time, sit up in a dizzy stupor, and awkwardly pat around the bed, wondering where the distant cries are coming from. After about 30 seconds, you realize the accelerating screams are coming from the baby monitor on your bedside table. You drag yourself out of bed, bumping into every chair, table corner, and doorway as you stumble to your baby's room.
Does this scenario sound all too familiar? If this was once you, and you've finally mastered your child's sleep schedule, perhaps your soul aches for the parents who are still stumbling to their babies' sides multiple times each night. Maybe you're 100% ready to learn how to become a sleep consultant so that you and others like you can have the coveted sleep you need.
According to a recent survey, seven in 10 parents lose three hours of sleep every single night during their babies' first year. No matter how alone a mother feels on those sleepless nights, many others are facing the exact same struggles at the exact same time.
Sleep deprivation can cause health issues like weight gain, high blood pressure, and weakened immunity. It goes without saying that many tired parents are at the breaking point and are willing to do whatever it takes to get their babies to sleep.
The good news is, this real-life problem has a solution. Learn how to become a sleep consultant and help parents during the foggiest time they will face in parenthood. It is important to obtain a sleep consultant certification to help you become a baby sleep consultant who not only helps the parents, but looks out for the babies, as well.
One of my favorite sites, Swagbucks, offers tons of ways to earn real cash online. If you're not already a member, give it a shot! Here are five things you can do to make easy money on the site:
Play games (up to $322 each)
Test apps (up to $150 each)
Submit receipts (easy cash)
Shop at your favorite stores (up to 10% back)
Answer surveys and polls (quick cash in minutes!)
Our Popular Free Guides
How to Start a Permanent Jewelry Business - If you are patient, have social skills, and love interacting with others, then a permanent jewelry business may be for you.
How to Become a Sleep Consultant - Help parents and babies, and be the difference for families worldwide who are desperate for more Zzzs in their life as a sleep consultant.
How to Become a Proofreader - There are five basic steps to working from home as a proofreader. As long as you're willing to put in the work, you can become a proofreader!
What is a Baby Sleep Consultant?
A sleep consultant is a certified professional who helps guide families to the best sleep practices for their babies. As a result, the families as a whole are finally able to get better sleep. Sleep consultants educate families on safe sleep practices, and wake and sleep expectations based on the baby's age.
Sleep consultants don't focus on telling parents to let babies "cry it out." They are educators who present multiple options and help parents determine the best method for them based on their baby's needs.
Related: How to Become a Nanny
Does a Sleep Consultant Require a License?
Sleep consultants fall under the same category as life coaching. Because this is an unregulated field, no license or certification is technically required. But it's smart to check out sleep consultant certification courses to have access to the best tools and knowledge available to help your clients succeed in getting better sleep.
Other Sleep Consultant Requirements and Qualifications
To be successful in the sleep consultant field, you need to have good communication skills, patience, and kindness. Listening to your clients' needs and communicating clearly with them will go far in helping you become a successful baby sleep consultant with raving reviews from real parents.
Patience is important, because you will be working with overwhelmed, sleep-deprived clients on a regular basis. The difficult situations that have led parents to you in the first place could mean you become susceptible to their impatience and sharp remarks. It's important to stay calm as you help them through this challenging time.
Kindness is what every parent needs, especially when they feel like they are failing because their baby won't sleep. Your reassurance and kindness will make all the difference for them as they attempt to make a change that will help them feel better.
Related: How to Become a Doula and Support Birthing Women
Sleep Consultant Salary or Pay Expectations
According to ZipRecruiter, the average annual salary for a certified baby sleep consultant is $65,338. Some reported salaries reach as high as $107,500, while others dip as low as $19,500.
Ready to become a certified sleep consultant? Use the discount code PAYATHOMEPARENT250 at checkout to get $250 off!
How to Become a Certified Sleep Consultant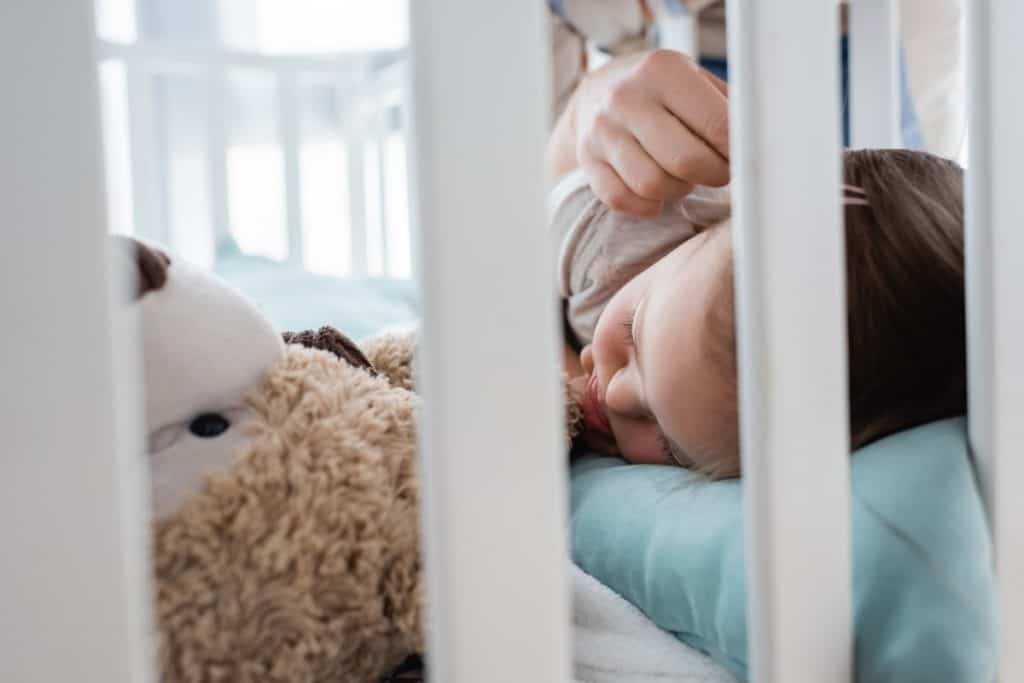 Becoming a sleep consultant is a great job for stay-at-home moms who understand the struggle of sleep deprivation. If you are interested in helping parents get more sleep so that they can live a happier, more restful life, then this is your chance to make a real difference. Get started in this new career by taking these next few steps.
1. Assess Your Skills and Commitment
Before jumping into a sleep consultant career (only to later find out it's not the right path for you), research the qualifications and skills that are needed to succeed. Whether you offer one-on-one coaching sessions in person, over the phone, or via online chat, you will need to have stellar communication skills. This career doesn't end with learning the best methods for helping babies sleep; you will also have to effectively communicate them to tired, emotional parents.
To learn if you have what it takes to become a sleep consultant, check out this free training by Center for Pediatric Sleep Management on the topic. Creator Jayne is a practicing, certified sleep consultant who quickly learned that running the business side of consulting is every bit as important as effectively communicating with parents. She can help you turn your passion for helping others into a profitable business.
Related: Best Online Proofreading Courses
2. Enroll in a Certified Sleep Consulting Course
Staying up-to-date with the latest online baby sleep consultant training will help ensure your success in both practical application and marketing/growing your business. This kind of education is vastly different from reading a $3 sleep training book and abbreviating the contents for tired parents. Instead, a comprehensive course will help you learn all of the various sleep training methods, start your business, effectively sell your services, and ultimately connect with clients and meet them at their comfort levels.
What is The Center for Pediatric Sleep Management?
The Center for Pediatric Sleep Management (CPSM) offers the only course (that I know of) that walks students through the entire process. Learn everything from sleep needs and training methods to marketing your business and landing clients.
Not only will you learn how to provide these services, but you will also be taught how to fill your schedule with paying clients and make more money. After you finish the course, you'll receive a sleep consultant certification badge to display on your business website, and will have continued access to ongoing support from the course creator and her team.
My Review of CPSM
When Jayne from the Center for Pediatric Sleep Management described her daily routine as a virtual sleep consultant, I knew instantly that I loved her method. She offers new clients a two-week plan that requires phone calls at the beginning and end. The rest of the communication with her clients is done via text messaging and a personalized digital sleep plan. Her method isn't an exact science, but it is designed to fit into a busy schedule without tying her clients to the phone all day long.
It's important to keep up with communication methods and learn which ones fit into your clients' lifestyles. Since the majority of new mothers are Millennials, most want the option of text support versus constant phone calls. The CPSM sleep consultant certification course is designed for busy people who are looking for a more efficient way to reach their goals.
Jayne's expertise in marketing and sales is reflected in her curriculum. She doesn't just tell her students to set up a business website and start booking clients, she actually demonstrates how to do it. I have found that the most difficult part of running a new home business is finding clients. They don't simply rush through the floodgates the minute you exclaim that you're certified. Marketing your business is an ongoing process that you need to learn and master in order to run a successful business.
Enroll in the Center for Pediatric Sleep Management sleep consultant certification course to begin your journey as a certified sleep consultant. This comprehensive curriculum is designed to support consultants through the entire process. It will teach you how to identify problems, assess needs, and develop solutions based on each client's individual circumstances and desires.
Ready to become a certified sleep consultant? Use the discount code PAYATHOMEPARENT250 at checkout to get $250 off!
You can read my full review of the Center for Pediatric Sleep Management to learn more.
3. Take on Practice Clients
Once you have completed the course, it's time to start taking on clients. This could be intimidating at first, so consider taking on practice clients to help you build your confidence and comfort level. Reach out to friends and family members who might need your help. Offer your services at a highly discounted rate or for free to help you establish yourself before taking on higher-paying clients.
4. Request Testimonials
After working with each family member, ask for a written testimonial to help you market your services. Testimonials are similar to reviews that are left on products to help potential buyers make their purchase decisions. Many consumers will choose whether or not to buy something based on what someone else said about the product in a review.
Let your testimonials work for you; they can help bring clients to you without you having to go search for them. Highlight customer testimonials on your website, Facebook group page, and other social media platforms for all to see.
Related: How to Become a Surrogate Mother
5. Market Your Services
It would be disheartening to start a new business, only to have zero clients. But nobody will be able to know about your new venture unless you tell them about it. The internet is today's prime resource for promoting a business, so take advantage of all the connections that can come from it.
Post to social media, share your business with other organizations, collaborate with other entrepreneurs, create a website, and so on. You will find that there are endless opportunities to market your services.
Related: How to Get Paid to Sleep
Questions New Sleep Consultants Are Asking
Find out what other new sleep consultants are asking about this career to get the full picture of what to expect before becoming a sleep consultant.
Is it hard to become a sleep consultant?
This is a matter of opinion. Becoming a sleep consultant might be hard for one person, but easy for another. It all depends on your commitment and dedication, plus any other parts of your life that might need to be addressed before starting your course so that you can fully invest yourself into the craft. Thankfully, these courses are available online, so you won't have to spend time having to drive to an in-person class, offering you the flexibility to complete the course on your own time.
Related: Jobs that Pay Over $200k a Year
Are sleep consultants in demand?
According to the Center for Pediatric Sleep Management, sleep consultants are highly sought after. Parents have always needed help with their babies' sleep schedules, but more and more people are seeking advice from the experts due to both parents' having to work. It's hard for employees to function well at their jobs when they are running on little to no sleep. Therefore, these working parents are willing to pay sleep consultants for desperately needed help.
Is it hard to find a job as a sleep consultant?
The ease of finding sleep coaching jobs will depend on where you are advertising your services. Be willing to step outside of your comfort zone in order to find clients. At the start of your new business, you will likely need to do the footwork to find customers. As your business grows and word-of-mouth spreads, it won't be as difficult to find parents to work with.
How long does it take to become a sleep consultant?
This will depend on the course that you take. Some courses can be completed in just a few weeks, while others might take months. It will also depend on the time you have to take the lessons and complete the materials. The amount of time it takes to become a sleep consultant boils down to you and how much time you dedicate to getting it done.
Related: How to Start a Cleaning Business
Who Should Become a Sleep Consultant?
A sleep consultant should be passionate about babies, families, and education. If you aren't interested in any of those things, then this career will probably not be for you. But if these are topics you love, becoming a sleep consultant could be the perfect move for you, and a way to launch a new career full of promises.
It can be intimidating to begin a new career, but you can start off on the right foot with the free training by Center for Pediatric Sleep Management. Take a sleep consulting course to learn how to make this a successful move.
Help parents now, give them hope for their babies' futures, and be the difference for families worldwide who are desperate for more Zzzs. Sleep consultants are life changers for families, and the salary can be life changing for you.
Related: How to Start a Home Daycare
Ready to become a certified sleep consultant? Use the discount code PAYATHOMEPARENT250 at checkout to get $250 off!