How to Make $50,000 Fast (Is It Even Possible?)
One of my favorite sites,
InboxDollars
, offers tons of ways to earn real cash online. If you're not already a member, give it a shot! You can even
get a $5 cash bonus
just for trying it out.
Staring right into your soul is a $50,000 RV. You want it. You need it.
Or perhaps you're swimming in $50,000 of debt and you've decided to change that, right now.
Maybe an emergency situation finds you grasping for straws, and $50,000 is the answer to your immediate needs.
Regardless of which situation you find yourself in, you need to know how to make 50k fast. Whether you need to make that kind of money overnight, within a week, a month, or six months–there are ways to do this.
I'm telling you right now, making 50k fast may be the hardest thing you ever do. But if you make a plan (which involves a lot of work and very little sleep), then I believe that it's possible to earn 50k quickly.
I'll share relevant strategies based on how fast you need the money. However, if it's an emergency, consider reaching out to friends and family for help or applying for a personal loan with Upgrade. Because let me reiterate–this is not going to be easy.
Our Most Popular Money-Making Offers
Opinion Outpost - A high-paying, trusted survey site that rewards its members in free Amazon gift cards or cash.
Branded Surveys - A legit survey site that rewards its members in cash just for sharing their opinions.
InboxDollars - Get a $5 new-member bonus for joining a site that pays you to play games, search the web, answer polls, and complete paid offers and surveys.
Instacart - Earn up to $20 per hour to shop for and deliver groceries on your own schedule using your own car (and keep 100% of your tips!).
Cash App - Get $170+ in free cash and Bitcoin, invest in Bitcoin and stocks, and send and request money for free. Use my referral code for a cash bonus:
How to Make 50k Overnight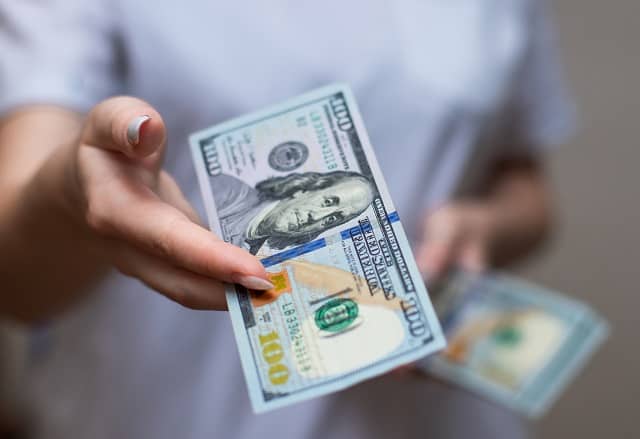 Getting 50k overnight is possible, but you're going to have to get creative to make quick money in one day. Don't get discouraged if you can't do these–not many people can (or else everyone would be doing it).
1. Sell $50,000 Worth of Stuff
Money is just a placeholder, and that means the real value is in the "stuff" you use every day. To make 50k overnight, take a walk through your garage and decide if you're ready to part with what you see. If you have a truck, boat, motorcycle, RV, or another large vehicle on hand, it may be your ticket to make money instantly.
If I desperately needed to make 50k overnight, I would walk through my property and snap pictures of anything I could give up in exchange for cash. Then I would post it on Facebook Marketplace for a quick sale. Things like our ping-pong table, pool table, bar, gaming systems, guest room furniture, trampoline, Roomba, unused fireplace, and anything else I could think of would have to go.
Only your reason for needing $50,000 can determine what is worth selling and what is worth keeping. If it's an emergency, you might need to sell the things you care about the most.
How to Accept Payment
Selling things person to person like second hand items or your services can be a pain.
No one has cash on hand anymore to buy your stuff.
Everyone takes Visa cards EXCEPT you!
That's why offering Cash App as a payment option can boost your sales in a heartbeat.
And it's SO easy to use as a seller AND a buyer.
Download the app and get a free cash bonus when you enter referral code JSMTBXW and send money using the app.
Click on the button to copy the code then paste it into Cash App to get the free bonus!
Related: 15 Places To Sell Clothes Online and Locally For Cash
2. Borrow $50,000 from Your Retirement Funds
Some retirement accounts have the option to borrow money from it without incurring a tax penalty. Consult your financial adviser before tapping into your retirement funds. Even if you plan to pay it back, slow repayment could delay your retirement by years.
When my husband and I purchased our first home, our savings came just short of our target. We needed to get $5,000 quickly to go toward the downpayment and closing costs. Thankfully my 401k allowed us to borrow the funds hassle-free, and I only had to pay interest to myself instead of to a bank.
If you have some funds in a retirement account with your employer, contact your employer's Human Resources department to find out if you can get 50k overnight and set up a repayment plan that works for you.
Related: How to Invest and Make Money Daily
3. Launch a $50,000 Project on Kickstarter
If you have an amazing product idea that has the potential to go viral overnight, you just might be able to get 50,000 $1 pledges, 1,000 $50 pledges, or even just 500 $100 pledges.
Crowdfunding is a unique way for creatives and inventors to raise money to fund new games, music, art, films, and much more. Check out the current ideas that are trending on Kickstarter to determine if your own idea has the potential to raise $50,000 overnight.
Related: 101 Free Money Hacks That Are Real, Easy, and Quick
How to Make 50k in A Week
You have one week to make $50,000–how will you do it? These ideas can possibly get you to that goal in time.
4. Set up $50,000 in Service Contracts
Spend this entire week setting up service contracts with local businesses. You just need 10 clients to pay $5,000 each in order to reach your goal. Before contacting businesses, brainstorm some services that you can offer like heavy cleanout, painting, remodeling, or lead generation.
Most importantly, make sure to avoid taking on more contracts than you can handle. Set realistic completing dates, but require payment upfront. You may also need to hire a crew to meet deadlines.
Working directly with businesses to provide a service that they need is one of the quickest ways to make 50k in a week. But the work itself can take much longer to complete.
5. Consign Locally for $50,000
Ask just about anyone in your neighborhood and they'll probably say they have a couple of things worth selling but just don't have time to do it. Most people won't have a yard sale when they only have a few things to sell.
You could offer to consign the items for a 50/50 split of the income. It could require a lot of scrambling around town to facilitate selling, but the zero startup cost could make it worth the effort.
You can also offer to buy second-hand items for a fraction of their value and flip them online for an even bigger profit. That's what Rob and Melissa with Flea Market Flipper do for a living.
You can catch their strategies in their free online webinar right here.
How to Make 50k in A Month
Earning 50k in a month will still require some intense, late-night work hours. But it's creeping toward a more reasonable timeframe to reach your goals. (Did I just say it's reasonable to want to make $50,000 in one month? I must be going crazy.)
6. Become a Clickbank Affiliate Marketer
Clickbank is a well-known marketplace where creatives buy and sell products, courses, ebooks, and much more. Many of its products offer high commissions for each sale you refer. And there are programs with high conversion rates, even when shared with a cold audience.
Basically, to become an affiliate marketer, you would need to sign up with a company like Clickbank, create a dedicated Facebook page or website, share relevant offers, and earn money for the sales you refer.
Michelle with Making Sense of Cents is one of the only people I know who make $50,000 a month with affiliate marketing. She uses a blog and email list to earn this type of income. Check out her free ebook to learn how she does it.
In order to make 50k in a month with affiliate marketing, you would need to get the products in front of a lot of consumers' eyes, which may require a significant amount of money to run ads.
As a beginner, affiliate marketing without ad spend may only net you around $500 fast.
7. Become a Traveling Salesman
Similar to setting up service contracts, you could work with local businesses to sell their stock on a commission basis. To earn $50,000 in a week, you would need to work with high-ticket items like farm equipment, swimming pools, RVs, or hospital equipment.
Most sales positions require some type of training, but if you work independently and can prove your ability to sell, then a business might jump at the opportunity to pay commissions on the sales you close.
Related: 10+ Places to Sign up And Get Money Instantly
How to Make 50k in 6 Months
Giving yourself six months to make 50K can take a lot of stress off of your plate. These ideas can possibly help you earn $3,000 to $9,000 per month.
8. Demand Money from Robocallers
Imagine getting paid up to $1,500 to answer phone calls. Is this something that you could fit into your busy day?
In the US, it's illegal for a business to call or text your cellphone number using an autodialer without your written consent–and yet, thousands of businesses do it anyway. The FCC's Telephone Consumer Protection Act was put in place to thwart this business practice, but it has hardly slowed it down.
If you receive robocalls, you could potentially demand up to $1,500 per call from the offending business. It takes research and a well-written robocall demand letter to get those lawbreakers to pay up. But it's more than possible!
9. Flip a House for $50,000 (Net)
Flipping houses can potentially net a cool $50,000 in six months. It's not easy, but it's been done. Most house flippers invest their own money in the properties and then flip them for a profit, but some new flippers work with a private investor with whom they share the profits.
If you are a handyman who's willing to strip inside walls, possibly hire an electrician and plumber, and reconstruct a home to make it livable, then house flipping could be your answer.
Related: How to Flip Money
10. Start a Blog
I've earned $50,000 within 7 1/2 months as a blogger, but it took me a couple of years to build a blog that could create a sustainable income. I've known other bloggers who have earned much more much sooner. It's not typical to earn $50,000 within your first six months of blogging, but it can be done.
Most high-earning bloggers make money with affiliate marketing, display ads, and by creating and selling digital products like ebooks or courses. As long as you do the research into what your target audience is searching for, and answer those questions better than the competition does, then you can potentially build a money-making blog.
It's Possible to Earn 50k Quickly–But It Takes a Ton of Effort
When someone asks me how to make $50,000 fast, I don't take it lightly. Part of me wants to say it's impossible, but another part of me wants to encourage them to take on the task.
Truthfully, it just depends on what fast means to you, and how much time you're willing to put into it.
I have no doubt that there are those who have the drive and commitment to meet this goal. If that person is you, then only you know your limits and whether you can make it happen!
Related: I Need Money Today for Free