How to Sell Plants From Home Online or Locally
One of my favorite sites, KashKick, offers tons of ways to earn real cash online. If you're not already a member, give it a shot! Here are five things you can do to make easy money on the site:
Play games (up to $125 each)
Test apps (up to $125 each)
Buy lottery tickets (an easy $8)
Try popular brands (always changing)
Answer surveys (quick cash in minutes!)
No matter the time of year, plants are always in demand. From gardening to décor and special occasions, plants make a wonderful addition to anyone's home or office space. If you learn how to sell plants from home, you could make some serious money doing something you love.
As a plant lover myself, I know the benefits of having plants in and around my home. I can use them to season food, create a holiday centerpiece with them, or give them as a gift to someone else. There really isn't a place where plants don't belong. They help us in many ways to live a better life.
Take the next steps in a new adventure to sell plants from home. You could even become the local florist in your neighborhood. Sharing plants with others is a great way to reconnect life with mother nature.
Click the button ⬆️ to subscribe to my YouTube channel where I share real ways to earn money.
Our Popular Money-Making Offers
Sign up with each of the following companies to maximize your earning potential.
$10 sign-up bonus
Pays to take surveys, complete offers, shop online, and much more
100s of other paid tasks
Awards cash and gift cards
$5 sign-up bonus
Pays to play games, watch videos, answer polls, and much more
100s of other paid tasks
Awards cash and gift cards
What is Plant Selling?
Selling plants from home doesn't just mean you grow flowers and sell them off. There are many ways you can sell plants from home such as starting a seed dropshipping business with Shopify or opening an Amazon FBA business selling succulents.
If gardening and selling is your thing, then you can absolutely make a business based on that experience. Sell your harvests and maybe add in a gardening class every once in a while for others to learn how they can make money growing and selling plants.
Related: How to Start a Dropshipping Business
Does Selling Plants Require a License?
Any kind of business usually requires some type of license or permit. If you are selling goods from your home, it is a good idea to consult your state's licensing requirements for the exact information.
Depending on the way you choose to sell plants from home, a business license or permit may be the minimum requirement. There are also nursery floral licenses required for some states.
Keep in mind that selling plants locally may require you to collect and pay sales tax on plants used for decoration purposes.
Other Plant Selling Requirements and Qualifications
If you want to physically sell plants from your home, you have to have the space to plant and nourish them in the right environment. You must have patience as plants don't grow overnight. Additionally, it is a good idea to have some knowledge about how to care for plants, specifically knowing which plants grow best during different seasons.
Plant Seller Salary or Pay Expectations
There is a wide range when it comes to the salary or pay expectation for selling plants. There isn't a designated national salary range for those who sell plants from home. You can expect that the more energy you put into this business venture, the more you can expect in return in the future.
If you are selling plants from your backyard, your advertising and marketing skills will help you most in drumming up business. If you are selling plants online from places like Shopify or Amazon, you will need to ensure you are making smart business decisions on those platforms to get your products in front of more eyes to sell.
Related: How to Start a Worm Farm for Profit
6 Steps to Sell Plants From Home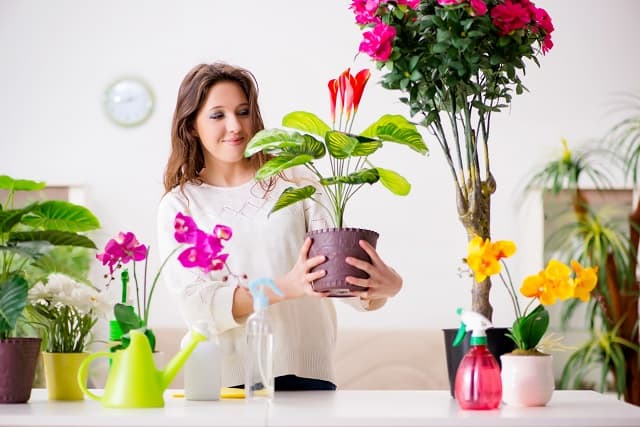 The steps laid out in this guide will give you an idea of where to start in your plant selling business from home. Starting a business is not easy to do, but these steps will get you further along than you are now.
1. Create a Business Plan
Develop your goals for the income you want to make and plan for any expenses you might accrue along the way. The best-laid business plans are the ones that expect the unexpected.
List out all the pieces of your business such as if you are the only one who will be involved, what kind of plants you want to sell, how much they will sell for, how much money you need to invest in starting the business, and what future goals you have for your business. These are just some basic questions to think about to start on your plan.
Related: How to Invest and Make Money Daily
2. Obtain a Business License
At a minimum, you may be expected to apply for a business license. Start the process sooner than later because it can take weeks to finalize your license. Once you have that in place, you can then begin applying for a business bank account and advertise your business.
3. Decide Which Plants You Will Sell
Take into consideration the types of plants you want to sell. Do you just want to stick to flowers or are you going to include edible plants also? You can sell seeds, startup clippings, or full-grown potted plants. Consider specializing in a specific category to start like different types of succulents, hanging plants, medicinal herbs, or vegetables. Start with something you are familiar with already so that you can get some selling experience under your belt before you expand.
Also, you need to confirm if you will be selling out of your home or from a local or online shop. These are two different avenues and have contrasting requirements. Make sure you know which path you are going to take before proceeding with your new business.
Related: How to Start a Business Website
4. Gather Start-Up Supplies
When you think about how to sell plants from home, one of the first thoughts is about the materials you will need to purchase to get up and running. Here are some items to consider that you should invest in to have the best foot forward in this new venture:
5. Establish Your Prices
Taking into account the kind of income you want and how much you spend on supplies for the plants, you should be able to tailor your prices to be comparable to other plant sellers in your area. If you charge too much, buyers may go elsewhere for their plant needs.
Also, if you sell plants that are more unique or special for a particular season, you could charge even more. Supply and demand can drive prices up.
6. Market Your Business
No one will know about your business if you don't advertise and market yourself. Consider placing an ad in the newspaper, partnering with other local farmers during farmers' markets, promoting yourself on social media, and handing out business cards.
The best way for people to fall in love with what you have to sell is if they can see the products. This means you should post pictures and videos on social media to entice viewers to buy from you.
Lastly, collect reviews from customers so that you can rank higher in Google search results or just to drum up some business. Customers almost always go to the reviews section before deciding what company to do business with. Make sure your customer service skills are stellar to get those high reviews.
Related: How to Start an Amazon FBA Business
Questions New Plant Sellers Are Asking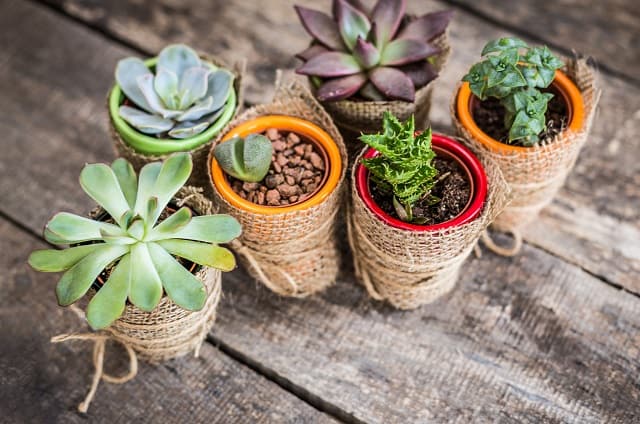 Take a look at what new plant sellers are asking before you jump into this new career.
Can you make money selling house plants?
Yes, you can definitely make money selling house plants. There are many plant lovers out there who always want a fresh plant to spruce up their home, generate more positive energy around them, or may even buy house plants as gifts. House plants are popular and can be easy to sell with the right strategy.
More Popular Money-Making Offers
Earn more money in your spare time with these reputable companies.
Free PayPal cash
Paid surveys and web searches
Earn easy cash back
Get paid directly to your PayPal
PayPal, Visa, Amazon, etc.
Pays you to do NOTHING (with SJ Pulse)
Simply install the software
Participate in paid surveys & studies
How can I find places to sell plants?
House plants can be sold on many online platforms. Check out Amazon, Etsy, Shopify, and Facebook. You'd be surprised to learn how to sell plants on Facebook. It's quite a bit easier to do than you think.
Is there money in plant nurseries?
This is dependent upon your location and selection of plants for customers to choose from. A plant nursery can bring in a full-time income if it is in the right place. Consider your location, how big your shop will be, and how you will advertise your business beforehand.
Related: Get Paid to Advertise for Companies
What plants can be sold from home?
There is a wide variety of options you can sell from home. From succulents to herbs to plant clippings and even landscaping shrubs, there isn't a tight limit on the options you can have. Make sure that whatever plants you do sell are marked clearly so that you don't have any confusion when it comes time to harvest.
Is it hard to sell plants from home?
It's up to you to determine what is "hard" versus "easy." Any business takes time, dedication, and hard work to get going. If you are wanting to make money selling plants from your backyard, there are a few things you have to put in place first before you can sell and make money.
The same goes for starting a dropshipping business to sell plants. There are some initial pieces of the puzzle you will have to have in place first before you see the rewards.
Growing plants is not hard, but it does require patience and attention. If you have the skills necessary to nurture plants, then it shouldn't be too hard for you to sell them from your home.
Related: Best Stay at Home Mom Business Ideas
Who Should Learn How to Sell Plants From Home?
Someone who is passionate about plants, can pay close attention to detail, and is ready to put in the work for a business can learn how to sell plants from home. These plants deserve to flourish just as much as you do in your business. Let your plant knowledge and care speak for themselves when you harvest and sell beautiful plants.
Your patience and dedication will help you serve those wanting online plant sale options. Learn from other dropshippers how to be successful selling plants online and you'll be all the wiser and smarter to know where to begin.
Plants help sustain life and make people happy. Don't forget about that part when you start your plant selling business from home. Keep planting seeds and you will reap what you sow.
---