8 Steps to Become an Affiliate Marketer and Earn Commissions
We foster relationships with brands we use and trust. The testimonials on our site represent real experiences, but they don't guarantee you'll achieve similar results. When you make purchases through our links to our partners, we may earn a commission. Your support helps us continue this work. You can read our full disclosure here.
I didn't always know what it meant to become an affiliate marketer. As a new entrepreneur, I thought I would need to invent a product or write a book before I could make money selling something online.
But that's just not true (anymore). Affiliate marketing allows average people like me to make money for sharing products that I didn't create or services that I don't offer.
I am going to walk you through the process of how to become an affiliate marketer and start earning commissions on the products and services you recommend to others.
Additionally, I've included testimonials from four successful bloggers who share affiliate marketing examples that help them make money from their blogs and websites every day.
Content marketers have proven over and over that it is still possible to make money with affiliate marketing.
What Is Affiliate Marketing And How Does It Work?
Affiliate marketing is the practice of promoting products or services provided by 3rd party companies in exchange for a commission. There are even some programs that will pay small fees for traffic referrals or signups for free trials or to email lists. Basically, anything your affiliate wishes to pay for, you can promote.
After a preset period of time or a minimum sales threshold, the affiliate will issue payments to its affiliate marketers. This is a fantastic way to get into soft sales without ever touching inventory or providing a service.
Related: 31 of the Best Resources for Bloggers to Help You Make More Money
Can I Make Money With Affiliate Marketing?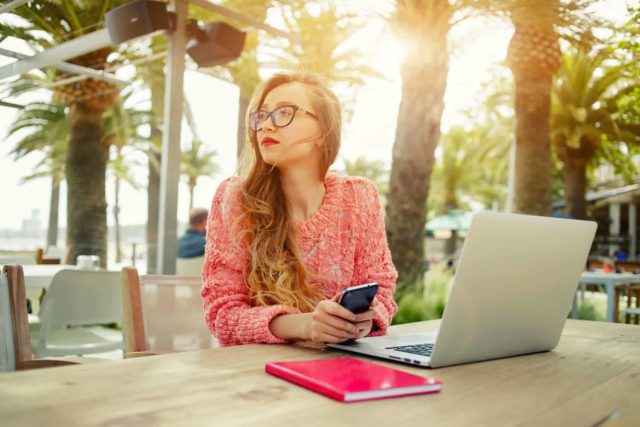 Absolutely. You can make money with affiliate marketing. I can say this with confidence since I've done this myself for more than three years now. And each year, my traffic and income grow.
How To Start Affiliate Marketing in 8 Simple Steps
While these steps are simple, that doesn't mean you will make money immediately upon becoming an affiliate marketer. It takes hard work and time to grow an affiliate marketing plan.
Take Michelle with Making Sense of Cents, for example. She started blogging in 2011 as a hobby. A few years later, she learned that bloggers can actually make money with affiliate marketing so she decided to monetize her blog. It took some work to apply for affiliate programs, add links to her existing blog posts, and ultimately change her blogging strategy, but her work paid off. Michelle now makes over $50,000 per month with affiliate marketing.
You don't have to learn how to become an affiliate marketer on your own. Michelle created a complete online course that teaches students exactly how to follow in her footsteps. I've taken the course and can attest that she covers the topic thoroughly and gives easy-to-follow instructions for beginners to get started.
If you already know the details of affiliate marketing and just want to see the steps to get started, here's what you need to do:
Step 1: Choose a Niche
To become a trusted affiliate marketer, you'll need to choose a specific niche or topic. Think about what you love talking about and determine if there are products or services that you can promote naturally in your content. The affiliates that you promote need to make sense and closely match the content you'll offer.
Step 2: Decide How to Promote
There are many ways to promote affiliate products. You can build a following on social media platforms like Instagram or Facebook, start a blog, or grow an email list. Many affiliate marketers promote on multiple platforms.
But as a beginner, you'll want to start with just one or two platforms. I am going to walk you through becoming an affiliate marketer using a blog, but many of the same principles apply if you decide to use email or social media platforms.
I love to use my blog as a central hub for all of my marketing methods. I use email and SEO (keyword research) to lead people back to my blog where I share detailed guides and reviews. You can choose the promotional method(s) that work best for you.
Related: How to Get Paid to Post Ads for Companies
Step 3: Start Your Blog (or Social Media Channel, etc.)
If you don't have one set up, use this tutorial to start a blog for as low as $2.75 per month. Once you have your website set up, you can use it to write "how to" guides, reviews, and other content to promote affiliate products and services.
Step 4: Sign Up with Affiliate Marketing Programs
Think about the products and services that complement your niche. You'll want to sign up with affiliate marketing programs that offer commissions on products and services that will help your readers.
If you plan to become an affiliate marketer for Amazon, make sure to read the fine print. You won't be allowed to promote Amazon links in email or on private social media pages.
Ana, the blogger behind The She Approach, is a successful affiliate marketer. If you need to know where to sign up for affiliate programs in your niche, grab her master list of more than 640+ fantastic programs.
Step 5: Set Up Your Legal Pages
Making sure your affiliate website is set up with the proper legal pages is crucial. Without these legal policies, you could run into scary lawsuits.
Mariam with Entrepreneur Legal Corner is a licensed attorney who provides top-notch legal page templates to help new bloggers get started the right way. The pages are easy to copy/paste on your website, and they protect you from legal mistakes that many new bloggers make.
Using trusted legal pages from a professional like Mariam can help you rest assured that your doing things right and moving forward safely in your online venture.
Step 6: Start Promoting Affiliates
You can now become a content creator and promote affiliates on your website, social media channels, YouTube channel, and more. As you build your followers on different platforms, you can lead them to your blog and vise versa.
You can write product reviews, tutorials, lists of recommendations, and more to promote your affiliates.
The best way to sell affiliate products is to write helpful content that targets a need and offers a solution. Sometimes the solution may cost your readers to learn more. That's where you have the potential to recommend a product or service earn a commission.
Step 7: Get Traffic from Pinterest and Google
In order to earn money from affiliate marketing, you'll need to get traffic to your website. Pinterest and Google are the top traffic drivers to my blog, and to most other affiliate marketing bloggers in my circle.
You can learn how to do SEO for free here. It's a simple process that involves learning what users are searching for on Google and how to optimize your content so that it answers those questions.
Additionally, Carly with Mommy On Purpose has consistently earned $2,400 each month from her mom niche blog with affiliate marketing alone. She created an all-encompassing Pinterest Strategies course for bloggers who wish to see big results and get traffic from Pinterest.
Affiliate marketing will only work when you have some traffic to your blog. If you have yet to cross that threshold, I highly recommend Carly's affordable resource. She used this strategy to grow her blog traffic to 200,000+ visitors per month from Pinterest alone!
Related: How to Become a Virtual Marketing Coordinator
Step 8: Learn from Professionals (Don't Reinvent The Wheel)
The general idea of how to become an affiliate marketer is simple, but it does require time and resources to master it. If you want to start affiliate marketing the right way from day one, I suggest you listen to a professional.
Michelle's online course will clear up so many questions you might have right now. Invest in the course and learn how to make money with affiliate marketing from someone who has done it before.
4 Affiliate Marketing Examples from Successful Bloggers
The following examples come from four different bloggers who are in different stages of their blogging experiences. The dollar amounts shared do not represent their total incomes, but rather a portion of their affiliate marketing income only.
Each one of these bloggers makes significantly more than the amounts shown. Yes, there are other ways to make money with a blog!
Affiliate Marketing Example 1: The Pay at Home Parent
My name is Trinity and I am the founder of The Pay at Home Parent (the blog you're reading right now!). I wear a lot of hats and make money from many different sources in order to teach you the methods that work. And yes, I'm a successful affiliate marketer as well!
After three years in a corporate office and two years depending on income from remote clients, I decided to start a blog to teach others how to start earning money from home. After all, I had been researching the topic for years and making great money from my online clients!
So I started my blog and dove into affiliate marketing. At first, it was a failure. I quickly realized that I was great at handling different portions of a blog for my clients, but I didn't understand blogging as a whole. So I set out to learn as much as I possibly could.
I almost gave up two years into blogging. I had published around 60+ blog posts at the time, but I wasn't making money from them. Later I realized that my affiliate marketing strategy was OFF.
For each new article I publish, I start with one main problem and present the solution. More than 95% of my readers are looking for a way to make money from home. So, I find the relevant keywords that people are searching on Google like "how to become a freelance photo editor," and I write a guide on how to get started.
If the process is simple enough, many readers can get started without making any kind of purchase (or they can at least determine if something like freelance photo editing is right for them).
But for the handful of people who actually want to get started the right way, they go on to purchase an online course, product, or service in order to take the next step and start their business.
See how that works? I find problems and solve them–and I earn a commission (which doesn't cost my readers anything extra!).
This same strategy works in all kinds of niches. If you have a hobby that requires purchasing supplies to get started, then you can share your passion with others and earn commissions on autopilot.
Related: 100 Money Blog Name Ideas
Affiliate Marketing Example 2: The Flooring Girl
Debbie Gartner from The Flooring Girl has learned to harness the power of Amazon – without handling products! That's what makes affiliate marketing with Amazon such an attractive way to make money. Here is the example that Debbie shares.
I have several Amazon articles that do well and consistently deliver $100-$400 each month. Collectively, my Amazon earnings are $1,600-$2,400/month leading to about $24,000 on an annual basis. My niche is hardwood flooring and home décor.
Affiliate marketing is a bit of a number/volume game. I find that my best Amazon articles share the following characteristics:
They rank on page 1 of Google (so traffic is higher quality).
They solve a need and question my target has (and it's related to my niche).
The title often shows higher user intent (e.g. The best X for Y).
I've been blogging since 2010, and I know how to do SEO well. I'm still fairly new to monetization (started 21 months ago). The key articles that deliver Amazon affiliate income have been written in the last year or so, as I've learned how to monetize better.
My domain currently has a DA of 55 and I get 250,000-300,000+ pageviews/month. Interestingly enough, I had similar earnings on Amazon when I had a lower DA and fewer pageviews (just 175,000). I don't know how many pageviews all of my Amazon posts have, but the main ones that deliver nice income probably vary from around 1,000 – 6,000 pageviews per month each. It looks like it's mainly 10 articles driving these sales.
Related: How to Make Money with SEO
Affiliate Marketing Example 3: MommyThrives
Crystal from Mommy Thrives also shares her affiliate marketing example using Amazon. Her main source of income is from using ad networks, but she knows the importance of diversifying income and has agreed to share her experiences!
I started my mommy lifestyle blog a little over a year ago. About 7 months ago I started focusing heavily on affiliate marketing with Amazon. I created new posts geared toward recommending products that are available on Amazon. The majority of the products that I sell are low price range products like office supplies. The game-changer for me was putting up recommended product lists on some of my older posts.
Over the course of 6 months, I've made $1,300 with Amazon Affiliates alone with the majority of that coming from about 15 different posts. Each month I am seeing a steady and slow increase in my affiliate earnings as I continue to create content that recommends helpful products, even when my traffic is lower. My DA is at 39 and I average about 100,000 page views every month.
Related: How to Make Money Selling on Amazon FBA
Affiliate Marketing Example 4: Italian Polish Momma
Sherri with Italian Polish Momma has hardly been blogging for a year now and has one of the best affiliate marketing examples to share. She makes money affiliate marketing with Amazon. This is an example of a new blogger and just goes to show how important it is to keep pressing on in order to see results down the road.
I have consistently made money through Amazon and a few other affiliates from my motherhood/parenting blog posts. In my first 3 months of blogging, I was able to make $100! I do have freelance writing and social media experience along with a strong sales background which I'm sure helped move things along quicker.
I wrote what I personally needed answers to as a mother, writer, and woman. Which products would be best for other moms and save them hours of researching and reading reviews online.
This was gold to me as a parent, since I know what it's like to not have any spare time! I really wanted to write for my audience and help them answer the questions that I once had and show them what products have helped me and my family.
My top affiliate posts happen to be the "how to" posts or real-life personal examples. Health products for kids and products I used myself to help me through this crazy motherhood rollercoaster!
I think one of the most important things bloggers need to do to get affiliate sales is to make sure they have great photos for what they are selling/promoting. Good writing is important but most people are attracted to the visual aspect of what they're reading. My posts with more photos do so much better than the posts that don't have as many. Your audience needs to see what the product actually looks like. Many people are lazy and may not always click on the text link.
I now earn between $400-$500 a month just from my affiliates. Every month that my pageviews increase, obviously so does my affiliate income! I'm hoping to make at least $700 per month from affiliates by the end of the year. Finding the time to blog is incredibly hard with my other job and 3 kids but I'm not giving it up anytime soon!
Related: 100 Clever Food Blogging Names
The Best Affiliate Marketing Programs for Beginners
While there are a significant number of social media influencers who make money recommending products to their followers, many people opt to start a blog in order to become an affiliate marketer for Amazon and other companies and brands.
If you don't have a blog yet, that's okay too. It's very easy to get one started using this tutorial.
Once you have a blog set up, signup with the best affiliate programs in your niche so that you too can make money with affiliate marketing!
FlexOffers
As the name suggests, FlexOffers is one of the most flexible, all-inclusive affiliate programs for affiliate marketers. Once you sign up and get your URL(s) approved, you can start promoting all kinds of products and services. You can find many options in the beauty, lifestyle, fitness, and even finance niches (and so many more).
Shareasale
ShareASale is a platform that brings hundreds of different companies together in one place for bloggers like you and me to choose from. Etsy, Dollar Tree, Tailwind, Wayfair, Grammarly, and Namecheap are just a few options on their long list of programs available. Sign up for ShareASale for free and start promoting!
Amazon
The Amazon affiliates program is probably one of the most popular available because so many people know and trust Amazon. If you can use your blog posts to get the right products in front of the right audience, then Amazon could make you thousands of dollars per month.
Refer-a-Friend Programs
Refer-a-friend programs can be lucrative to promote. There are hundreds of apps that people use every day and don't realize how they could benefit from referring others within their network. You can place referral links on your blog or website just like any other affiliate program.
For example, Rakuten is a free app that allows you to earn cash back on almost any online purchase. Signup with Rakuten, give it a try with your next online shopping trip, and then promote the heck out of it. It's a trustworthy app and you can earn money from every referral you send their way.
Here are 600+ more programs to consider!
Should You Become an Affiliate Marketer?
Affiliate marketing is not for everyone. If you don't want to grow a following or get traffic to your website, you won't be able to earn a commission selling affiliate products and services.
It takes time and effort to become an affiliate marketer and start earning passive income. As long as you're willing to put in the work, this line of business just might be for you.
I'm a busy mom and affiliate marketing has proven to be one of the best stay at home mom jobs for me personally. It could be the perfect fit for your busy life, too.
As you grow your business, don't forget to take the time to learn from other successful websites. Affiliate marketing is not rocket science, and you don't need to "reinvent the wheel." You can literally learn everything you need to know from other successful affiliate marketers.
Related: How to Become a Copyeditor With No Experience
We appreciate the time you've spent reading this post and your interest is not lost on us. Your thoughts, questions, or experiences related to the topic are most welcome. Each comment adds strength to our community. We ensure every comment receives our attention, and we take the time to provide thoughtful responses. Once again, thank you for being a part of this conversation. Click here to leave a comment.