18 Legit Ways to Make $300 Fast (When You Need it Now)
Try Bingo Cash, the ultimate bingo app for turning your skills into extra cash while enjoying colorful and engaging head-to-head matches. Win up to $83 per game and experience the classic bingo thrill in the comfort of your own home. Test your daubing skills and become a big winner today!
Bingo Cash™ is FREE to download and play! However, cash tournaments are not available in the following states: AZ, IA, LA, SC & WA.
Some months are harder than others to come by extra cash. While we can have all the plans laid out for the perfect budget, there can be unexpected expenses thrown at us. This might be the perfect time to search for how to make $300 fast.
Cars seem to know the most inopportune time to break down or need some kind of expensive repair. Houses also seem to need fixing up when there aren't extra funds around. Or maybe there is that special product you want to purchase that requires you to make $300 more than you have.
There are also things like medical expenses and child care that can throw a wrench in your plans. Maybe you don't need help with bills but want to save for some vacation spending money. Whatever your reasons are for needing extra money, you're in the right place.
Any of these life events can make finances tight. If you're in need of learning how to make $300 fast, use this guide to find your opportunity. Don't stop at just one method; use many of these ways to maximize your earnings.
One of my favorite sites, Swagbucks, offers tons of ways to earn real cash online. If you're not already a member, give it a shot! Here are five things you can do to make easy money on the site:
Play games (up to $322 each)
Test apps (up to $150 each)
Submit receipts (easy cash)
Shop at your favorite stores (up to 10% back)
Answer surveys and polls (quick cash in minutes!)
Our Popular Free Guides
How to Start a Permanent Jewelry Business - If you are patient, have social skills, and love interacting with others, then a permanent jewelry business may be for you.
How to Become a Sleep Consultant - Help parents and babies, and be the difference for families worldwide who are desperate for more Zzzs in their life as a sleep consultant.
How to Become a Proofreader - There are five basic steps to working from home as a proofreader. As long as you're willing to put in the work, you can become a proofreader!
How to Make an Extra $300 a Month
To make $300 a month in your spare time, work on several of these ideas together to meet your goal. A little extra work can help pay the rent or just ease some small financial burdens along the way.
1. Complete Offers and Easy Tasks Online
Take advantage of completing offers and tasks online with InboxDollars. InboxDollars is known for rewarding users for their time completing offers and it doesn't cost you anything to create an account with the company.
InboxDollars gives new users a $5 bonus for signing up. Additionally, you can earn anywhere from $0.10 to $5 per task completed. There are specials that occur where you can earn up to $100 for some of the offers.
Related: Get Paid to Complete Offers
2. Take Surveys
Taking high paying surveys is a great way to pass the time and doesn't require too much of your energy to complete. Sites like Branded Surveys and Pinecone Research are great companies that offer plenty of surveys.
Pinecone Research pays at least $3 for each completed survey, and there is no minimum requirement to cash out your earnings.
Branded Surveys pays up to $5 per survey. Some surveys might take a couple of minutes to complete while others can take up to 20 minutes. Typically, the longer the survey, the more you get paid.
Related: Branded Surveys Review
3. Test Products and Services
Become a product tester and make $300 fast by testing products and services you use and love (or hate). These opportunities are focused on consumer opinions of products and services. So they pay you for your honest feedback about brands and businesses.
Ipsos iSay is a site that pays $0.45 to $1.50 per completed feedback form. It will ask you qualifying questions first to see if you would be someone within the target market. If you don't qualify, you will still earn something for your time.
Opinion Outpost is another site that pays between $0.50 and $5 for completing reviews on products and services.
4. Sell Your Data (Anonymously)
Anonymously sell your computer, smartphone, and tablet data to the Nielsen Computer and Mobile Panel. Research is conducted from your data, which is used to show what consumers are interested in to improve online products and services. Get paid up to $50 in yearly rewards, enter $10,000 monthly sweepstakes, and get instant game tokens for opportunities to win gift cards instantly.
MobileXpression is another data collecting program and guarantees enough points to use toward a $5 Amazon gift card in the first week of using its software. Simply download the app on your mobile device and sell your data to it. The longer you keep the app active on your device, the more points you earn to redeem e-gifts.
Related: How to Get Free Gift Cards Fast
5. Get Cash Back on Common Purchases
Keep up with what you are already doing to make extra income fast. There are several cashback opportunities that will pay you for shopping in certain stores or just using a specific card.
Cash App has a debit card feature that pays you 10-15% back on your purchases just for using the debit card. Additionally, earn Bitcoin at restaurants, coffee shops, or grocery stores for other earning opportunities.
Related: Cash App Review
KashKick is a great find for gig workers, offering many ways to make extra money doing what you enjoy. Try it out - it's free! Here are five easy ways to start earning money on the site:
Play games (up to $125 each)
Test apps (up to $125 each)
Buy lottery tickets (an easy $8)
Try popular brands (always changing)
Answer surveys (quick cash in minutes!)
6. Upload Your Receipts
Uploading receipts for cash is a simple thing to do, especially if you get paid for it. Research companies collect anonymous shopping data this way to help improve the supply chain based on consumer behavior.
Consider partnering with NCP ReCap to earn money for your receipts. Download the app, scan the barcodes on the items you buy, scan the receipt as proof of purchase, then earn points for your time. These points can be traded in for rewards such as gift cards. See how easy it is to set up your account.
7. Play Games On Your Phone
If you are someone who enjoys playing games on your phone, then this one is for you.
Use apps like Kashkick and Mistplay to find new, exciting games you can get paid to play. The developers need game testers for new games so they can make any improvements before those games go to the public.
Play the games and get paid for the time you spend. KashKick pays $0.50 to $2 per game played while Mistplay can pay up to $50 per month if you are putting in some serious game time.
Related: Kashkick Review
8. Become a Day Trader
Use the Robinhood platform to start trading each day. It is a commission-free investment site that gives all consumers a fair shot at high valued stocks.
With as few as $1, you can invest in thousands of stocks with the fractional shares option. Fractional shares help you reduce the risk in your investment portfolio so you aren't tied down to just one stock that could be lost. Make your trades daily during the market hours.
Related: How to Invest and Make Money Daily
More Ways to Make $300 Fast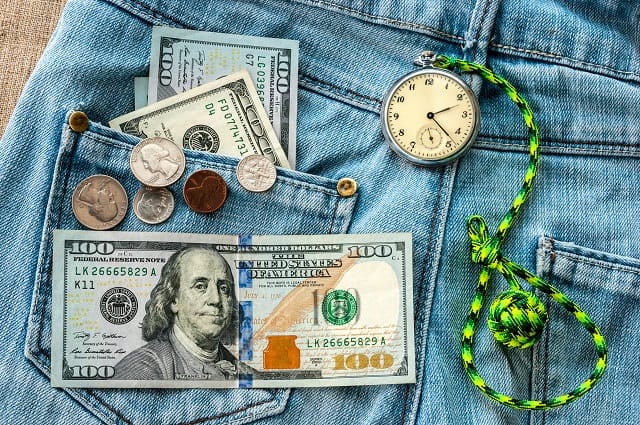 If you're in a bind, these ways to make $300 fast can get you exactly what you need. While they might not be as fun as the previous methods and will require more work, they still put money in your pocket.
9. Deliver Groceries
Instacartis a popular site that connects customers to personal shoppers who deliver their household dietary needs. Customers are willing to pay for this convenient service. Because of this fact, this service is not going to slow down any time soon.
Sign-up with Instacart to start delivering groceries to customers from a variety of stores. Not only do you make a base amount for the work you put in through Instacart, but you can also get tips from customers for your excellent service. Delivering groceries is an easy way to get paid to shop for others in your spare time.
Related: Best Delivery Driver Jobs
10. Refer Friends to Your Favorite Sites
There are plenty of sites you already use a love. You're sharing about those sites naturally in conversation with your friends, too. Instead of referring others to these sites for free, why not get paid to refer friends to your favorite apps and websites?
Many sites like InboxDollars, Swagbucks, Rakuten, and Cash App reward members for referring friends. Simply join the sites, use them, and if you like them, share your unique referral link on social media. In exchange, you will earn cash for each person who joins.
11. Work Freelance Jobs Online
If you really want to know how to get $300 fast, tackle some online freelance jobs. You can complete some small jobs to get to the $300 goal or you can do one large job that pays $300 upon completion.
There are several freelance jobs available such as writing, graphic design, photo editing, virtual marketing, social media managing, and many more. Figure out your strengths and start applying for jobs that fit your skills.
Use FlexJobs to connect you with freelance opportunities.
12. Become a Voice Actor
Voice acting can be a saving grace if you are in a pinch and need to make money fast today. Take on some voice acting jobs and complete them quickly to make a quick $300. Record your voice for upcoming TV shows, movies and podcasts, or partner with a YouTube personality to do voiceovers for their channel.
Sign up for activities geared toward children and get paid to read books at your local library. You can also dress up as a popular character for parties or events. Make money as a voice actor quickly and book some projects that will help you quickly boost your income.
13. Start a Laundry Service
Oh, the endless piles of laundry that so many families face day after day. This tedious task that many put off for a variety of reasons could be exactly the service that you could provide. Start your own laundry service to help families keep from drowning in a sea of shirts, socks, and pants.
To make $300 fast with your laundry service, you could run a weekend special where you provide a little bonus to entice clients to book with you quickly. You can also offer a limited-time-only service that you don't normally perform (like putting away the clothing) to really grab clients' attention.
Your laundry service could be helpful to many families in your area. Start up a service to wash, fold, iron, hang, or put away clothing for them so that they can come home to one fewer thing on their to-do list. As a parent, I can't tell you how valuable this service would be to so many families.
14. Sell Your Ideas to Companies
Do you have that million dollar idea just sitting in your head? Sell it for a price with companies that pay for ideas.
No matter what kind of idea it is, there is someone willing to pay you for it. From children's games to innovative technologies and even household cleaning items, you can earn $300 fast with your ideas.
Related: How to Make $10,000 Fast
15. Sell Your Plasma
Selling your blood plasma is a great way to make some extra cash. Get paid after each donation you make up to twice per week. Donations take about an hour so get comfy, take a nap, read a book, or just sit in silence as your body does the work for you.
Find the highest paying plasma donation centers near you to make the most money. Selling plasma is an easy thing to do and can quickly add to your bank account.
16. Lease 3D Printers or Sell Your Creations
3D printers are a hot item, but not always affordable. If you have a 3D printer, or you're willing to invest in one, you could be sitting on a golden opportunity.
Advertise your 3D printer for lease to those who can't afford to buy one themselves. Charge per hour or per day of use depending on how long they need it.
Additionally, you can create handy items and figurines from your 3D printer that you can sell to others to use in their home or give as gifts. There are many opportunities to make money with a 3D printer.
17. Sell Ad Space on Your Car
If you live in a busy area and have a car to drive around, consider selling space on your car for brands to display their ads on. Ads typically come in the form of a sticker that you can place on a window or bumper.
Get paid just by driving your car around, making your way home in rush hour traffic, or going to the grocery store. Become knowledgeable with some legitimate car advertising companies and sign up for extra cash.
18. Sell Stock Photos
You don't have to be a professional photographer in order to get paid to sell photos. The only indicator of a good photo is in the eye of the beholder, which means a photo you might think is bad might just be what someone else needs.
Use photos from your phone or use a nice camera to take pictures with and sell on stock photography sites. Easily get paid to take pictures by sites that are looking for them. This opportunity could quickly help you make $300 fast.
How Much is an Extra $300?
An extra $300 can be life changing and make all the difference in your finances. An extra $300 per month is $3,600 per year, which can be a nice savings for a vacation. An extra $300 per week is $15,600 per year, which is monumental for most budgets.
The amount of effort you put into learning how to get $300 right now can change your finances. Find pockets of time in your daily life to squeeze in some opportunities to make that extra cash. Play games on your phone, complete tasks, deliver groceries, or complete freelance jobs. There is no limit to what you can do if you set your mind and dedicate your energy to it.
Gain back control of your finances with a simple strategy using the methods mentioned in this guide to make $300 fast. Your budget and your lifestyle will thank you for it.
---