How To Make an Extra $1,000 a Month Online (or Off) From Home
Try Bingo Cash, the ultimate bingo app for turning your skills into extra cash while enjoying colorful and engaging head-to-head matches. Win up to $83 per game and experience the classic bingo thrill in the comfort of your own home. Test your daubing skills and become a big winner today!
Bingo Cash™ is FREE to download and play! However, cash tournaments are not available in the following states: AZ, IA, LA, SC & WA.
I knew I was onto something when I first started to earn a consistent $1,000 per month from home. I couldn't put my thumb on it at the time, but it seemed like there was a real method to making money online.
That's when I realized that it wasn't just luck. Anyone can make an extra $1,000 a month if they just knew how to make online money like I did!
I decided to put together this list of legitimate side hustles, gigs, and side jobs that helped me make money while building a solid home business in the meantime. Whether you are looking to make a consistent income from home or just some extra spending money, these opportunities will help you make that first $1,000 online.
Most of my income today is generated from working online, but when I first started out, I made some money offline, too. I will share both types of jobs that make $1,000 a month or more so that you can choose the opportunities that fit your skills, interests, and schedule.
One of my favorite sites, Swagbucks, offers tons of ways to earn real cash online. If you're not already a member, give it a shot! Here are five things you can do to make easy money on the site:
Play games (up to $322 each)
Test apps (up to $150 each)
Submit receipts (easy cash)
Shop at your favorite stores (up to 10% back)
Answer surveys and polls (quick cash in minutes!)
Our Popular Free Guides
How to Start a Permanent Jewelry Business - If you are patient, have social skills, and love interacting with others, then a permanent jewelry business may be for you.
How to Become a Sleep Consultant - Help parents and babies, and be the difference for families worldwide who are desperate for more Zzzs in their life as a sleep consultant.
How to Become a Proofreader - There are five basic steps to working from home as a proofreader. As long as you're willing to put in the work, you can become a proofreader!
How Do I Make an Extra $1000 a Month?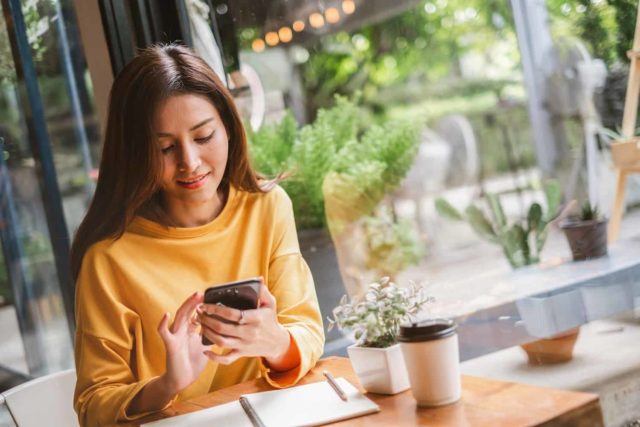 Thousands of people are asking this very question: "How do I make an extra $1000 a month?" The answer is simple: align the things you are good at/enjoy doing, with the things that make money. Once you find the sweet spot, you'll be making money while feeling like you're doing nothing at all!
30 Ways to Make $1,000 Extra per Month
Finally, if you can put in the effort, then there are ways to start earning money quickly in your spare time. Make sure to choose multiple side jobs since no one option will get your $1,000 extra per month on its own. You'll need to work hard to make this work!
1. Answer Questions for Trusted Sites
Filling out paid surveys is one of the most common ways people – especially students and stay at home moms – make money online. Research organizations are always recruiting new members to fill out surveys or test their new products.
It's easy to earn some extra money on the side when you take surveys that pay through PayPal instantly.
I recommend signing up for at least three of these trusted sites to earn money toward your $1,000 monthly goal. Doing so will allow you to keep a steady flow of paid work answering questions.
Survey Junkie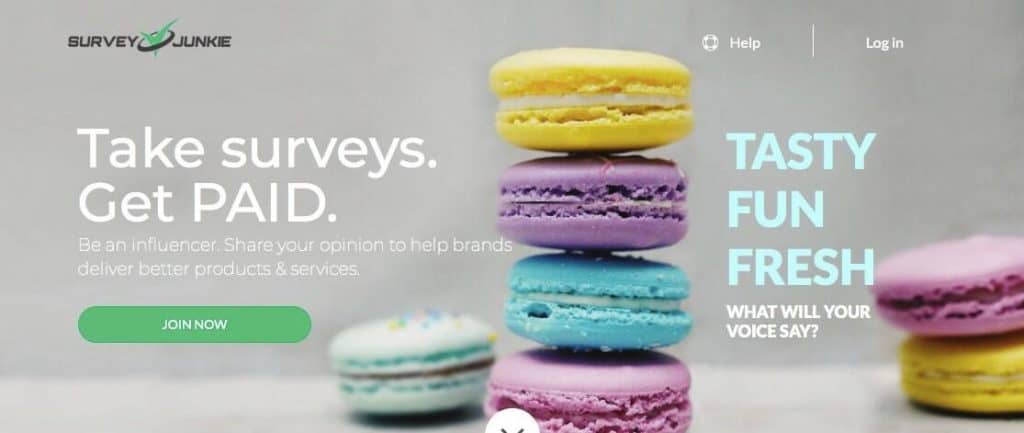 One of the best survey sites you can sign up for is Survey Junkie. The website is easy to navigate and the business model is simple.
Survey Junkie serves paid surveys only and tells you upfront how much you get paid. It takes 5 minutes to sign up and start viewing paid survey opportunities.
Related: Survey Junkie Review
Swagbucks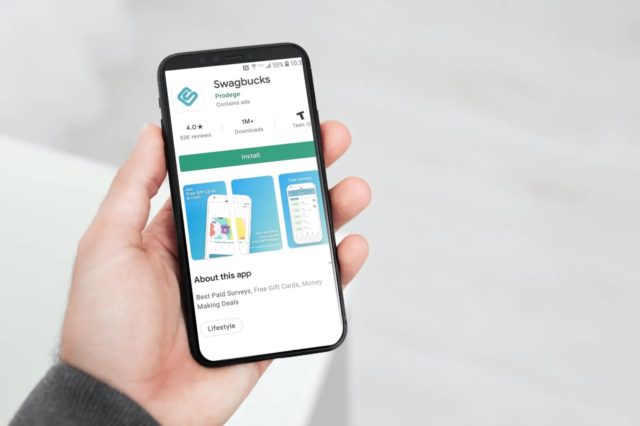 Get a quick $10 bonus when you sign up for Swagbucks. This site offers paid surveys and tons of other short tasks that pay in cash. It's perfect if you're on-the-go but have a few minutes here and there to work on your phone for some spare cash.
You can get paid to play games, watch short video clips, and shop online. Cash out with a Visa Reward Card or choose a gift card to one of your favorite merchants as soon as you earn at least 300 SBs (Swagbucks).
Related: Is Swagbucks Safe?
MyPoints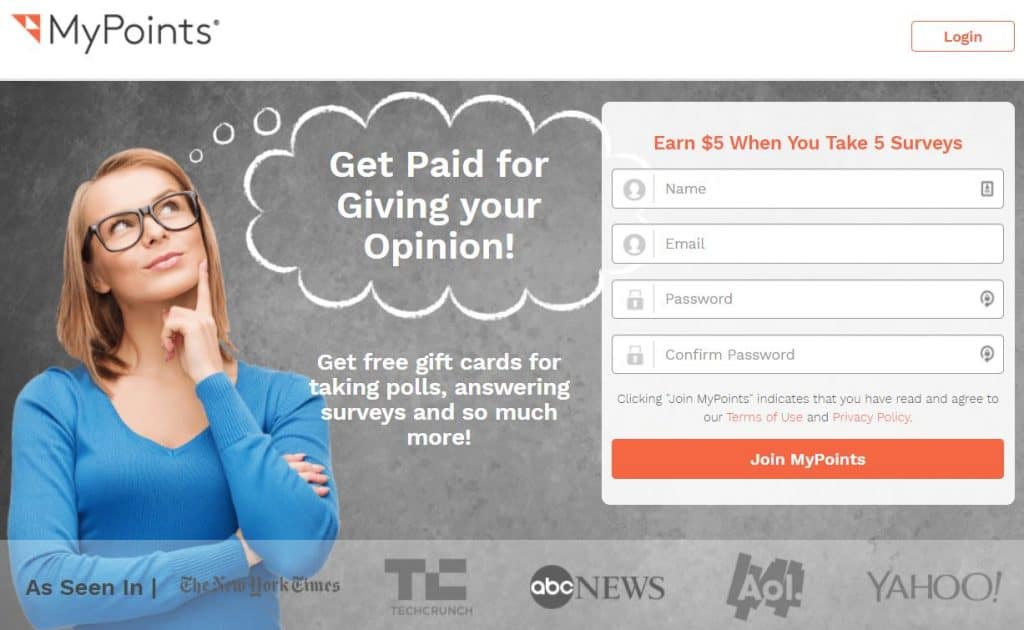 You can earn money in your spare time for reading emails and taking short surveys for MyPoints. They also pay members to watch videos, play games, and shop.
Sign up for a free account and earn a $5 bonus when you complete your first 5 surveys!
Related: MyPoints Review
2. Write for Online Companies
There are many easy ways to get paid to write online. You can write articles, short stories and even poems and submit them to online and print publications! This is the perfect side hustle for those who love to write and have talent in that area.
Related: What is a 6 Figure Income?
3. Create an Awesome Niche Site
Writing thought-provoking blog articles around a specific topic can actually earn you an extra $1,000 a month or more through the use of affiliate links, ads, and more. All you need to do is market your site and generate traffic to it. Your niche site's success depends greatly on your subject matter, your writing talent, and – most importantly –– your site's popularity. Content marketing as a full-time venture is not easy, but once you've established an audience, there is great potential for a decent residual income!
4. Recommend Amazing Products and Services
An affiliate marketing website is essentially electronic e-commerce. You can earn a lot of money by promoting products, brands and services on your blog, website or social media accounts. Many organizations pay their affiliates for each customer gained through that affiliates' efforts. Through affiliate marketing, you will be rewarded for every purchase made by consumers you send the companies' way.
Related: Get Paid to Share Links Online
5. Deliver Food
Delivering food has always been a great way to make an extra $1,000 per month. You get to drive around in your car blaring your favorite music and earn tips on top of your regular hourly wage. But now, with delivery driver apps on the rise, you can pick up independent delivery gigs online!
Instacart
If you have reliable transportation and don't mind grocery shopping, you can make some extra money delivering groceries with Instacart. There are two types of positions: an In-Store Shopper who shops in the store only, and a Full-Service Shopper who shops and delivers groceries to customers' homes. You can start earning money soon after you apply to be a delivery driver with Instacart.
Postmates
Postmates has quickly become one of the top delivery apps. When you sign up as a driver, there are absolutely no commitments when it comes to your time or money. You won't pay any fees for delivering with the company, and you won't get roped into a rigorous delivery schedule (unless of course, you want to).
6. Become an Interior Designer
Becoming an interior designer is a great way to make an extra $1,000 per month. The best part is that you don't have to have a degree to get started. Find mentors who would be willing to show you the ropes in the interior design business and learn from them. Make connections to get new clients and charge for your designing services.
As an interior designer, it is your job to listen to what your clients want in terms of their style and how they want their home or office to look. You get to be creative in bringing in color, statement pieces, and organization into their life. Interior designers get paid thousands of dollars per project. Ask for a deposit upfront to take on the project so that you can meet your $1,000 need quickly.
7. Teach an Online Course
Many sites offer platforms that connect experts to students who are willing to pay to be taught over the internet. Using your knowledge to teach a Web course can earn you quite a bit of money and also promote your online presence.
If you have expertise in a specific area (it could be literally anything), then check out Samcart. They provide a free 10-step training to teach people how to make big money with online courses.
8. Earn Cash Back on Nearly Every Purchase
Since there are tons of ways to earn cash back online and in store. You just have to download the right apps for free in order to get started!
Dosh
Dosh officially became my favorite cash back app when they started paying for Walmart online and grocery pickup purchases. But that's not the only thing that makes them one of the best options. Unlike other cash back companies, Dosh lets you sign up, attach your credit card, and rake in the rewards automatically! Every time you make a purchase at a qualifying store or restaurant, your cash back reward goes straight to your Dosh Wallet. Check Dosh out and get a $5 cash bonus when you link your first card!
Rakuten
There are a few ways to earn some extra cash with Rakuten. First, if you join it for free using this Rakuten link and spend at least $40 (at places like Walmart, Old Navy, Macy's and other popular stores), you'll receive a $40 bonus plus a 1% to 10% cash back on every purchase. Second, you can continue to use Rakuten on a normal basis to do your online shopping to earn anywhere from 1% to 10% cash back on all of your future purchases. Third, you can recommend Rakuten to your friends and earn $20 to $40 for each friend that joins! Using Rakuten regularly is a simple and legitimate way to make money on the side.
Read my full Rakuten review here (formerly known as Ebates). I've already earned a significant amount of cash from them in only a few months with more on the way.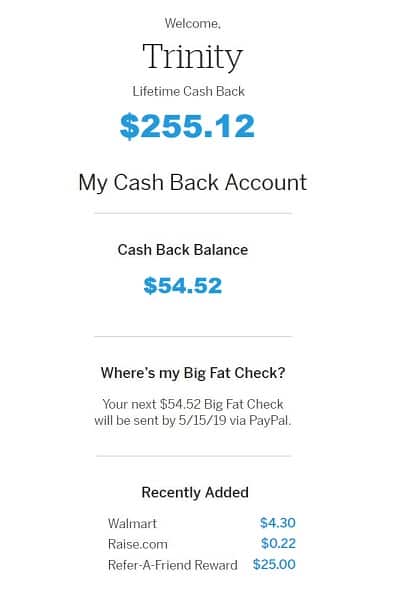 Ibotta
Similar to Rakuten, Ibotta pays cash back on products that you already purchase. The difference between Ebates and Ibotta is crucial here, however. While Ebates covers your online purchases, Ibotta covers your in-store grocery purchases. Sign up for Ibotta here and earn your first $10 bonus plus cash back on popular in-store items!
After only a few weeks using Ibotta, I've already earned more than enough to cash out my earnings into my PayPal account. It's an easy, legitimate way to earn money on the side.
I signed up as a member a few years ago but didn't use my account until now, so I never received the $20 sign up bonus. If I was a new member, I would have cashed out on almost $50 by now! I'm not worried about that though, I'm just getting started.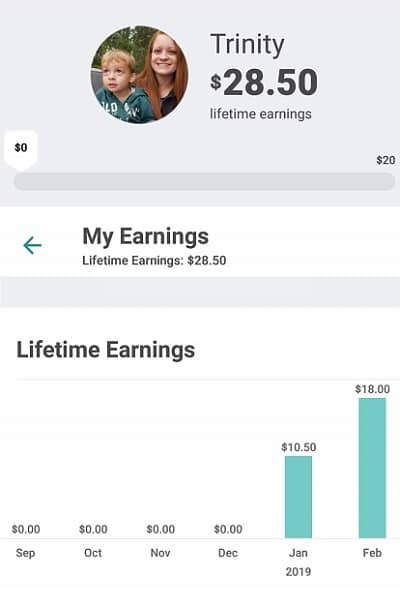 Related: Ibotta vs Rakuten: Can You Use Both Cash Back Apps?
Credit Card Cash Back Rewards
I understand that many people hate the idea of using credit cards for everyday purchases, but I am quite the opposite! Just remember to never spend what you don't have in the bank to cover your monthly balance payment. That said, use your credit cards to your advantage! With this Chase card's rewards, my husband and I went on a week-long vacation for free! We could have also used the rewards toward a credit statement but the free vacation won us over.
Related: How to Make $5,000 Overnight
How to Make $1,000 in a Day
It's not easy, but you can make 1000 dollars in a day doing some of these things. If they fit your skills, give them a try.
9. Sell Your Old Smartphones
How many smartphones have you collected over the years? If you're like most consumers, you've probably gone through a few of them. Those dusty phones might make you some quick money today if you sell them on Facebook Marketplace! If you can't find a buyer on Facebook, try selling them to Decluttr. You can visit the site to get a free quote for your devices and have the money paid to you within a few days.
10. Flip Second-Hand Items on eBay
A flea market flip is when you purchase valuable items at a low cost and sell them for a profit online. If you're a bargain hunter or just love shopping second-hand stores and flea markets, this side hustle could grow your side income. If you want to go big with this side hustle, consider specializing in a single line of items at first like shoes, books, or toys.
Related: The Best Things To Flip For Cash Online Or In Person
11. Do Freelance Work
If you have a simple skill that someone else may not, you are already ready to earn an extra $1,000 a month. Skills like graphic design, writing, or even managing social media pages can actually be pretty lucrative gigs. The best thing about freelancing is that you can work from wherever you are in the world, as long as you are connected to the Internet. Just start getting clients and you can earn as much money freelancing as you'd like!
12. Rent Out Your RV
If you have an RV sitting around with no money to take it camping, why not rent it out for some quick money? Some people are willing to pay a hefty amount to rent RVs in certain areas. You can check out RVshare to see what RVs in your area are earning. Then, list yours and start earning money as soon as tonight!
Related: How To Make $3,000 Fast (When You Need Money Now)
How to Make $1,000 a Month Online
Here are some legitimate opportunities to establish a consistent monthly income of $1,000 working online.
13. Start a Consulting Service
Consulting services offer expert advice within a particular field. You can market yourself in any specialization, using your blog as a platform in which to offer advice. Start to make money on the side with consultancy services by defining your experience and skills.
KashKick is a great find for gig workers, offering many ways to make extra money doing what you enjoy. Try it out - it's free! Here are five easy ways to start earning money on the site:
Play games (up to $125 each)
Test apps (up to $125 each)
Buy lottery tickets (an easy $8)
Try popular brands (always changing)
Answer surveys (quick cash in minutes!)
14. Take on Gigs for Fiverr
You can make a decent amount of money selling your small services (gigs) through the popular online marketplace Fiverr. Those services can be in the form of short video clips, social media posting, writing, playing pranks, recording voiceovers, teaching how to compose music, and much more. Fiverr's default price is $5, but you can list a number of services so you earn more money.
15. Design Websites
Do you have an eye for design and some technical skills? The truth is, you don't need to have too much of either of these because Wix, Weebly and WordPress have tools that make it easy to design a website for clients! Of course, you will want to have a website for yourself first so that you can prove your designing skills!
16. Sell Ebooks
Ebooks are available online in soft-copy format and can be downloaded to be read later offline. There are a number of ways to make money with ebooks: You can employ writers, write an ebook yourself, or even utilize public domain content. You will find that it is fairly easy to sell your ebook to numerous ready buyers, regardless of your area of concentration. You could also utilize your blog to sell your ebooks, or let other writers pay you a commission to sell their ebooks on your site.
17. Transcribe Audio Files
Online transcription jobs abound as various businesses still require audio files to be turned to text files. Take a look at this side hustle and see if it's a match for you! I've even included a little know hack to help you easily speed up your transcribing speed.
18. Become a Virtual Assistant
A virtual assistant works for another individual from the comfort of his or her own home. Virtual assistants handle research, make travel plans, answer emails, do small business work and much more. Again, there isn't much you can do without having your own website first! Once you build a small client base, it's easy to earn a steady $1,000 per month as a VA.
19. Buy Domain Names for Resale
Many people have turned a profit by buying and reselling domain names, and you can do the same if you play your cards right. Domain names initially cost between $10 and $30, but with careful planning, you can multiply your investment.
20. Develop Useful Mobile Apps
Any app developer could tell you about the massive amount of revenue that smartphone applications generate. Apps that are even remotely useful or popular bring in a large amount of money, thanks to the sheer number of cell phone users. Develop a good app, and you could rake in money from Google Play, the Windows Store, the Mac App Store and more.
Related: 19 Under The Table Jobs That Pay In Cash Only
21. Write Reviews
A number of brands hire people to write reviews (which are assessments rather than opinions requesting changes) about them and their products. The only skill this requires is honesty in describing both the positive and negative aspects of a company or item. Writing reviews can earn you an extra $1,000 fast if you are consistent with your work.
22. Sell Stories
If you are good at turning a phrase, you could use your writing talent to bring in some extra cash. Write a story about anything – new trends, sports, lifestyle, etc. – and offer that piece to newspapers, blogs, news sites and more. Generating thoughtful, well-written pieces could make you a lot of money.
23. Work for Amazon
Amazon offers a variety of jobs that don't require human interaction. You can work on them at your convenience, from the comfort of your own home. Some available paid tasks include correcting spelling mistakes on search terms, rating searches for the common keywords, pegging the tone of an article, and many more.
Related: How to Make Money Selling on Amazon FBA
24. Fix Google Mistakes
Search engines like Bing, Google, and Yahoo pay people to fix mistakes that appear in their search results. Just keep an eye out for errors while you surf the Web, and make sure the search results are relevant, qualitative and useful. You can earn about $12 per hour through this kind of side hustle.
See Also: 16 Easy Summer Jobs That Offer A Fun Way To Make Some Money
More Ways to Make $1,000 Extra Each Month
There are even more ways to make an extra $1,000 when you need to quickly. Check these out!
25. Sell Secondhand Schoolbooks
You can practice this business idea at the close of each semester. Purchase your course books at the beginning of the year from students who have already completed the classes, and then turn around and resell them when a new batch of students begins. You can also market your books on sites like Amazon or Facebook marketplace.
26. Sell Old Movies, CDs, and Games
It's easy to make some extra cash by selling old odds and ends that are cluttering up your home. Old movies, CDs and games are examples of items that retain value. You can earn between $10 and $20 for each item, and if you have a lot to sell, that could mean a lot of money for you at the end of the day.
27. Sell Your Old Clothes
Kill two birds with one stone and purge your bureau and closet for clothing you no longer wear. Then turn a profit by selling them on online auction sites like eBay, Mercari, ThreadUp, or Poshmark (read my review). If you think you can predict the market, buy goods (clothing, décor and more) ahead of time in bulk; then sell them at a profit.
Where to sell used clothes online.
28. Upload Videos to YouTube and Get Paid for Ads and Views
One of the simplest ways for you to make an extra $1,000 a month is with YouTube videos. But you must first start a channel and market it well. The good news is, you don't need expensive video equipment. You can use your cell phone or an inexpensive video camera to create informative and entertaining videos that you can upload to your channel. Many people are paying their bills through their YouTube channels, thanks to the ads that play before their videos.
29. Take Photos
Stock websites are always looking for new photographers. If you are creative and can get enough good, quality shots, sell your photos to sites like iStock and Fotolia. Concentrate on taking photos that fall into the lowest number of search results – since those will have a higher demand.
30. Do Calligraphy
Practice makes perfect in this business, but if you are willing to put in the time, learning calligraphy can pay off in a big way. A lot of people will pay good money for handwritten wedding invitations, thank-you cards, gifts and more. You can make a decent amount of money with this kind of creativity.
Related: How to Get Paid to Watch Sports
It's Going To Take Effort to Earn $1,000 Extra This Month
There are many ways to make $1,000 extra a month; you need only think outside the box. I've listed some of the best ways to put the Internet to lucrative use for you – and you can do most of them from the comfort of your own home. Pick a few and get to work on your own side hustle.
---