12 Best Ways to Get Free $10 When Your Wallet Needs a Boost
One of my favorite sites, Swagbucks, offers tons of ways to earn real cash online. If you're not already a member, give it a shot! Here are five things you can do to make easy money on the site:
Play games (up to $110 each)
Test apps (up to $150 each)
Submit receipts (easy cash)
Shop at your favorite stores (up to 10% back)
Answer surveys and polls (quick cash in minutes!)
Life sometimes puts us in a bind where even $10 would make a world of a difference. There's no judgment around that. In fact, nearly half (46%) of Americans struggle with financial hardships. If this is you, then you will be happy to know that there are ways you can get $10 for free.
It might not sound like much for some people, but when you just need to cover the rest of a bill to avoid a penalty, buy a few groceries, or add a couple of gallons to your gas tank, $10 can be that relief you need. Regardless of the reason for searching for ways to make $10 fast, you have come to the right place.
I have curated a special list of ideas you can start doing now to put a jump on your income starting with free $10 options. Take a look at online and offline ideas to boost the amount of money you need to make today.
Click the button ⬆️ to subscribe to my YouTube channel where I share real ways to earn money.
Our Popular Money-Making Offers
Sign up with each of the following companies to maximize your earning potential.
$10 sign-up bonus
Pays to take surveys, complete offers, shop online, and much more
100s of other paid tasks
Awards cash and gift cards
$5 sign-up bonus
Pays to play games, watch videos, answer polls, and much more
100s of other paid tasks
Awards cash and gift cards
The Best Ways to Get $10 for Free Online
Use your phone, tablet, laptop, or desktop to get $10 for free using the following platforms listed below. These platforms are free to use and give you the opportunity to make money with minimal effort.
1. Swagbucks
Swagbucks is a popular, well-known platform that provides opportunities for members to earn extra money in their free time. With minimal effort from you, you could get paid to complete tasks like taking surveys, browsing the internet, and playing games.
You are rewarded with Swagbucks (SBs) for each task you complete. Those SBs act like points that can be redeemed for prizes like Visa cash, gift cards to Amazon, or a PayPal deposit. When you create your free Swagbucks account, you will get a free $10 sign-up bonus after meeting the minimum requirements.
Collect as much money as you want by completing multiple tasks during your free time, while relaxing at home, or when you're bored. You can continually get $10 for free often if you spend the time doing the tasks.
2. InboxDollars
InboxDollars is a rewards site that gives money to members for completing easy tasks. You can sign up for a free account and receive half of the $10 you need. New members get a $5 sign-up bonus. Add to that bonus by completing tasks like clipping coupons, answering surveys, playing mobile games, reading emails, and more.
InboxDollars is a trusted company that has proven to pay members in actual dollars, not points. Collect enough dollars to use toward the redemption of rewards like gift cards to Target, Sephora, Home Depot, or a deposit to your PayPal account.
3. MyPoints
MyPoints offers a free $10 bonus when you sign up for a free account on the platform. It is a site that is dedicated to helping members make back the money they spend on their everyday shopping. Use promo codes, coupons, and find deals at your favorite shops through MyPoints.
For every dollar you spend, you earn points. Collect as many points as you can and then cash them out for free gift cards to places like Saks Fifth Avenue, Walmart, Amazon, and more.
4. Mistplay
Mistplay is an app that houses dozens of mobile games. You can make money playing these games for free during your downtime. All of the games available are put out by developers to be tested by players like you. The time you spend playing helps game developers understand gamers' preferences, how they play, and what attracts them to particular games.
With Mistplay, you can get $10 for free when you collect enough GXPs from playing the games. The more you play, the more you can earn. Cash in your GXPs for gift cards to Visa, Google Play, Xbox, and more.
5. Nielsen Computer & Mobile Panel
Nielsen Computer and Mobile Panel will pay you for the data on your phone, tablet, or laptop. Download the app to your devices and make money just for doing things you already do like browsing the internet. The more anonymous data your device collects for the Nielsen Company, the more you can get paid.
Nielsen pays members in gift cards up to $50 and through sweepstakes. Get your free $10 just for allowing your data to be discovered and studied for market research purposes. There is no additional work that needs to be done on your part, which makes earning even sweeter.
6. Ibotta
Ibotta is an app you can use to get money back on your grocery purchases. Upload your physical receipts or claim rewards using the online feature to earn.
Get paid to upload receipts that include items like milk, bread, cheese, and many more.
With Ibotta, you can get a free $10 bonus when you refer other users to sign up and make their first Ibotta receipt upload. You can refer up to five friends or family members and get $10 for each person.
More Popular Money-Making Offers
Earn more money in your spare time with these reputable companies.
Free PayPal cash
Paid surveys and web searches
Earn easy cash back
Get paid directly to your PayPal
PayPal, Visa, Amazon, etc.
Pays you to do NOTHING (with SJ Pulse)
Simply install the software
Participate in paid surveys & studies
7. Rakuten
Rakuten offers a free $10 bonus when you sign up for an account and make a purchase through the shopping links. It is a platform members use to get cash back on their purchases. Shop with the Rakuten app to find the best deals and save money. Find deals with stores like Target, Macy's, Nike, and Walmart.
When you shop, each dollar you get back is paid out to you through a direct deposit to your PayPal account. It's free and quick to sign up for.
Best Ways to Get $10 for Free Offline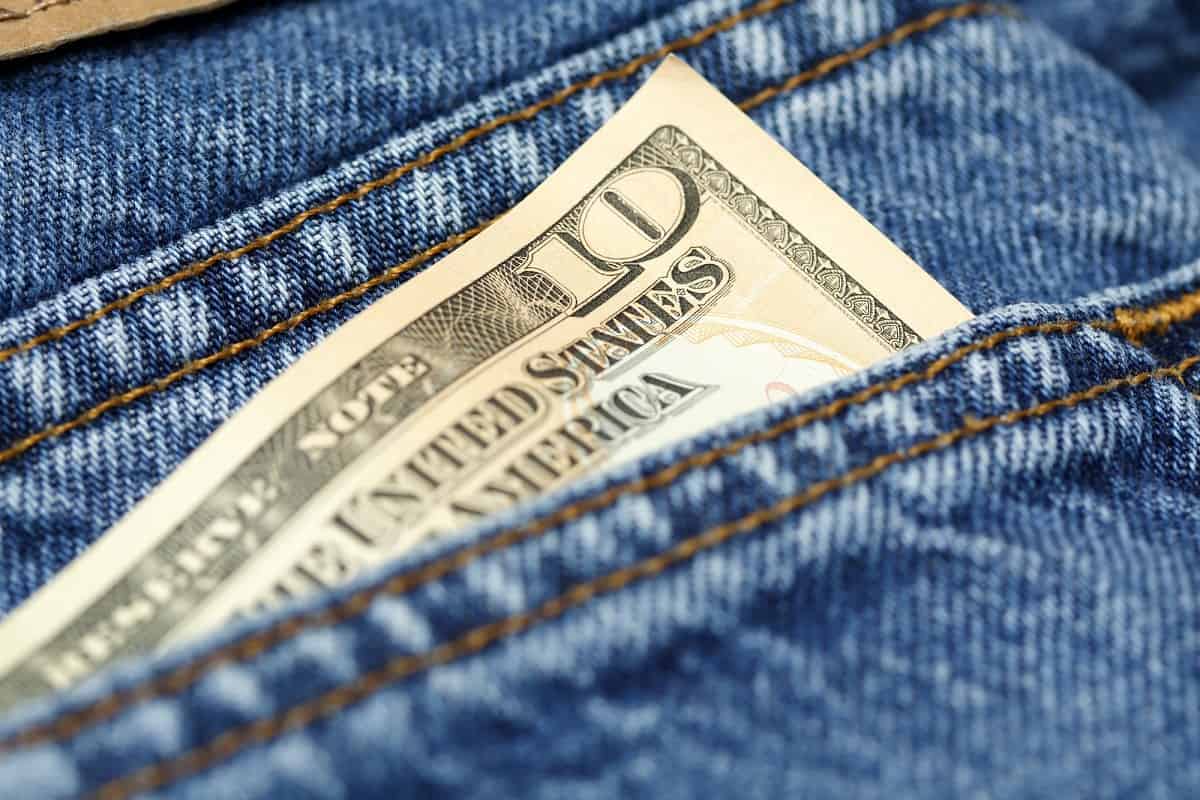 If you need to get $10 now, the quickest way is to find out how to do it offline to get the cash in hand. Consider the following ways that you can get cash now.
8. Offer Babysitting Services
Babysitting is a quick and easy way to make some money when you're in a bind. Offer babysitting services to your neighbors or family members to get a quick $10. Even if you just babysit one child for one hour, you can make a minimum of $10, if not more.
You don't need to have extensive experience with children to babysit. Make a mom feel special by watching her child(ren) for her while she runs an errand, takes a nice bath, or just needs to step out for some coffee. The $10 fee will be gladly agreed on.
9. Mow A Neighbor's Lawn
Mowing a neighbor's lawn is a quick and convenient service you can offer to earn a few dollars. Go door to door asking neighbors if you can mow their lawn for a $10 charge.
It won't take much of your time to run the lawnmower over their grass. You could do this for one or more neighbors for some quick money. Get your free $10 through PayPal by having your neighbors transfer money to you.
10. Sell Your Unused Items
You likely have some unused items or articles of clothing in your home that you could sell off to make $10 fast. Whether you choose to have an actual garage sale or list the items on sites like Facebook Marketplace, you could easily make $10 from the things you no longer need.
Consider clothes, shoes, baby items, kitchenware, small furniture pieces, or wall décor. There are many things to sell that may just be taking up space in your home.
11. Recycle Your Beer and Pop Cans
You can get paid to recycle the beer bottles and soda cans that are stashed out in the garage. A lot of people forget just how quickly recyclables stack up. Each state determines how much money you can get per container you recycle. In a state that pays $.05 each, you would need to collect 200 cans and bottles to get $10.
Even if you don't have cans and bottles of your own to take to the nearest recycling center, you can offer a quick cleanout service to friends, family, and acquaintances on social media. As long as you are helping people close by, a quick trip around town to pick up recyclables could lead to an easy $10 in very little time.
12. Offer Laundry Services
In a neighborhood full of busy people, it would be easy to find a customer or two who would pay you to do their laundry. You could make an easy $10 fast with just two or three small loads of laundry.
Join local Facebook groups and let people know you can help them get ahead on laundry in a short time. You can charge more to make house calls, or you can extend a discount to those who drop off and pick up their laundry from your home.
As you build up a client base and get great reviews, it would be easy to make $10 a day or more doing laundry.
Getting Your Free $10 is Much Closer Than You Realize
It's not difficult to meet your goal of making a quick $10. You can even use these ideas to make $10 per day, which would put around $300 extra in your wallet each month. You will have to put in the footwork to make it happen online and offline, but you can do it with some determination.
Use a combination of ideas from this list to make extra money. The ways to get $10 for free online could be the extra boost that you need, and you could do the offline ideas more frequently if you wanted to make more than $10.
Take the time you need to consider which option(s) is right for your lifestyle, whether that means taking surveys, playing mobile games, or babysitting. Try out multiple ways to get $10 for free and give yourself some wiggle room in your budget.
---