Opinion Outpost Review: Get Paid in Gift Cards or PayPal Cash
We foster relationships with brands we use and trust. The testimonials on our site represent real experiences, but they don't guarantee you'll achieve similar results. When you make purchases through our links to our partners, we may earn a commission. Your support helps us continue this work. You can read our full disclosure here.
If ever short on money throughout the year, I always turn to survey taking. It's a quick, easy way to make money and fill those income gaps you might have.
But it's not something to do if you're in desperate need or wanting to make money fast. Taking surveys for extra money is simple, but can be time-consuming if you don't choose the higher paying sites.
This Opinion Outpost review will tell you everything you need to know about signing up with this survey platform.
You'll love that it pays fast via PayPal or gift card, and this is another great one to keep in your money-making arsenal! With surveys, it's recommended to join and participate in multiple survey sites for the extra income-earning power. More on this down below.
Opinion Outpost Review: Summary and Quick Facts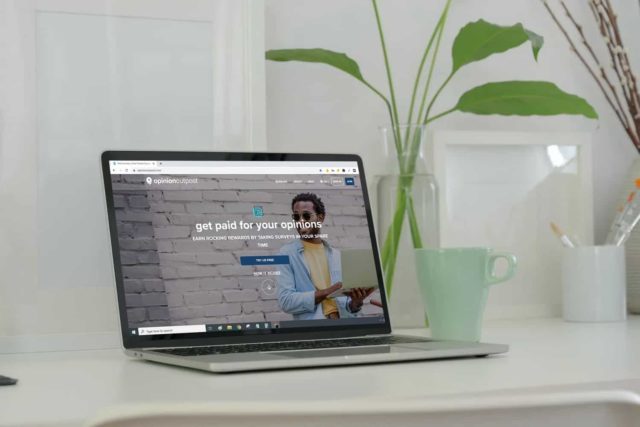 You can join Opinion Outpost super fast and be on your way to making money with paid online surveys. They close the gap between companies and consumers. Companies are seeking consumer feedback, which can be very difficult to get.
So, Opinion Outpost comes in.
It finds users who are willing to share their opinion in exchange for compensation, which makes both sides happy! Companies get the consumer input they're looking for and consumers get paid to take surveys online; it's a win-win situation!
Pros:
Free to join
Easy signup process
Simple, flexible platform for survey-taking
PayPal payment or gift voucher reward system
Cons:
Must wait for survey invitations
Trustpilot Rating: 3.8/5
BBB Rating: 1/5
Our Rating: 4/5
Related: 50 International Survey Sites That Pay Worldwide
What Is Opinion Outpost and How Does It Work?
Opinion Outpost will pay you for your opinion with its online surveys. After registration, you can expect to receive custom survey requests sent to your email inbox, based on the questions you answered in your profile.
Survey invitations are sent out on a regular basis and you can expect a steady stream of survey invitations throughout the year, based on your profile.
Here's how easy the signup process is:
Signup
Complete Your Profile
Take Surveys
Sign up for Opinion Outpost
Visit Opinion Outpost and sign up.
Confirm Your Email Address
Upon joining, you'll be asked to confirm your email address to get started. Make sure to do this in order to start taking surveys.
If you plan to sign up for multiple survey companies in order to receive more paid opportunities, consider opening a new email address dedicated to this purpose. Once you are signed up with even one survey company, you will start receiving daily surveys. The more companies you work for, the more emails you'll receive.
Lots of survey opportunities is a good thing until you want to take a break. Having a separate email account allows you to walk away at any time and come back to earn more when you're ready.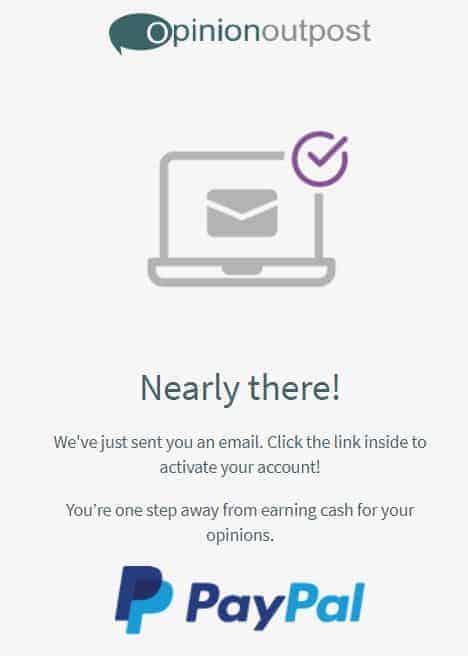 Complete Your Profile
You will complete your profile by answering a few questions about yourself.
This is an important part of the process, since your profile will control the number of survey invitations you receive.
Opinion Outpost is all about matching targeted surveys with users so it's important to be 100% honest when answering questions in your profile. Plus, if you give the company inaccurate information, you can potentially lose all earnings when it's time to cash out.
Completing my profile took less than two minutes and required information like date of birth, home address, and general demographics.
When you open an account with Opinion Outpost, it will prompt you to connect it to your Google account. This is completely optional. It can lead to additional surveys regarding the ads you see while signed in to your Google account. For now, I opted-out, but may revisit it later to get more surveys.

Related: Get Paid to Post Ads
Answer Your Welcome Profile Questions
These next questions help Opinion Outpost find the most relevant surveys that match your lifestyle. For example, the company needs to know if you can give your opinion on homeowners or renters insurance based on whether you own or rent your home. If you still live with family or attend college, then it knows not to ask you about either type of insurance.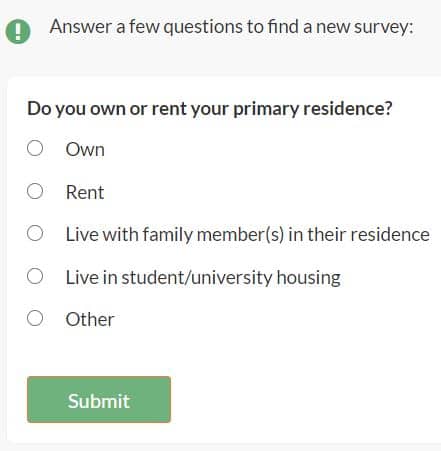 As you continue to complete the screening questions, you can answer fun queries like what kind of shows and movies you watch at home.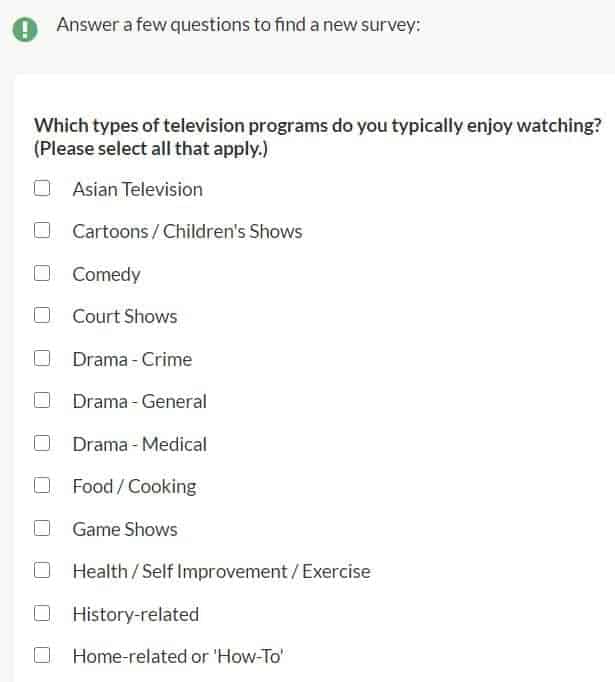 There are about 10 simple questions to answer. Even if you take a few minutes to think through them and answer honestly, this section should only take 5 minutes. When you finish, you'll earn 5 points.
Related: How to Become a Product Tester
Take Surveys
After your account is set up, you can start taking surveys. These offers come straight to your email inbox so make sure to check spam filters and it's not a bad idea to whitelist Opinion Outpost to ensure you get all the offers in your primary inbox folder.
Get Paid
There are two options for payment:
PayPal is pretty straightforward. You get PayPal cash and with that, you can deposit to your bank account or use the money right from PayPal. PayPal is growing every year and more and more retailers are accepting PayPal for payment. It's almost at good as cash!
The next option is to get compensated with gift vouchers to popular retailers like Amazon or iTunes.
You can request payment via PayPal when you reach 100 points (worth $10) or request a gift card voucher when you reach 50 points (worth $5).
Make the most of your time when choosing which survey to take on Opinion Outpost. Use this calculator to estimate exactly how much per hour you will make taking surveys.
[SGEmbeddedForm]
For example, the following survey pays 10 points for 15 minutes of your time. Using the calculator shows that you will earn $4 per hour. If you finish the survey in less time, your time value will improve. But if Opinion Outpost suspects you've rushed through the survey without providing honest answers, it may take away your points altogether.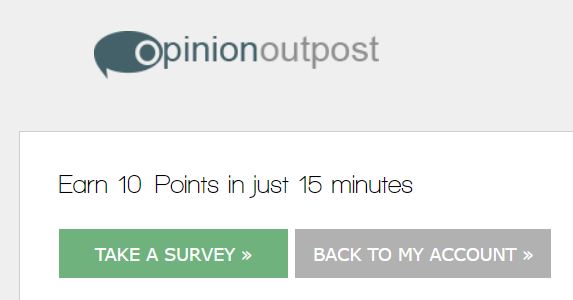 If earning more money per hour is important to you, it's OK to go back to your account dashboard and wait for better-paying opportunities. The surveys on Opinion Outpost typically pay between $.50 and $5 each.
Related: 10 Places to Sign Up and Get Money Instantly
Best Alternatives to Opinion Outpost
For an opportunity to make more money, consider diversifying.
The more survey sites you join, the more picky you can be with each survey you complete. Using the calculator above, you can select the highest-paying surveys every time you start working.
If you want to further your money-making efforts, definitely join multiple survey sites. Here are some recommendations.
Swagbucks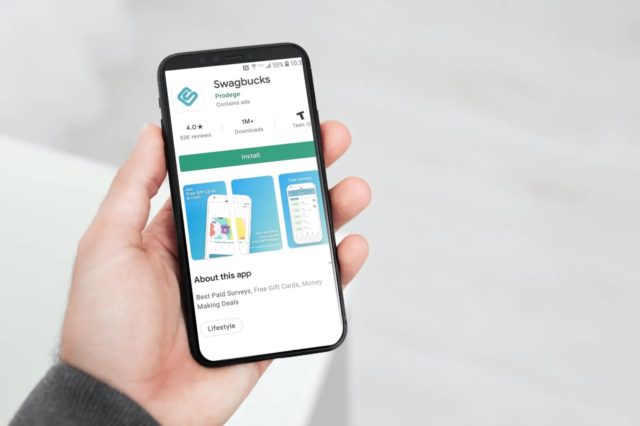 If you want to be entertained and have multiple options available for work online, then Swagbucks is for you!
You get paid to:
Shop online
Play games
And, more!
Read our Swagbucks review to learn more.
InboxDollars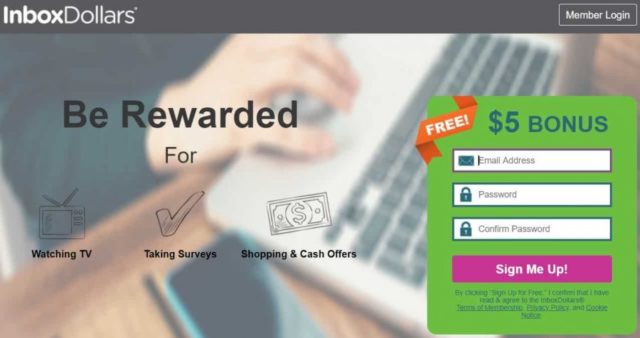 Like Swagbucks, InboxDollars is a multifaceted site that will pay you for multiple online tasks, including paid online surveys.
It has paid out over $56 million dollars to its members.
Its thriving membership on its site and social media contribute to the company's stellar reputation.
You will like that the site is easy to navigate. There are thousands of jobs available including reading emails, survey taking, small tasks, watching videos, and an added bonus of getting an instant $5 signup bonus upon joining!
Learn more about InboxDollars.
Branded Surveys
Join Branded Surveys and earn $1 instantly during registration. Then, gain access to tons of survey offers that you can take right from the comfort of home.
Take paid online surveys in your free time, earn cash, and redeem once you reach a minimum balance of $5. Branded Surveys pays via PayPal or free gift cards like Opinion Outpost.
You will find a variety of paid online survey offers through Branded Surveys, available 24/7 right at your fingertips.
Learn more about Branded Surveys.
Opinion Outpost Q&A
Here are some frequently asked questions about Opinion Outpost.
Are Survey Offers Available by Mail or Phone?
No, surveys are available online only.
Is It Free to Join?
Yes, you can join Opinion Outpost for free.
Is Opinion Outpost Available Outside the U.S.?
No. It's open to residents of the United States only.
What Survey Rewards Are Available?
You can earn PayPal cash and gift vouchers.
When Can You Take Surveys?
Anytime. Whenever you have spare time, you can take surveys. This flexibility is one of the perks of Opinion Outpost.
Related: Surveys That Pay Cash Instantly
Opinion Outpost Final Review
Opinion Outpost is a legitimate website and a good solution to making money online easily and flexibly.
Interested in joining?
Sign up here to get started with Opinion Outpost and try it for yourself!
---
We appreciate the time you've spent reading this post and your interest is not lost on us. Your thoughts, questions, or experiences related to the topic are most welcome. Each comment adds strength to our community. We ensure every comment receives our attention, and we take the time to provide thoughtful responses. Once again, thank you for being a part of this conversation. Click here to leave a comment.