How to Get Paid to Ride Horses for a Living (or Part Time)
Try Bingo Cash, the ultimate bingo app for turning your skills into extra cash while enjoying colorful and engaging head-to-head matches. Win up to $83 per game and experience the classic bingo thrill in the comfort of your own home. Test your daubing skills and become a big winner today!
Bingo Cash™ is FREE to download and play! However, cash tournaments are not available in the following states: AZ, IA, LA, SC & WA.
Horses are some of the most majestic creatures on earth. They are beautiful, strong, and peaceful. With all of that beauty and grace comes the need for great commitment, and the responsibility to be able to care for one. Just imagine being able to get paid while riding on the back of one of these great animals.
If you are the type of person who enjoys riding through nature with the wind blowing in your hair, this might be the perfect opportunity for you. Not many people get the chance to make money doing something they love. Change the narrative for yourself and make this your new reality.
Getting paid to ride horses isn't a job for anyone who wants to get rich quick or avoid putting in any effort. This requires work, dedication, and a commitment to caring for horses. Keep reading to find out which one of the ways listed below would best suit your lifestyle.
One of my favorite sites, Swagbucks, offers tons of ways to earn real cash online. If you're not already a member, give it a shot! Here are five things you can do to make easy money on the site:
Play games (up to $322 each)
Test apps (up to $150 each)
Submit receipts (easy cash)
Shop at your favorite stores (up to 10% back)
Answer surveys and polls (quick cash in minutes!)
Our Popular Free Guides
How to Start a Permanent Jewelry Business - If you are patient, have social skills, and love interacting with others, then a permanent jewelry business may be for you.
How to Become a Sleep Consultant - Help parents and babies, and be the difference for families worldwide who are desperate for more Zzzs in their life as a sleep consultant.
How to Become a Proofreader - There are five basic steps to working from home as a proofreader. As long as you're willing to put in the work, you can become a proofreader!
How to Get Paid to Ride Horses
Use these horse-riding jobs to make a living caring for and riding horses. You will be happy to know there are quite a few ways to get paid to ride horses.
1. Become a Trail Guide
Many vacation-goers opt for horse-riding excursions while on visits to beautiful and exotic locations. They will need a trail guide to lead them to experience these once-in-a-lifetime moments, perhaps including a romantic ride on the beach or a trek through nature. Take on this job and get paid to live in the wilderness while riding a magnificent beast.
Nab a job as a trail guide at a resort or near a tourist destination in your area and get paid to ride horses. Help your customers pick out the right horses to ride, hop on your own horse, and take the group members on the best ride of their lives. You can even take them to the perfect spots for the scenic photos you know they'll want to post.
In this way, you are helping them to experience riding one of the most beautiful creatures out there. As their guide, it will be your responsibility to make sure they have a safe experience.
Related: Best Under the Table Jobs
2. Become a Horse Sitter
Much like those who hire indoor pet sitters, horse owners need someone to tend to their horses when they are unavailable. Horse sitters obviously need to know how to care for the animals before they can offer this service, but if you have this type of experience, then you can start right away.
You'll need to take the horses on daily rides, feed them, and maintain the cleanliness of their sleeping areas in order to provide them with the best care possible while their owners are away. It's best to establish some kind of connection or relationship with the horses ahead of time so that the animals trust you when you come to care for them.
3. Teach Horse Riding Lessons
Riding horses isn't as easy as some might make it look. But many people desire to learn how to ride a horse, and that's where you come in. If you are an experienced equestrian, consider teaching horse-riding lessons. You can start with children and work your way up if you are more comfortable beginning with the basics.
Offer lessons in your own time, show others how to properly mount a horse, and discuss the best techniques for using reins to guide a horse. There are many lessons that you can get paid to teach inexperienced riders.
Related: How to Get Paid to Walk Dogs
4. Offer Groom and Ride Services
Although owners might not always have the time to groom and ride their own horses, this is an important part of keeping a horse healthy. Being a person who can groom and ride horses when their owners are unable to do so is a great way to get paid to ride horses.
Show up to perform your duties at the specified date and time. Depending on how many horses there are or how many hours you spend completing your tasks, you can charge an hourly or a daily rate. Go above and beyond in taking care of the horses to ensure your clients continue returning to you for their grooming and riding needs.
Related: How to Get Paid to Hunt Deer
5. Open a Horse Boarding Facility
If you own property, consider using part of it to board horses. Your property would be their home, but they wouldn't be your horses. The owners would pay you a monthly rental fee for the use of your property, and they could visit their horses during your business hours.
As the boarding facility's proprietor, part of your job would be to ensure the horses are consistently well taken care of. And, if their owners cannot make it to your property often, you would need to ride the animals, to prioritize their health.
KashKick is a great find for gig workers, offering many ways to make extra money doing what you enjoy. Try it out - it's free! Here are five easy ways to start earning money on the site:
Play games (up to $125 each)
Test apps (up to $125 each)
Buy lottery tickets (an easy $8)
Try popular brands (always changing)
Answer surveys (quick cash in minutes!)
6. Start a Pony-Riding Business
Children love pony rides, and you can profit from this. Open a pony-riding business and bring the little animals to birthday parties, public events, or other family-friendly functions — and turn a profit, in the meantime.
You can charge a package rate to show up at birthday parties and let the children ride your ponies. You and your animals would be the highlight of the occasion! You can also choose to charge a fee per child at a state fair or local city's event. There are many ways in which you could become known as the top pony ride business to hire at the next party or event.
Related: Get Paid to Exercise
How to Make Money Riding Horses Online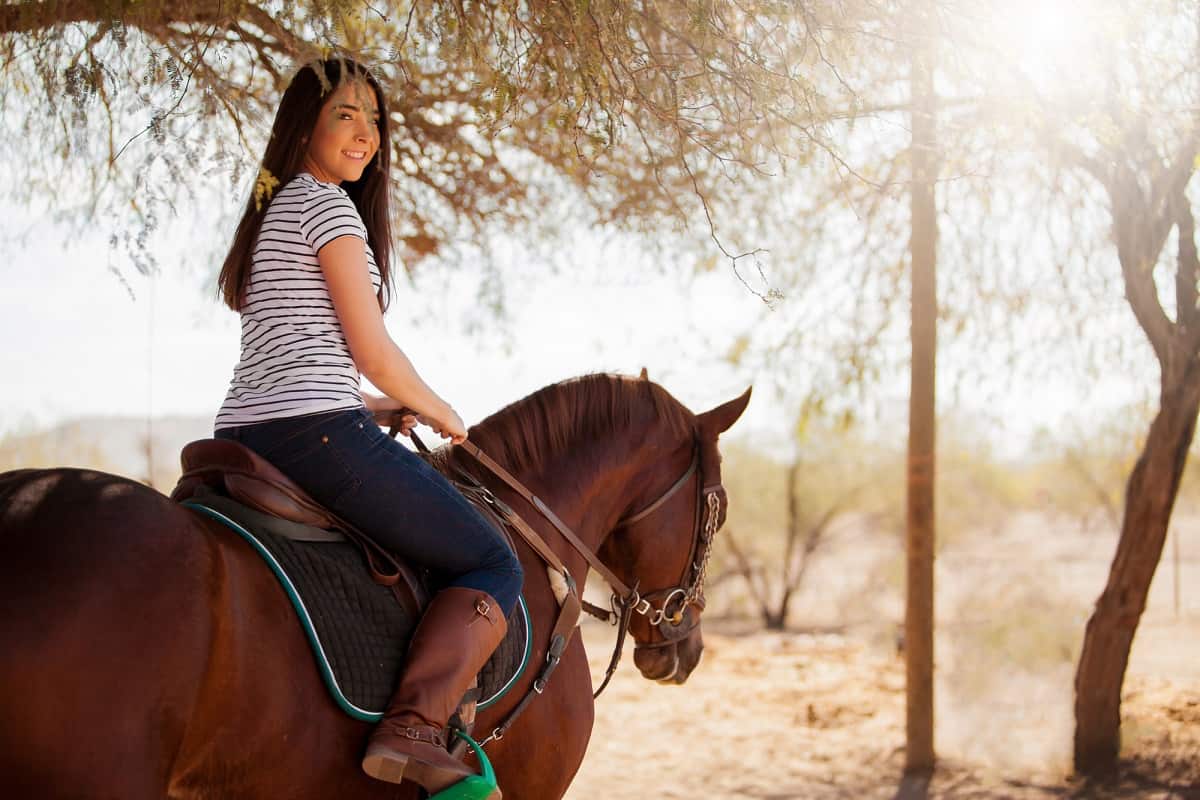 Getting paid to ride horses doesn't only mean face-to-face interactions with other people. Consider these two ways in which equestrians can make money online.
7. Become a Horse Product Tester
Use your riding skills to get paid while riding horses by becoming a product tester. Partner with brands and companies who are seeking feedback on new products they hope to launch. You can do this by becoming a brand ambassador or product tester.
Opinion Outpost is a free site that pays members for their feedback on products through surveys. Check this site frequently for items that are associated with horse-riding. You will get rewarded with points for each feedback form you complete. Turn those rewards into payment when you cash out for gift cards to places like Amazon and Visa, or select a deposit into your PayPal account.
Related: Get Paid to Visit Theme Parks
8. Start a Horse-Riding Tutorial Channel on YouTube
YouTube is a resource that people utilize when they want to learn something new. On YouTube, you can learn how to play the guitar, draw a cartoon character, cook a meal, and much more. Use this platform as a teaching opportunity by starting a YouTube channel, and show your viewers how to properly care for and ride a horse.
Record videos of yourself riding a horse and talking about the techniques you use for a comfortable ride. Demonstrate to your audience the proper way to care for a horse both before and after a ride. There are many more things to learn about riding a horse than it might first appear. Illustrate exactly what is needed for those who are trying to learn how to successfully ride and care for their own horses.
You can earn money from your content by allowing ads on your videos. Generate an income with ad views and ad clicks to turn your horse-riding channel into a moneymaking opportunity.
Related: How to Get Paid to Camp
9. Become a Social Media Influencer for Horse Lovers
There is a huge community of horse lovers on social media platforms like Instagram, Facebook, and Twitter. Use your horse-riding skills to lead others to better care for their horses by becoming a social media influencer.
You can get paid to share links with your followers for products like blankets, feed, grooming supplies, and more. You can also earn a commission for sharing your favorite riding gear like boots, saddles, and stirrups.
10. Start a Horse Tips Blog
Become known as a horse pro by creating your own blog website complete with horse-riding tips. Be the resource that many new beginners will be trying to find when they begin riding horses. Become part of the horse-riding community by sharing popular horse riding events around the country, talking about new products that make riding easier, and more.
Use your blog as a way to make money by including affiliates and ads in your posts. In this way, with each reader that visits your blog, you can get paid for their views on the ads. You can also earn a commission for the products they purchase through your affiliate links. Learn how to become an affiliate marketer and make money riding horses and sharing your experience on your blog.
Related: How to Get Paid to Go Fishing
Riding Horses is Peaceful and Can Be Lucrative
If you never thought of turning a peaceful horse ride into an actual moneymaking opportunity, then you've been missing out. Don't wait any longer; get paid to ride horses using one or more of the ways listed above.
From becoming a trail guide to starting your own blog or even becoming a product tester, there is a variety of ways in which you can get paid to do something you love. There's nothing standing in your way! Choose the best method for you, jump on that horse, and have the best ride of your life.
Related: Jobs That Feel Like a Vacation
---