How to Get Paid to Watch Commercials Online
Try Bingo Cash, the ultimate bingo app for turning your skills into extra cash while enjoying colorful and engaging head-to-head matches. Win up to $83 per game and experience the classic bingo thrill in the comfort of your own home. Test your daubing skills and become a big winner today!
Bingo Cash™ is FREE to download and play! However, cash tournaments are not available in the following states: AZ, IA, LA, SC & WA.
Growing up, I used to think commercials and ads were the worst things ever. They were so inconvenient (despite letting me get in a bathroom break) and would interrupt my favorite TV shows.
However, as I got older, I realized how commercials funded TV– without them, there would be no Friends, The Office, or Doctor Who. Since becoming a blogger, I've experienced firsthand how commercials and ads build revenue.
With today's technology, there are countless companies that connect people like you and me with companies that will pay us to watch ads and commercials. You might think I'm crazy– who would pay for such a thing?
Honestly, companies have needed to think outside of the box when it comes to advertising. Ads and commercials introduce new products to you that you might purchase in the future.
Due to those possibilities of future sales, this tactic is fairly popular. I'll show you how you can get paid to watch commercials, and perhaps you'll stumble upon a new favorite product or service in the meantime.
One of my favorite sites, Swagbucks, offers tons of ways to earn real cash online. If you're not already a member, give it a shot! Here are five things you can do to make easy money on the site:
Play games (up to $322 each)
Test apps (up to $150 each)
Submit receipts (easy cash)
Shop at your favorite stores (up to 10% back)
Answer surveys and polls (quick cash in minutes!)
Our Popular Free Guides
How to Start a Permanent Jewelry Business - If you are patient, have social skills, and love interacting with others, then a permanent jewelry business may be for you.
How to Become a Sleep Consultant - Help parents and babies, and be the difference for families worldwide who are desperate for more Zzzs in their life as a sleep consultant.
How to Become a Proofreader - There are five basic steps to working from home as a proofreader. As long as you're willing to put in the work, you can become a proofreader!
9 Companies That Pay You to Watch Commercials and Ads Online
Finding another job or even doing a side hustle can be exhausting. Use your free time to your advantage and watch commercials for money instead from the comfort of your home.
1. InboxDollars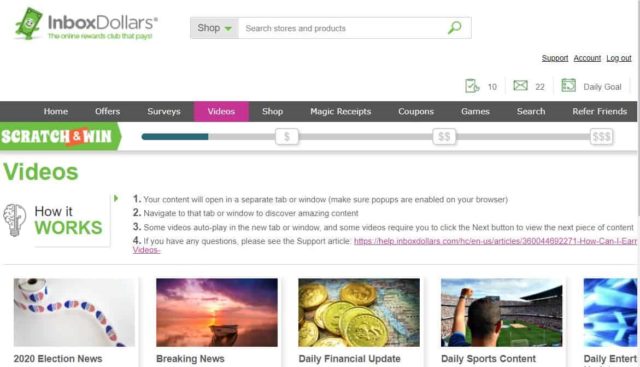 InboxDollars has been around for over two decades and has since paid users over $59 million worldwide. The most important thing to me is the prestigious reviews about the company from actual users. That way you can know real people are getting paid. Read more in my complete InboxDollars review.
The more you watch, the more you can earn. After you watch the commercials that you select, your earnings are immediately credited to your account. There is a $10 minimum to redeem your earnings.
Just for signing up, InboxDollars gives you $5. After you've created your account and confirmed your email address, start watching commercials and TV content from your computer or smartphone.
Related: Get Paid to Post Ads for Companies
2. Swagbucks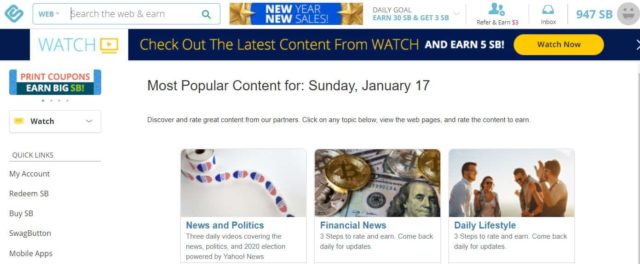 Swagbucks rewards users in the form of SBs. It is one of the most popular rewards platforms used and trusted by millions. Signing up for a free account earns you a $5 bonus. There are several ways you can earn with the company; one of which is by watching commercials.
For every commercial, ad, or video you watch, the amount of SBs earned will vary. You can scroll through the available content to watch and it will show you how many SBs you can earn per video.
Once you've collected some SBs in your account, shop the rewards page for cash out opportunities like PayPal, Visa, Starbucks, and more. Get the whole scoop on Swagbucks from my review.
Related: Get Paid to Watch TikTok
3. MyPoints

MyPoints offers rewards to the members of its site in the form of points, which you can trade in for rewards such as Amazon gift cards. The platform has been around since 1996. New members have a unique opportunity to earn a $5 signup bonus.
Sign up on its free platform and get paid to watch ads. You can earn up to 500 points per day watching fun, engaging videos. Read a full review of MyPoints here.
Related: How to Get Paid to Watch Sports
4. Nielsen Computer and Mobile Panel
The Nielsen Computer and Mobile Panel Company has been around for over 90 years. It is a trusted company for consumer research, such as what TV shows families enjoy. With the app, Nielsen now offers a unique opportunity to get paid to watch commercials.
Nielsen collects usage information from your phone and pays you for that information. If you are watching ads or commercials on your phone, Nielsen is paying you for those views.
Simply get started on the Nielsen site and download the app to run in the background on your phone. For more information about the Nielsen Company, read my full review of Nielsen here.
Related: Get Paid to Watch Disney Movies
KashKick is a great find for gig workers, offering many ways to make extra money doing what you enjoy. Try it out - it's free! Here are five easy ways to start earning money on the site:
Play games (up to $125 each)
Test apps (up to $125 each)
Buy lottery tickets (an easy $8)
Try popular brands (always changing)
Answer surveys (quick cash in minutes!)
5. KashKick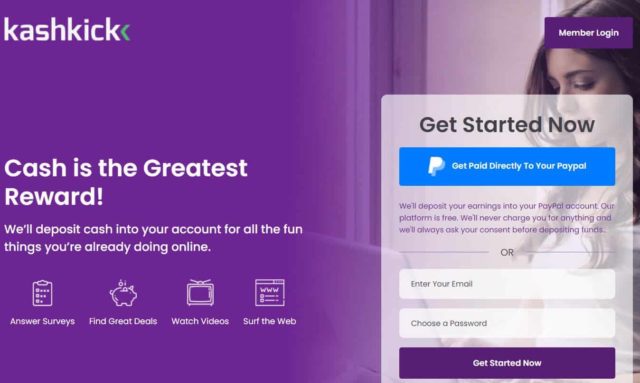 Kashkick is a "get-paid-to" rewards website. Members are rewarded and make money watching commercials. You might as well get paid to watch videos online. That's something we all do, right?
KaskKick has mixed reviews on Trustpilot, a consumer review website. Plenty of its members validate that the site does in fact pay for your time watching commercials and ads. The platform is free to join and start earning cash.
Related: How to Get Paid to Watch Star Wars
6. Ibotta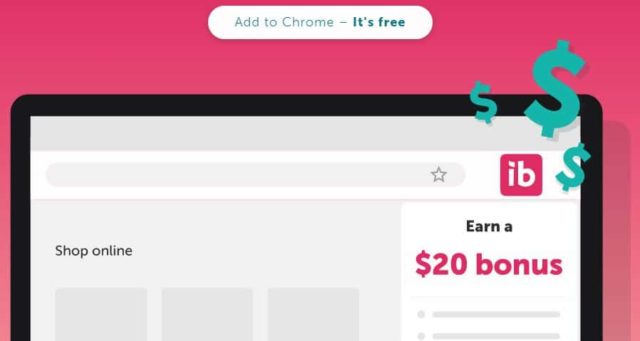 Ibotta is a popular cashback site members use to earn money back on their purchases. Typically, members upload their receipts on the app and can earn a percentage back. Interestingly enough, Ibotta also occasionally offers opportunities to get paid to watch ads.
If you watch ads on the site, your account will be credited with the amount of money the ad was worth. Cash out on your account once you hit that $20 minimum and get a deposit straight to your bank account.
Related: How to Get Paid to Watch The Office
7. AdWallet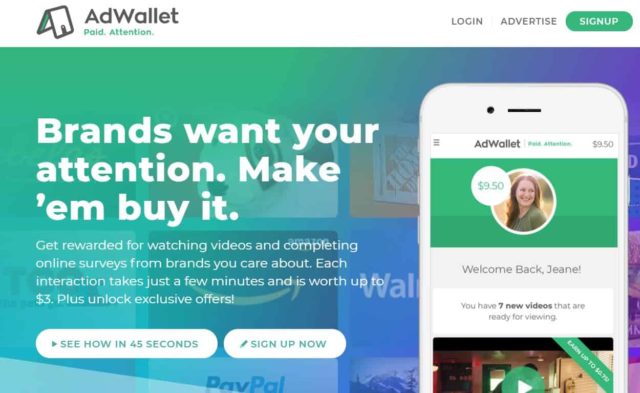 AdWallet has paid over a million dollars to users on its platform in its first 12 months in business. It is a site devoted to videos and ads. Members can sign up for a free account and get text notifications when a new short video is available to watch.
Each video is handpicked just for you based on your likes and profile information. Once you reach $10 in your account, you can request a payout. AdWallet pays in cash. You can earn anywhere from $0.50 to $3 per video interaction.
Related: Get Paid to Watch YouTube Videos
8. iRazoo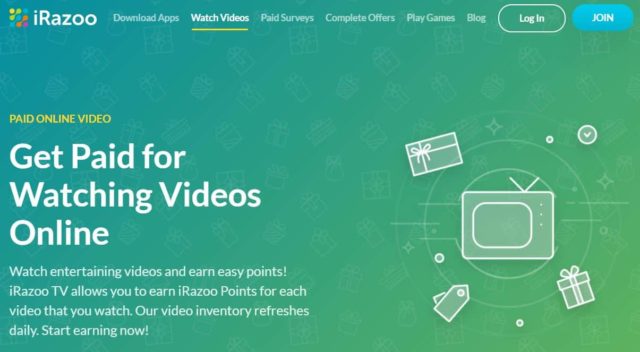 iRazoo is a popular online rewards platform that is known for paying members in points. With a free account, you can watch commercials for money. After you redeem your earned points, you choose how you want to be paid through the available rewards.
The iRazoo TV option pays you for each video that you watch. Its inventory refreshes every day so there are many opportunities to make money watching commercials. iRazoo is featured on the TrustPilot site, making it a trusted platform to use.
Related: How to Get Paid to Watch Netflix
9. Slidejoy
Slidejoy was founded in 2014 and is a lock screen cash rewards program. Essentially, you rent the space on your lock screen for ads to be displayed while you aren't using your phone.
Companies pay to have their brands advertised with Slidejoy because it helps their brand get in front of customers quicker and with less noise compared to other online advertising methods. Download the Slidejoy app, use its lock screen, and get paid in rewards. What an easy way to get paid to watch ads.
Related: Sign Up and Get Money Instantly
Make Money Watching Ads on Autopilot (While You Stick to Your Day Job)
To get paid to watch commercials, you have to understand that it won't make you rich. However, if you can do it in your spare time or even just let your phone run while you are doing something else, you can accumulate some nice side money.
I've let my phone run while working and come back to having watched a handful of ads. Be sure this is allowed in your workplace before doing so.
Make the most of these money-making opportunities and use other devices as well to get paid to watch commercials online. Use your phone for one platform, your tablet for another, and you can make double the amount.
Stick to your normal routine and don't worry about having to get another job. With ads and commercials, you can start making yourself a nice savings account or even accumulate for a night out.
Related: How to Make $500 Fast
---