Are you looking to sell used clothing out of your own closet? Or would you like to turn a profit from buying and selling second hand clothes online? If you answered "yes" to either of these questions, this guide to sell clothes online is for you!
This post may contain affiliate links. Please see my full disclosure policy for details.
I often sell used clothes online (or at least list items once) before donating them. I have no issues with donating second hand clothes, but I like to try to make money off of them first.
Long before life got busy with my home business and this blog, I sold clothing on behalf of friends and family. This was fun for a time, but hardly sustainable having to split profits with another party.
I have found that the best way to sell used designer clothing is to purchase it at a low price and resale it for a profit online.
Whether you choose to sell used clothing from your own closet, sell for a commission, or buy and resell, you will find this guide extremely helpful!
Related post: Using Ebates is one of the easiest ways to make some extra money online
Benefits of Selling Used Clothing Online
First, let's go over the obvious (or maybe not so obvious?) and talk about the benefits of selling used clothing online.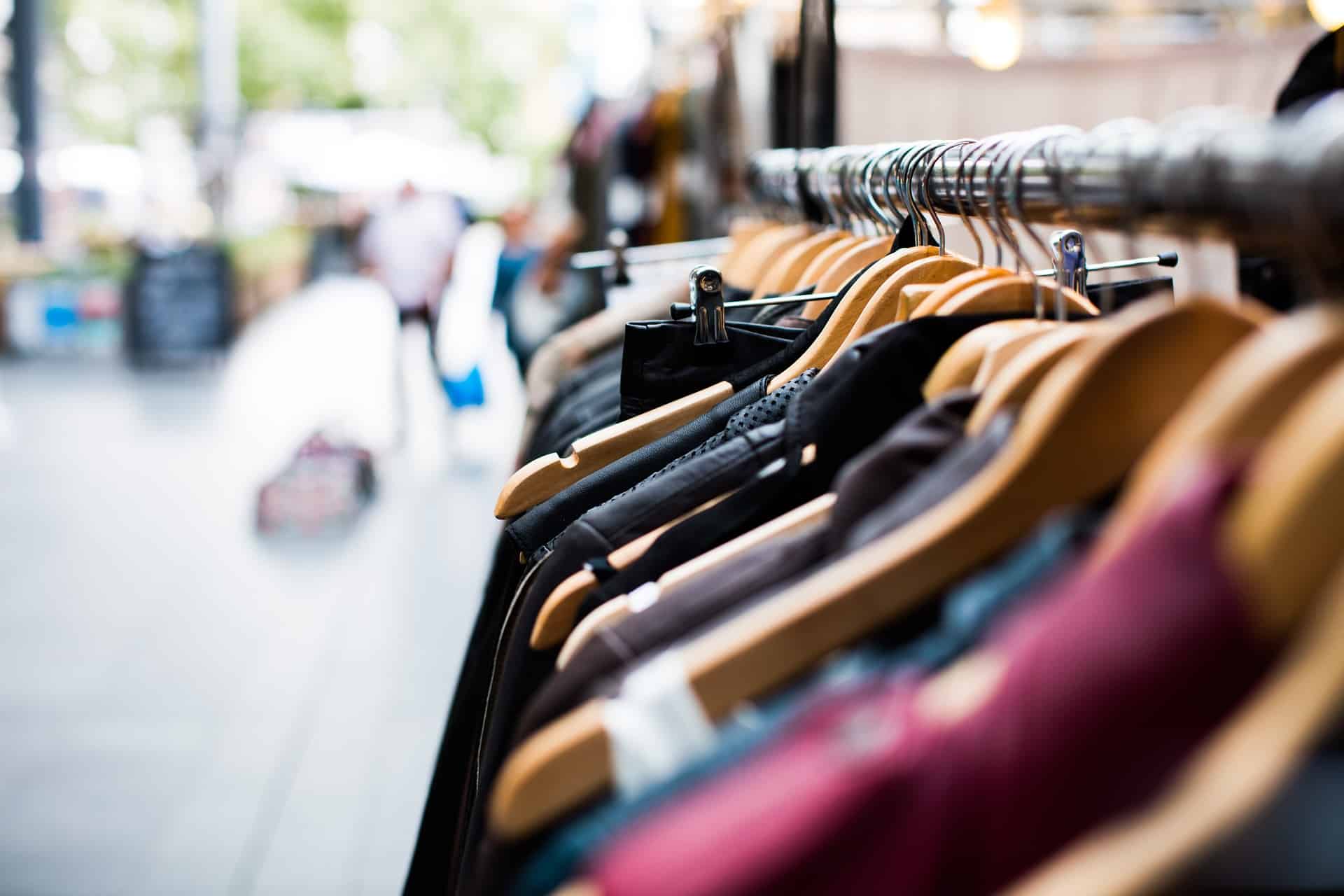 Decrease clutter fast. Hey, if you're selling used clothing right out of your own closet, then surely you'll be clearing clutter in the process!
Make extra cash. This is the reason that I started selling used clothing in the first place. If I wasn't going to make any money from the work, then why not just donate?
Go green, upcycle. At the very least, selling used clothing online is far better than sending it to the nearest landfill!
Help others in need of clothes who don't want to pay full price. Whether you're listing used clothing on local selling sites or on Ebay, you can rest assured that you're helping yourself and your buyer.
Even if it doesn't sell, you can donate and write off on your taxes. When you've exhausted your selling efforts on a batch of clothing, go ahead and donate!
Keys to Success in Selling Used Clothing
Here are a few tips that will help you be successful in selling used clothing online. Make sure to do each one of these to make the most of your time and effort!
Buy items that are good quality at a low price (can sell for 3x or more than what you paid).
Take plenty of good, high-quality photos. A high quality photo can do wonders for your listing, versus a poor quality photo that leaves the customer guessing.
Set realistic prices. You don't want to overprice secondhand clothing and never sell, but you also don't want to price too low and not pay yourself enough for your own time or or shipping costs.
Revise and relist often. Making periodic revisions ensures that you are keeping up with your listing and customers' questions. It also makes your listing more recent which often places you higher in search results.
Related post: 30 Side Hustles That Will Make You Money on the Side
Where to Sell Clothes Online and Locally
There are so many places to sell your clothes both online and locally. There are apps to sell clothes, used clothing stores online, second hand stores that buy clothes, and online forums and marketplaces.
Let's go over the popular places that you can sell used clothing!
Best Online Consignment Stores to Sell Used Clothing
While all of these online shops will charge you a commission per sale, they will really help you get your listings in front of a live audience. The more people that see your listings, the more sales you will get!
The following are some of the most popular online consignment stores that boast brand name items at crazy discounted prices:
Thredup. "… The world's largest online secondhand shopping destination with thousands of like-new styles from your favorite brands at up to 90% off retail."
Swap.com. Mission: "To give our community of thrifters high-quality, affordable secondhand apparel for the whole family."
Tradesy
Poshmark
Local Used Clothing Stores to Sell Second Hand Clothes
If you'd rather take your clothes to a brick and mortar store to get paid for your items today, you can take them to one of these second hand stores. While they generally will only pay you about a third of what they will be able to resell it for, you will walk out with cash in hand. Here are a few of the top secondhand clothing stores with locations across the US.
Plato's Closet
Clothes Mentor
Buffalo Exchange
Uptown Cheapskate
Apps to Sell Clothes
Instagram is a great place to sell old clothes. All it takes is uploading a picture and putting the brand, color, size and price in the caption. You can get views on your listing by using hashtags such as #shopmycloset or a hashtag of that brand. Although you won't be able to actually sell it through Instagram, you can take bids via the comments section and square up with the customer via Paypal or Venmo.
Facebook Marketplace is booming with people selling their used items online. Simply create a listing through the marketplace extension, add pictures and descriptions, and let the bidding begin! Those who are interested will message you through Facebook Messenger. With Facebook you will only deal with people locally within a 100 mile radius, so you will have to discuss with the customer how they can pick-up or you can drop-off.
LetGo is similar to Facebook Marketplace. It is a mobile app that you can buy and sell clothes and other items locally. It does not have a payment system set up through the app, so beware of sketchy payment methods and make sure to discuss payment details before you make the transaction.
Other Places to Sell Used Clothing Online
Varagesale – a local marketplace for you to find buyers in your area.
Ebay – a nationwide marketplace for you to list items for sale and let people all over the country bid, the highest bidder wins the item.
Related post: 100 Legitimate Home-Based Business Ideas (2018)
How to Sell Clothes Online
Ebay is a great marketplace to sell clothes online, as it's been around longer than any other online reselling platform. Selling on Ebay is like hosting your own virtual garage sale.
To get started, you will want to do a search on Ebay for previously sold listings that are the same or similar to the used clothing you're trying to sell. Read about how to use Ebay in flea market flipping to learn how to price your items on Ebay.
Once you have an idea of how to price your used clothing, take good pictures, write a relevant description, and list it!
Your listing will be active for 30 days. Be sure to check on it daily to see if you have any watchers or offers.
Where to Buy Used Clothes to Resell
Other than your own closet, there are lots of places to buy used clothes to resell for a profit. Places like garage sales and thrift stores are 9 times out of 10 the best bet for you to buy used clothes that will make a good profit.
Garage Sales Sell Used Clothing
Many of the clothes you will find at garage sales are either children's clothes, or clothes that are super old. Focus on anything that looks like new or very lightly used, and try to stick to typical sizes.
Clothing that might coincide with a current trend will be a great seller (i.e. Star Wars is coming back).
You will get the best crack at the good items at the start of the sale, so try to get there early on the first day. Never pay more than 1/3 of what you intend to sell it for, and always keep in mind the cost of shipping.
Thrift Stores Sell Used Clothing
Thrift stores are hands down my favorite place that sell used clothing. You can often find used designer clothing at a bargain price and sell for top dollar.
Really anything brand name will be a good seller. Stay away from off brand clothes or items that would have had a low selling price even when brand new.
You can also find things like sports jerseys or band tee collectibles for a bargain at thrift stores. When purchasing used clothing such as these, you always want to be sure to check their going rate online to ensure you will be able to make a profit.
Try to shop local places like Goodwill, Salvation Army, AmVets or Savers on days that clothing is offered 50% off.
Related post: How I Made $105,000 From My Home Business
What Else Can I Do With My Used Clothes?
If you tried to sell used clothing and cannot empty your stash entirely, you can always donate them to charity. Not only will you get a tax deduction but some places will give you a discount on in store items when you donate. You're also helping people in need and not putting them into a landfill, so you can give yourself a pat on the back!
Sell Clothes Online
To sell clothes online, it all boils down to great pictures and a platform to your list your clothes on. Don't be afraid to list clothes that were never your favorite items, because someone everyone has a different style. I've made great money selling clothes online in the past and I know of others who have done the same. So get started today and sell clothes online!