10 Real Ways to Get Free Target Gift Cards and Codes
We foster relationships with brands we use and trust. The testimonials on our site represent real experiences, but they don't guarantee you'll achieve similar results. When you make purchases through our links to our partners, we may earn a commission. Your support helps us continue this work. You can read our full disclosure here.
With dozens of sites offering freebies, it's no wonder people are flocking to Google to find out how they can get free Target gift cards. Target is a family favorite that has everything a home needs from furniture to clothes and even groceries. It would be impossible not to consider all the ways to get money for a shopping trip to Target.
If you are willing to trade some of your time in exchange for free Target gift card codes, then you have come to the right place to learn how to do exactly that. You can get free Target gift cards in your spare time, during down time at your job, or just before going to bed in the evening.
When you get your free Target gift cards, you will be sent special codes through email to redeem those gift cards. Shop Target online or in store for whatever you need using the credit.
10 Ways to Get Free Target Gift Cards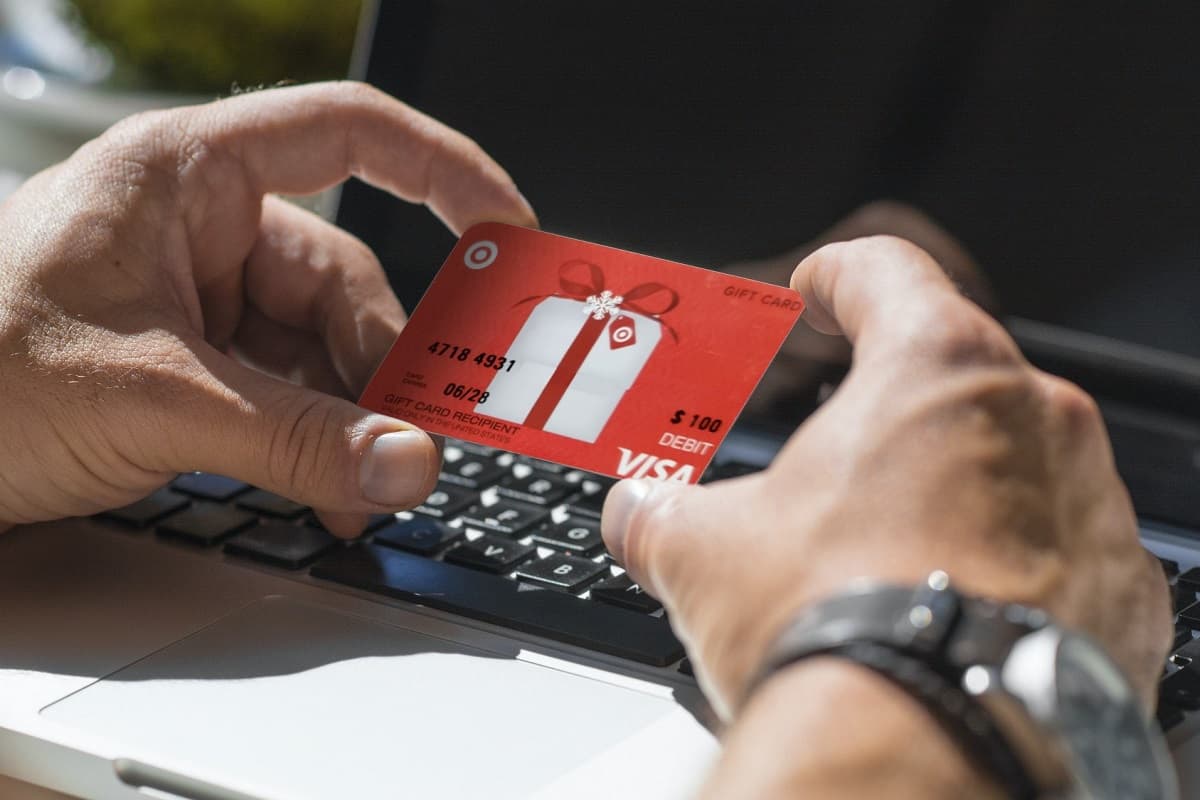 Use the following sites to fulfill your goal of getting free gift cards. You could even end up with a free $500 Target gift card depending on how much time you spend completing tasks, and how long you wait to redeem your rewards.
1. InboxDollars
InboxDollars is a well-known, trusted online platform that is designed to help people make extra money on the side. By completing simple tasks like taking surveys, playing games, or clipping coupons, members of InboxDollars can get free Target gift cards.
With each task you complete on the platform, your InboxDollars account is awarded actual money. Each task varies in how much money you earn. Once you have earned enough money to cash out, you can request your rewards to be paid in Target gift card codes.
2. Swagbucks
Swagbucks has proven over the years to be a trusted site for members to earn money on the side. Members have earned free Target gift card codes for doing fun tasks like product and app testing, completing surveys for other brands and companies, and participating in other cash-back opportunities.
On the Swagbucks platform, you earn actual Swagbucks (SBs) that are credited to your account. You will earn a different amount of SBs for every task you complete. Collect enough SBs to cash out for your free Target gift cards.
Go to the rewards page and pick the Target gift card amount you want to redeem. Collect enough SBs to receive a $500 gift card, or cash out as soon as you reach $5.
Related: How to Get Free Gas Cards
3. Opinion Outpost
Opinion Outpost is a site that is dedicated to consumer surveys. Members can join the site to take part in answering surveys that will then help businesses and brands make adjustments to their future products and services. Earn points for each survey you complete and collect them in your Opinion Outpost account.
Once you have enough points to redeem for prizes, head over to the rewards page on Opinion Outpost and redeem your free Target gift card.
4. Branded Surveys
Branded Surveys is different from other survey sites in that it is specific to market research. The surveys on the site are for members to help shape the future regarding improvements to products or services that are offered by companies. Branded Surveys connects members to companies for this market research purpose.
As a member of Branded Surveys, you will have an opportunity to learn about new products before they become available on the market. Answer surveys honestly to help companies shape their designs. Get rewarded in points that are redeemable toward Target gift cards.
5. Survey Junkie
Survey Junkie pays members to share their opinions through surveys and feedback forms. Influence the way companies and brands create new products and help them understand what people actually want. In an ever-changing world, your opinion could shape the way products are made to help our future.
You can earn virtual points with each completed survey you take on Survey Junkie. Collect the points in your account and then request to be paid out with free Target gift cards on the rewards page.
6. MyPoints
Use MyPoints to get free Target gift card codes. MyPoints rewards members for their shopping experiences by giving them cash back for each dollar they spend. When you get cash back, your rewards are credited to your MyPoints account in the form of points. Put those points toward whatever reward you want, such as an e-gift card to Target.
7. Skillz Games
Skillz is an online platform specific to mobile gaming. You can find all types of games on the platform that can be downloaded to Apple or Android devices. Sign up for free on the Skillz platform and choose from several games that pay you to play, such as Solitaire Cube and Blackout Bingo.
When you earn with Skillz games, you can cash out your money through PayPal. Use that money from your PayPal account to purchase Target gift cards. Additionally, you can use your PayPal money to shop on Target.com and take advantage of the special Target $20 gift card with a $100 purchase.
Enter the Skillz promo code APget5 and get FREE bonus cash with your first $5+ deposit.
Not available for cash games in AZ, AR, CT, DE, IN, LA, ME, MT, SC, SD, and TN, but virtual currency is available.
8. Nielsen Computer & Mobile Panel
Nielsen is a trusted company that has been around for decades. It has been dedicated to researching families and homes. Sign up with the Nielsen Computer and Mobile Panel to allow Nielsen access to your browsing data on your device.
Nielsen anonymizes the data and uses it to understand how consumers shop, entertain themselves, and what they are interested in as a whole. If you sign up to participate, you can earn up to $50 in points that can be redeemed through PayPal. Exchange your PayPal earnings by purchasing Target gift cards or shopping on Target.com.
9. KashKick
Kashkick is a site dedicated to providing members with surveys they can take to make extra money. It also has opportunities to earn by watching videos, surfing the web, and finding deals. Each task you complete means you make money for the time you spend.
Add up the money in your account and as soon as you hit the $10 threshold minimum, you can transfer your balance to PayPal. Turn around and use your PayPal funds to purchase your Target gift card or shop online.
Related: How to Get Free Nike Gift Card Codes
10. Cash App
Cash App is a convenient and free money management app available to download on your smartphone. You can set up direct deposit to your account, pay for purchases with your Cash App debit card, transfer money to other members, and so much more.
Cash App also offers Boosts, which are instant savings on purchases. There is a Cash App boost of $100 off any one-time purchase. You can unlock this boost if you have a direct deposit set up in your account. Use this boost to purchase a $100 Target gift card. Essentially, this means you will get that gift card for free by using the Boost.
Beware of Target Gift Card Code Generator Scams
Avoid websites claiming to generate free gift card codes as they are likely scams. These sites simply try to line their own pockets by monetizing with ads and affiliates and getting paid for the traffic that visits the site.
Some of these sites even go as far as infecting your device with a virus when you click on them. If you try out these so-called generators, you run the risk of wasting time with a scam.
Legit Free Target Gift Cards Are Out There
It's hard to believe that something like free Target gift cards could be legit. The trick is learning that nothing in this world is actually free without you trading something for it. Trading your time by completing tasks or playing games with the sites mentioned above is a legit opportunity. If a site tells you that it is giving you free Target gift card codes for nothing in return from you, that is when you should really question if it is a scam.
However, the sites in this list that I found are all real and have proven to actually pay members for answering questions and completing other simple tasks. Many of these sites have been around for years, which goes to show they are trustworthy and withstand harsh criticism from real people. If you're ready to get your free Target gift cards, then start today by signing up for one or several of these sites.
You can also go to Target directly for gift card opportunities by getting the Target $20 gift card with a $100 purchase. If this is something you can do regularly to earn free money, then do it. But I know it isn't an option for everyone. Consider signing up with these recommended platforms to increase your opportunity for free Target gift cards.
We appreciate the time you've spent reading this post and your interest is not lost on us. Your thoughts, questions, or experiences related to the topic are most welcome. Each comment adds strength to our community. We ensure every comment receives our attention, and we take the time to provide thoughtful responses. Once again, thank you for being a part of this conversation. Click here to leave a comment.