How to Make Money on Amazon FBA (6-Figures or More!)
Try Bingo Cash, the ultimate bingo app for turning your skills into extra cash while enjoying colorful and engaging head-to-head matches. Win up to $83 per game and experience the classic bingo thrill in the comfort of your own home. Test your daubing skills and become a big winner today!
Bingo Cash™ is FREE to download and play! However, cash tournaments are not available in the following states: AZ, IA, LA, SC & WA.
One of the most popular ways to earn an income online is through the use of Amazon FBA. With tens of thousands of sellers on Amazon, many of them are moving to Amazon FBA.
If you participate in the Amazon FBA program, you have the opportunity to make hundreds, if not thousands, of dollars from the comfort of your own home. Amazon does the physical work for you. All you have to do is advertise your products and get them to sell.
Does this sound like something you'd be interested in pursuing? Take a look at how to make money on Amazon FBA from this guide. The benefits that come with being part of the program make this work from home option a profitable choice.
One of my favorite sites, Swagbucks, offers tons of ways to earn real cash online. If you're not already a member, give it a shot! Here are five things you can do to make easy money on the site:
Play games (up to $322 each)
Test apps (up to $150 each)
Submit receipts (easy cash)
Shop at your favorite stores (up to 10% back)
Answer surveys and polls (quick cash in minutes!)
Our Popular Free Guides
How to Start a Permanent Jewelry Business - If you are patient, have social skills, and love interacting with others, then a permanent jewelry business may be for you.
How to Become a Sleep Consultant - Help parents and babies, and be the difference for families worldwide who are desperate for more Zzzs in their life as a sleep consultant.
How to Become a Proofreader - There are five basic steps to working from home as a proofreader. As long as you're willing to put in the work, you can become a proofreader!
What is Amazon FBA and How Does it Work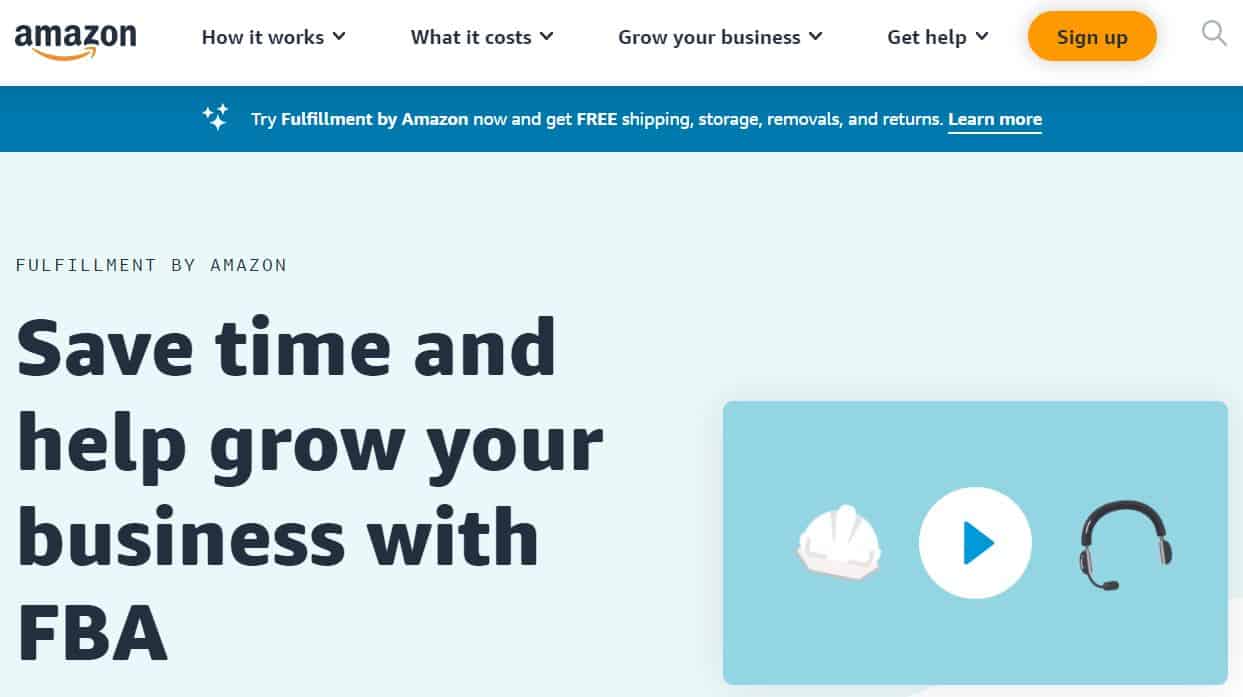 Amazon FBA stands for Fulfilled by Amazon. The company picks, packs, and ships the orders for you. You don't have to worry about making it to the post office or having an inventory taking up space in your home.
Here is a simple breakdown of how Amazon FBA works:
You list and send products to Amazon;
Amazon sorts and stores your products;
Shoppers buy your products;
Amazon ships the products purchased;
Amazon follows-up ensuring customer is satisfied;
You get paid.
Every two weeks, payments are issued. This makes it easy to predict your salary and know you are getting paid as if it were a paycheck from a regular 9-5 job.
Related: How to Become an Online Marketing Coordinator
How to Start Selling on Amazon FBA in 7 Simple Steps
With FBA, you have more time to reach more customers and less of a headache having to deal with shipping and storing items. Amazon does quite a bit of the work for you. Here is how it works to sell on Amazon FBA.
1. Create an Account
Once you have decided to start with Amazon FBA, you need to choose a selling plan. Amazon offers an Individual Plan for $0.99 per sale or a Professional Plan for $39.99 per month.
You'll also want to consider your business selling strategy. Whether you want to sell your own unique items or resell items that are already hot, there is a strategy for each. If you desire to do both, there is an option for that as well.
Once you have decided how you want to use the Amazon FBA program, you can then create your account with the selling plan of your choice.
Related: How to Start a Shopify Store
2. Research Products
There is an abundance of products you can sell through Amazon FBA. From beauty products to cell phones to home garden supplies and more, there is no shortage of what you can sell to make money online.
Now you can research whether or not a product will sell before you invest time and money into it. You can use a tool like Jungle Scout to research different products. The Google Chrome extension shows live data of each product you hover your cursor over.
Choose products with lower competition to make sure your listing gets in front of more customers.
Related: How to Invest in Amazon and Earn Money Passively
3. Source Your Products
Jungle Scout also offers an extensive database of suppliers. Once you decide what you want to sell, check the database to find a reliable product supplier. You can sort, filter, and even search for each product by name or product number. Then, request quotes from multiple suppliers to get the best price.
4. List and Publish Your Listings
Finally, gather the details about the products and add them to the listings. Information such as images, feature descriptions, pricing, and more will be helpful for customers to decide if they want to purchase your item.
If you use a supplier found through Jungle Scout, you can find all of the product information in one place!
Finally, make your products live on Amazon!
5. Send Your Products to a Distribution Center
Amazon FBA individually packs and ships orders as they come in so that you don't have to. Customers are often willing to paying higher prices for the final product because they know it's coming from Amazon itself and will be shipped on time.
6. Advertise
Start attracting customers right away to your products. The sooner you start to sell on Amazon FBA, the sooner you will begin to make money.
To get noticed quicker and more frequently, you can boost your products with sponsored ads to get in front of customers when they are shopping.
Make your products competitive in pricing as well to offer the best deals to shoppers. Oftentimes, customers go with the product that gives them the most bang for their buck. Make sure your products are priced to sell.
Related: How to Promote Your Business
7. Grow Your Business
Selling your first product through Amazon is a great feeling. Keep the ball rolling by requesting customer reviews. The more positive reviews you have, the better your chances will be that new customers will want to buy from you as well.
Grow your business even more with the Amazon tools that show you how to earn the Prime badge, how to expand your reach, and improve your opportunities for success.
Increase your momentum with each new sale you make. Your chances to successfully sell on Amazon FBA increase with each completed purchase and great review. Capitalize on those and continue learning how you can get your brand and/or products out there for customers to purchase.
You never stop learning; there are many ways you can continue to learn and grow your business all from your computer.
KashKick is a great find for gig workers, offering many ways to make extra money doing what you enjoy. Try it out - it's free! Here are five easy ways to start earning money on the site:
Play games (up to $125 each)
Test apps (up to $125 each)
Buy lottery tickets (an easy $8)
Try popular brands (always changing)
Answer surveys (quick cash in minutes!)
The Benefits of Selling on Amazon FBA
Amazon is already a well-established company that thousands of consumers trust. Taking advantage of their reputation by selling through them is a smart business decision.
You won't have to spend the time it takes to get your name out there and build a customer base. It is all there for you already.
In addition to growing a business through a reputable company, there are other benefits to sell on Amazon FBA as well.
Outsourcing the entire process
Save time and money from fulfilling your own orders. Amazon takes care of all the nitty gritty for you. This will save you from having to do it yourself or having to hire someone else to help you. The online store process is all outsourced already with Amazon, which is a relief to business owners.
Discounted shipping rates
Because of the heavily discounted rates Amazon gets through contracts with mail carriers, Amazon oftentimes gives these discounts to sellers as well. Customers also benefit from these discounts as the sellers can often offer free shipping to them as well.
Handling returns
Returns can be a pain to deal with, especially if you have angry customers. Amazon takes that headache away. They do everything from handling the customer to generating return labels and even revising the logistics so that you have the most accurate sales report information.
Related: 25 Best Jobs for Stay at Home Moms
Customer service
Your business is covered in the 24/7 customer service experience. No matter the time or day, if a customer has a question about your products, you won't have to worry about responding; Amazon does that for you.
No self-storage
There is no storage you have to worry about obtaining. Regardless if it is just one product or dozens you are selling, Amazon stores it for you with no warehouse minimums. If your products sell quickly, you have the possibility of earning unlimited storage as well.
Quick delivery
Amazon's analytics figure out which fulfillment centers are closest to the customers who are purchasing your products and will send the products out. Customers appreciate this because they receive their products quickly no matter where they are located in the world.
Exposure for other channels
You can sell on other channels and still have Amazon fill those orders. Amazon has a service called Multi-Channel Fulfillment so your products can have exposure to an even broader audience. This not only helps you make more money, but the reviews from a larger market can really make a difference in your business.
Make money at home
This entire business can be run from the comfort of your own home. You can review your analytics, promote your products, and run an entire store all without having to go to an office.
Additionally, you can use the Amazon online platform to expand your knowledge and learn more to grow your business.
Related: Places To Sell Clothes Online And Locally For Some Major Cash
Ready to Make Money with Amazon FBA?
Making money with Amazon FBA is a business almost anyone can do. If you are willing to put in the time, effort, and have the drive to continue to learn, you can be a successful business person through the Amazon FBA program.
Get started fairly quickly with the guides Amazon provides for its sellers. Continue growing with a selling strategy, analyze what is working or not working for your business, and you could be one of the businesses making six figures or more.
What steps will you take to learn how to make money with Amazon FBA?
---