How to Become a Brand Ambassador From Home
Try Bingo Cash, the ultimate bingo app for turning your skills into extra cash while enjoying colorful and engaging head-to-head matches. Win up to $83 per game and experience the classic bingo thrill in the comfort of your own home. Test your daubing skills and become a big winner today!
Bingo Cash™ is FREE to download and play! However, cash tournaments are not available in the following states: AZ, IA, LA, SC & WA.
Companies and brands have become creative in recent years by advertising themselves in a faster, more cost-efficient way. This method has increased in popularity and is driving many individuals to learn how to become brand ambassadors so that they can reap the benefits as well.
Brand ambassador jobs have skyrocketed. When a new company, brand, or product comes out, there is a need to get the news out in front of potential customers. What better way to do this than by using people who have social media accounts and can get you that exposure?
If you are looking at how to become a brand ambassador, chances are this marketing method worked on you at some point and now you want in on the rewards. Some of those rewards include monetary compensation, discounts, or even free products.
Get your social media accounts up and running so that you can become a brand ambassador. This is a great opportunity to make money online.
One of my favorite sites, Swagbucks, offers tons of ways to earn real cash online. If you're not already a member, give it a shot! Here are five things you can do to make easy money on the site:
Play games (up to $322 each)
Test apps (up to $150 each)
Submit receipts (easy cash)
Shop at your favorite stores (up to 10% back)
Answer surveys and polls (quick cash in minutes!)
Our Popular Free Guides
How to Start a Permanent Jewelry Business - If you are patient, have social skills, and love interacting with others, then a permanent jewelry business may be for you.
How to Become a Sleep Consultant - Help parents and babies, and be the difference for families worldwide who are desperate for more Zzzs in their life as a sleep consultant.
How to Become a Proofreader - There are five basic steps to working from home as a proofreader. As long as you're willing to put in the work, you can become a proofreader!
What is a Brand Ambassador?
A brand ambassador is someone who is rewarded or paid to promote and endorse a brand, company, or organization. This person advertises the business on their own, but has to follow any advertising rules set forth by the company.
Typically, a brand ambassador enters into an agreement with the company that he/she will advertise for in exchange for something. This exchange is likely a commission of sorts.
For example, a brand ambassador can get paid to promote new clothes from a partner on their social media accounts. Any of the viewers of that account can purchase the clothing using the ambassador's special link or code. That purchase then generates a commission to be paid to the ambassador for their marketing on the company's behalf.
Related: How to Become a Makeup Artist
Does Becoming a Brand Ambassador Require a License?
Typically, becoming a brand ambassador does not require a license. Brand ambassadors are not regulated and therefore don't have any standards to be licensed for.
However, a business license might be a good idea to consider if you are choosing to become a brand ambassador full time. It's important to keep your business income and expenses separate from your personal, which would mean you need a business bank account. A business license is required to open a business bank account.
Other Brand Ambassador Requirements and Qualifications
Brand ambassadors almost always have a social media following whether that be on Facebook, Instagram, Tik Tok, etc. Having your own account(s) beforehand is a good idea so that brands who partner with you know you can promote them to an audience.
Consistency is also key in the ambassador world. In order to build trust with the followers you have on social media, you need to consistently post about the brand you are promoting.
Along with consistency, you need to have patience. Not everyone who follows you is going to jump on your buy link or use your special code right away. It will take time to generate that trust before your followers decide to buy something based on your word.
Related: How to Get Paid to Like Instagram Posts
Brand Ambassador Salary or Pay Expectations
The national average annual salary of a brand ambassador, according to Salary.com, is over $46,000. The range of salaries is as low as $39,652 and tops out at $52,984.
The salary for any job will vary based on where you live and the amount of work you put into your job. The same goes for learning how to become a brand ambassador. There will be a variety of factors that determine your exact salary. Don't quit your day job until you've established yourself first.
Related: Best Home Based Business Ideas for Moms
5 Steps to Become a Brand Ambassador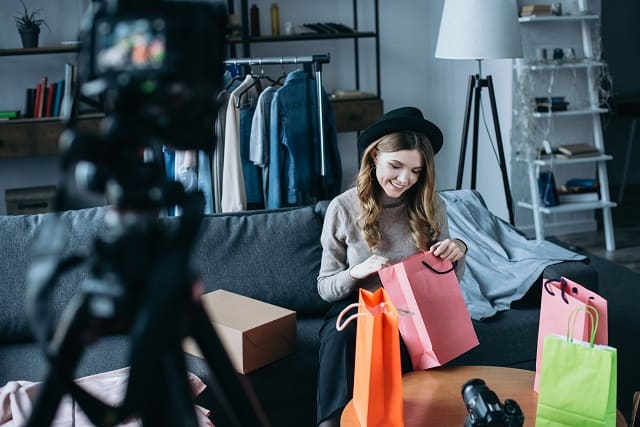 The steps that follow are meant to help you establish yourself as a brand ambassador. Set yourself up for success from the beginning.
1. Choose the Type of Brand
You have to understand what brands and companies you want to present. This usually coincides with the type of social media accounts you have. It's important to choose a niche that resonates with your personal interests as well as those of your followers.
For example, if your posts consist of health and fitness topics, you may want to find brands that fit within that niche. If your account is about all the different types of coffee you like to drink, then you will want to stick within that environment.
Find out what sparks your interest and what you would like to promote. If you can benefit from the brands you partner with, this will make it even more fun to promote them.
Related: How to Become a Marketing Coordinator
2. Find Brands You Like
Once you've established the brand type you want to work with, begin researching those brands. Do a Google search, find other social media accounts similar to yours, notice what brands they partner with, and ask your followers for suggestions.
You don't have to choose just one brand to work with. It is common knowledge that several brands will offer the same types of products. If you can't choose just one of them, don't be afraid to try multiple.
Related: 100 Health and Wellness Blog Name Ideas
3. Apply for Brand Ambassador Opportunities
Find out if the brand you will partner with is currently accepting ambassadors. Check out the brand's website or social media accounts for recruiting information and any deadlines.
If it is accepting applications, then begin applying for the opportunities that you want. Some brands will have a separate webpage for this type of application while others may just request your information through email. Each brand is different, so ensure you are following the directions from each brand individually.
Some brands will ask for all of your social media handles and how many followers you have on each account. They will most likely ask you for a short, written explanation as to why you want to join.
Additionally, there are some companies that accept brand ambassadors through a referral system, meaning you sign up and get paid to represent that company underneath someone who is already a representative. This is also known as multi-level marketing.
4. Get Your Special Link/Code
Once your application is approved, follow the directions to start advertising the products and/or services for the company. This might include setting up a storefront of your own on the company's website or sharing a special link that was made just for you. Get paid to share your link, code, or store with your followers as a brand ambassador.
5. Advertise
You can't make sales if you don't promote your business and tell your followers about your partnership. The point of being a brand ambassador is to make a commission from the sales you generate for the company. Share, share, share!
You can promote your links on social media, your blog, or even start a YouTube channel on your phone dedicated to the products you love. Keep in mind, your audience doesn't just want to see you posting link after link day in and day out. Share with them why they should trust you and why they should care about the brand you've partnered with. Create content around answering those questions for a better chance at making sales.
Related: How to Become a Content Creator
KashKick is a great find for gig workers, offering many ways to make extra money doing what you enjoy. Try it out - it's free! Here are five easy ways to start earning money on the site:
Play games (up to $125 each)
Test apps (up to $125 each)
Buy lottery tickets (an easy $8)
Try popular brands (always changing)
Answer surveys (quick cash in minutes!)
Questions New Brand Ambassadors Are Asking
Take a look at what else you should know before jumping into a brand ambassador partnership. Here are additional questions new ambassadors are asking.
How many followers do you need to be a brand ambassador?
There is a lot of information out there that says you have to have a certain number of followers in order to be an ambassador. Truthfully, you just need to be creative in how you market to people.
You can have thousands of followers, but if no one engages with your content, then that number doesn't matter. On the other hand, you could have just a couple hundred followers who do engage with your content, which means they'd be more likely to buy from you.
There are also ways outside of social media that you can promote the brands you've partnered with. For example, you can create blog posts or make connections at a face-to-face marketing event. Don't limit yourself.
Related: How to Get Paid to Attend Events
Is it worth becoming an ambassador?
You will have to determine this answer for yourself. If you are able to be consistent and dedicated to making a partnership work, then becoming an ambassador is worth it. However, if you are just looking for something that will bring in money for you without having to do much work, then this won't be worth it.
Ambassadors need to put in the time to generate sales in order to be successful.
Related: How to Become an Affiliate Marketer
How do I sell myself as a brand ambassador?
The best way to sell yourself as a brand ambassador is to get the people who follow you to know, like, and trust you. This means letting them into your life a little to help them connect with who you are. Additionally, people care more about you than the things you sell.
If you can connect with someone on a platform they follow, you're likely to increase your engagement rates just by being yourself. Sprinkle in your advertisements in-between the real stuff. Consider the importance of being a professional for the brands you represent so that you are keeping your content fresh, clean, and relevant.
What's the difference between an influencer and an ambassador?
A social media influencer is someone who uses their voice and reach to influence others into thinking or doing as they believe. Influencers are also known to make money through paid sponsorships and affiliate marketing. This can sometimes be a one-off partnership.
A brand ambassador is someone who partners with specific brands or companies to continuously promote them. You are dedicated to marketing their products/services on a continuous basis.
Related: How to Become a Social Media Manager
Can you be an ambassador for multiple companies?
In many cases, yes, you can become a brand ambassador for multiple companies. There is no limit to how many you can partner with. Be sure to read the fine print of each company you join to ensure that they allow their products to be advertised alongside their competition.
Who Should Become a Brand Ambassador?
Someone who is dedicated, honest, and hard-working would make a great fit as an ambassador. No one wants to purchase a product or service from someone who is just trying to make a dollar at all costs, including lying about the brand they are working with.
Ambassadors have an invisible duty to connect brands with their ideal market. They act as a middleman and promote not just the products, but also the values and integrity of the company as well. There is no doubt that brands would want to partner with those who have similar missions and values.
Become a brand ambassador if you are passionate about brands, want to make money from home, and desire to make a difference in people's lives. This translates into a better tomorrow with happier consumers and businesses.
Related: Best Immediate Hire Work From Home Jobs
---