VIPKid Review: What You Should Know Before Becoming a Tutor
We foster relationships with brands we use and trust. The testimonials on our site represent real experiences, but they don't guarantee you'll achieve similar results. When you make purchases through our links to our partners, we may earn a commission. Your support helps us continue this work. You can read our full disclosure here.
I have been a VIPKid teacher for over a year now. In May 2019, I took the leap of faith and signed up to teach English to Chinese students. At the time, I was nervous and wondered if VIPKid was a legitimate company. Truthfully, I was more nervous about the students liking me and if I could make this opportunity work for me.
I took about two months to decide if this was something I really wanted to do. After weighing the pros and cons, researching the reviews, and finding a recruiter, I began the application process. Since then, I have loved the experience! The only thing I regret is not signing up to become a tutor sooner.
What is VIPKid and is it legit?
VIPKid is an online teaching platform where native English speakers teach English to children in China. It is a legit company that pays teachers to teach students one-on-one in 25 minute time frames.
The main attraction for many is that teachers do not have to create their own lessons. Teachers simply execute the lesson plan that is already created.
Related: Trusted Online Jobs for Students
Is VIPKid a Pyramid Scheme?
A pyramid scheme is an illegal way to make money based on recruiting others with the promise of financial return. VIPKid is not a pyramid scheme. VIPKid does offer a one-time $100 bonus to teachers who refer other teachers to join. The referring teacher will receive the bonus once the new teacher teaches their first class on the platform.
This referral bonus of $100 is current as of 2/1/2020.
Teaching Requirements
To become a teacher with VIPKid, the following are required to pass the application process:
A bachelor's degree (VIPKid will confirm degrees);
Minimum one year experience with children;
Citizen of the United States or Canada;
Cannot reside in the state of California;
Must pass a background check;
Native English speaker.
VIPKid accepts teachers with a bachelor's degree in ANY subject or field. You do not have to have a degree in English. Additionally, the one year experience with children can be raising your own children, volunteering in the church nursery, babysitting, etc. Professional teaching experience is NOT required.
Recently, the state of California passed the AB5 bill (relating to contracted workers) which now automatically disqualifies new California applicants from becoming a teacher through the company.
Related: 25 Best Stay at Home Mom Jobs
How Much Does VIPKid Pay?
Based on your experience and education, there is a fluctuation in the base pay rate for teachers. The base pay rate begins at $7 per class and increases to $9 per class. This translates to $14 per hour up to $18 per hour base pay.
Beginning August 1st, 2020, VIPKid is implementing a new fee incentive structure for teachers. Teachers will receive incentives corresponding to the number of classes they have taught, both cumulative and monthly. In other words, the more cumulative classes a teacher completes through their contract, and the more classes a teacher finishes each month, the more the teacher can earn. This incentive is in addition to the base pay rate.
This new fee structure will replace the current "Participation" and "Finished Classes" incentives.
As a teacher for the company, you are considered a contracted worker. Therefore, VIPKid does not withhold taxes from your paycheck. You are responsible for paying your own taxes.
Pros and Cons of Becoming a VIPKid Teacher
Pros:
Teach when you want;
No creation of lesson plans;
Minimal prep time;
One-on-one teaching;
Get paid weekly, bi-weekly, or monthly;
6-month contract;
Engage with children from across the world!
Teaching with VIPKid has been a great way for me to earn an extra income when my children are asleep. I have consistently been able to make enough money in one month to at least pay my car payment. Some months, I make even more and I don't have to sacrifice time with my children to do it.
With the six month contract, you can determine if you want to continue teaching. If not, you simply don't resign your contract. If you choose to renew your contract, you do not have to go through the application process again. VIPKid will send you your new contract before your current contract ends and you can resign for another six months.
Cons:
Hours are based on wake times in Beijing, China;
Not consistent hours;
No guarantee of getting booked with students;
Class bookings are influenced by reviews from parents.
I would not count VIPKid as a second job due to the fluctuation in class bookings. It is a side gig that pays more some months than others based on how many classes you are able to teach and how many classes actually get booked.
Related: 60+ Immediate Hire Work from Home Jobs
VIPKid Peak Hours Chart
Below are the hours that children are awake in China. You can create your schedule based on your availability. You can adjust your hours as you go, if needed. Keep in mind Daylight Savings Time (China does not participate in DST).
| Time Zone | Teaching Hours |
| --- | --- |
| EST | 7:30PM – 9AM |
| CST | 7PM – 8AM |
| MST | 6PM – 7AM |
| PST | 6PM – 7AM |
| Hawaii | 3PM – 4AM |
Related: 115+ Home Based Business Ideas
How to Become a VIPKid Teacher
Applying to become a VIPKid teacher is a process that can be completed in one week. In my own experience, I was able to complete the application process to sign my contract in 10 days. The process was quick, but could be time consuming depending on your availability to complete the steps.
Step 1: Application
Fill out the application in minutes to be considered to become a VIPKid tutor. This step requires your basic personal information. You will also enter an email address of your choice to receive further communication from the platform.
Step 2: Interview and Demo
There are three different options to complete this step so that you can choose the best way that fits your needs.
Option 1: Smart Demo Lesson
This option is a popular choice because it can be completed on your mobile device. It must be completed on the VIPKid Teacher App for Apple/Android Devices.
Following the app download on your phone, you will answer five questions about the VIPKid way of teaching. The questions are similar to:
Does VIPKid like to see body movements in the lessons?
Is it best to smile during the classes?
What are the VIPKid beliefs regarding how children learn best?
There will be a short informational introduction before the questions to help you understand VIPKid's way of teaching so that you can confidently answer these questions.
Following the five questions, you will then record yourself teaching a short lesson of one slide (less than a minute). This step does not include teaching an actual student. You will be given one slide and the goal for what a student should learn from this slide.
For example, the slide could contain a picture of a soccer ball. The goal is to have the student repeat "ball" several times to get the pronunciation correct and associate the picture with the correct term. Using a prop is a great way to pass this part of the application. Grab a ball or draw a ball on a whiteboard or piece of paper and include it in the demo.
You do not need a backdrop for this option. Make sure to use hand motions in your lesson, such as cupping your ear when asking the student to repeat a word and giving a thumbs up for their participation.
Related: How to Start an In-Home Daycare
Option 2: Recorded Interview/Demo
On the VIPKid website, you will record a 10 minute video of yourself teaching a sample lesson. You will record yourself teaching a lesson about "My Feelings" and then submit it to VIPKid.
Don't forget to use a prop and hand motions.
Option 3: Live Interview/Demo
Utilizing the VIPKid website, you will see an option to schedule a live interview + demo. You will set up a time to video chat via the VIPKid website with a VIPKid interviewer. The interviewer will pretend to be the student while you teach a lesson about "My Feelings."
Make sure to smile and be enthusiastic with your "student" while incorporating hand motions.
Related: How to Become a Babysitter or Nanny
Step 3: Certification (Mock Class)
You will choose which level you want to certify yourself to teach. With this step, you will schedule a live mock class with a mentor from VIPKid. This will be a teacher pretending to be a student. You will teach a 10 minute lesson to the mentor.
The more popular levels to become certified in are:
Lower Levels 2/3 Interactive (Usually children 5-9 years old with low English ability).
Intermediate Levels 3-4 (Older children with a grasp on English who can carry on a conversation with you in English).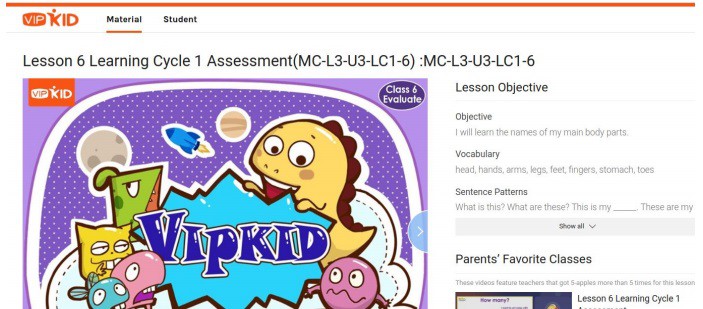 This step can be completed as many times as you need in order to pass. The mentor will evaluate you and determine if you are ready to begin teaching on the platform. Typically, you will receive your evaluation within 24 to 48 hours with the results.
Tips to Pass Certification
Preparing for the certification/mock class is not difficult to do. You choose the time that works best for you to do the live video chat with the mentor. There isn't a script to go by so you have creative flow for executing the lesson.
The mock class is approximately 20 minutes long: five minutes to talk with the mentor, 10 minutes for the lesson, five minutes to hear quick feedback of your performance from the mentor.
What you need for the mock class:
Headset
Props (dry erase board, puppet/stuffed animal, ball, kite, doll)
Educational backdrop
How to prepare:
Watch tutorial videos for the lesson you may be teaching.
Take notes on the videos you watch. Pay attention to the speech used in the videos and the speed in which they are talking.
Gather your materials/props.
Practice! Go into the practice room on the VIPKid website. Practice using the features in the virtual classroom.
Log onto the website one hour prior to your mock class to make sure your equipment is working and continue practicing.
What the mentor is looking for:
Use your body to explain as many words as you can. With everything you say, think "How could I explain this using body movements?" This is referred to as "total physical response" or TPR.
Do not use any incidental language. Only use a few words at a time and don't add any fluff.
Have the "student" repeat new words/letters/letter sounds and the target sentence twice.
Go slow keeping in mind the student is learning the language.
Be excited, have a good attitude, smile, and make it fun!
Use the pattern "I do, we do, you do." Always model or demonstrate what you want the student to do first. If you want the student to draw a circle, a line, etc., you draw it first, then draw it together, then allow them to do it.
Correct student mistakes. They are learning the language and need to learn it right.
Extend on their knowledge. If the student demonstrates understanding of an objective on a slide, ask them, "Do you like ……?"
Correct use of synthetic phonics. The letter 'M' does not sound like "m-ah." It sounds like /mmm/.
Good lighting, good camera placement (do not be looking down at the camera), tidy appearance (plain colored shirt). You do NOT have to wear an orange shirt.
Good internet connection.
Step 4: Sign Your Contract
After you pass your mock class, you can then set-up your teacher profile, submit required documents, consent to a background check, and then sign your contract!
Related: 55+ Creative Small Business Ideas You Can Start at Home
Is VIPKid Worth It?
The steps to complete the application process were what kept me from signing up initially. They were intimidating! However, the time I did spend doing them has made teaching worth it.
From creating my own hours to not having to come up with lessons, being a teacher on the platform has provided me with the ultimate flexibility my family needs.
Making an extra $500 from home and not jeopardizing time with my children was the whole purpose of me signing up to teach with VIPKid. It has been worth it to me! Additionally, I have enjoyed getting to connect with children from a different culture and learn about their way of living.
---
We appreciate the time you've spent reading this post and your interest is not lost on us. Your thoughts, questions, or experiences related to the topic are most welcome. Each comment adds strength to our community. We ensure every comment receives our attention, and we take the time to provide thoughtful responses. Once again, thank you for being a part of this conversation. Click here to leave a comment.