10 Legit Ways to Get Free $500 Gift Cards [#4 is FUN]
Try Bingo Cash, the ultimate bingo app for turning your skills into extra cash while enjoying colorful and engaging head-to-head matches. Win up to $83 per game and experience the classic bingo thrill in the comfort of your own home. Test your daubing skills and become a big winner today!
Bingo Cash™ is FREE to download and play! However, cash tournaments are not available in the following states: AZ, IA, LA, SC & WA.
There are several sites out there that claim you can get free $500 gift cards. The scary part is that many of these sites are scams.
During my research, I've learned that there are actual sites that do offer these $500 gift cards for free. However, it can be hard to spot legitimate sites versus fakes.
Scammers prey on the needs of people who search on the internet for ways to make extra cash, and this is no different. It's true that you can't believe everything you read online. So to be safe in the cyber world, you have to do your research and find the sites that will actually pay up as promised.
If you find yourself in the same boat and want to know how to get $500 gift cards for free, I've curated the perfect list for you. Figure out your next move with the following legitimate sites that will help you get to your $500 goal.
One of my favorite sites, Swagbucks, offers tons of ways to earn real cash online. If you're not already a member, give it a shot! Here are five things you can do to make easy money on the site:
Play games (up to $322 each)
Test apps (up to $150 each)
Submit receipts (easy cash)
Shop at your favorite stores (up to 10% back)
Answer surveys and polls (quick cash in minutes!)
Our Popular Free Guides
How to Start a Permanent Jewelry Business - If you are patient, have social skills, and love interacting with others, then a permanent jewelry business may be for you.
How to Become a Sleep Consultant - Help parents and babies, and be the difference for families worldwide who are desperate for more Zzzs in their life as a sleep consultant.
How to Become a Proofreader - There are five basic steps to working from home as a proofreader. As long as you're willing to put in the work, you can become a proofreader!
10 Sites That Offer Free $500 Gift Cards
To be transparent, these sites take time and dedication to get to $500 in free gift cards. It's not something that can be done overnight, and it will take patience. If the need arises, you can cash out your earnings well before earning $500.
1. InboxDollars
A popular site among users who want to earn extra cash, InboxDollars has risen in the ranks to become a top site that offers up to $500 free gift cards in exchange for your time completing tasks.
As a user on the platform, you have the opportunity to complete offers, take surveys, read emails, play games, print coupons, and watch videos for cash. Additionally, you can get cash back on your shopping, which is one of the highest-paying opportunities on InboxDollars.
All new members get an automatic $5 sign-up bonus for creating an account with InboxDollars. This means you only have $495 to go to reach your free $500 gift card goal. Complete multiple tasks each day to generate more money toward your balance. InboxDollars pays you in actual money so that you don't have to convert points to cash or guess how much you earn per task.
It will take time to get your first free $500 gift card on sites like InboxDollars. The minimum threshold you must meet before you can withdraw any money from your account is only $10. It could be tempting to cash out when you meet the threshold. But if you are patient and consistent, you will meet your $500 goal.
Choose from free gift cards to places like Target, Amazon, Sephora, Home Depot, or even Visa or PayPal when you cash out your earnings.
Related: InboxDollars Review
2. Swagbucks
Swagbucks is a well-established site that offers opportunities to increase your income by trading in some of your time by completing tasks. Add in some opportunities during your day to answer polls and surveys, go shopping, buy gift cards, watch videos, and play games. Discovering deals is one of the highest ways to earn on Swagbucks. You can find deals that will give you up to $200 worth of SBs to use toward your free $500 gift card.
Taking surveys for gift cards alone won't be enough to build up your earnings. However, if you do multiple tasks and take note of when bigger opportunities come available, then you can increase your income more. New Swagbucks accounts are given the opportunity to grab a $10 sign-up bonus leaving you with only $490 left to get your free $500 gift card.
For each task you complete, you will be rewarded SBs that accumulate in your account. One SB is equivalent to $0.01 so you can see it will take time to grow your balance. However, you can do it if you are dedicated.
The minimum amount you can request a withdrawal from Swagbucks will depend on the reward you want. Some rewards require fewer SBs than others. If you wait until you have at least $500 worth of SBs in your account, then you can cash out for a $500 Visa gift card free. You can also choose among $500 gift cards to gas stations, Google Play, Starbucks, Walmart, Home Depot, or Apple for free.
Related: Swagbucks Review
3. KashKick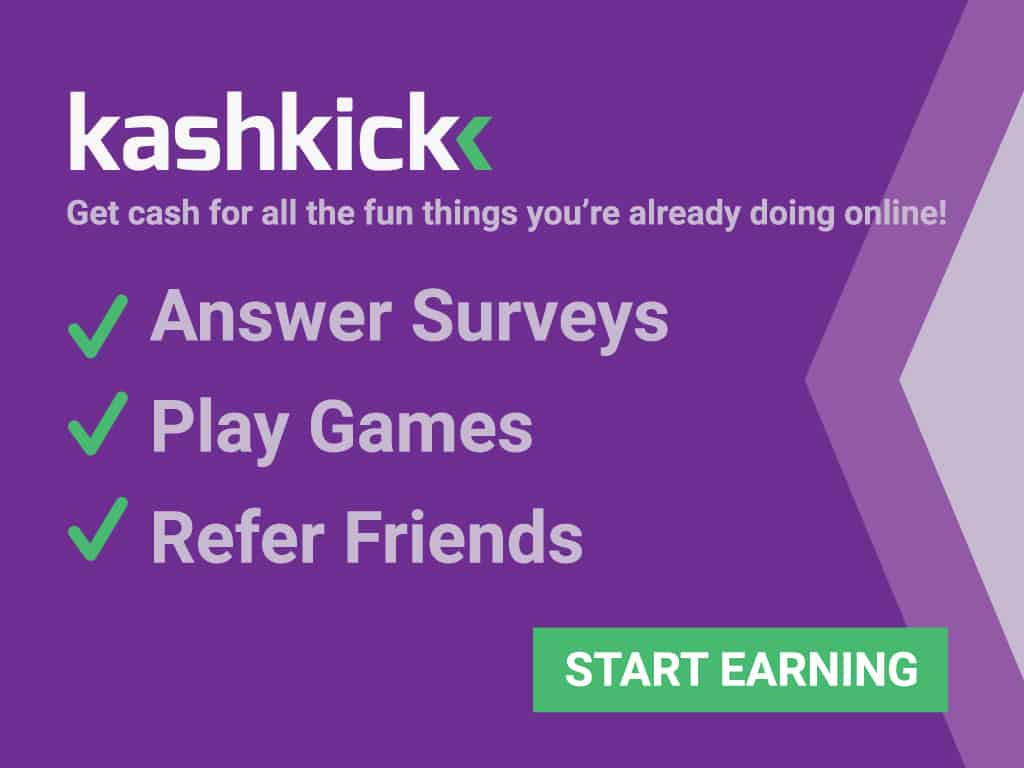 There is no limit to earning with Kashkick. It is a site that is known for survey taking, but it also offers more ways to earn. In addition to surveys, you can also surf the internet, watch videos, play games like puzzle games, and find deals. The most money-making task would be finding deals. However, the majority of available opportunities will be surveys and deals.
Kashkick pays in cash and has a low threshold for cashing out. While that may sound like a benefit, you won't be able to collect your free $500 gift cards if you cash out often. Keep raking in the money for the tasks you complete and then request one large lump sum.
Kashkick offers payments through PayPal deposits. You can then turn around and get your $500 Visa gift card free or gift card to any store that you want by making the purchase yourself. Once the money is in your PayPal account, transfer it into your bank to make the purchase or make the purchase from your PayPal account directly.
Related: Kashkick Review
4. Blackout Bingo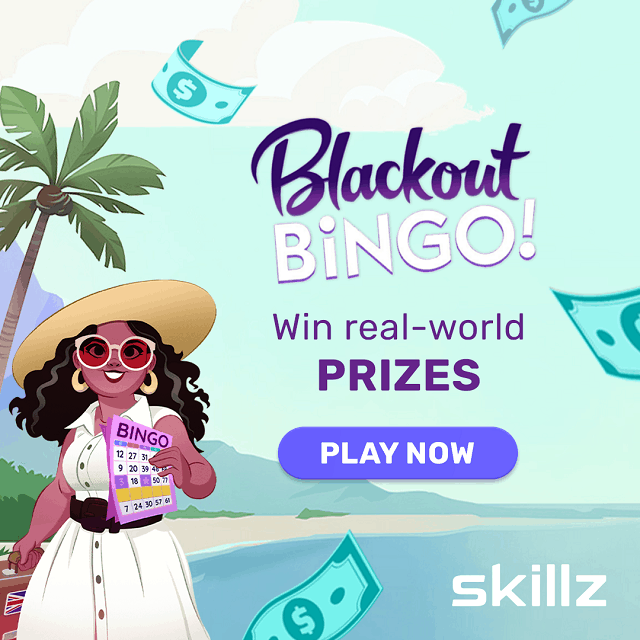 Try your hand at Blackout Bingo, another game produced by the trusted Skillz Inc. company. Get your adrenaline pumping by racing against the clock and playing against others for your shot at winning big payouts.
With Blackout Bingo, you can play in tournaments for cash or real-life prizes. While some of the opportunities to play bingo online for real money might be hit or miss, you won't know if you will win unless you try. Play some practice games before entering into tournaments in order to increase your skills and chances of winning.
If you win, you can stack your earnings toward a free $500 gift card to Visa, MasterCard, American Express, Apple Pay, or PayPal.
Enter the Skillz promo code APget5 and get FREE bonus cash with your first $5+ deposit.
Please Note! Cash tournaments are available in most of the world. Cash tournaments are not enabled in the following states: AR, CT, DE, IN, LA, ME and SD. If you don't live in a prize-enabled region, you can still play for free.
Related: Blackout Bingo Review
5. Cash App
Cash App has an abundance of tools to use to manage your money. From investment options to sending and receiving money from others and even paying for everyday necessities, Cash App is becoming the all-in-one financial app people are seeking.
To make money with Cash App, you can participate in the referral program. Some users receive up to $30 per person referred to the app. You can also set up your direct deposit to your Cash App and get an extra $100 cash discount when your first deposit hits your account.
Cash App offers a variety of Cash App Boosts as well that let you make money back on your shopping. Once you have $500 in your Cash App account, use your Cash App debit card to purchase free $500 gift cards to any store of your choice.
Get FREE Cash Bonuses with a Cash App Account
Copy the referral code:



Open Cash App settings
Swap $5 with a bestie*
Invite friends to join**
Set up a direct deposit***
*Ask a friend or family member to swap $5 with you through Cash App to activate the $5 sign up bonus.
**Get up to $15 for every friend who joins using your referral code.
***Deposits must equal $300+ within a 30 day period to activate the $100 cash Boost.
Related: Cash App Gift Cards
6. Mistplay
Mistplay has an entire library of mobile games that are available to play in the palm of your hand. The best part is that you can actually earn credit for the time you spend playing the games. When you play, you earn XPs on Mistplay that can be cashed in for that $500 Visa gift card for free.
Joining apps like Mistplay will take time to reach that $500 goal. To boost your earnings, you will need to play a variety of games and take a look at the games' "fast level" which indicates if you gain XPs faster or slower with each game. You can find this information right on the front of the game itself before downloading.
You can also enter into weekend tournaments to win gems and larger amounts of XP. The trick is to know when the tournaments take place and make sure you are available for them to win.
Related: Mistplay Review
KashKick is a great find for gig workers, offering many ways to make extra money doing what you enjoy. Try it out - it's free! Here are five easy ways to start earning money on the site:
Play games (up to $125 each)
Test apps (up to $125 each)
Buy lottery tickets (an easy $8)
Try popular brands (always changing)
Answer surveys (quick cash in minutes!)
7. Branded Surveys
Branded Surveys is a site dedicated to taking surveys to make money. Taking surveys isn't usually a high-paying task and will take some time to see much profit from it. However, if you have nothing better to do during your downtime, then spending a few minutes answering questions for money really isn't a waste of time.
Think of your Branded Surveys account as a savings account. Each survey you complete means you earn points that can later be turned into free $500 gift cards. Take the surveys as often as you want and watch your account points grow.
Related: Branded Surveys Review
8. Opinion Outpost
Opinion Outpost offers opportunities to test products and provide detailed feedback about your experience. This is typically done through a feedback form or a survey about the product. Take as many surveys as you want on Opinion Outpost. You will be matched with the right products based on your answers to your profile questions.
Opinion Outpost allows withdrawals in the form of gift cards to Amazon, Visa, or just a deposit to your PayPal account.
Related: Opinion Outpost Review
9. Ibotta
Ibotta is a well-known app that helps users get money back on the grocery purchases they make. Use the app to find cashback opportunities on grocery items before you do your shopping. Then, simply upload your receipt to the app and Ibotta confirms the purchases for you to determine if you meet eligibility for cash back.
Make even more money with Ibotta by participating in bonuses. Bonuses have unique eligibility requirements that you must meet so be sure to complete those by the expiration date.
You can withdraw your cash once you hit $20. However, consider letting the money sit in your Ibotta account longer so that you can make a large $500 withdrawal when you meet your goal. Your money can then be transferred to your bank account. Use that money to collect your free $500 gift card for any store that you want.
Related: Ibotta Review
10. Drop
Drop app is a cash back rewards app where users can link up their debit or credit card to make purchases. When that card is used to make a purchase, Drop app scans for any cashback opportunities. Some purchases may only earn you a few cents back while other larger purchases might earn you a few dollars back.
All earnings are credited to your Drop account in the form of points. Drop advertises that the points are as good as cash and can be used to get free gift cards to Starbucks, Netflix, and Amazon.
Keep using your card as you would normally to really maximize your earning potential. You can see cash back opportunities from shopping at places like Walmart, Grubhub, Uber, Sephora, and even airlines.
Related: Drop App Review
It Takes Hard Work to Get a Free $500 Visa Gift Card Fast
With enough effort, getting that $500 Visa gift card can happen quicker than you might realize. While some of the sites listed will take time to accumulate enough points or money to cash out $500, other sites can help you make it happen quicker.
The best part about making money with the sites listed here is that you don't just have to choose just one of the sites to make money. Try out multiple sites and see which ones earn money faster for you.
Whether you are looking to earn a $500 gift card for a friend or family member, or if you just want it to pay for some extra bills, it's possible to reach your goal. Whatever the reason may be, get $500 gift cards using the methods I have laid out for you.
Related: How to Get $5,000 Fast
---