Rakuten Review: How Much Money Can It Save You?
Try Bingo Cash, the ultimate bingo app for turning your skills into extra cash while enjoying colorful and engaging head-to-head matches. Win up to $83 per game and experience the classic bingo thrill in the comfort of your own home. Test your daubing skills and become a big winner today!
Bingo Cash™ is FREE to download and play! However, cash tournaments are not available in the following states: AZ, IA, LA, SC & WA.
Using Rakuten is one of the easiest ways to make some extra money online. I am writing this Rakuten review because I've earned $103.53 in total in just a few weeks and have even received my first verified PayPal payment.
From a quick online purchase at Walmart to a shopping spree for gifts at Christmas time, there are always ways to use Rakuten to save money online while you shop.
One of my favorite sites, Swagbucks, offers tons of ways to earn real cash online. If you're not already a member, give it a shot! Here are five things you can do to make easy money on the site:
Play games (up to $322 each)
Test apps (up to $150 each)
Submit receipts (easy cash)
Shop at your favorite stores (up to 10% back)
Answer surveys and polls (quick cash in minutes!)
Our Popular Free Guides
How to Start a Permanent Jewelry Business - If you are patient, have social skills, and love interacting with others, then a permanent jewelry business may be for you.
How to Become a Sleep Consultant - Help parents and babies, and be the difference for families worldwide who are desperate for more Zzzs in their life as a sleep consultant.
How to Become a Proofreader - There are five basic steps to working from home as a proofreader. As long as you're willing to put in the work, you can become a proofreader!
What is Rakuten and How Rakuten Works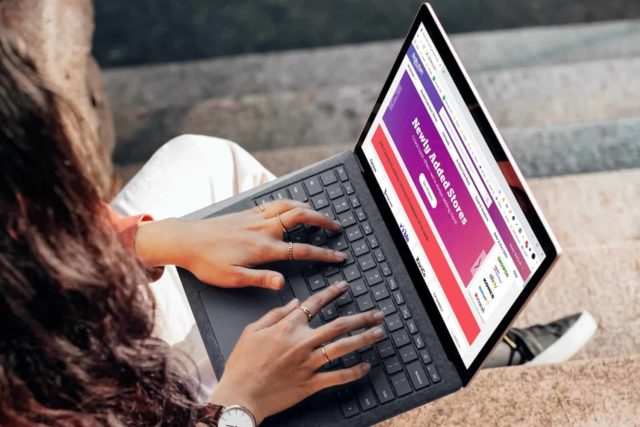 Rakuten is an affiliate marketer. Like everyone else in the blogging and marketing world, Rakuten affiliates with stores and refers customers to those stores via unique links.
The affiliate links are tracked every time an online shopper clicks one and makes a purchase (usually within 30 to 90 days).
Whenever a purchase is made through one of their links, Rakuten earns a commission from the company affiliated.
Rakuten does one other thing that makes it unique and popular among shoppers.
After Rakuten takes that small piece of each online purchase that I make using their unique affiliate links, it gives a portion of the sale right back to me in the form of a PayPal drop or check.
Related: How to Get Paid to Share Links on The Internet
Rakuten Stores
I love shopping online. It's easy for me to hop onto Rakuten to see what promotions it is running. Here are a few major stores that they give cash back just for shopping using their link:
Walmart
Amazon
Best Buy
JCPenny
Kohl's
Macy's
Nordstrom
Old Navy
Priceline
Target
That list is just scratching the surface. If you have to do a quick shopping trip online, you make some of your money back from the purchase.
Even the smallest cashback amounts add up in time.
Think of Rakuten as an extra discount coupon only it comes back to you in cash form. It's kind of cool to get a check in the mail or PayPal drop down the road that you never had to work for!
Rakuten Review: How to Save Money with Rakuten
Let's dive right into how Rakuten members can make extra cash from their everyday online purchases.
My most recent payout via PayPal was $16.40 and I currently have an accrued balance of $87.13 that will be paid after the end of this quarter. In all, I have earned $103.53 in just a few weeks. I plan to continue to use Rakuten to its fullest so that I'm not wasting extra savings or earnings!
This is $103.53 that I would have never had or even thought about before I used Rakuten and it is 100% legitimate.
There's no doubt in my mind that Rakuten will pay my next accrued amount of $87.13 (and climbing) as promised.
Related: 10 Cheap Housing Alternatives
5 Ways to Save Money With Rakuten
Signup for Rakuten and try it
The first and simplest of the ways to save money using Rakuten is to signup and try it.
Just for signing up through this Rakuten link, you will earn $20 after you make your first $20 purchase at a favorite store using one of their referral links.
Keep in mind that you still make the purchase through Walmart and not through Rakuten. You simply click on a referral link to Walmart (or any other store for that matter) and it activates your cashback earning potential.
Open the Rakuten app and follow your store's link
For this simple way to earn money, you literally need only to open the Rakuten app, search for the store you need to make a purchase from and follow the link to the store before shopping.
Remember we talked about affiliate marketing and unique tracking links? Well, this is one way to make sure that Rakuten is tracking your purchase.
Once you make the purchase and they are notified from the store that you shopped using their link (usually 24 to 48 hours), you will receive the proper cashback credit amount!
Related: FutureFuel.io Review: Save Money on Your School Loans
Install the Rakuten Chrome extension
If shopping from your phone is not your thing, you can also open Rakuten on your computer's browser and search for the store you would like to shop at (same method as described above).
It won't do you any good if you forget to go to Rakuten before making your online purchase. In fact, they are very strict about not giving credit to anyone who doesn't use their link before shopping because in this case, they don't get a commission for your purchase either.
The Rakuten Chrome extension also searches and applies coupons to your purchases so that you don't have to! That could add up to double or even triple the savings!
If you're prone to forget and you love to save extra with coupon codes, install the Rakuten Chrome extension. This extension has reminded me many times to use the proper links before making a purchase!
Rakuten Review of Chrome extension with example
As an example, let's say that you are shopping for a car seat online.
You type "car seat" into Google to see your buying options.
Rakuten will mark each result with their symbol and the cashback percentage that you would earn by using their link.
If we follow through with the example, the first organic search result for "car seat" is from Walmart (surprise surprise).
Because I'm using the Rakuten Chrome extension, they are telling me that Walmart has car seat options and that Rakuten will give 10% cashback if the car seat is purchased through their link!

Link your card and earn cash back on in-store purchase
Rakuten is not just a cashback solution for online purchases. You can also opt to link your credit card to your favorite stores and earn cashback rewards on your in-store purchases as well!
If you have a few favorite local stores, make sure to check to see if they are also on Rakuten!
Related: How to Get Free PSN Codes
Refer your friends
Possibly the fastest way to earn money with Rakuten is to refer your friends and acquaintances.
For every person that clicks your link, creates an account and purchases $20 or more at their favorite store(s), you earn $20 in cash!
Referring friends to Rakuten is easy. Simply tell them your experience and how easy it was to make your first $20 (signup here for that Rakuten link) and how you've earned cash back on everyday online purchases ever since signing up.
For every friend that seizes the opportunity, you put an extra $20 into your pocket! Oh, and that's on top of your own $20 signup bonus and cashback earnings for purchases over the course of time.
Related: Is Ibotta Legit? Here's a Full Review
KashKick is a great find for gig workers, offering many ways to make extra money doing what you enjoy. Try it out - it's free! Here are five easy ways to start earning money on the site:
Play games (up to $125 each)
Test apps (up to $125 each)
Buy lottery tickets (an easy $8)
Try popular brands (always changing)
Answer surveys (quick cash in minutes!)
Rakuten Review of Benefits
Other than the obvious perk that you can save money online or in-store on your everyday purchases, there are a few other benefits that I think are important to share in my Rakuten review.
Low Minimum Payout
You might think that having a minimum payout of any kind is annoying, but $5 is one of the lowest thresholds I've come across.
There is no reason to receive checks or PayPal drops of $.50, $1.00, $1.50, etc. every time you shop online or in-store.
Instead, just set up your Rakuten account and forget about it until you hit the $5 minimum threshold and you receive a check or PayPal drop(your preference)!
Keep in mind that the first payout minimum is $45 because it includes the $20 Rakuten signup bonus along with the first $5 in cashback earnings.
Stack Cashback Bonuses with Coupons
As if cashback wasn't an incentive in itself, I also love Rakuten's ability to search and apply active coupon codes for additional savings while you shop.
No more coupon clipping or sifting through expired online coupon codes. When using their chrome extension, you're seriously saving the most money possible and earning cashback on top of it.
Related: InboxDollars Review: Is It Legit?
Endless Earning and Saving Opportunities
With Rakuten, the sky is the limit. Whether you are saving money on purchases because Rakuten found an awesome coupon for you or you're raking in cash on all of your online and in-store purchases, the earning opportunities truly are endless.
You can even refer an unlimited number of friends, family members, coworkers, and other online shoppers to earn $20 in cash for each one that clicks on this special Rakuten link!
It's Incredibly Easy to Use
I don't think that it gets any easier to earn extra money online than with Rakuten. You literally click a link and do what you would already be doing… SHOPPING!
You're basically giving money away if you're ignoring this opportunity. You may only earn a few dollars this week, but multiply that by 52 weeks and it adds up!
Rakuten Review of The Cons
Every business model has cons, but if you know much about affiliate marketing, Rakuten's method of giving part of their commission back to their members is genius.
You typically cannot refer yourself to a business using your own affiliate link, so using Rakuten to earn your commission back is the next save money while shopping online.
There are a few things however that I do not love about Rakuten and I feel are important to share in my review.
Rakuten Is Addicting
This first not-so-great thing about Rakuten is not their fault (or is it?).
When you see how much cash back you can earn from your everyday purchases, it's tempting to justify pleasure purchases because you're earning cashback.
If you're stepping outside of your budget, the cashback earned is not making up for the purchase of a random item that you may never even use or need.
Simply put, make sure you use Rakuten to your advantage and don't let it use you to its advantage.
Rakuten Chrome Extension Reminds You Of everything
The Rakuten Chrome extension is amazing and worth the initial annoyance of getting used to, but there is a downside.
The extension will put their mark on every Google search if you have it installed.
Unfortunately, Rakuten can't read your mind and doesn't know when you're just searching Google for answers and not purchases.
It's seriously not the worst thing in an app though and if you don't like it then you can always uninstall the app from Chrome and learn to hop on Rakuten directly before shopping online.
Even Rakuten Doesn't Have Everything
It's true. Some of our favorite stores are just not on Rakuten. It may be that they cannot afford it or do not want that type of exposure.
You can always try price shopping for substitutes and stores that do have the product or brand that you need.
Also, in-store shopping options are even more limited than online options. It seems as though that section of Rakuten is in a developmental stage and could include many more businesses in the long run.
Rakuten FAQ
To wrap things up, here are just a few of the frequently asked questions about how Rakuten works and more.
Is Rakuten for Amazon?
If you're already a loyal shopper on Amazon, you don't have to change your ways! Rakuten for Amazon works the exact same way you shop on Amazon already. Simply signup for your Rakuten account, follow any link to Amazon and then shop away as normal!
It's important that you either checkout within 24 hours of clicking Rakuten's link to Amazon or you play it safe and click on another link right before you checkout on Amazon.
Amazon saves tracking links (cookies) for only 24 hours before eliminating all chances of receiving a commission, so don't lose out and forget about this little detail when using Rakuten for Amazon!
Is Rakuten for Walmart?
Absolutely. The best thing about Rakuten, in my opinion, is that they cover all of the big stores. Some big stores have surprisingly high cashback opportunities! The Rakuten Walmart affiliation is fantastic when you're looking for a deal on everyday low prices.
Are all Rakuten reviews positive?
In my search for information on Rakuten, I've only found positive Rakuten reviews. In some cases, that sends up a red flag, but there really is nothing to lose. The positive Rakuten reviews are real!
How does Rakuten make money?
You're not the only one making cashback on your purchases. Rakuten is also raking in money for each sale members place using one of their referral links.
They have rebated more than $1 billion dollars to more than 10 million members since 1999.
Is Rakuten safe?
In light of the answer above, the sheer volume of members, money rebated and number of years in business are good indications of the safety of using Rakuten.
Remember, as a member, you are not shopping at Rakuten, you are simply clicking their referral links and giving them a commission when you shop online. They in turn rebate part of that commission back to you!
Does the Rakuten app work the same as the website?
Yes, the Rakuten app is just like visiting the browser on your computer (only mobile friendly). I personally like to shop from my laptop because I feel like I can navigate quicker and "see more" when I'm shopping. But the app is great when you're on the go or prefer to shop right from your smartphone.
How do I reach Rakuten customer service if I have a question?
It is easy to reach their customer service if you have questions or you're missing orders and would like them to investigate. You can call them at 1 (415) 908-2200.
Related: Apps That Pay Real Money
An Honest Rakuten Review
Just because I don't have a lot of negative things to say in my Rakuten review, doesn't mean that I'm not being honest. Rakuten is one of the most reputable cashback sites on the web and they've been in business since 1999.
I do not promote things on my blog that I do not believe in or have supporting knowledge of. Because I have proven above that I earned cashback and received the payment in my PayPal account, I feel comfortable saying that Rakuten is a great way to save money online.
If you haven't signed up yet, what are you waiting for?! Use this Rakuten link to get your first easy $20! That in itself is a good enough incentive to try it out.