How to Become a Copyeditor With No Experience
We foster relationships with brands we use and trust. The testimonials on our site represent real experiences, but they don't guarantee you'll achieve similar results. When you make purchases through our links to our partners, we may earn a commission. Your support helps us continue this work. You can read our full disclosure here.
The list of work from home jobs seems to get longer and longer, which can be good. While there may be so much to consider in terms of which direction you should go, the best choice might be to learn how to become a copyeditor.
You've probably heard about copywriting more than copyediting. While they sound similar, there are some key differences between the two. One person who can do copywriting may not necessarily be fit to be a copyeditor.
Think about all the ads and marketing material you see daily, whether that be on your phone, on the drive to the store, or in a magazine in a waiting room. Those ads are trying to sell you something and they can't successfully do it with a bunch of errors in the writing. That's where a copyeditor comes in.
What is a Copyeditor?
A copyeditor is tasked with editing written material. While copywriters are tasked with writing marketing materials, the copyeditor's role is just as important in ensuring the writing is done well and flows the way it should. There is no worse way to try to sell something than by giving out marketing materials that don't make sense to the public.
Does Copyediting Require Certification?
If you don't have a degree or any certifications in copyediting, don't give up just yet. Certifications aren't necessarily required. While some clients may prefer a certification, you can still find clients who will accept you as their copyeditor if you possess the true skills of one.
Certifications are available and can boost your resume. Check out this free masterclass by Phon Baillie, creator of Edit Republic. She shares what it takes to really become a copyeditor and obtain a certificate in proofreading and copyediting.
Other Copyediting Requirements and Qualifications
Without a doubt, you will need to be comfortable with the English language. You will need to be able to read English, have excellent communication skills, can work as a member of a team, and possess some knowledge of media production for marketing.
Copyeditors also require attention to detail, the ability to meet deadlines, and the ability to accept criticism or feedback. This is a team effort to produce the perfect copy; therefore, every part of the team must be able to work together.
Related: How to Become a Proofreader
Copyeditor Salary or Pay Expectations
There are a few different ways in which copyeditors can get paid. There is the traditional hourly rate and also the per-project rate. Depending on your agreement with clients, your pay structure may differ. Additionally, you can propose a monthly retainer rate if a client continues to use your services.
According to Glassdoor, copyeditors make nearly $50,000 per year on average. Depending on your skills and experience, you can far exceed this average wage. Some copyeditors make that salary just by working part-time.
As a new copyeditor, your starting base salary may be low. However, it can quickly increase the more experience you gain. You can easily start at $15 per hour and increase with each new client you obtain.
Related: Best Jobs for Stay at Home Moms
How to Become a Copyeditor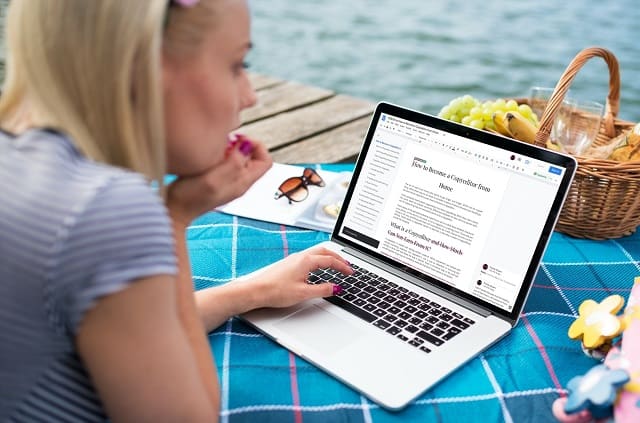 Taking on the role of a copyeditor can be done using these six steps. Start doing these now and become a copyeditor if this line of work sounds right for you.
1. Choose a Focus
Choosing to work within a specific niche or market helps to create your authority with clients. If clients can see you have experience with a specific market, they may be more apt to hire you for their projects. On the contrary, if a client sees that you work with a variety of markets, they might feel that you won't understand their needs.
When you work within a specific niche, you get a behind-the-scenes look at that market's lingo and how clients like to do things. This can translate over into future conversations with potential clients and show them you understand their needs. Pick a niche that interests you and you'll be even more satisfied doing the work.
2. Put Your Copyediting Skills to Practice
You have heard the phrase, "Practice makes perfect." This stands true for nearly everything we do in life, including copyediting. As a copyeditor, it's important to practice your process in editing. Don't simply read over something once and then submit it. Find a rhythm that helps you engage with the piece to make it the best it can be.
Also, it helps to find publications of all sorts online to review and develop your copyediting skills. Think of ways the publication could have been written differently to draw in more sales. Join Phon Baille with Edit Republic in this free masterclass to learn about copyediting and create a routine that works for you.
3. Familiarize Yourself With Copyediting Tools
There are several tools available to use for copyediting purposes to make your work even better.
Grammarly – a platform that uses artificial intelligence as an assistant in writing to catch grammar and spelling mistakes in addition to making suggestions on engagement and delivery mistakes, such as in marketing. The platform offers a free version and a paid option.
PerfectIt – an app created by Microsoft to help find grammar and spelling mistakes that other checkers don't find. It is a paid app that is purchased on an annual basis.
Google Docs – a free web-based program that allows content creators and copyeditors to collaborate on written pieces in real time.
4. Build a Portfolio
Before you make any kind of purchase, you almost always look at the reviews left by others about a specific product or service. This is what a portfolio does for a copyeditor. It speaks to the work you've done and gives potential clients the confidence that you have completed projects to satisfaction.
If you don't have a portfolio yet, start building one using friends and family as your first clients. You can offer your services for free or highly discounted in exchange for feedback and testimonials. You don't need too many to start a portfolio so don't let this part hold you back from advancing your career.
Related: How to Start a Freelance Writing Portfolio
5. Price Your Copyediting Services
The best part about becoming a copyeditor from home is that you can set your rates for your services. This can give you the flexibility to work when you want and for how long you want. As you start in this career, your prices may be low. However, you can give yourself a raise as you gain experience.
6. Send Cold Pitches and/or Apply to Positions Online
Start working as soon as possible. The more clients you get, the faster your skills will advance, and the more money you could potentially make. Use cold pitches to exhibit your services to clients and showcase your skills. Add an example of what you can do for them, which will bolster your chance of being hired.
Find copyediting positions posted online and apply to those directly. Some businesses may have more than one copyediting position open so don't be afraid to throw your hat in the ring.
Related: How to Become a Freelance Writer
Questions New Copyeditors are Asking
It's normal to feel a little hesitant about making a career shift in any field. Learn from what new copyeditors are asking to determine if you truly want to become a copyeditor.
Is copyediting difficult?
In short, copyediting is not difficult for the right person. However, it does take time and dedication to do the job right. Clients will want to be reassured that what they are paying you will be worth the investment. Therefore, you need to be serious about taking on this role so that you can complete projects successfully.
Related: Easy Summer Jobs to Earn Extra Money
Can copyeditors work from home?
It depends on the client you have, but typically a copyediting position can be done from home. You can start your own business and decide to only work for clients remotely. When applying for positions within companies, ensure you read the location requirements to see if you would be allowed to work from home.
How long does it take to learn to copyedit?
It doesn't have to take long at all, especially if you have chosen a niche to work within. Having a niche will help speed up your learning process as you gain an understanding of the terminology used and how to appropriately apply that in the copy. If you already have a strong handle on the English language including grammar, spelling, and syntax, you are more likely to learn copyediting at a faster pace.
Related: Get Paid to Edit Papers
Is a copyediting certificate worth it?
Although not required, a copyediting certificate can boost your credibility when applying for jobs. A certificate shows you are dedicated and that you spent time sharpening the skills needed to be successful in copyediting.
Phon Baillie with Edit Republic created a copyediting course that will teach you more than just finding grammar and punctuation errors. If you complete the full course, you are eligible to print out your certificate.
Related: Best Short Certificate Programs that Pay Well
How do I become a copyeditor with no experience?
The best thing you can do is quickly gain experience as a new copyeditor. You need to build your trust factor and to do that, you may need to offer your copyediting services at discounted rates to gain the experience. Once you have a few under your belt, use those past jobs to show future clients the work that you have done. Experience boosts your credibility.
Related: Proofread Anywhere Review
Who Should Become a Copyeditor?
A copyediting career is not for someone who isn't willing to put in the work. You must be detail-oriented, goal-driven, and prideful of your work. Clients are counting on you to make their copies unique so they can eventually sell to the right consumers. It's not a job to be taken lightly.
If you enjoy reading, can pick out the mistakes in a publication, or have suggestions on how to rewrite copy, then a copyediting position may be the perfect job for you. It's not a difficult career to pursue, but it does take hard work.
Make a living by reading other people's work and helping businesses reach their ideal market. A career in copyediting could be the calling you've been waiting for to eventually leave your 9-5 job.
Related: Best Online Proofreading Courses for Beginners
---
We appreciate the time you've spent reading this post and your interest is not lost on us. Your thoughts, questions, or experiences related to the topic are most welcome. Each comment adds strength to our community. We ensure every comment receives our attention, and we take the time to provide thoughtful responses. Once again, thank you for being a part of this conversation. Click here to leave a comment.