InboxDollars Review: Should You Join to Make Money?
Try Bingo Cash, the ultimate bingo app for turning your skills into extra cash while enjoying colorful and engaging head-to-head matches. Win up to $83 per game and experience the classic bingo thrill in the comfort of your own home. Test your daubing skills and become a big winner today!
Bingo Cash™ is FREE to download and play! However, cash tournaments are not available in the following states: AZ, IA, LA, SC & WA.
InboxDollars holds a special place in my journey toward financial independence. It's one of the very first websites I joined when I decided to explore the potential of online earnings. This was years ago, and I remember how it felt like venturing into uncharted territory. But InboxDollars, with its user-friendly interface and clear instructions, made it easy for me to navigate and understand the process.
The platform offers a multitude of ways to earn, from taking surveys to watching videos and even playing games. The variety ensured that it never felt monotonous or tedious. The best part was, I could do all this from the comfort of my home, at my own pace.
InboxDollars not only helped me earn some extra cash, but it also opened my eyes to the vast opportunities available in the digital world. It was a stepping stone, the beginning of my journey towards exploring other avenues of online income.
Years later, I still remember InboxDollars fondly as a reliable and trustworthy platform that helped me take my first steps into the world of online earning. It has been instrumental in shaping my perspective on online work and continues to be a website I would highly recommend to anyone looking to earn some extra cash online.
Today, I want to show you multiple legitimate ways to bring in some extra money with InboxDollars. In this review, you'll get an honest look at the company. After all, who has time to waste on something that isn't going to work?
One of my favorite sites, Swagbucks, offers tons of ways to earn real cash online. If you're not already a member, give it a shot! Here are five things you can do to make easy money on the site:
Play games (up to $322 each)
Test apps (up to $150 each)
Submit receipts (easy cash)
Shop at your favorite stores (up to 10% back)
Answer surveys and polls (quick cash in minutes!)
Our Popular Free Guides
How to Start a Permanent Jewelry Business - If you are patient, have social skills, and love interacting with others, then a permanent jewelry business may be for you.
How to Become a Sleep Consultant - Help parents and babies, and be the difference for families worldwide who are desperate for more Zzzs in their life as a sleep consultant.
How to Become a Proofreader - There are five basic steps to working from home as a proofreader. As long as you're willing to put in the work, you can become a proofreader!
InboxDollars Review Summary and Quick Facts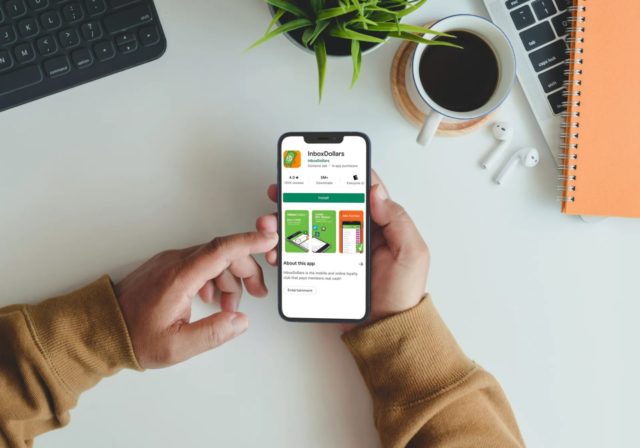 InboxDollars is not going to make you a millionaire overnight. This site is best for those looking to bring home extra money each month, without having to get another part-time job.
InboxDollars was founded in 2000 and has paid over $56 million worldwide to its users. It has earned the prestigious Inc. 5000 award six times (2008-2012, 2014). This company has also earned a solid reputation from reviewers and customers.
InboxDollars pays you to take surveys, watch videos, read emails, play online games, shop online and print coupons. It also has over 2 million Facebook fans (so it has to be doing something right).
InboxDollars Pros
Easy to sign up and navigate
Available from anywhere in the world through the InboxDollars app
Offers an immediate bonus of $5 to sign up
Cash payouts (not points)
Thousands of projects to work on
Flexible with no minimum requirements
InboxDollars Cons
Small payouts
Time-consuming
Can be boring
Processing fees when cashing out
Takes a while to make any real money
Delays in payments (usually one to two weeks)
InboxDollars BBB Rating
A (although customer reviews are 2 out of 5)
Related: Pinecone Research Review: The Most Exclusive Survey Site
What is InboxDollars and How Does It Work?
InboxDollars pays you for your opinions. Businesses and organizations pay them to do market research (i.e. you). InboxDollars then creates surveys and uses the information gathered to formulate reports to send back to the business.
Sign Up for InboxDollars
One of the best upfront perks of InboxDollars is the immediate $5 bonus just for signing up. It doesn't take long to input your email and information to earn the bonus. Another added bonus is that users can earn two cents each time they log into the site.
To join InboxDollars, visit InboxDollars.com and click on the signup tab. You will be prompted to enter your email address and create a password.
Complete Your Profile
After you join InboxDollars, it's important to answer the initial series of questions on your profile. It will help the company filter relevant surveys for you.
Take Surveys
Your demographics determine which surveys you qualify for. They vary in the amount of time it takes to complete. Most will take 10-15 minutes of your time. The pay corresponds with the length of time.
Many people think they will make tons of money by filling out one survey. This isn't the case, but in the long run, filling out surveys can provide some extra cash.
The surveys are not difficult to complete and can be done while you are at the park with the kids, waiting in line for takeout or binge-watching your favorite TV series. Simply answer the questions and watch your earnings increase.
Related: Surveys That Pay Cash Instantly
Get Paid
You'll need to earn $10 to request payment. Once you've reached the minimum payout threshold, your account reaches Gold member status, meaning future payments will reach you faster (usually within 3 to 9 days).
Without Gold member status, average pay times can run between 10 and 14 days. To cash out, simply make the request in your account and InboxDollars will send you a check.
Payment Methods
InboxDollars pays via PayPal, physical check and free gift cards.
You can also choose to donate your earnings to a non-profit if you prefer.
Time Value
InboxDollars is not right for everyone. On average, surveys pay from $.25 to $10. Simple surveys won't take you long, but they also don't pay much.
For the more elaborate surveys, the payout is higher but so is the time. For example, let's say you take a survey that pays $5 for your time and takes between 15-20 minutes to complete. That would mean you could make somewhere around $15 an hour for your time in filling out surveys.
Related: Respondent Review: How to Earn Up to $140 Per Hour
InboxDollars Payment Calculator
Use our simple calculator to estimate how much money you can earn per hour spent completing surveys on InboxDollars (Example: $2.75 payment for a 17-minute survey = $9.71 per hour.) You can find your surveys list with the pay rate and estimated time to complete in your account after signing up.
KashKick is a great find for gig workers, offering many ways to make extra money doing what you enjoy. Try it out - it's free! Here are five easy ways to start earning money on the site:
Play games (up to $125 each)
Test apps (up to $125 each)
Buy lottery tickets (an easy $8)
Try popular brands (always changing)
Answer surveys (quick cash in minutes!)
Other Ways to Make Money on InboxDollars
If surveys aren't your thing, there are other ways to make money on InboxDollars. Sites like InboxDollars offer plenty of alternatives to earning cash just for doing easy tasks online.
Scratch and Win
The Scratch and Win feature gives you chances to win cash prizes on InboxDollars. It allows users to build up credits to potentially win various cash prizes or other incentives.
Play Games
With InboxDollars, you can make money online or on your phone by playing games. The company gives access to hundreds of free games that you can play to earn progress on your Scratch and Win bar. The more games you play, the more scratches you'll earn.
You can get paid to play Solitaire, Candy Jam, Giant Hamster Run, Monkey Bubble Shooter, and many other games.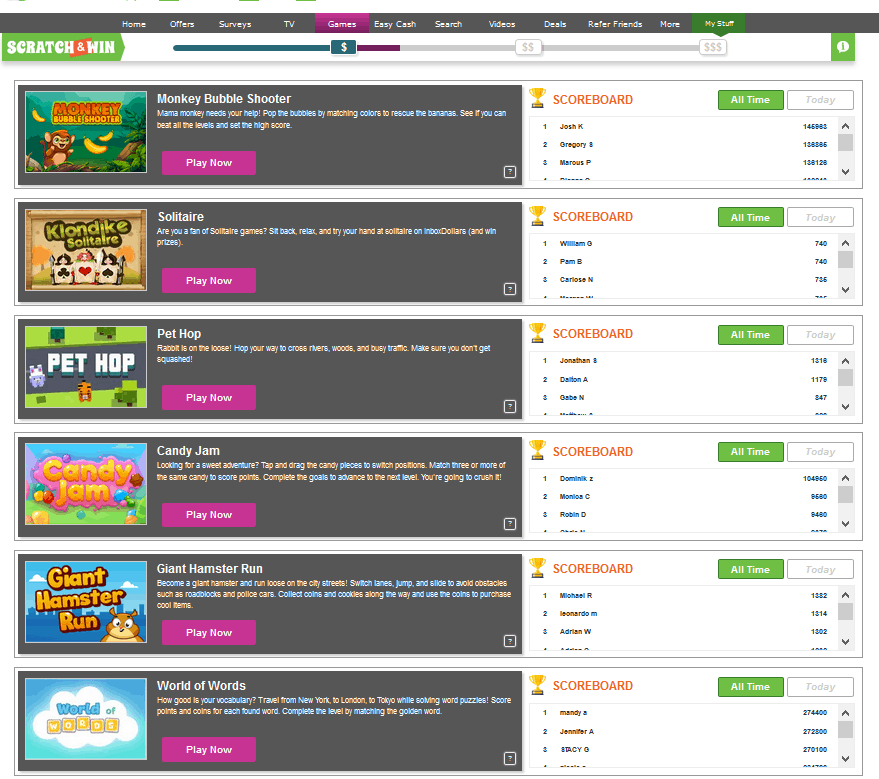 Related: Bubble Shooter Games for Money
Watch TV
InboxDollars pays you to watch their TV channel. As you watch, you can raise your potential earnings. At level one can earn you up to $10, level two $25 and level three up to $100. The payout is based on your Scratch and Win bar which generates rewards as you watch content online.
Related: Survey Junkie Review: Does It Live up To the Hype?
Complete Offers
You can earn money by completing offers on InboxDollars. There are some free offers that require only your email address, while some are well-known companies that require payment.
The downside to this is that you may be inundated with emails from companies. You might want to list an alternative email to help sift through the junk mail.
Shop Online
InboxDollars lets you earn cashback for online shopping. Depending on the retailer, companies will pay you to do the shopping you already planned to do. If your favorite store has a 4% cashback option, each $100 you spend will generate $4 for you.
Percentages vary based on each retailer This is one of the best features you can explore on InboxDollars simply because it rewards you for the shopping you are already doing.
Related: MyPoints Review: How It Pays in Cash Back
Print Coupons
Much like the cashback option above, InboxDollars pays you to print coupons that qualify you for cashback at certain online and in-store retailers. This will also save you money at the stores and businesses you already shop at.
Redeem WinIt Codes
WinIt codes are promotional codes that allow users to win sweepstakes entries or cash. You can find them hidden throughout the site or on InboxDollars' social media accounts.
Search the Web
Browsing the internet is another way to earn cash on InboxDollars. Using the InboxDollars browser, search the web and get paid. Each search grows your Scratch and Win section, increasing your earning potential.
Paid Emails
You can get paid to read paid emails. Just check your email daily to earn a few cents for each email clicked. If you decide to complete an offer within an email, you can earn even more.
Related: How To Make An Extra $1,000 A Month Online (Or Off) From Home
5 InboxDollars Hacks to Earn The Most Money
There isn't a get-rich scheme with InboxDollars. The best way to make money is to complete the tasks that you enjoy the most. But there are some legit money hacks that can help you reach higher earnings in less time. And best of all, they are all legal, so your account won't get shut down for trying these InboxDollars hacks.
InboxDollars Hack 1: Snag The Sign-Up Bonus
New InboxDollars members get a $5 sign-up bonus. Make sure to grab that! It puts you halfway to the $10 minimum cashout threshold, making it easier to get your first payment or gift card.
InboxDollars Hack 2: Say "No" to Low Paying Surveys
Just because you've been matched with a survey, doesn't mean it's worth your time. Make sure to use my survey calculator to choose the surveys that pay the most money for your time. Over time, this will help you earn so much more money!
InboxDollars Hack 3: Diversify Your Earnings
Since InboxDollars offers so many ways to make money, take advantage of them. Don't just hop on to take surveys when you can get paid to read emails, watch TV, shop online, and so much more. The best InboxDollars hack is to adjust your everyday behaviors to include InboxDollars in the things you already do. That way you'll be earning money without even thinking it.
InboxDollars Hack 4: Let Your Kids Help
My son loves to play games or do small tasks on my phone. Sometimes I put him to "work" and he doesn't even realize it! It's an easy way to earn a few more bucks when I don't have time to do it myself. And he loves it!
InboxDollars Hack 5: Refer Your Friends
You can earn $1 for every friend you refer to InboxDollars plus a 30% commission on their earnings while they remain active. Signing up is quick and easy, and your friends get a $5 bonus to sign up as a new member!
InboxDollars Q&A
You may still be on the fence at this point with InboxDollars. Here are some of the common questions people ask about the company.
Is InboxDollars safe?
Yes. InboxDollars has been in business for nearly 20 years with millions of people earning money through the site. It also has an impressive social media presence and an overall good reputation.
Related: Swagbucks Review: Is It Legit?
How do I delete my InboxDollars account?
If you want to cancel your InboxDollars account, you can do so by visiting the my account section. Note that balances under $30 will not be available for a final payout upon closing your account.
Is there an InboxDollars app?
Yes, the company offers an app for their surveys. The app has nearly 100,000 downloads with an average rating of 4.4 stars out of 5.
Related: Apps That Pay Real Money
What are the most common InboxDollar complaints?
The majority of complaints are regarding the slow payout times and the higher-paying surveys being in short supply.
InboxDollars Review: Our Final Analysis
InboxDollars isn't a full-time gig. There is only so much time in the day you can commit to filling out surveys and completing web searches and offers.
Still, for those who have the patience to complete projects in their free time, joining InboxDollars can be a reliable way to earn a side income. With nearly unlimited earning potential and a limitless load of projects, InboxDollars can keep you busy.
Don't forget to claim your free $5 for signing up. Join InboxDollars and give it a try and see how much money you can earn.
---