Swagbucks Review: Is It Safe and are There Hacks to Earn More?
Try Bingo Cash, the ultimate bingo app for turning your skills into extra cash while enjoying colorful and engaging head-to-head matches. Win up to $83 per game and experience the classic bingo thrill in the comfort of your own home. Test your daubing skills and become a big winner today!
Bingo Cash™ is FREE to download and play! However, cash tournaments are not available in the following states: AZ, IA, LA, SC & WA.
A website called "Swagbucks" did not seem like a legitimate way to make money but I decided to check it out for myself.
I've been using the website here and there for a few years and can attest that it really does pay to mindlessly complete easy online tasks!
I've even made some passive income by referring new members to the company and "watching" paid TV in the background (on mute). It's been oddly easy (and the low income reflects that—don't expect to get rich on Swagbucks!)
In this Swagbucks review, I'm going to share with you what it is, how to make money using it, and how much you can expect to earn. If you use this nifty Swagbucks signup link, you can earn a quick $10 bonus just to try it out!
One of my favorite sites, Swagbucks, offers tons of ways to earn real cash online. If you're not already a member, give it a shot! Here are five things you can do to make easy money on the site:
Play games (up to $322 each)
Test apps (up to $150 each)
Submit receipts (easy cash)
Shop at your favorite stores (up to 10% back)
Answer surveys and polls (quick cash in minutes!)
Our Popular Free Guides
How to Start a Permanent Jewelry Business - If you are patient, have social skills, and love interacting with others, then a permanent jewelry business may be for you.
How to Become a Sleep Consultant - Help parents and babies, and be the difference for families worldwide who are desperate for more Zzzs in their life as a sleep consultant.
How to Become a Proofreader - There are five basic steps to working from home as a proofreader. As long as you're willing to put in the work, you can become a proofreader!
Swagbucks Review Summary and Quick Facts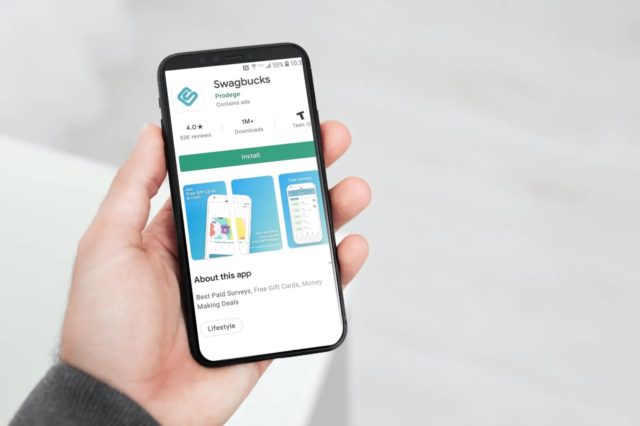 Swagbucks is a rewards website that allows members to earn points (SBs) for taking surveys, playing games, watching TV and completing other easy online tasks. Earned points can be exchanged for PayPal cash, Visa gift cards or free gift cards to your favorite stores like Amazon or iTunes.
When you visit Swagbucks before doing your regular online shopping, you can earn up to 12 percent cash back for using their unique shopping links.
Swagbucks Pros
Free to join
Easy tasks on-the-go or in the comfort of your home
Endless surveys or tasks available to members
User-friendly Android and iOS apps if you prefer to work on your phone
SwagButton which is a browser extension to remind you of rewards available on everyday online purchases
Goals and Swago challenges available to increase your SB earnings
Low minimum payout threshold of $3 or 300 SBs (if you choose Amazon gift card codes)
Swagbucks Cons
Some offers require up to 90 days before rewarding your SBs (rare, but possible!)
Higher minimum payout threshold of $25 or 2500 SBs (if you choose PayPal cash)
Swagbucks BBB Rating
A+ (average customer reviews are 4.1 out of 5)
Related: 50 International Survey Sites That Pay Worldwide
What is Swagbucks and How Does It Work?
Swagbucks pays users to provide their opinions and work microtasks. Whether it is paid surveys, web searches, playing online games, or viewing videos, the platform allows users to make money on the go.
Started in 1998, Swagbucks has seen over 30 years of success in the industry.
Sign Up for Swagbucks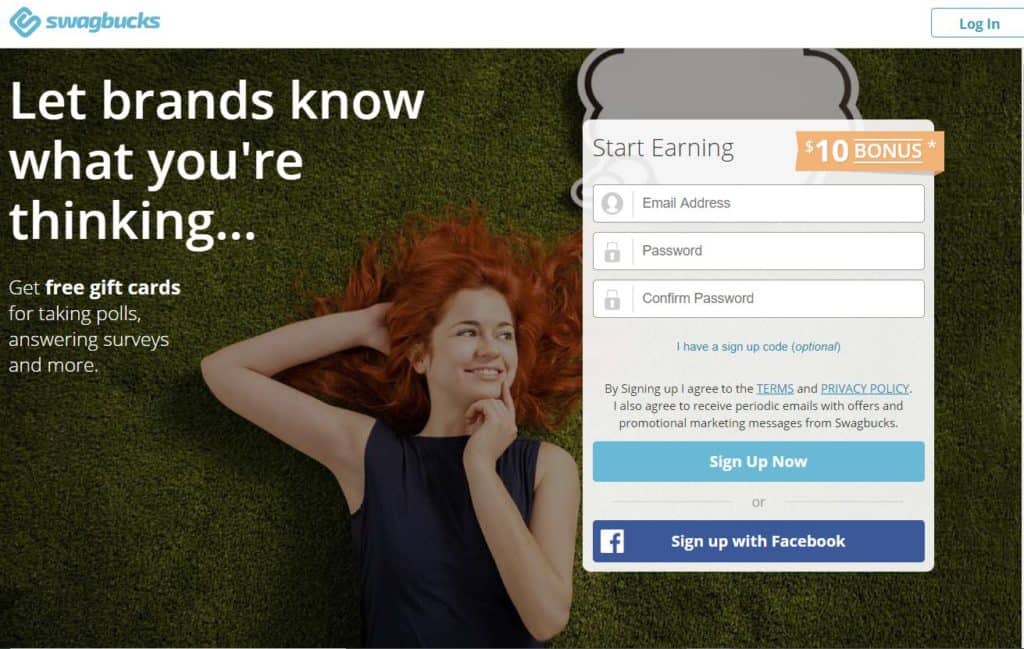 You can sign up for Swagbucks in a matter of minutes and start earning SBs right away. You'll need to provide a valid email address, set your password and answer a few easy questions to get started. They even offer a $10 signup bonus to give your earnings a boost!
To earn the bonus, you'll need to spend at least $25 at one of your favorite online retailers using a Swagbucks shopping link. This is a good thing because you'll get the $10 sign-up bonus and the appropriate cashback amount.
Complete Your Profile
When you initially sign up, Swagbucks offers different amounts of bonus SBs to complete your profile. By giving your demographics and answering some screening questions, it allows the company to send relevant surveys your way.
Don't fib on your profile answers and demographics. If your answers don't remain consistent (you will be asked to confirm them before qualifying for a survey), you could be banned from Swagbucks.
Take Surveys
One of the most common ways to earn money on Swagbucks is by taking paid surveys. You can view exactly how much you'll earn before completing a survey and the estimated time of completion. Some surveys pay more than others, so you'll need to decide which surveys are worth your time.
The surveys are not meant to be difficult to complete, but they require thought and honesty to work through. Swagbucks has a paid relationship with the companies collecting survey responses, so it's important that they gather true information from participants.
Related: Highest Paying Survey Sites
Related: 10 Survey Sites That Let You Earn PayPal Money Instantly
Get Paid
Each task you complete accumulates SBs in your account. Unlike other paid survey websites, Swagbucks gives you access to points for most projects immediately after completing the work. There are some situations when points will take up to 90 days to accumulate in your account. You can review the terms to view the waiting time before completing an offer.
Related: How to Make Money Fast
Payment Methods
When you've earned the minimum amount of SBs, you can redeem them for gift cards or PayPal cash. Swagbucks features a wide array of gift cards for surveys that you can redeem your points for. Most require a minimum of 300 points to reach.
Depending on which reward you choose to cash out on, you can expect to get a $3 Amazon gift card for 300 SBs, a $5 Walmart gift card for 500 SBs, a $10 Visa card for 1,000 SBs, or $25 in PayPal cash for 2500 SBs.
Since Swagbucks doesn't send physical checks, you can expect to receive your payout within a few business days.

Time Value: How much Can You Earn Per Hour?
Choosing the ones that take fewer minutes to complete and pay more SBs is key to earning the most money completing surveys. For example, a survey that takes 40 minutes and pays 1,200 SBs (worth $12) equals $18 per hour. A survey that takes 25 minutes and pays 150 SBs (worth $1.50) equals only $3.60 per hour. Keep this in mind when choosing which surveys are worth your time.
Swagbucks Payment Calculator
Use this simple calculator to estimate how much money you can earn per hour completing surveys on Swagbucks (Example: 540 points for a 15-minute survey = $21.60 per hour.) You can find your survey list with the points and estimated time to complete in your account after signing up.
Try More Ways to Make Money on Swagbucks
While surveys are one of the more well-known ways to earn points on Swagbucks, the company offers other ways to make money.
1. Shop Online
When you shop online, make sure to check Swagbucks to see if the retailer you shop with is listed. You can earn up to 12 points per dollar you spend online. If you're doing your usual shopping, this is a great way to earn cashback for your regular purchases.
Related: 100+ Best Online Shopping Sites in the USA to Get Great Deals
2. Check The Offers
Make sure to check the Discover tab on Swagbucks to check out the newest offers. Many offers are free to sign up and upon completion, you will be rewarded with SBs. Other paid offers may require a purchase, so make sure the value of the purchase and the SB earnings are worth your time and money. Sometimes you'll find an offer to a company you planned to sign up with already. If this is the case, make sure to snag the SB bonus!
3. Print Coupons
Head over to Swagbucks before printing your grocery coupons. You can earn 1 SB just for printing coupons (up to 50 prints), and 25 SBs every time you redeem a coupon in store. That's about equal to $.25 just to use a coupon that already saves you money!
4. Watch Videos
You can earn 1 to 4 SBs when you watch videos on Swagbucks. You won't get rich this way, but you can set it up and let it play while you go about your day.
5. Play Games
You can earn points for playing games like Angry Birds, Bejeweled, and Solitaire. Most games have an entry fee in order to earn points, so it may not be worth it for the amount of SBs that you will get from playing.
Related: How to Make Money Playing Solitaire
KashKick is a great find for gig workers, offering many ways to make extra money doing what you enjoy. Try it out - it's free! Here are five easy ways to start earning money on the site:
Play games (up to $125 each)
Test apps (up to $125 each)
Buy lottery tickets (an easy $8)
Try popular brands (always changing)
Answer surveys (quick cash in minutes!)
6. Book Your Travel
If you like to book with a travel site like Priceline, make sure to visit Swagbucks and click over to the travel site from there. That way you can earn up to 10% cash back on all of your travels. Expedia, Hotels.com and Travelocity are a few other popular travel sites you can find on Swagbucks.

Related: 5 Easy Ways To Save Money Shopping With Rakuten
7. Play Swago
Swago helps give you incentive and direction for choosing which tasks to complete. Every time you plan to complete a task on Swagbucks, make sure to visit your Swago board to see if the task is on the list. If you fill your Swago board, you can earn up to 200 bonus SBs.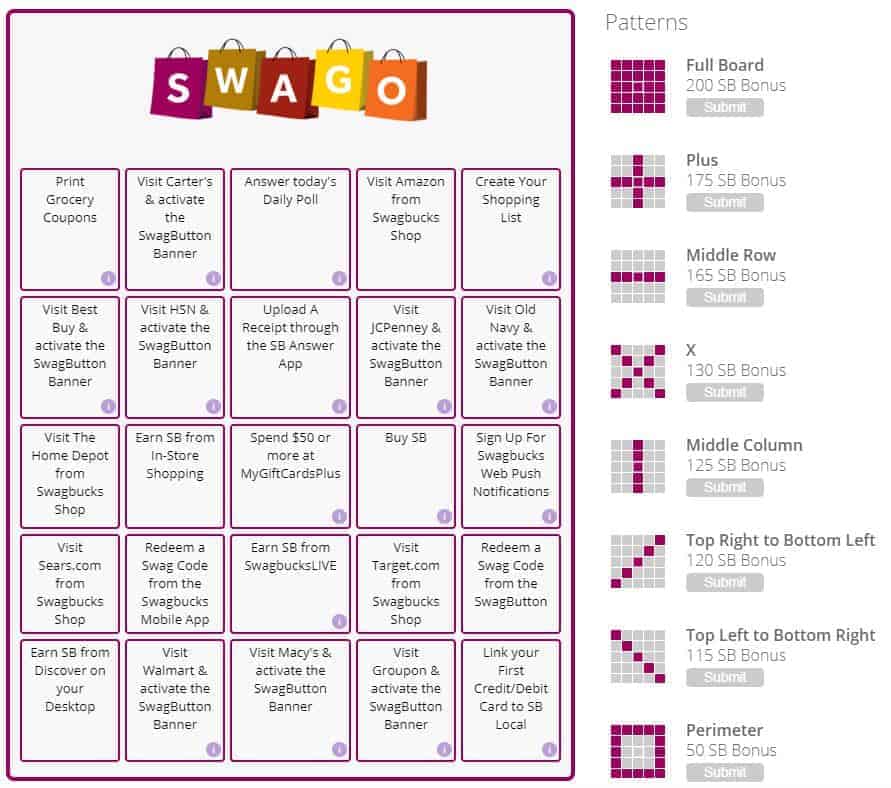 Related: Get Paid to Do Puzzles
8. Complete The Daily Goal
Swagbucks offers a daily goal to motivate you to earn more SBs. When you reach your goal, you'll earn the bonus points on top of those you already earned.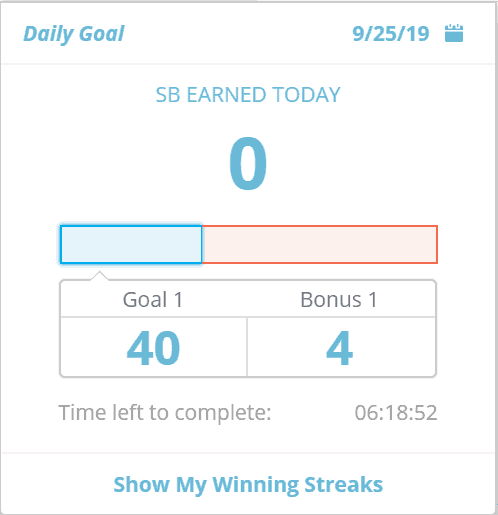 Related: How To Get Free Money Right Now
9. Answer Survey Profile Questions
You can earn two SBs for every 10 easy questions you answer on your profile. These are great alternatives to surveys if you are on the go and don't have time to commit to a full survey.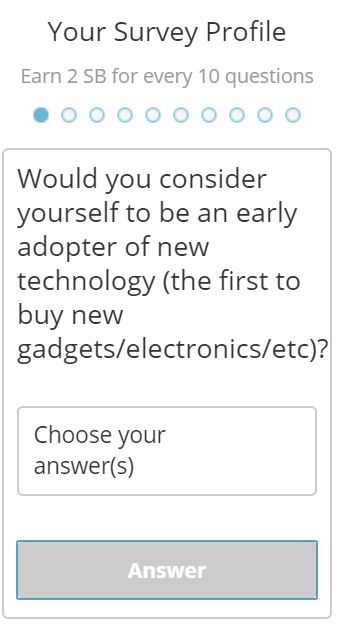 10. Install The Swagbutton
Unique to the platform, Swagbucks offers a SwagButton which is an add-on extension that you install on your browser. The tool appears each time you launch your browser. It helps you maximize your earnings by reminding you to use Swagbucks when a potential cashback opportunity arises.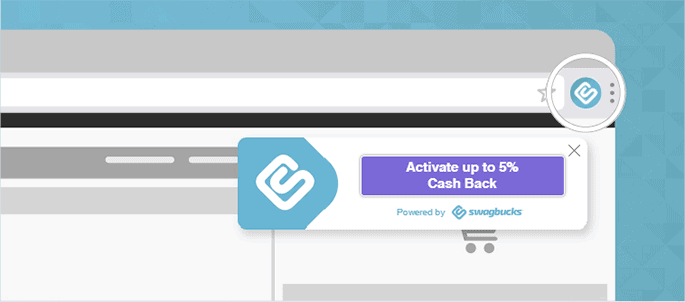 11. Search The Web and Earn
Swagbucks gives you points for searching the internet using their search engine. Simply use the search bar on Swagbucks to do your daily "Googling" and earn some extra SBs.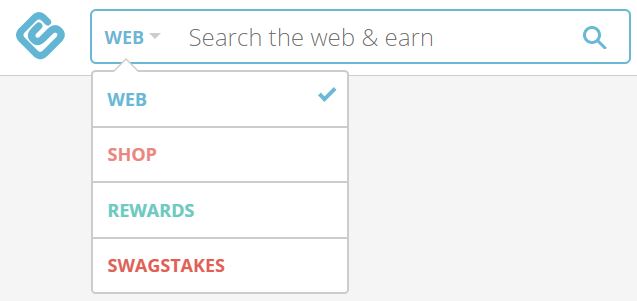 Related: MyPoints Review: How to Earn The Most
12. Enroll in the Membership Recognition Program
Swagbucks offers a Member Recognition Program that you can voluntarily enroll in. After you earn your first 250 SBs, you'll be awarded the Level 1 Pearl Membership Benefits. That means you can earn a 50 SB rebate on your next gift card purchase, and earn double SBs when you take your next Gold Survey (these benefits are subject to change at Swagbucks' discretion).
You'll need to take advantage of the benefits within two weeks of unlocking the level. Each new level brings a new opportunity to earn more SBs for your efforts!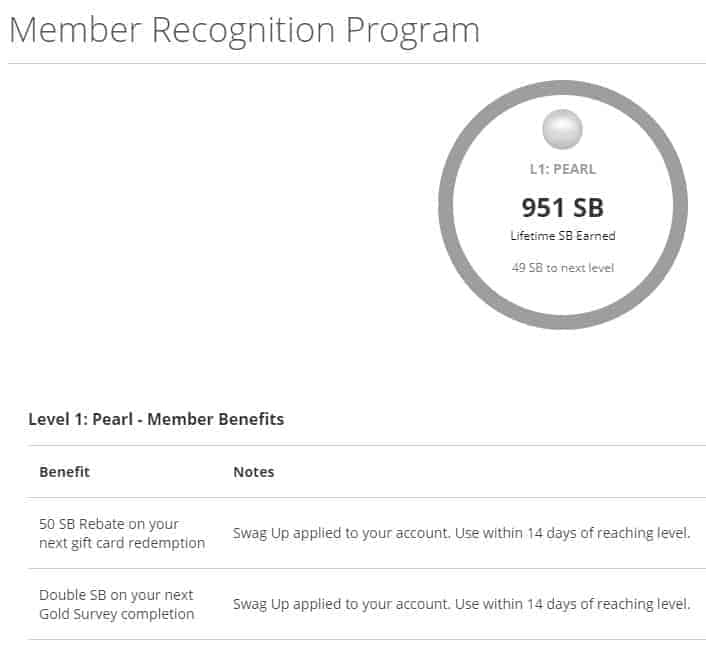 13. Check for Swag Ups
Swagbucks keeps all of your bonus earning opportunities called Swag Ups in one place, that way you don't have to go searching for them on the platform. Under your My Account dropdown menu, click on Swag Ups to check your latest bonuses. This will include your Swag Member Recognition bonuses (if you've enrolled in the program) and any others that might currently be available to you.
Taking advantage of Swag bonuses is the best way to capitalize on your time spent earning money through Swagbucks. Using your time wisely helps boost your overall dollar-per-hour earnings.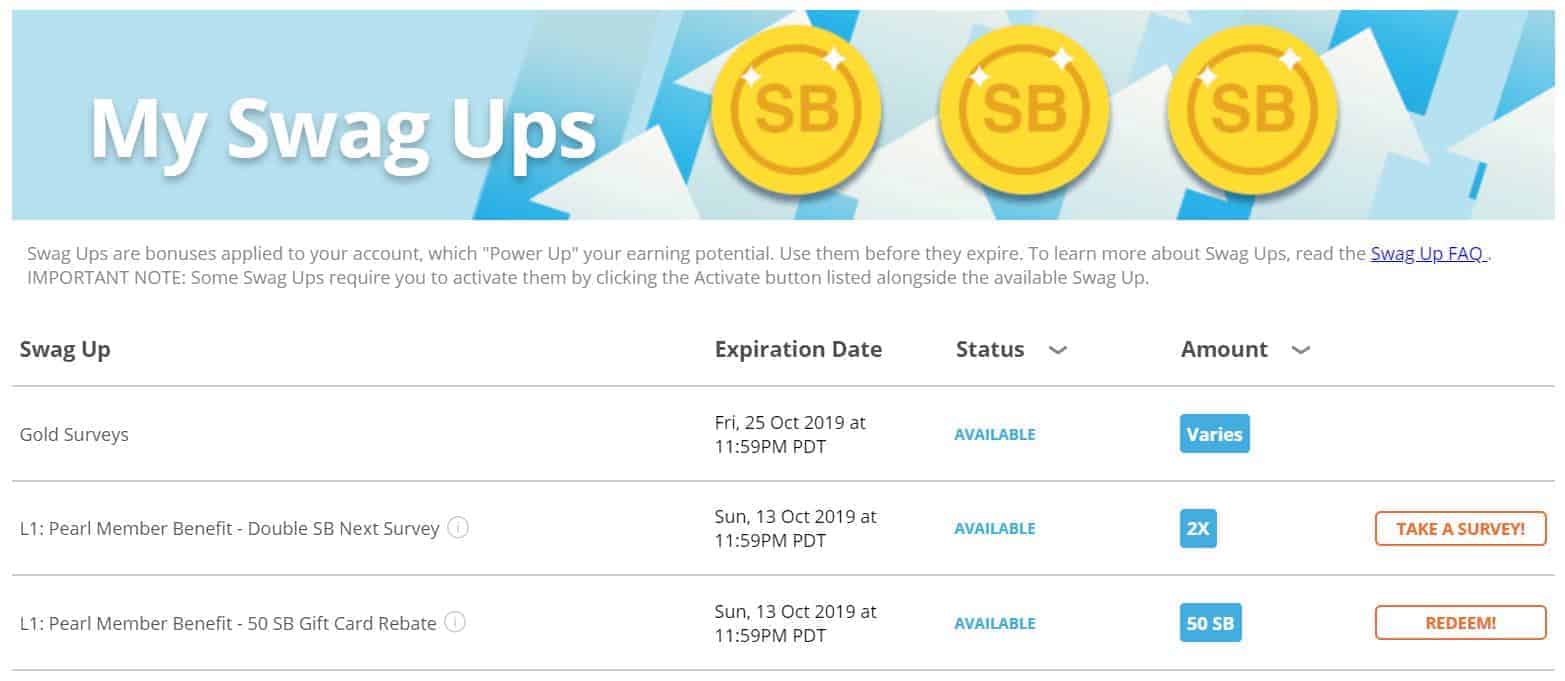 14. Enter Swagstakes
If you're feeling lucky and want the chance to win free gift cards instantly or win other valuable goodies, you can exchange some of your Swagbucks for entries into various Swagstacks. For example, if you win, you could turn 10SB into a Shark Cordless Hand Vacuum worth $150, or 20SB into $25 PayPal cash. There are thousands of winners every month.

15. Refer Friends
Swagbucks pays you to refer your friends to sign up. You can get 300 SBs per friend (equal to a $3 Amazon gift card) when they earn their first 300 SBs. On top of that, you earn 10 percent of their earnings for life. It pays easy passive income to spread the word about Swagbucks.

Related: How to Make Money Giving Advice Online
16. Join Swagbucks LIVE and Play the Trivia Live Game Show
After you've created an account with Swagbucks, you can download the Swagbucks LIVE app for the chance to earn bonus SB. You can log into your account on the app to join the live trivia game show and answer 10 questions for the chance to win the grand prize of $1,000. If you answer all 10 questions correctly, you'll get a piece of the prize (shared with others who answer all 10 correctly). It's a fun way to potentially boost your earnings by simply playing a trivia game in your spare time.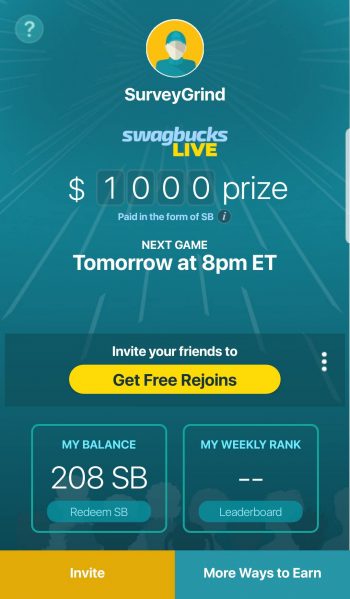 Related: Apps That Pay Real Money For Easy Tasks And Gigs
17. Follow Swagbucks on Social Media
Swagbucks is always posting reminders and new ways to earn bonus SB on their social media accounts. Make sure to follow them so that you get reminders while you scroll through Facebook. They also share fun holiday specials, games and forgotten ways to earn easy SB.

Swagbucks Q&A
Can I really make money using Swagbucks? Is Swagbucks a scam? These are legitimate questions that we answered for you in this Swagbucks review. Thousands of users have had good experiences using Swagbucks but that doesn't mean it's for everyone.
Is Swagbucks Legit?
The company offers legitimate ways for members to earn side cash using your PC or smartphone. It is important, though, to realize that you can't earn a full-time income using Swagbucks.
As long as your expectations and goals are realistic, Swagbucks is a legitimate way to earn money for completing simple tasks.
Related: Survey Junkie Review: Does It Live Up To The Hype?
How do I redeem points on Swagbucks?
Redeeming your points is simple. If you click on the Redeem SB button under the menu dropdown, it will take you to a rewards page where you can apply points toward gift cards or other perks.
Are There any Swagbucks Hacks to Earn More Money?
Sometimes you can use Swagbucks hacks to increase your earnings. The best way to earn more on Swagbucks is to learn which tasks pay more for your time and then set up a strategy that works for you. Here are the free money hacks that we find work best:
Complete Gold Surveys first (they tend to pay more).
Participate in contests and bonus opportunities like the Swago board and daily goals.
Set your devices to play paid videos in the background while you go about your day.
Check for free offers
Invite friends to Swagbucks and get 10% of their earnings for life.
Use Swagbucks shopping links every time you shop online to earn more SB.
Related: Pinecone Research Review: Is It Legit?
What are Swag Codes and Where Can I Find Them?
Swag codes are secret phrases that can be found on Swagbucks' social media accounts and blog. You can redeem Swag codes on your account to earn bonus SB. Follow Swagbucks on Facebook, Twitter and Instagram to watch for codes throughout the week.
Is There a Swagbucks App?
The Swagbucks app is available for both Android and iPhone users. It has an average customer review of 3.2 out of 5 stars.
How Do I Delete My Swagbucks Account?
To do this, go to the website on your computer or laptop, select the profile icon and navigate to the "settings" button. In settings, enter your password and then select the "Get Access" button. Next, select the "Delete my Account" button, which will send a deactivation confirmation to the email address connected to your account. Check your email, confirm the deactivation and your account will be deleted.
Related: 10 Respondent Jobs like Respondent.io
Swagbucks Final Review
No, I haven't gotten rich using Swagbucks, but I have earned some extra cash that I wouldn't otherwise have.
Swagbucks provides an easy way to make some extra cash. Give it a try for yourself, and don't forget to claim your $10 Swagbucks sign-up bonus!
---