How to Get Paid to Upload Receipts (Before Tossing Them)
Try Bingo Cash, the ultimate bingo app for turning your skills into extra cash while enjoying colorful and engaging head-to-head matches. Win up to $83 per game and experience the classic bingo thrill in the comfort of your own home. Test your daubing skills and become a big winner today!
Bingo Cash™ is FREE to download and play! However, cash tournaments are not available in the following states: AZ, IA, LA, SC & WA.
Grocery shopping is a must in every household. If you are a mom then you probably do most of the grocery shopping for your home. Why not save your receipts and get paid for uploading them?
We spend a ton of money on groceries every month. I know it is a necessity for my family to have food in the house, but I really dread seeing that final number pop up on the register when my groceries finish crossing the scanner.
I used to hesitate pulling out my wallet to pay for those necessities knowing I'd never see the money again. That was until I found out that I could make some of my money back.
Take the cringe out of your shopping with the knowledge that you can actually make money from that long receipt. There are many ways you can get paid to upload receipts. Take a look at how you can start to replenish your bank account after each shopping trip.
One of my favorite sites, Swagbucks, offers tons of ways to earn real cash online. If you're not already a member, give it a shot! Here are five things you can do to make easy money on the site:
Play games (up to $322 each)
Test apps (up to $150 each)
Submit receipts (easy cash)
Shop at your favorite stores (up to 10% back)
Answer surveys and polls (quick cash in minutes!)
Our Popular Free Guides
How to Start a Permanent Jewelry Business - If you are patient, have social skills, and love interacting with others, then a permanent jewelry business may be for you.
How to Become a Sleep Consultant - Help parents and babies, and be the difference for families worldwide who are desperate for more Zzzs in their life as a sleep consultant.
How to Become a Proofreader - There are five basic steps to working from home as a proofreader. As long as you're willing to put in the work, you can become a proofreader!
Sites That Pay You to Upload Receipts
Sign up with the following sites that make it easy for you to make money uploading receipts.
1. InboxDollars Magic Receipts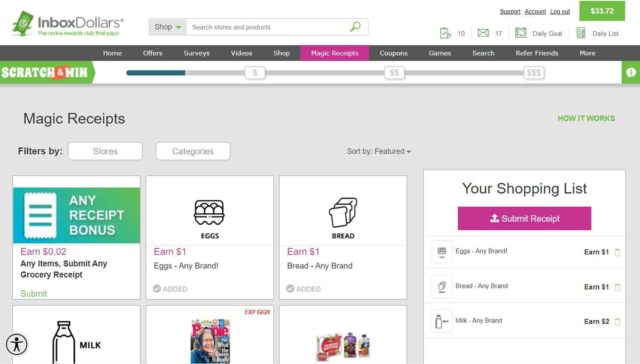 InboxDollars is an online rewards platform that rewards users for uploading receipts. Upload your receipts while the claim offer is still active and your account will be credited within a few minutes with the amount shown on the offer.
Get paid to upload receipts for purchases like bread, eggs, and milk. Some claims offer $1 back on those purchases which give you a boost in your earnings.
Once you reach $10 in earnings, you can cash out for a check, payment through PayPal, free Amazon gift cards, and more. InboxDollars has an A rating with the Better Business Bureau, and a 4.3 out of 5-star rating on Trustpilot.
To learn more about the company, check out my InboxDollars review.
2. Ibotta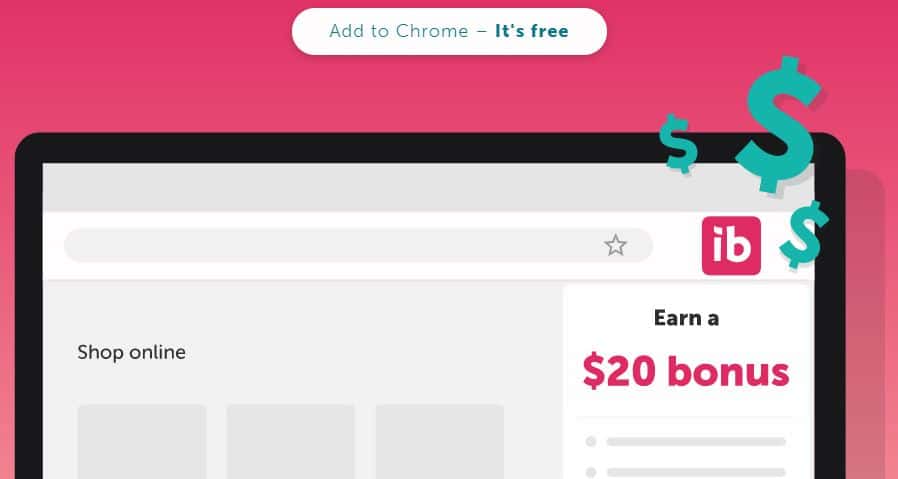 Ibotta is known for giving users money back on the things they buy all the time. These items being grocery items like milk, bread, snacks, baby supplies, etc.
Use the app to see what offers are available before going shopping. Select offers that are relevant for you and upload your receipt on the app after your purchase.
Each offer will vary in how much you will earn. You can even earn just for uploading the receipt itself without claiming any other offers.
Within 24 hours, your account will be credited with the cash you earned from your receipt. Your account must have a minimum of $20 before you can cash out. Ibotta will transfer the funds directly into your bank account.
Related: 10 Places to Sign Up and Get Money Instantly
3. Fetch Rewards
Fetch Rewards provides consumers with the chance to earn back some of the money they are spending on everyday goods. It takes the hassle out of clipping coupons and having to shop at a specific store. Instead, the savings come to you.
Scan your grocery receipt after each shopping trip and if a participating brand is on your receipt, you'll get points added to your account. Redeem your points for various rewards.
In order to redeem your points, you must have a minimum of 3,000 points (worth $3) in your account. The number of points you earn will vary from item to item.
Find the reward you like, choose 'Get This Reward,' and an electronic gift will be sent right to your email.
Related: Get Paid to Read Emails
4. Swagbucks Magic Receipts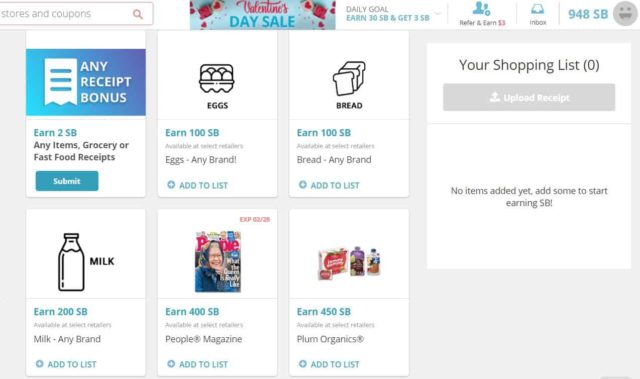 Swagbucks is a popular site used to earn extra cash from the comfort of your own home. There are many opportunities to earn on the platform, one of which is by uploading receipts.
For purchases within grocery, big box and warehouse, drug store, home improvement, clothing departments, etc., there is a chance to earn with Swagbucks.
Find corresponding 'upload receipt' buttons on the answer page on Swagbucks mobile or desktop. Upload your receipt and get SBs added to your account. The amount of SBs earned will vary depending on current offers.
You can cash out as soon as you reach 140 SBs (worth $1.40). Shop the rewards page for various gift cards to Starbucks, PayPal, Amazon, and more.
Read more about Swagbucks in my full review.
5. Tada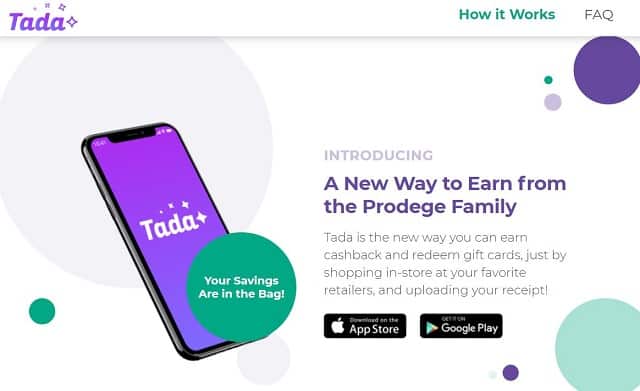 Prodege LLC has done it again with its new app that pays members to upload receipts. Tada is great to have on hand if you enjoy earning cash back rewards on your everyday purchases.
Tada pays in Swagbucks (SBs), and it helps you reach the $3 cash out threshold on Swagbucks that much sooner. The app allows you to preselect offers that intersect with your regular shopping habits. That way you can plan your next trip to the store and be ready to buy the items that pay through Tada.
After completing your shopping trip, just snap a picture of your receipt and watch the points in your account accumulate. Join Tada now and download the app on your Apple or Android device.
6. NCP ReCap Shopping Rewards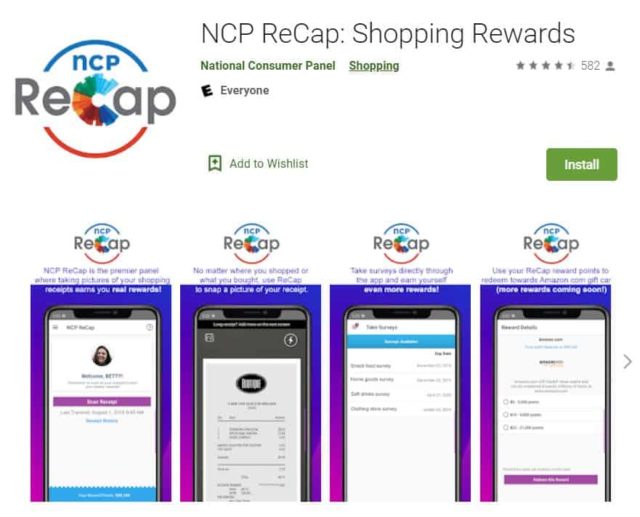 Download the NCP ReCap app on Google Play or from the Apple Store and get paid to upload receipts. NCP ReCap is by the trusted Nielsen company, which has been in business for over 98 years (yes, you read that right).
ReCap is committed to giving rewards regardless of where you shop. From grocery stores to hardware stores and much more, upload every receipt to earn rewards. Redeem the points you earn for gift cards.
Each receipt uploaded also gets you an entry into a sweepstakes. Additionally, the app allows you to earn up to 500 points for weekly receipt pictures. Users have up to 14 days from the date of purchase to take a picture of their receipt and upload it on the app.
The app itself has a nearly 4.5 out of 5 star ranking from users' reviews. The ease of use is a common topic among reviewers.
7. P&G Good Everyday Rewards

Procter & Gamble (P&G) has many well-known brands displayed on the shelves of retail stores around the world. Among its 60+ brands are Pampers and Luvs diapers, Tide and Gain laundry detergent, and Crest and Scope oral care products. Many of these brands are ones you already buy each week!
Customers can earn points on their P&G purchases through the Rewards Program called P&G Good Everyday. To get Rewards on the brands you already use, just submit your receipts through the free program.
Buying any P&G product earns you 50 points that can be used to enter to win more P&G products, or you can exchange them for gift cards to Starbucks or Dunkin Donuts or to help charities on your behalf. Learn more details in my review of P&G Rewards.
Related: How to Get Paid to Print Coupons
Other Ways to Make Money With Digital Receipts and Purchases
Taking pictures of receipts is easy to do. However, if you're looking for even more ways to earn, here are other ways to make money shopping whether or not you keep your physical receipts.
8. Cash App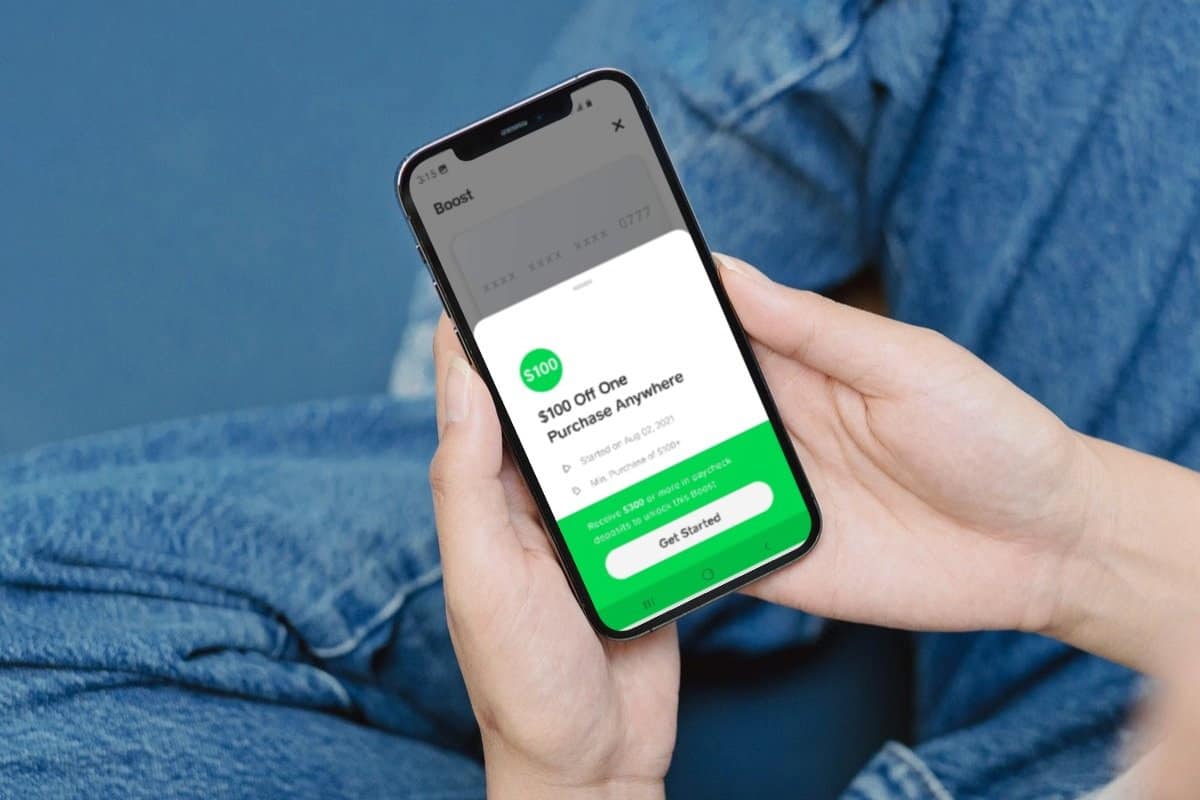 As an all-in-one money management app, it's no surprise that Cash App offers its own twist on the cashback market. Unlike most cash back apps, it comes in the form of instant cash discounts called Boosts.
As a Cash App Visa debit cardholder, you can activate Boosts to stores like Sam's Club, Nike, Starbucks, and Chik-fil-A to receive up to 20% on your purchases. Couple Boosts with store discounts, coupons and receipt uploads to mazimize your savings.
The stores that participate in Cash App's Boost feature change all the time, so you'll need to plan your shopping trips around them. And you have to manually activate the Boost before you checkout–so just make sure to pull out your phone while you're waiting in line!
Get FREE Cash Bonuses with a Cash App Account
Copy the referral code:



Open Cash App settings
Swap $5 with a bestie*
Invite friends to join**
Set up a direct deposit***
*Ask a friend or family member to swap $5 with you through Cash App to activate the $5 sign up bonus.
**Get up to $15 for every friend who joins using your referral code.
***Deposits must equal $300+ within a 30 day period to activate the $100 cash Boost.
9. Slide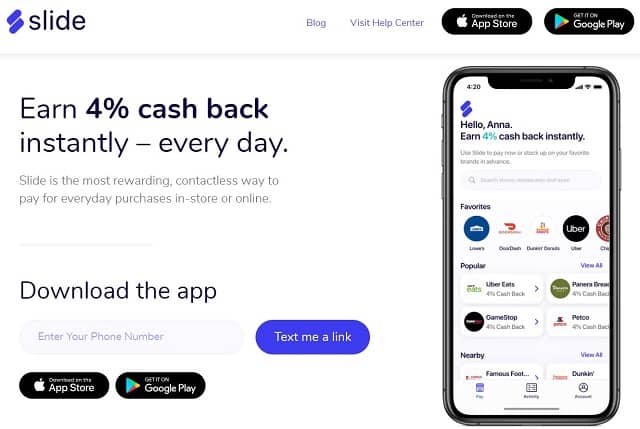 Slide offers a unique opportunity to earn 4% in unlimited cashback on partnering brands. The app works both in-store and online. Its parent company, Raise Marketplace, LLC specializes in discounted gift cards which inspired this on-demand service that allows its members to buy discounted credit to make a purchase.
With over 250 brands and no requirements to opt-in on rotating offers (think credit card offers), Slide makes earning cash back incredibly simple. And on top of the cash you earn on Slide, you'll still accrue points or cashback on your credit card if you use it as the funding option.
When you pre-fund purchases on the stores you frequent the most, you'll earn an extra 1% on each purchase for a total of 5% cash back. You can withdraw your earnings when you reach a minimum of $15 in your Slide wallet.
KashKick is a great find for gig workers, offering many ways to make extra money doing what you enjoy. Try it out - it's free! Here are five easy ways to start earning money on the site:
Play games (up to $125 each)
Test apps (up to $125 each)
Buy lottery tickets (an easy $8)
Try popular brands (always changing)
Answer surveys (quick cash in minutes!)
10. Rakuten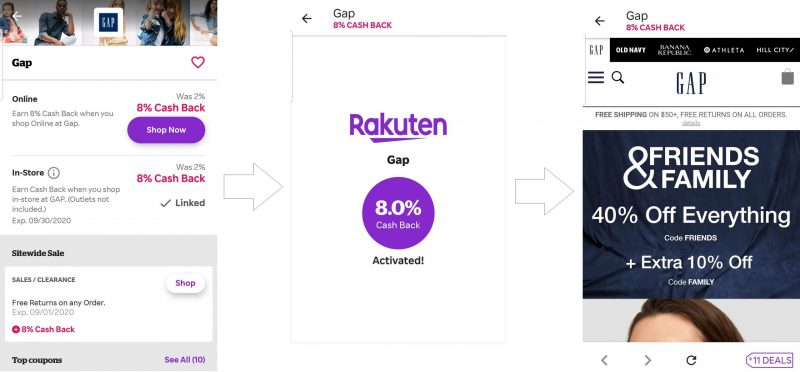 Rakuten is a widely known e-commerce and online retail company that gives rewards back to users for shopping online using its referral links. Rakuten earns a commission for driving sales to companies featured on its site. Then some of those rewards are given back to its members.
Use its in-store cashback feature to get paid for shopping. You can get cashback on purchases through companies like Macy's, Target, Walmart, and more.
Select the offer most appealing to you on the app, link your debit or credit card, and pay with your linked card in-store to get your cash back. Finally, Rakuten pays you through PayPal or a check.
Related: Ibotta vs Rakuten: Which Cash Back App is Better?
11. Dosh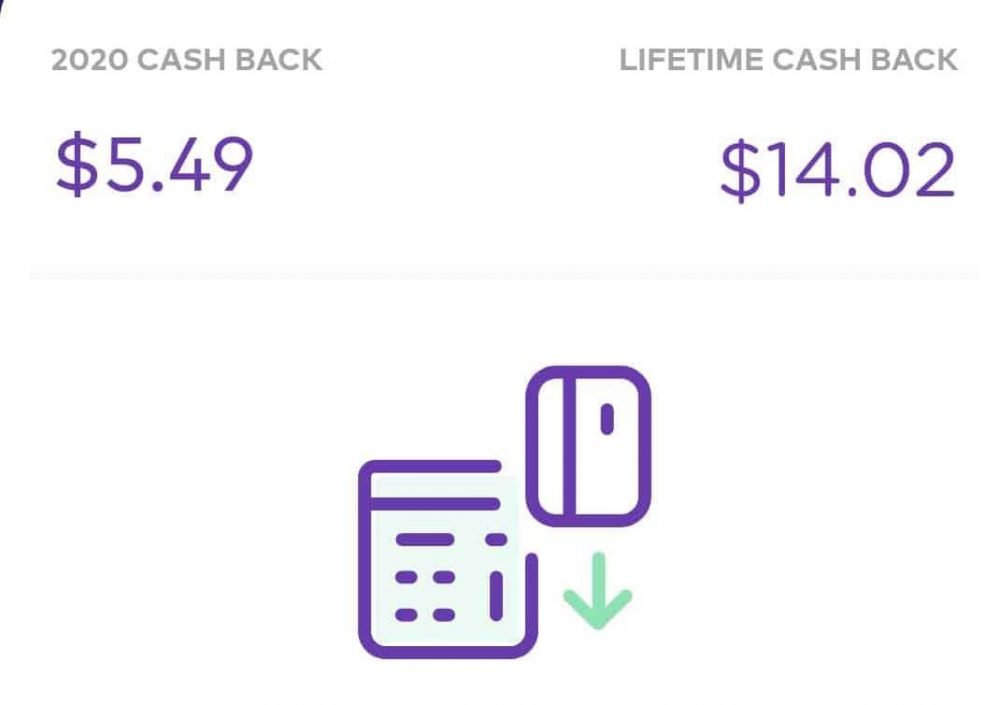 Dosh gives automatic cash back on purchases related to shopping, dining, and travel. It's a user-friendly app and offers large cashback opportunities.
To start, download the app, link the debit or credit cards you use to shop, swipe that same card when making purchases, and get rewarded by brands you love. Brands include Disney+, Instacart, Walmart Grocery Pickup, and many more.
Dosh automatically puts money into your virtual wallet after each swipe. Once you've accumulated $25 in your wallet, you can request to cash out by PayPal, Venmo, or donate to a local charity.
12. Drop App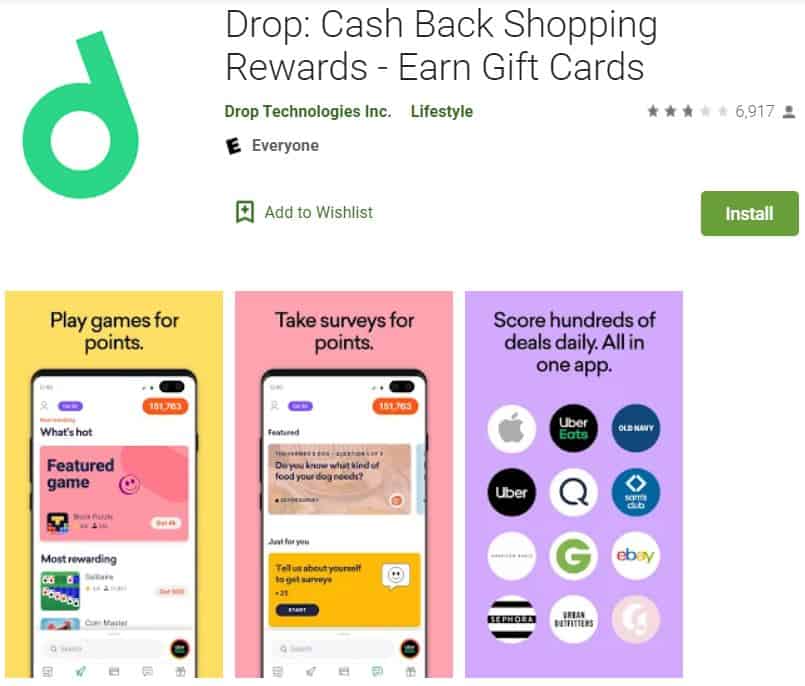 The Drop app is on a mission to be a new kind of rewards program. No matter what kind of purchase you make, if you shop directly from the app, you can earn points.
Purchases from places like coffee shops, travel reservations, clothing stores, and everything in between can qualify for points into your account. Collect points and redeem them for gift cards to places like Netflix, Amazon, Sephora, and many others.
Related: Drop Review
13. MyPoints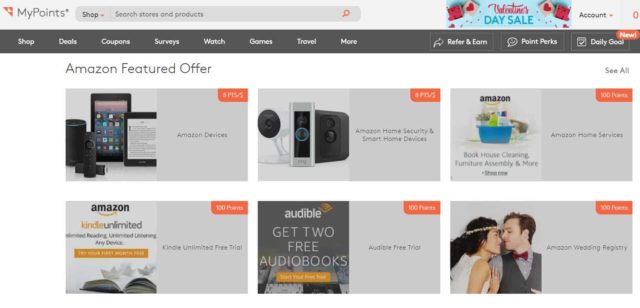 MyPoints is a cashback site that gives users the opportunity to grow their income with money back in their wallet. Shop on its website with over 2,000 retailers to choose from and start earning cash back.
MyPoints gives users the opportunity to earn up to 40% back. Use the points you earn to redeem for free gift cards to popular stores like Walmart, Amazon, Bath and Body Works, and so many more.
14. Check Your Credit Card Offers
Many credit card companies offer special deals to cardholders for being loyal customers. Offers like this one with Chase partnering with Marriott give you rewards that will save you money in the future. This particular offer promises one or three free nights in a Marriott hotel when you spend a certain amount on your Chase card.
Once you're an established cardmember, there are always new offers added. You can select the ones to the places you already shop and the cashback gets applied to your card automatically, plus you'll continue to earn points toward free nights in any Marriott hotel.
Related: Best Delivery Driver Apps
Things to Know When Choosing an App or Site That Pays for Receipts
Uploading your receipts for cash is a simple process. But not all apps and websites are the same. Here are some things to consider before choosing which app(s) work for you.
Should I download multiple apps that pay you to upload receipts?
Yes; one thousand times yes. I can't tell you how many times I've earned zero points on one app and 100s of points on another app for the same receipt. It's because offers change and rotate through the apps all the time.
You can earn the most cash for your receipts by using multiple sites and uploading your receipt to the one that pays the most at the time of your purchase.
Can I upload the same receipt to multiple apps or websites?
Don't confuse my suggestion to download multiple apps as a free ticket to upload the same receipt to all of them. Some of the companies state in their terms of use that you can only claim the offer one time.
It takes a little legwork to get familiar with the rules of each company, but once you've learned them, it's easy to toggle through the apps and find the best deal before you upload your receipt.
If you upload the receipt to one app and there are no deals found, you can go to the next one, and so on. Additionally, you might find that one app offers cash for diapers and another offers cash for Oreo cookies. If these purchases are on the same receipt, you can upload it to two apps and not risk claiming the same offer twice!
Related: How to Become a Coffee Taster
Which receipt app pays the most?
It's impossible to say that one app pays more than another because offers change every day. Each app negotiates with its retailers, restaurants, and brands, and sets a time limit for the offer to run. The offers continue to circulate and change based on consumer habits.
Is it easy to upload receipts for cash, or do I need to purchase special equipment?
You do not need to dust off your photography equipment in order to get paid to take pictures. A simple snapshot of a receipt with your smartphone camera will do just fine. The apps are designed to work with your camera so that you can snap the picture and upload the receipt in one smooth action.
It's Easy to Earn Cash Back by Uploading Your Receipts
There are many ways you can get paid to upload receipts or for making purchases on a card linked with an app. Let your shopping necessities work in your favor by giving you some money back.
Whether you take a picture of a receipt on your phone or use an app for your shopping needs, getting money back can make a difference in your life.
Various companies want to reward you for things you are already doing. Take advantage of their offers and make those opportunities work for you and your household.
---