11 Ways to Make $5,000 Fast (When You're Desperate)
Reasons may vary as to why you might need to make $5,000 in a day. Maybe your debt is piling up way too high. Or your car unexpectedly broke down. Or maybe you just really want to go on that dream vacation, and you need a little extra cash to pay for it.
It's terrifying to be low on money. While saying, "I need $5,000 now" out loud may sound intimidating and almost silly, it is possible to come up with this amount of cash.
You will have to put in the work to earn $5,000 fast. Keep reading to learn new ideas about to get to your monetary goal by the end of the month.
11 Ways to Make $5,000 Fast
1. Become a Jewelry Welder
We've all been there: an unexpected bill has arrived, and you have no way of covering it. At a loss for unique ways to quickly make $5,000, you frantically consider traditional methods like getting another job, working overtime, or borrowing from friends. But you don't need to do any of those things, because there is a way to actually earn $5,000 fast when you're desperate: starting a permanent jewelry business.
Permanent jewelry is booming in popularity. Influencers in the fashion and beauty industries are turning heads with their statement pieces, increasing the demand for certified permanent jewelry welders. Hop on this bandwagon to meet your $5,000 goal much faster than you ever could by working a second job or picking up overtime hours.
LINKED Permanent Jewelry Training can help you kick-start a successful, lucrative career as a permanent jewelry artist. Current permanent jewelers often make at least $2,100 in as little as 2 1/2 hours of work, so you could earn the $5,000 you need in just one day. Read this in-depth review of LINKED to understand how permanent jewelry works, how to get started, and how to make permanent jewelry a successful business venture.
2. Deliver Groceries
It's relatively simple to earn an extra $1,000-plus per month by delivering groceries, and if you're willing to put in the time, that amount could rise to as much as $5,000.
Choose one of the many delivery driver apps on the market and get to work in order to keep the money flowing in.
Instacart is, on average, the highest-paying delivery app, with a reported average of $17.84 per hour, according to Payscale.com. Drivers get paid to shop for and deliver groceries to customers, using their own vehicles.
Pick up shopping jobs in your spare time to help you reach your goal of earning $5,000 fast. Check out this Instacart review for all of the details.
3. Set Up a GoFundMe Account for $5,000
It's sometimes just not possible to raise $5,000 quickly enough to cover that looming bill or costly purchase. But if you have an upcoming deadline that you just can't push off, set up a GoFundMe account and share it on social media.
Generous donors contribute to thousands of GoFundMe drives every single day. For example, when my in-laws' house burned down, the people of their community stepped in and donated more than $5,000 overnight to help alleviate the costs that followed such a tragedy.
If you have a compelling story that you're willing to share with others, you could raise the funds you need through a GoFundMe account.
Related: Best Side Hustles for Dads
4. Get a Loan for $5,000
Loans are sometimes the perfect answer to your money woes. But only you can decide if this is the right avenue for you to take. You could always take out a $5,000 loan and then give yourself a reasonable amount of time to pay it back. That way, you can eliminate the stress of trying to make $5,000 fast when you need it now.
Upgrade can help you find an affordable $5,000 loan. It's free to apply and view competitive rates, and there's never an obligation to accept a loan offer.
Online Businesses That Make $5,000 a Month
5. Teach on Autopilot
If teaching online sounds intriguing, but you don't have the time to show up in person day after day, record an online course that you can sell over and over again. Your students could watch your online class at any time of day, earning you that potential $5,000 within the month.
Samcart provides free training for beginners who want to learn more about the process of creating online courses. This program also provides a user-friendly platform on which to promote and sell your course.
You don't need to have a degree or prior teaching experience to create an online course, but you will need to have some knowledge and experience about the topic you wish to teach. Choose whatever interests you the most, and invoke your personality and unique teaching style to make your class one-of-a-kind.
Samcart offers affiliate tools that will allow you to offer online marketers a commission for recommending your class to their followers. This is a great way to make $5,000 fast when you don't have your own online presence.
Learn more about Samcart in my full review.
6. Set Up "Pay Now Work Later" Service Contracts
It can be intimidating to think about earning $5,000 from just one gig, but making $1,000 each from five opportunities is much more realistic. Consider offering a service that allows you to bill your clientele upfront.
Online freelancers commonly charge ahead of time for their contract services. Most of my clients pay me upfront for my freelance writing and proofreading work.
If you need to get paid $5,000 fast, provide a service (online or offline), and require either a partial down payment or the full amount upfront.
My personal favorite way to earn up to $5,000 fast is to complete online jobs that pay daily, like proofreading or freelance writing assignments.
FlexJobs is a great resource for high-paying freelance work. Access to the site comes with a small monthly fee, because the company vets each job before extending it to freelancers, ensuring clients pay as promised and no one gets scammed out of their time or money.
If you prefer to work offline, some of the best ways to make quick money in a day include heavy outdoor cleanup, landscaping, lawn care, organizing, or indoor deep cleaning services. Search for local businesses that require contract services, or look for opportunities with potential clients in high-income areas.
Related: How to Start a Cleaning Business
7. Start a Niche Site
When you type a question into Google, you're hit with a long list of niche sites that offer the exact answer you need. If you search for a recipe on Pinterest, you'll find content marketers there, too. Many of these niche site owners earn up to $5,000 per month by answering questions and recommending solutions for a commission.
Affiliate marketing is a popular method niche site creators use to build a solid online income. Stores like Amazon, Target, and Walmart pay content creators any time a customer makes a purchase using their unique links. This process doesn't cost the customers any additional money, and the niche site owners earn a nice income for helping their readers find what they need.
Because each article can take a few hours to research, write, and publish, it can take niche site owners years to reach that $5,000 per -month threshold. When websites get to the point where they're generating that much money every month, it can generally be passive for the blogger, and well worth the wait.
Related: How to Become a Pinterest Manager
More Ways to Make Money Fast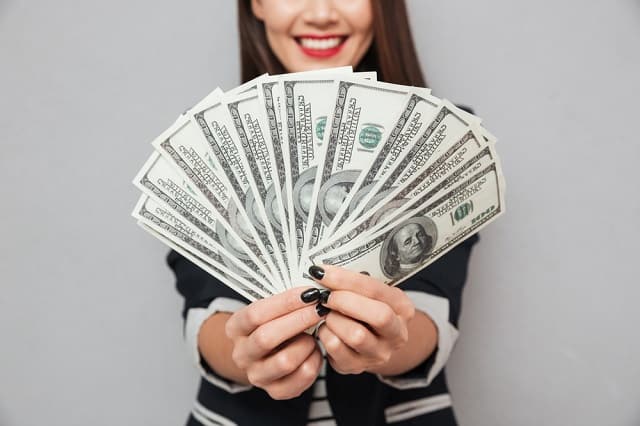 8. Flip Second Hand Items for $5,000 Fast
Flea market flipping is one of the best ways to turn used items into cash.
Flipping isn't for everyone, since it requires such a unique skill set (finding, valuing, in some cases fixing, reselling, and shipping items). The best way to get started is to specialize in a single line of items, like shoes or books.
ZenArbitrage, a complete business-in-a-box system, helps book flippers scale their income to $5,000 fast. This tool will nearly automate the process for you, from finding highly profitable books, to reselling them for a profit.
Related: Best Things to Flip for Profit
9. Pick Up Quick Respondent Jobs
Get paid to answer questions or complete simple tasks like ordering through the drive-through of a local fast-food restaurant or purchasing a specific brand of toilet paper.
Sign up with a site like Respondent.io to earn money by completing tasks like the ones listed above, which are easy and pay well. Respondent participants earn an average of $140-plus per hour. While a single respondent probably won't be able to take on enough jobs to earn $5,000 fast, this is still a great way to add some extra money to your bottom line.
Related: Need Money to Pay Rent Tomorrow?
10. Rent Out Your Belongings
If you own valuable items that you don't want to sell, rent them out instead. Check out Fat Llama, where you can list photography equipment, drones, tools, and more for people in your area to rent.
Consider these additional options:
Neighbor.com to rent out extra storage space
RVshare to rent out your RV by the night
HyreCar to rent out your car to local Uber and Lyft Drivers
Airbnb to rent out your home or a room in your house
Related: Best Things to Buy to Make Money
11. Sell Your Car, RV, Snowmobile, or Boat for $5,000 in Cash
Selling an item that you already own for $5,000 in cash now can be the quickest way to get the money you need. Walk through your garage, taking inventory of belongings you no longer need. If you resell large pieces, you could make up to $5,000 right away.
Cars and RVs sell quickly, so list those on local sites like Facebook Marketplace or Craigslist. Depending on the season, you could earn a fair amount by selling your snowmobile or boat.
It's not easy to quickly earn $5,000, but if you're willing to let go of extra furniture, clothes and shoes, large appliances, or your second lawnmower, you could reach that monetary goal as soon as today.
Related: How to Make $50,000 Fast
It's Possible to Make $5,000 in a Day (with Determination and Hard Work)
Despite what we've been told by infomercials and billboards, it's not easy to make a quick $5,000. I put in many dedicated hours to earn my first $5k outside of a 9-to-5 job, and I nearly gave up because of the effort it took. Over time, I found ways to streamline the process, which resulted in my spending less time working, while charging more money.
I've never needed to earn $5,000 in one day, but I have made $10,000 in a single week, and while it's not an easy thing to do, it's definitely possible to succeed. Just set clear goals and have a plan in place.
Give yourself some legroom and start by earning $500 a day to have the full $5,000 in hand in just 10 days. It's time to get to work!
Related: How to Make $300 Fast