How to Make $5,000 Fast (When You're Desperate for Cash)
One of my favorite sites,
InboxDollars
, offers tons of ways to earn real cash online. If you're not already a member, give it a shot! You can even
get a $5 cash bonus
just for trying it out.
It's a scary feeling when you need to make $5,000 fast. It can take weeks or even months to come up with that amount, in some cases.
I remember making the last-minute decision to go to college. It was an exciting time, but all I could think about was the initial money I would have to pay upfront in order to avoid taking out a loan that semester.
There are tons of reasons why you might need to make $5,000 in a day; looming debt, the need for a new vehicle, or just the final push to go on your dream vacation could be on your mind.
While saying "I need $5,000 now" out loud may sound intimidating and almost silly, it's absolutely possible to come up with this amount of cash.
There are only a few ways to make 5000 dollars fast, but you'll need to put in the work to make it happen. Keep reading to learn new ideas to get to your $5,000 goal overnight (or at least this month). Here's to your success!
Our Most Popular Money-Making Offers
Opinion Outpost - A high-paying, trusted survey site that rewards its members in free Amazon gift cards or cash.
Branded Surveys - A legit survey site that rewards its members in cash just for sharing their opinions.
InboxDollars - Get a $5 new-member bonus for joining a site that pays you to play games, search the web, answer polls, and complete paid offers and surveys.
Instacart - Earn up to $20 per hour to shop for and deliver groceries on your own schedule using your own car (and keep 100% of your tips!).
Cash App - Get $170+ in free cash and Bitcoin, invest in Bitcoin and stocks, and send and request money for free. Use my referral code for a cash bonus:
10 Way to Make $5,000 Fast
Earning $3,000 fast sounds crazy enough, but $5,000 may just be extreme. If you're willing to choose an activity that will actually get you that kind of money in a short amount of time, then these ideas will be the ones to consider.
1. Deliver Groceries
It's relatively simple to earn an extra $1,000+ a month by delivering groceries in your area. If you're willing to put in the time, you could even earn up to $5,000 in a month. Grocery shopping is a dreaded chore that many people will gladly pay someone else to do.
There are many delivery driver apps you can download and apply to in order to keep the jobs flowing. However, it's best to start with just one or two at first.
Instacart is typically the best paying delivery app with a reported average of $17.84 per hour according to Payscale.com. Drivers get paid to shop for, checkout, and deliver groceries to customers' doors using their own vehicles. You can pick up shopping jobs in your spare time to help close the gap on your goal to earn $5,000 fast.
2. Set Up "Pay Now Work Later" Service Contracts
$5,000 from one job is a lot of money, but $1,000 from five jobs or $2,500 from two jobs sounds much more realistic. Instead of working for a paycheck, consider offering a service that allows you to bill your clientele upfront.
As an online freelancer, it's not uncommon to bill upfront for contract services at the beginning of a 30-day working period. Most of my freelance writing and proofreading clients pay me upfront. And those who do not would likely do so if I asked them to.
If you need to get paid $5,000 fast, consider offering a service (either online or offline), and require either a partial downpayment or the full amount upfront. Of course, it goes without saying that your work must be delivered flawlessly and on time in order to remain in good standing with your clients (which could lead to more work).
Working online jobs that pay daily is my favorite way to earn up to $5,000 fast. I like to take on things like proofreading jobs or extra freelance writing assignments.
FlexJobs is a great place to look for high-paying freelance work. The site comes with a small monthly fee because the company vets each job before extending it to freelancers. That helps make sure that clients pay as promised and that no one gets scammed out of their time or money.
If you prefer to work offline, some of the best ways to make quick money in a day include things like heavy outdoor cleanup, landscaping, lawn care, organizing, or indoor deep cleaning services. Search for local businesses that require contract services or check with individuals in high-income areas for opportunities.
Related: Best Side Hustles for Dads
3. Sell Your Car, RV, Snowmobile, or Boat for $5,000 in Cash
Selling something you already have for $5,000 in cash now can be the quickest way to get the money you need. Walk through your garage and start taking inventory of the things you can part with. If you have some large items, you just might be able to get $5,000 today.
Things like cars and RVs can sell quickly if you list them on your local Facebook marketplace. Depending on the season, you might get a fair amount for your snowmobile or boat, too.
Getting $5,000 quickly is not easy. But if you're willing to let go of extra furniture, clothes and shoes, large appliances, or your second lawnmower, you can reach your income goal as soon as today.
Don't underestimate the value of the items you're not using at the moment. Start listing them online and watch the cash flow in!
How to Accept Payment
Selling things person to person like second hand items or your services can be a pain.
No one has cash on hand anymore to buy your stuff.
Everyone takes Visa cards EXCEPT you!
That's why offering Cash App as a payment option can boost your sales in a heartbeat.
And it's SO easy to use as a seller AND a buyer.
Download the app and get a free cash bonus when you enter referral code JSMTBXW and send money using the app.
Click on the button to copy the code then paste it into Cash App to get the free bonus!
4. Set Up a GoFundMe Account for $5,000
It's easy to find yourself in a situation where working for $5,000 fast is just not possible. But if you have an upcoming deadline, and it's for a worthy cause, consider setting up a GoFundMe account and sharing it on social media.
GoFundMe allows people to donate to thousands of different causes every day. For example, when my inlaws' house burned down, neighbors stepped in and donated more than $5,000 overnight to help alleviate the costs that follow such a tragedy.
Each person has his own struggles, but I've seen neighbors band together for so many different causes. If you have a compelling story that you're willing to share with others, you might be able to raise the funds with a GoFundMe account.
5. Get a Loan for $5,000
There are times when a loan is the answer to your money woes. But only you can decide if the cost of a loan is right for your needs. You could always take out a $5,000 loan and then give yourself a reasonable amount of time to pay it back. That way you can eliminate the stress of trying to make $5,000 fast when you need it now.
Upgrade is a company that can help you find an affordable $5,000 loan. It's free to apply and view competitive rates. There is no obligation to accept a loan offer if you decide not to take out a loan.
More Ways to Make Money Fast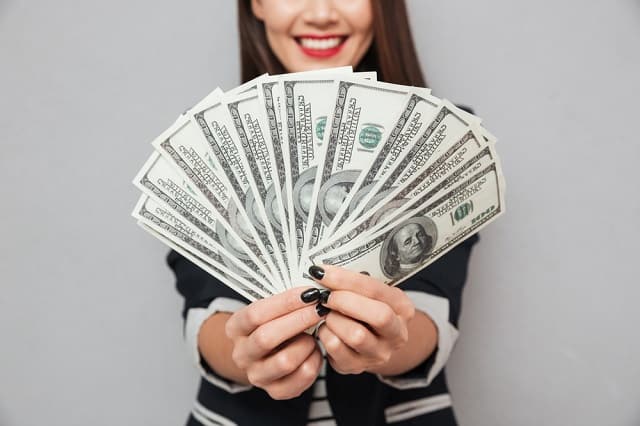 Feeling ambitious? If so, you can amp up your earnings to a quick $5,000 or more with these ideas. It'll take more than one job to get to this level of income, but if I can do it, so can you!
6. Pick Up Quick Respondent Jobs
As a respondent, you can get paid to answer questions or do simple tasks like go through the drive-through of a local fast-food restaurant or use a specific brand of toilet paper (yes, these jobs have been listed once upon a time). There are hundreds of opportunties and they change all the time.
If you like to earn your money by doing simple tasks that pay well, then sign up with a site like Respondent.io. The company proudly displays the average earnings of its respondents to be $140+ per hour. While there won't be enough jobs for a single respondent to earn $5,000 fast, it can be a great way to add some extra money to your bottom line.
7. Rent Out Your Stuff
If you have a lot of valuable items that you're not willing to part with and sell just yet, consider renting them out instead. You can use a service like Fat Llama to list things like photography equipment, drones, tools, and more for neighbors to rent.
You can also use sites like:
RVShare to rent out your RV by the night
HyreCar to rent out your car to local Uber and Lyft Drivers
Airbnb to rent out your home or a room in your home
Related: How to Make $50,000 Fast
8. Flip Second-Hand Items for $5,000 Fast
It's not every day you visit your local flea market and find an item worth $5,000 selling for pennies on the dollar. But it absolutely does happen. Flea market flipping is one of the best ways to turn used items into cash.
Take Rob and Melissa with Flea Market Flipper, for example. This couple turned a $175 carousel horse into ~$3,000, along with some other items like a stroller, baby sleep sack, an outboard motor, and three Nordick Tracks into a total of just under $5,000 while on vacation as a family!
The couple has since earned hundreds of thousands of dollars flipping thrift store and flea market finds for a profit. Since it requires such a unique skill set (finding, valuing, in some cases fixing, reselling, and shipping items), you can sit in on their free online workshop to learn exactly what it takes to make thousands of dollars flipping things for a profit.
When I need $5,000 fast, I like to scour my local flea market and thrift stores to find items to flip for cash.
Related: 10 Jobs That Feel Like You're on Vacation Right Now
Online Businesses That Make $5,000 a Month
For most people, earning $5,000 per month is a lot of money, and doing so within 30 days is relatively quick. These home business ideas have the potential to earn that much and more, but it can take years to build them to that potential.
9. Blogging
When you type a question into Google, you're almost immediately hit with a long list of blogs with the exact answer you need. Or if you search for a recipe on Pinterest, bloggers are there, too. Many of these bloggers earn up to $5,000 per month for answering questions and recommending solutions for a commission.
Affiliate marketing is a popular way that bloggers build a solid income online. Stores like Amazon, Target, and Walmart have programs where content creators can use unique tracking links in their blog posts and get paid when a customer clicks on a link and makes a purchase. It doesn't cost the customers any additional fees, and the blogger earns money for helping those people find what they need.
On a larger scale, building a blog can take years to reach that $5,000 per month threshold because each article can take a few hours to research, write, and publish. But once a blog is earning that much money each month, it can be generally passive, and it's well worth the wait.
10. Teach on Autopilot
If teaching online sounds intriguing but you don't have the time to physically teach a class, consider recording an online course and selling it again and again. You could earn up to $5,000 a month by teaching a class on autopilot. Instead of waiting for you to be available, students can purchase and watch your online class 24 hours a day.
Thinkific provides FREE training for beginners who want to learn more about creating online courses. It also provides a user-friendly platform to promote and sell your course to eager students.
The nice thing about creating an online course is that you don't need to have a degree or teaching experience. But you will need to have some knowledge and experience on the topic you wish to teach about. There are thousands of topics to choose from, and you don't have to choose something that has never been covered before. Instead, offer your personal spin and teaching style on an existing topic.
Plus, if you're afraid that your course won't get in front of the right people, Thinkific offers affiliate tools, which means you can offer online marketers a commission to recommend your course to their audiences. This is a great way to make $5,000 fast when you don't have your own following.
Sign up for the free training on how to create an online course!
It's Possible to Make $5,000 in a Day (with Determination and Hard Work)
I've never needed to earn $5,000 in one day, but I have made up to $5,000 in one week–and it's not easy! But when you have clear goals set and a plan in place, it's more than possible to succeed.
How will you crush your goals? Whether you offer a pay-up-front service, sell stuff out of your garage, or flip quick flea market finds, there is always a way to make money fast when you need it now.
$5,000 is a lot of money. If you can give yourself some legroom and start by earning $500 a day, you could have the full amount in hand in just 10 days. Now that you know that it's possible, it's time to get to work!