Pinecone Research Review: The Most Exclusive Surveys
We foster relationships with brands we use and trust. The testimonials on our site represent real experiences, but they don't guarantee you'll achieve similar results. When you make purchases through our links to our partners, we may earn a commission. Your support helps us continue this work. You can read our full disclosure here.
Pinecone Research is arguably one of the most exclusive survey sites on the web. I tried to get accepted to the company more than once over the years until there was finally an opening for my age and demographics.
Once you're in, the company sends surveys to your email address. But who gets in? Are they looking for someone like you? You won't know unless you apply to join through this exclusive invite to Pinecone Research.
This Pinecone Research review will give you everything you need to get started. One thing that I love about the company is that it is one of the highest-paying survey sites out there (that's if you can get in).
Members make money sharing their opinions on real products and services and get rewarded in cash or gift cards. You'll play a part in the way companies create products for consumers.
Whether you're short on next month's rent, need a little extra money this month to cover an unexpected bill, or just looking for a way to boost your savings every month, Pinecone Research can help!
Let's dive into our full Pinecone Research review to see if it's right for you.
Pinecone Review: Summary and Quick Facts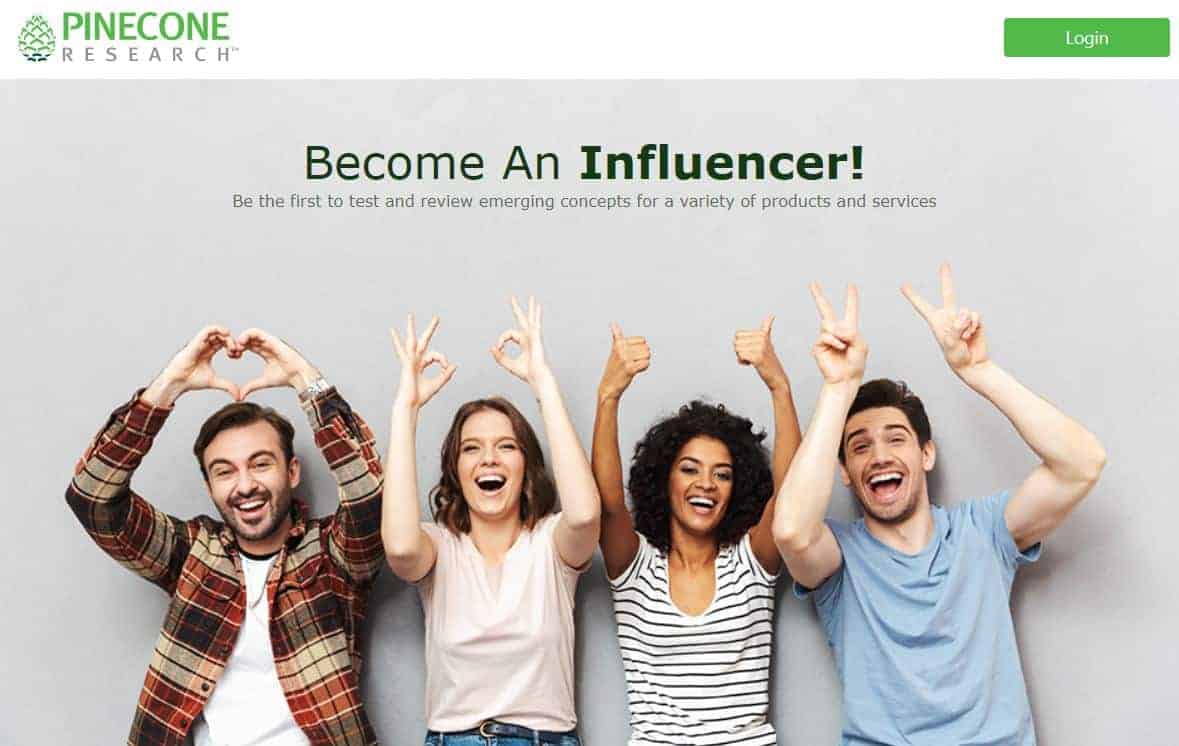 Pinecone Research is a market research leader in the industry, helping bring valuable consumer input to companies that are seeking feedback. As a survey-taker, you can expect them to bring you legitimate opportunities to share your opinion, earning rewards and money for your time.
Pros:
Free to join
Higher payouts (minimum of $3.00 per survey)
Multiple ways to redeem points
Weekly and monthly cash prizes
Cons:
It can be hard to get accepted as a new member since the site is so exclusive
Earnings accumulate in points, not cash
No refer-a-friend program
You have to wait for email offers to complete surveys
Trustpilot Rating: 2.6/5
BBB Rating: 2/5
Our Rating: 3.5/5
Related: 50 Survey Sites That Pay Worldwide
What Is Pinecone Research and How Does It Work?
Pinecone Research helps bring valuable consumer opinion to the companies that are seeking it.
As a survey taker, you will join Pinecone Research for free, then get notified when survey opportunities are available and get rewarded to take surveys.
There's a simple 5-step process for getting started:
Sign up
Get a survey notification when a survey is available
Get access to some of the highest paying surveys
Get paid
Redeem for rewards
Sign up For Pinecone Research
Signing up for Pinecone Research is very easy. It's 100% free and can be done in just a few minutes.
You'll provide things like:
Name
Email address
Address
Phone number
Pinecone Research is one of the few survey companies I would give my cell phone number to. Since it's a reputable company, I can trust that they will keep it safe and not hand it over to spam companies.
Confirm Your Email Address
Make sure to visit your email to confirm your membership. In your email, you will receive a 7-digit ID number (example: ID: 1234567). You will need this number to log in.
Click Finish Registration to finish signing up.

Set a Security Question & Password
The next step is to set a security question. This can help you recover your account in the event you forget your password.
Secure your Pinecone Research account with a password that is easy to remember but hard for hackers to guess.
Read and Agree to Terms
Pinecone Research requires honesty and integrity when completing surveys for its clients. Read the complete terms and type "I AGREE" to continue.
Complete Your Profile
Completing your profile is a critical part of the registration process. It will mean the difference between getting survey offers and not. As you go through your profile, be honest and answer questions about your background, demographics, and lifestyle.

There are about 15 questions to complete in this section. It took me about 10 minutes to finish it. Make sure to walk through each question and answer honestly in order to receive survey invitations.
Take Surveys
Next, you'll get survey notifications when surveys are available. Notifications are emailed to you and once you accept, you can take the survey right away.
Related: Survey Junkie Review: How Much Does It Pay?
Get Paid
When you take surveys through Pinecone Research, you will accumulate credit in points. Then, you can redeem those points for rewards like PayPal cash or free gift cards.
You can redeem your points by logging into your account and navigating to the "SHOP" section to browse awards.
Pinecone Research is one of the best sites that pay you to answer questions. You will earn a minimum of 300 points (or $3.00) for every survey taken.
Related: Swagbucks Review: How Much Does It Pay?
Product Trials
Other than taking surveys, you can also make money on Pinecone Research through testing products.
Pinecone Research will occasionally have product trials that you can participate in. You will receive products mailed to your home.
This includes services too.
And, make money trying them out!
So, in the end, you get free stuff that you and your family can use and you get paid to test and review the products!
For product trial opportunities, keep an eye on your inbox, as you'll be notified of available opportunities via email.
Related: Get Paid to Give Advice
Common Questions About Pinecone Research Payments
Do points expire?
Yes. Reward points are good for twelve months after no earning activity on your account.
How come my first 300 points were redeemed for a check?
Your first 300 points will automatically be redeemed for a check mailed to your home address. This is mandatory and they do this to establish your account. After this, you will be able to go to "SHOP" and choose your reward.
How many points are earned per survey?
The amount of points you earn varies based on each survey. You can earn up to 5,000 points (worth $50) per survey. Most surveys pay 300 points (worth $3).
When will my reward be applied to my account?
You can expect your reward to be added to your account within 3 to 5 business days following the successful completion of your survey.
How can I check how many points are on the account?
To check your points are on your account, go to your Pinecone Research account, log in and go to the member's area to view your balance.
Best Alternatives to Pinecone Research
For a chance to make the most money with surveys, don't limit yourself to just one survey site. While Pinecone Research is definitely worth trying out, these other survey sites are equally great.
To up your income even further, check out these highly-rated survey sites.
MyPoints
As a member of MyPoints, you can trade your time for reward points and then redeem your points for rewards.
MyPoints also offers its members up to 40% cashback on your purchases from over 2,000 different retailers!
Do a variety of activities from home:
Take surveys
Play games
Web search
Watch videos
And, more!
Related: MyPoints Review: Can You Redeem Points for Cash?
Branded Surveys
Branded Surveys is a company that will pay you to take surveys. You'll earn cash for each survey taken. There's a minimum $5 payout threshold and payment is sent via PayPal.
Upon signing up you get an instant $1 bonus, then after completing your profile, you can gain access to tons of different surveys, no wait required.
If it bugs you to wait for email survey offers that can limit your earning potential, you won't have to worry about this with Branded Surveys! You can log in when you want and gain access to tons of surveys that will pay you for your honest opinion.
There's no income cap with Branded Surveys and that's what their members love about the platform.
Related: Branded Surveys Review
LifePoints
LifePoints is a member-loved survey site that gives you all the benefits of survey-taking:
Work from home
Create your own schedule
Make money online
They have one of the highest Trustpilot ratings I've seen, at 4.2!
Within 10 minutes of joining Lifepoints and setting up your profile, your account will be loaded with 20 points.
Browse the site for available offers and receive email offers as well.
You can make money fast just for sharing your opinion. This is a good survey company to keep in your arsenal to amplify your earnings every month.
Related: LifePoints Review: Scam or Legit Survey Site?
Pinecone Research Q&A
Is Pinecone Research free to join?
Yes! You can join Pinecone Research for free.
How does Pinecone Research pay?
You earn points for completing survey offers and you can redeem those points for gift cards and PayPal cash.
What if my profile information changes?
Your profile is what will connect you with surveys so if there are changes, it's important to update Pinecone and you do so by contacting it.
How do product samples work?
You will be contacted if product sample opportunities are available, along with instructions for providing feedback for product testing.
How much money can I make with Pinecone Research?
They pay a minimum of 300 points (or $3.00) per survey. The amount you can earn will vary based on the number of surveys taken and payouts per survey. Taking surveys through Pinecone is a great way to make extra money but it can be difficult to estimate your potential income. In order to make the most of survey taking, consider joining multiple survey companies.
Pinecone Research Final Thoughts
In general, Pinecone Research is a great survey company to join to make extra money. If you can be consistent and stick with it, accepting survey offers that come your way, you can make extra money throughout the year by sharing your opinion with surveys.
Consider the pros and cons to determine if Pinecone Research is what you're looking for.
Try it yourself to make your own decision. Join Pinecone Research to get started.
---
We appreciate the time you've spent reading this post and your interest is not lost on us. Your thoughts, questions, or experiences related to the topic are most welcome. Each comment adds strength to our community. We ensure every comment receives our attention, and we take the time to provide thoughtful responses. Once again, thank you for being a part of this conversation. Click here to leave a comment.