How to Start an Etsy Shop and Make Money Selling
We foster relationships with brands we use and trust. The testimonials on our site represent real experiences, but they don't guarantee you'll achieve similar results. When you make purchases through our links to our partners, we may earn a commission. Your support helps us continue this work. You can read our full disclosure here.
Gone are the days of only being able to buy things in stores. It's actually quite convenient these days though if you think about it. Especially if you shop on marketplaces like Etsy where you can find rare, homemade, and unique items to enhance your life.
With all the little shops available on Etsy, I often wondered how to start an Etsy shop and get those sales that I see other shop owners getting. From handmade clothing to vintage items to downloadable files, there is no shortage of things you can find to fit your lifestyle.
One day, I decided that I could give this Etsy shop thing a whirl, and now I have my own shop selling printables. I've been pleasantly surprised to see my shop bringing in some easy passive income that I can build on to earn even more.
If you're like me and desire to do something creative that is also income worthy, use this starting an Etsy shop checklist to guide you through the process. It's not difficult to do. Invest some time now to start your own shop and the income you make can grow over time.
How Much Does it Cost to Set Up an Etsy Shop?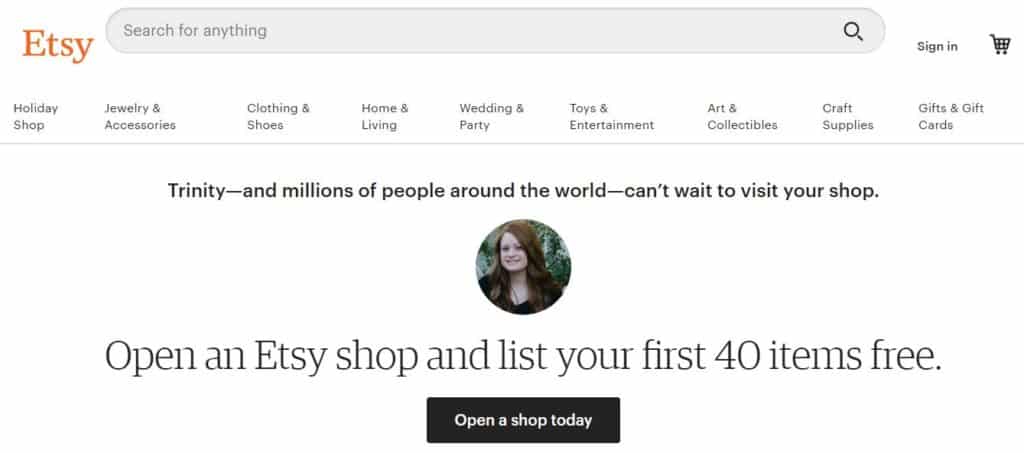 Technically, it's free to start your own Etsy shop. However, there are a few things to know before you begin. If you sign up using my custom invitation here, you get 40 free listings.
After you sell your first 40 items, then each item you list after that will require a $0.20 listing fee. The listing fee allows your product to be listed for four months. Additionally, there is a 5% transaction fee after each item sells.
There are also other fees to consider as well. While you want to make purchasing as convenient as possible for shoppers, things like PayPal will also charge a fee for using their services.
Related: Is ThriveCart Legit?
What To Do Before Opening an Etsy Shop
Selling your own products can be exciting. However, there are some things to consider when learning how to start an Etsy shop.
Research the Best Things to Sell on Etsy
There are trends that come and go on Etsy. You need to do some research to determine what will make you the most money. There are also products that sell well during various times of the year. Check out this free resource on how to take advantage of seasonal trends on Etsy.
The top things to sell on Etsy are things like printables. Other Etsy shop ideas include selling crafts, services, ebooks, and journals.
Printables are easy to download and they give your customer a sense of instant gratification. There is no hassle or additional expense with shipping. Also, they are low cost and require little to no time investment on your part once they've been created and listed.
If you are concerned about your ability to create printables, you can look into purchasing commercial-use printables from a site like Createful Journals. With commercial printables, you can rebrand them with your own colors and logo then resell them.
Before you choose what to sell on Etsy, it's important to do competitor research. Taking time to research other stores on Etsy that are selling similar products to those you plan to sell can help you choose a profitable product from the start.
I've recently been testing Sale Samurai, an Etsy SEO tool that helps you choose keywords for your product listings. If you don't use keywords in your product listings, then Etsy can't put your products in front of customers.
Additionally, doing keyword research ahead of time on Etsy helps you determine if people are actually searching for your product idea. Sale Samurai can save you tons of time and effort by showing you which products are the most popular.
(use code THEPAYATHOMEPARENT20 for 20% off)
Make a Financial Plan
This wouldn't be an appropriate guide on how to start an Etsy shop if financial planning wasn't mentioned. You need to make smart business decisions from the get-go if you want to be a successful Etsy shop owner.
Do the math to ensure each sale will be profitable and not just something that allows you to break even. Think about supplies, time spent, and listing fees.
If you are not sure where to even start with your pricing, search around Etsy and take a look at other shops offering the same products. Check out their pricing and give yourself an idea of what you can charge for your own items.
This will also be helpful to know if you're charging too much, which could deter others from buying from you if they think they can get the same product for less.
There is much to consider in this aspect. Make sure you do your research and calculations to optimize your shop sales.
Related: More Thing to Sell to Make Money
Consider Outside Advertisement Methods
The chances of your shop being seen on the Etsy platform is greater than if you tried to open a shop elsewhere. It is no doubt a popular option for selling. However, it can be challenging to generate sales initially when you are a new shop.
Consider starting a blog or promoting your listings on social media like Pinterest, Instagram, and even Facebook. These channels can drive people to your Etsy shop and get your products in front of potential customers.
Related: How to Become a Pinterest Virtual Assistant
Consider the Business Name You Want for Your Shop
Some shop owners find this is the hardest part of opening a shop. You want to pick a name that suits your business and values, but will also be enticing to customers. Whatever you choose, you must be careful because you can only change your Etsy shop name once.
6 Steps to Start an Etsy Shop
Now that you've decided what to sell based on a variety of Etsy shop ideas, it's time to set up shop and get to selling your great products. Here are six steps to get started.
1. Sign Up for a Free Account
Easily complete the steps to sign up for an account here. Answer questions for your shop preferences like the language, what country you are selling from, and what currency your shop will list prices under.
Also select how you want to use your shop: Full time, part time, or just as a side hustle.
2. Name Your Shop
Once you've come up with a shop name, it's time to see if it is available on the platform. If your fancy shop name is taken by someone else, Etsy has a shop name generator that will produce variations of the name you are trying to use. Pick one of the suggested names or come up with a different name altogether.
3. Stock Your Shop
Add items you want to sell in your shop. You have to add at least one item in order to proceed. Etsy recommends adding 10 products to your shop to start out. The more you have listed, the more chances you have of being seen by shoppers.
When adding products, include pictures of your items so that shoppers can see what they will be purchasing. Etsy recommends using at least five pictures per product.
Use the description section to really highlight your items and tell customers why they should buy from you. This is your chance to get those sales and make connections with customers to your products.
Take advantage of the "tag" options as well to add keywords to your items. This will help shoppers see your products when they search for specific things in the Etsy marketplace. For example, if you are selling printables, use a tag "printables" so that customers will find your items faster.
Complete the details of your product listing with a catchy title, add the price, and shipping costs if applicable.
Additionally, make sure you check whether or not you want your item to auto renew. This means that if an item is still available after the initial four months of it being listed, you will be charged the listing fee again to continue to have it displayed.
Related: 25 Best Stay at Home Mom Jobs
4. Choose how To Get Paid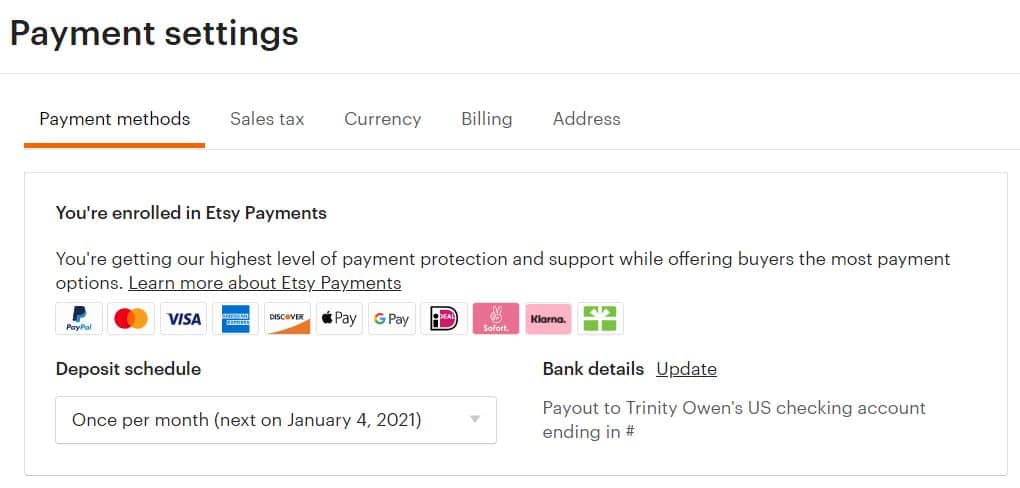 After your items have been added to your shop, you will then determine how you want to be paid when someone makes a purchase from you.
Before you begin, you'll need to choose how customers can pay you. Etsy offers a wide variety of payment options like PayPal, check or money order, Etsy Payments, or other.
With Etsy Payments, this allows your shop to accept credit cards, debit cards, Etsy gift cards, and more. This option is the most popular option because of the versatility it offers. The more convenient it is for your customers to make a payment, the higher your chances are of them purchasing from you.
When customers purchase from you using one of the options you've allowed, you must make sure on your end that you have your account information for the payments to go to you. This means allowing PayPal to have integrated access to Etsy.
When using Etsy Payments, you'll need to set up your bank account information so that Etsy knows where to send the money. There is nothing worse than not getting paid.
Related: Get Paid for Your Ideas
5. Set Up Billing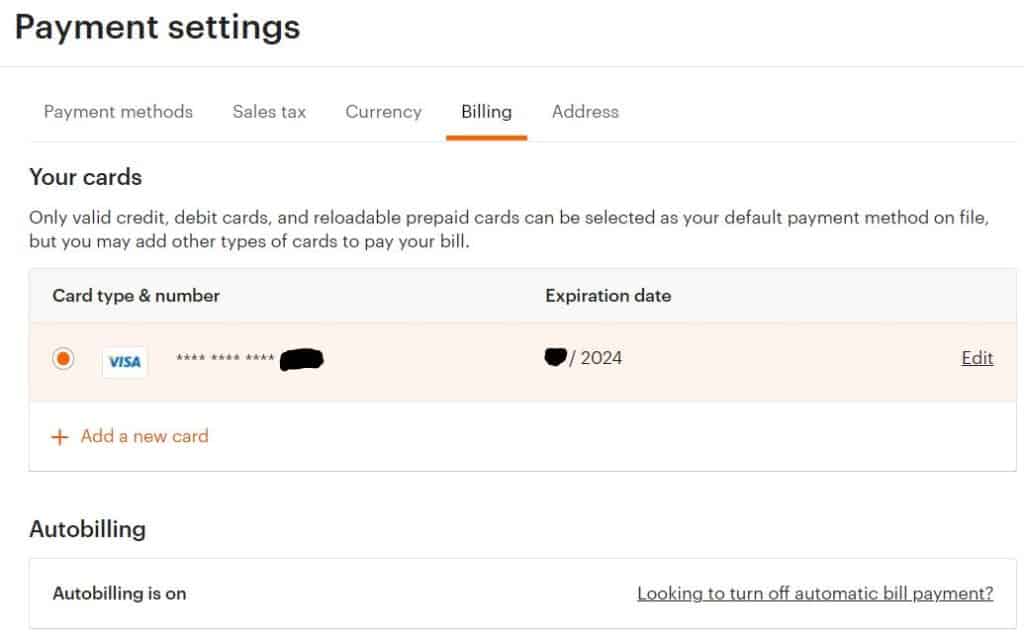 This step on the starting an Etsy shop checklist will be different for every seller depending on the country in which they live. Etsy has different requirements such as adding a credit card on file for identity authorization purposes.
Having a credit card will be beneficial for those U.S. residents who want to enroll in auto payments. Otherwise, you will be expected to make payments on your monthly statements.
The bills you are setting up will be for those listing fees and transaction fees.
6. List Your First Product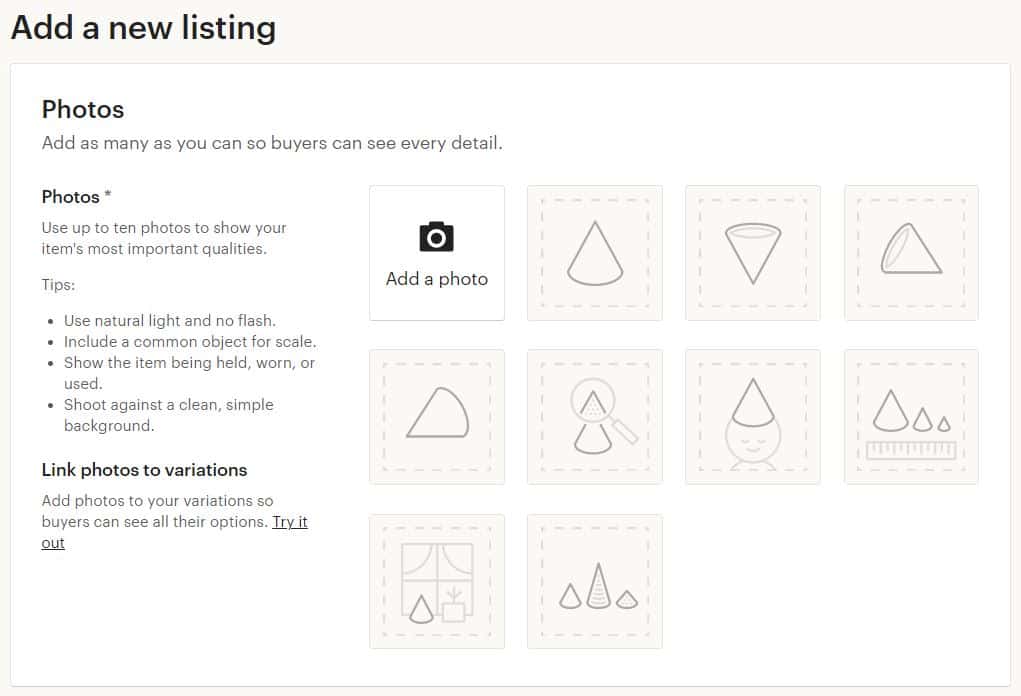 Finally, the most exciting step when figuring out how to start an Etsy shop is going live with your first product! Once you hit that "Open Your Shop" button, your shop will be live. What happens next is up to you.
Start sharing your shop link with friends and family to get your first sale. Ask them to share your shop information as well to their friends to spread the word about what you have to offer.
Not sure what to list first in your shop? Printables are a hit for many shop owners. Consider purchasing some templates that you can edit and rebrand as your own.
Is Etsy Worth It?
There are plenty of Etsy sellers earning good money out there. Check out some shops with similar products to what you want to sell and notice how many sales they've made. This should give you a feeling for how others can be successful and so can you.
If you choose to start out with printables, consider learning from Julie and Cody of Gold City Ventures. In their free resource, you can learn how to make the most of seasonal trends to get maximum sales.
If you like what they have to teach, you can go on to join their paid online course. Past students share how quickly they were able to make dozens of sales after only being open for a short time. One student shared having made over $450 on Etsy in one month without having to run any kind of promotions.
Others testify that the course helped them make several sales each week and generated thousands of dollars in sales. The course is available for others to join on a waitlist basis.
If you feel there has to be a right time for you to start your Etsy shop, now is the time! Don't hold out any longer. Join in on the fun and start making some money doing something you love and on your own time.
You have all the tools now on how to start an Etsy shop. Nothing should be holding you back any longer.
Related: 5 Legitimate Car Wrap Advertising Companies
---
We appreciate the time you've spent reading this post and your interest is not lost on us. Your thoughts, questions, or experiences related to the topic are most welcome. Each comment adds strength to our community. We ensure every comment receives our attention, and we take the time to provide thoughtful responses. Once again, thank you for being a part of this conversation. Click here to leave a comment.