Donate Plasma for Money (24 Donation Centers that Pay Well)
One of my favorite sites, InboxDollars, offers tons of ways to earn real cash online. If you're not already a member, give it a shot! You can even get a $5 cash bonus just for trying it out.
Additionally, Kashkick pays real cash for completing easy online tasks. It's free to join, and you can start earning money right away!
I couldn't be more thankful for the centers that offer the opportunity to donate plasma for money near me.
February 2019 was one of the scariest times of my life as a parent. My toddler son had been sick constantly for the six months prior. He had back-to-back illnesses that could not just be brushed off as the typical daycare germs and illnesses anymore. It was more than that.
I fought for further testing because I knew deep down there was more to this. His constant illnesses were not normal. And I was right; there was much more to his story. I was not sure what to expect. However, what I was not prepared for was the term "childhood leukemia" to come out of his pediatrician's mouth.
My world was turned upside down. What did this mean for him? How could we help him? How would we begin his treatment? What were the treatment options? Our lives were forever changed.
Plasma transfusions are one of the many treatment options on the list of helping patients with leukemia. I never thought I would be so thankful for opportunities such as plasma donations as the day when I found out my son might need it. People who donate plasma for money near me give my family (and others like mine) hope.
Since most locations don't expect people to donate plasma for free, I set out to find the plasma donation centers that pay near me. Keep reading to learn about the locations that I found.
Click the button ⬆️ to subscribe to my YouTube channel and get all of my money-making secrets, tips, and strategies for free!
Our Popular Money-Making Offers
Sign up with each of the following companies to maximize your earning potential.
Trusted and legitimate
Passively pays you to use your phone
Free to join
Awarded in egift cards
$5 sign-up bonus
Pays to play games and watch videos
100s of other paid tasks
Awards cash
What is Plasma and What is It Used For?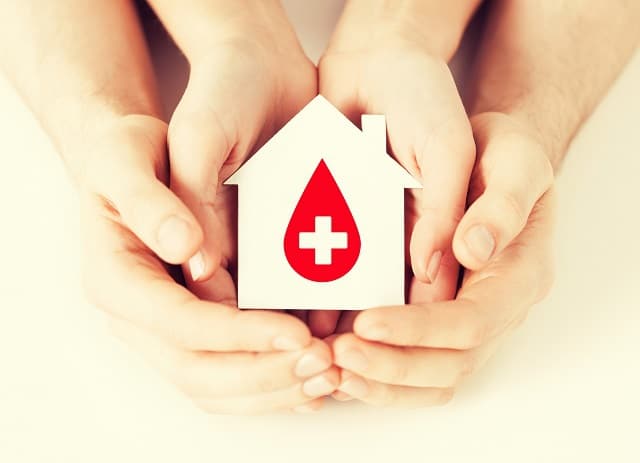 Plasma is the clear liquid portion of the blood. After the red blood cells, white blood cells, platelets, and other components are removed, plasma is the only portion remaining.
Plasma is known as a transporter of cells and other important substances in the body. It has multiple functions in the body including clotting blood, fighting diseases, and other critical needs.
In general, plasma is typically used for trauma, burn, and shock patients. Patients with other diseases and clotting deficiencies are also among those who receive plasma transfusions.
How Often Can I Donate Plasma?
According to the FDA, plasma donations must be at least 48 hours apart with a maximum of twice in a seven day period. The body must be able to replenish itself before being able to donate again. Following healthy nutrition, the body should be able to replenish the plasma that was donated within 24 to 48 hours.
How Much Does a Plasma Donation Pay?
During my research, I found the highest paying plasma donation center near me and compared the compensation fees donors receive with other locations. On average, centers pay $30 per donation or up to $400 per month if donating the maximum allowed times and receiving the upper end of the pay scale. Additionally, some companies offer rewards programs to allow for more earnings.
Who Can Donate Plasma?
Requirements for plasma donations vary by location. In general, donors must be at least 18 years old and must not weigh less than 110 pounds. After this initial criteria, donors will have to go through a medical screening. This screening includes the completion of an in-depth medical questionnaire.
When visiting a plasma donation center, these items will be required:
Valid photo I.D.;
Proof of residency;
Proof of Social Security Number;
Border Crossing Card or Visa (if applicable).
If you are someone who has recovered from COVID-19, you may still donate. Review your medical history with the professionals at the donation center to determine eligibility.
Benefits of Plasma Donations
Being able to donate plasma is a gift as there is a large population that cannot donate for various reasons. The ability to get paid to donate plasma is an even bigger gift for some who seek different ways to make money.
In addition to the compensation for plasma donations, many people don't realize that plasma is one of the few components that cannot be artificially created and is in high demand. Therefore, human donations are highly sought to help save the lives of people all around the world.
The drive to donate plasma for money is enticing, however, don't forget about the difference you can make in the world with each plasma donation!
How to Make More Money While Donating Plasma
According to Grifols, it can take an average of 45 minutes to donate plasma for money. You could simply relax and listen to music while you sit in the donator's chair, or you can use the extra time to make money on your smartphone.
Sign up for some of these free websites now so that you're ready to maximize your earnings during your first plasma donation.
1. Play Games on Your Phone
If you already do this, it will be a seamless adjustment to start earning money for playing games on your phone.
Using a site like Mistplay, you can earn between 50 to 200 units for trying a new game. When you reach 1,500 units, you can cash out for a $5 Visa card or a gift card to a popular store like Amazon.
2. Complete Paid Offers
Some companies will pay you to complete offers that don't cost you a penny. You can scan through the offers each time you donate plasma!
InboxDollars has tons of offers (both free and paid) that I like to sift through in my spare time. Sometimes you'll land a high-paying offer that takes just a few minutes of your time.
Swagbucks is another site that is bursting with opportunities to complete offers for extra cash. Skim through the offers each time you donate plasma to earn even more.
3. Fill Out Questionnaires
Completing questionnaires for the highest paying survey sites could earn you some extra cash while you donate plasma.
I use sites like Pinecone Research to earn some cash taking surveys. You can sign up as a free member now and take your first survey in the donation chair to start earning a minimum of $3 per survey you complete!
Another site to sign up with to take surveys is Branded Surveys. You can earn money for sharing your opinion on the products and services you already use.
4. Read Emails
You're probably checking your email while you donate plasma anyway, so why not get paid to read emails instead?
I like to use sites like MyPoints to earn money in my free time. MyPoints has many different ways to earn extra cash, but one easy way is to read and confirm the emails they send to your inbox. It's so easy and the earnings add up!
Highest Paying Plasma Donation Centers Near Me
In order to donate plasma for money near me, it is important to know if there are any centers close by to visit. You might be surprised at the number of centers that offer paid plasma donations across the United States.
These first five donation centers typically pay the most for plasma, and they have up to 250 locations each. Check to see which ones are closest to you.
1. BioLife Plasma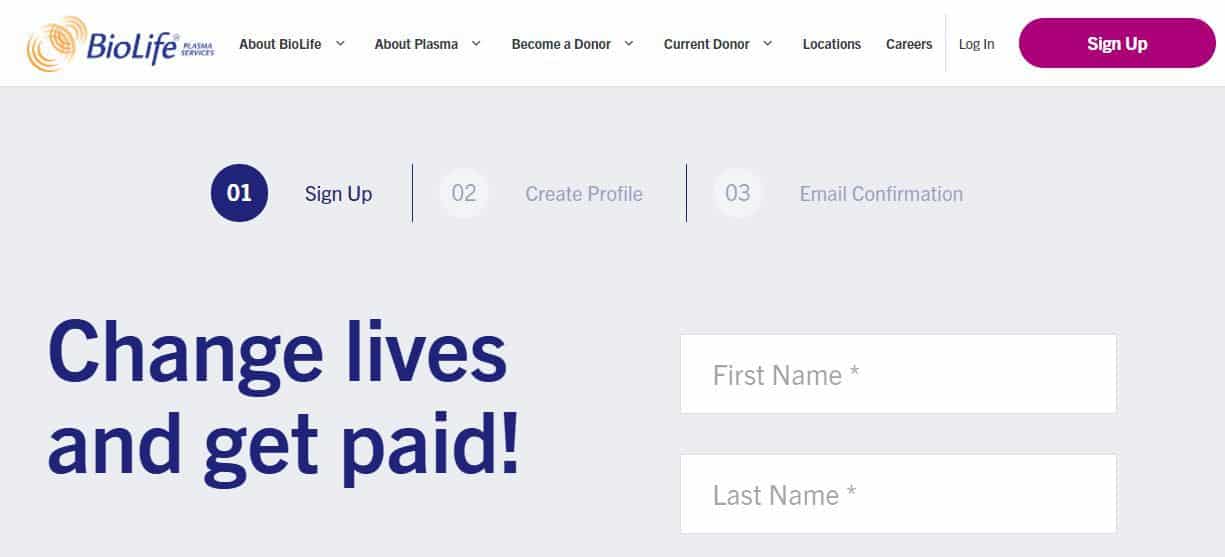 BioLife Plasma is a leading plasma collection service in the plasma industry. It operates in numerous facilities within the United States as well as Austria.
Locations: Over 120 Locations Across 31 States
How Much It Pays: BioLife Plasma donors are given a debit card which their compensation is loaded onto. For regular donors, the average pay ranges from $30-$50 per donation. However, the site says, "New BioLife plasma donors can earn $1000 in 8 plasma donations! Download our app and enter in Promo Code DONOR1000." Compensation amounts vary by location.
2. CSL Plasma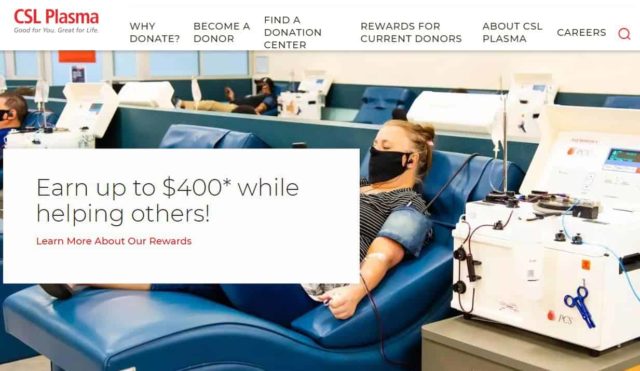 Commonwealth Serum Laboratories (CSL Plasma) is one of the world's largest plasma collection networks. Its headquarters is located in Boca Raton, FL.
Locations: Over 250 Locations in 39 States
How Much It Pays: CSL Plasma advertises earnings of up to $400 per month for new donors, received on a reloadable prepaid card. Actual payment amounts will vary by location.
Donors are eligible for rewards as well. CSL Plasma utilizes iGive Rewards which gives donors points for every completed donation. These points can be saved up to use toward redemption of gift cards and other prizes. Compensation varies by location.
3. KEDPLASMA
KEDPLASMA was established in 2004 with the mission of collecting high quality plasma. It is a subsidiary Kedrion Biopharma, which is a company specializing in producing and distributing plasma-derived medicinal products.
Locations: 26 Locations in 14 States
How Much It Pays: In previous years (2018), donors have earned up to $400 per month when donating through KEDPLASMA. The payments are made through a prepaid debit card. A more recent compensation fee has not been published. Check with the donation center for specific fee amounts.
4. Octapharma Plasma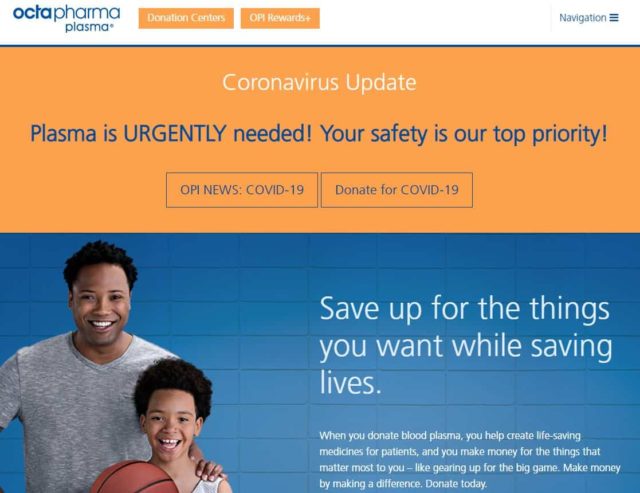 Octapharma develops and produces high quality human protein from human plasma. It is the largest privately owned and independent plasma fractionator in the world.
Locations: Over 110 locations in 34 states.
How Much It Pays: New donors to Octapharma Plasma can earn up to $400 per month with the New Donor Promotion. Returning donors can earn a higher amount and be entered to win prizes and other rewards throughout the year. Fees and rewards vary by location.
5. BPL Plasma
Bio Products Laboratory (BPL) is a UK based plasma collector. It has been a global leader in the plasma industry for over 25 years.
Locations: Over 50 Locations in 13 States
How Much It Pays: In conjunction with promotions, referral fees, and donation fees, BPL advertises that recurring donors can earn up to $300 per month. Specific fees and promotions vary by location.
High Paying Plasma Donation Centers By State
These next high-paying plasma donation centers have a limited number of facilities in the US. If you are in New Jersey, California, Georgia, Tennessee, Texas, Washington, Indiana, or Idaho, you might have one near you.
6. B Positive Plasma (NJ Only)
B Positive Plasma is a plasma collection business collecting human plasma from donors to provide life-saving therapies to others.
Locations: 2 Locations in the state of New Jersey
How Much It Pays: B Positive Plasma donors can earn up to $500 per month when donating regularly in conjunction with the referral incentive. Funds are deposited on a prepaid debit card. Specific compensation amounts vary depending on the location.
Related: 8 Apps That Pay Real Money For Easy Tasks And Gigs
7. ADMA Bio Center (GA & TN Only)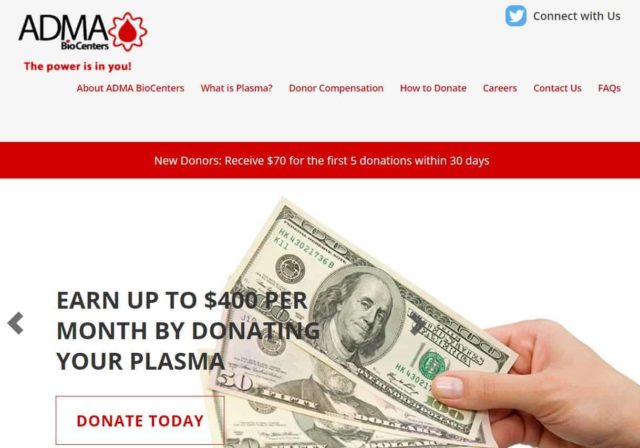 ADMA Bio Center is an FDA licensed facility specializing in collecting human plasma. It strives to provide the best in donor comfort.
Locations: 2 Locations in Georgia and Tennessee
How Much It Pays: ADMA Bio Center donors can get paid up to $400 per month. Coupons are also available to earn additional compensation on a promotional basis. Compensation amount varies by location.
8. Physicians Plasma Alliance (Biological Specialty Company)
Physicians Plasma Alliance is one of the highest paying plasma donation centers. The company conducts studies using the plasma to help find cures for diseases.
Locations: Johnson City, TN and Berkley, CA
How Much It Pays: Up to $500 per donation if you qualify.
9. GCAM Plasma
Green Cross America Plasma (GCAM) is a United States branch specializing in plasma collection. Its headquarters is located in South Korea.
Locations: 12 Locations in 5 States
How Much It Pays: GCAM pays donors between $25 and $30 per donation. Additionally, returning donors are eligible for a bonus program with prizes and rewards. Exact compensation amounts will vary by location.
Related: 10 Best Weekend Jobs To Earn More Money In Your Spare Time
10. Scantibodies (CA Only)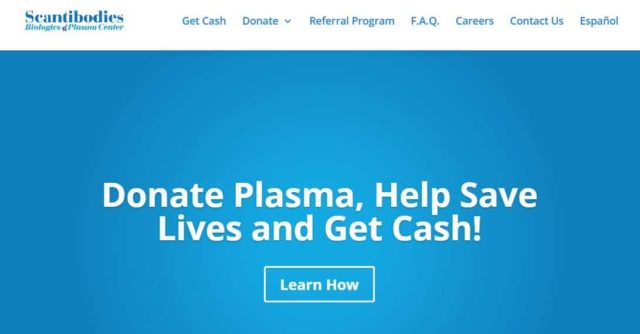 Scantibodies is dedicated to finding better treatment options for serious conditions by collecting blood plasma from healthy donors.
Locations: 1 Location in the state of California
How Much It Pays: New donors of Scantibodies are paid $40 for their first visit and then $60 for their second visit. Returning donors can get paid up to $60 per week. Payments are given in cash.
11. TrueHealth Plasma (NJ Only)

TrueHealth Plasma (thplasma) is a plasma donation center focused on the collection of human plasma from donors.
Locations: 1 Location in the state of New Jersey
How Much It Pays: New donors can earn $50 for each donation for the first five donations at TrueHealth Plasma. Returning donors can make up to $450 per month.
Plasma Donation Centers That Do Not Publish Pay Rates
These donation centers may pay well, but you'll have to contact them to learn the rates they offer. Make sure to confirm there is a center near you before calling for more information.
12. Grifols Biomat Plasma
Grifols is a healthcare company known worldwide since 1909. It is one of the largest plasma science companies in the world.
Locations: Over 250 Locations in 33 States
How Much It Pays: Not published
13. ImmunoTek Bio Centers
ImmunoTek Bio Centers is an emerging bio-tech company committed to the safe collection of human plasma.
Locations: 13 Locations in 11 States– Located in southern and eastern states
How Much It Pays: Not published
14. The Interstate Blood Bank, Inc.
Interstate Blood Bank, Inc. (IBBI) is a company specializing in the collection of whole blood and plasma. This company has been in business since 1949 with its headquarters located in Tennessee.
Locations: 36 Locations in 15 States– Locations are among the east coast states with some in Texas and Florida.
How Much It Pays: Not published
Related: 16 Easy Summer Jobs That Offer A Fun Way To Make Some Money
15. New York Blood Center
For more than 50 years, NY Blood Center has been collecting plasma donations for accident and burn victims, cancer patients, and many others.
Locations: 16 locations in NYC
How Much It Pays: The company doesn't publish the compensation rates for donating plasma. Call your local office to request details.
16. Nuvance Health (Previously Western Connecticut Health Network)
Nuvance Health offers three locations to donate plasma. Currently, it is looking for donors who have recovered from COVID-19.
Locations: 3 locations in Connecticut
How Much It Pays: Not published. Call the donation center that is closest to you to inquire about payment. It may be looking for true donations only at this time.
17. Hemarus Plasma
Specializing in the collection of plasma, Hemarus Plasma is a licensed facility managed by a team of experts.
Locations: 1 Location in the state of Florida
How Much It Pays: Not published
18. Saturn Bio
Following guidelines set by the FDA and HIPAA, Saturn Bio is among credible plasma donation centers in the United States.
Locations: 1 Location in the state of Indianapolis
How Much It Pays: Not published
19. Southern Blood Services
Southern Blood Services is a specialty plasma company looking for donors with specific types of antibodies in their system from pregnancy, blood transfusions, or certain types of vaccines.
Locations: 3 Locations in Alabama and Tennessee
How Much It Pays: Not published
Related: 60+ Immediate Hire Work From Home Jobs
20. Promedic Plasma Resources
Promedic Plasma Resources collects plasma to manufacture a wide variety of potentially life saving products.
Locations: 1 Location in the state of New York
How Much It Pays: Not published. It does offer an unspecified bonus if you refer a friend who donates plasma twice.
21. Blood and Plasma Research, Inc.
Locally owned and operated, Blood and Plasma Research, Inc. is one of a few centers which collects and provides raw materials needed to make specialty products.
Locations: 1 Location in the state of Texas
How Much It Pays: Not published
22. Vitalant Blood Donations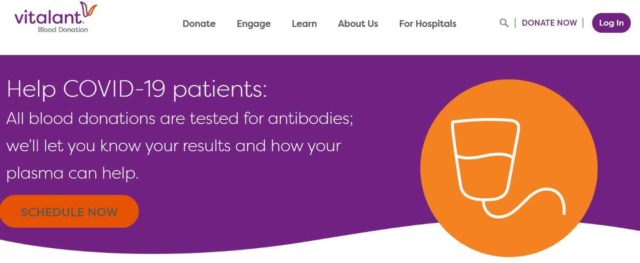 Vitalant accepts a variety of donation types, plasma being one of them. It is one of the nation's largest and oldest transfusion medicine organizations.
Locations: 125 Locations in 19 States
How Much It Pays: Vitalant Blood Donations offers a donor rewards program allowing donors to earn points to redeem for gifts.
23. Carter BloodCare

Carter BloodCare provides life saving resources to more than 200 medical facilities. Its history began in 1951 as a nonprofit.
Locations: Over 20 Locations in the state of Texas
How Much It Pays: Not published
24. American Red Cross

The American Red Cross accepts plasma donations from donors who have recently recovered from COVID-19. Special antibodies present in recovered donors will help infected patients with treatment of the new virus.
Locations: Locations vary depending on when there is a donation drive
How Much It Pays: Not published
Related: How to Get Free Money Right Now (on PayPal or by Mail)
Who Pays the Most for Plasma?
The compensation for donating plasma is generous for recurring donors. Based on the information provided here, donors can expect to be compensated most when going to a donation center that has multiple locations throughout the country. These are considered "chains."
The highest paying plasma donation center near me is Octapharma Plasma. If you're wondering which plasma center pays the most near you, you may need to make some calls to your local centers to ask. Offers and incentives may vary based on location and the current need for donations.
To get paid to donate plasma, donors must meet all requirements and be honest about their medical history to ensure the safety of everyone. Once a donation is complete, you can expect to receive your payment afterward.
Visit each website in this post to see if a company has a location near you. Make your donation appointment by calling them and inquire about that location's specific fee amount for donations. Ensure you understand how often you are allowed to donate.
Donating plasma for money is rewarding for your financial gain. Additionally, consider the bigger picture of what your plasma donation is actually doing for someone else! Your donation could save a life.
Related: 18 Part-Time Jobs Online That You Can Apply For Today