How to Become a Freelance Writer in Eight Simple Steps
Try Bingo Cash, the ultimate bingo app for turning your skills into extra cash while enjoying colorful and engaging head-to-head matches. Win up to $83 per game and experience the classic bingo thrill in the comfort of your own home. Test your daubing skills and become a big winner today!
Bingo Cash™ is FREE to download and play! However, cash tournaments are not available in the following states: AZ, IA, LA, SC & WA.
Are you thinking you'd like to become a freelance writer? Freelance writing can bring in a good monthly income and is perfect for those who would like to work from home.
I've worked from home as a freelance writer for more than six years now.
The funny thing is that I used to hate writing. Back in high school and college, writing any type of paper or short essay was something I never looked forward to completing.
I never knew where to start or how to word my thoughts.
The quickest I've ever written a paper was when I showed up to one of my college classes empty-handed. Unbeknownst to me, my professor switched the due date for a massive writing project.
He was the one professor that required projects to be turned in at 1 pm, which was about 3 1/2 hours after the start of his class period.
I skipped class that day, ran over to the computer labs, and wrote a 15+ page paper. I submitted the paper with only a few minutes to spare and later found out that I receive an A- on the paper!
All this to say, if you need to get something done (like making extra money) you can do it; even if you don't love it!
One of my favorite sites, Swagbucks, offers tons of ways to earn real cash online. If you're not already a member, give it a shot! Here are five things you can do to make easy money on the site:
Play games (up to $322 each)
Test apps (up to $150 each)
Submit receipts (easy cash)
Shop at your favorite stores (up to 10% back)
Answer surveys and polls (quick cash in minutes!)
Our Popular Free Guides
How to Start a Permanent Jewelry Business - If you are patient, have social skills, and love interacting with others, then a permanent jewelry business may be for you.
How to Become a Sleep Consultant - Help parents and babies, and be the difference for families worldwide who are desperate for more Zzzs in their life as a sleep consultant.
How to Become a Proofreader - There are five basic steps to working from home as a proofreader. As long as you're willing to put in the work, you can become a proofreader!
Does Freelance Writing Require Certification?
No, freelance writing does not require certification. Anyone who enjoys writing can become a freelance writer. That being said, some places do prefer their writers to have a degree in English or Journalism.
Related: How Much Is 6 Figures? How To Make 6, 7, 8, 9, and 10 Figures
Who Can Get Paid To Write Online?
First, let's quickly talk about who is the right fit for freelance writing. When someone is selling a writing course, service, or product related to learning about writing, they will typically tell you that anyone can write.
But this simply is not true. Not everyone can hold a work from home job or start a home business. It takes discipline and hard work to succeed.
There are a few requirements that should be met before you decide that freelance writing as a way to make extra money is really for you. Yes, it's okay to bend the rules and requirements a little, because hey, it's freelancing. But there are a few things that are pretty important to at least learn to accept if you hope to make money as a writer.
You Can Get Paid To Write Online
If you love writing (or at least enjoy it).
If you can write.
If you can follow instructions.
If you can adapt to different voices and subjects.
If you have a laptop or computer at home (or access to one).
If you are driven to excel at work.
If you write for an audience and not for yourself.
If you are willing to learn and grow as a writer.
Related: How To Make Money Selling Ebooks
Freelance Writer Salary or Pay Expectations
Salaries for freelance writing vary. It depends on the type of work you are doing and who your ideal client is.
As a beginner, expect to earn $25-$75 per article or blog post that you complete ($.05 to $.10 per word). If you do more in-depth pieces like technical articles, novels, scripts, etc., then this can be much higher (between $.30 and $1.50 per word).
Freelancing can provide you with a good monthly income but it does require hard work on your part as well. You'll need to set up the process yourself from outlining, researching, writing, and delivering high-quality work.
Related: Get Paid to Edit Papers
Where to Find Freelance Writing Jobs
There are many different places you can find work as a writer, including on freelancing sites such as Upwork, Fiverr, and Freelancer. These sites allow you to search for jobs by keyword or category. You will need to create an account before posting your profile.
There are several different ways you can find potential clients to start your freelance writing career.
Craigslist
JournalismJobs.com
Mediabistro's Job Board
WriterAccess.com
Related: How to Become a Copyeditor With No Experience
Reach Out to Potential Clients
One of the best ways to get started as a freelance writer is by reaching out to content providers like blogs or publishers. You can find them on sites like Linkedin or search websites for contact information. The email subject line should be something that will catch their attention, while also providing your credentials in order to attract potential clients.
Possible subject lines:
I am a freelance writer looking for work in your industry. Do you need any articles written?
I've been published on YYY and ZZZ. I can write about XYZ.
My specialty is writing product reviews because of my expertise with ABC.
I have a degree in ABC and am looking for work as a freelance writer. Do you need any articles written?
A few sentences about the type of writing you specialize in and why your service would be beneficial to them. Something along these lines will show them why they may be interested in talking more with you to discover how exactly you can help with their writing needs.
Tips when pitching topics to new clients:
Always read through the instructions. Publications want to see that you can follow directions from the start!
Review the publication before pitching a topic. Be sure to understand their audience before accidentally pitching something unrelated.
Check for spelling and grammar mistakes in your pitch.
Don't spend too much time. You want to get accepted, but not at the expense of spending half a day (or more) preparing your pitch. Keep in mind that after you've pitched the first few topics, it will get easier!
Related: Best Jobs for Stay at Home Moms
8 Steps to Become a Successful Freelance Writer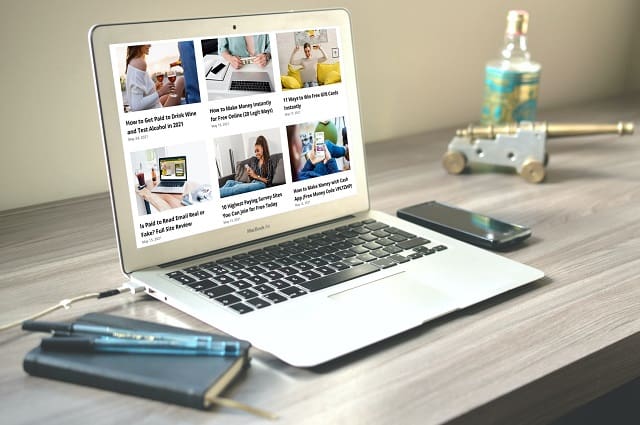 There are eight basic steps to working from home as a freelance writer.
Step One: Determine Your Skillset and Experience
Are you a professional writer, or just getting started in the field? Outlining your previous experience and skills can help you draft the perfect pitch to find new clients.
Step Two: Choose Your Focus / Find Your Niche
Figure out what you're passionate about and find a way to write about it. There's no point in writing for other people if you don't enjoy it. Develop your skills and expertise in one or two niche markets (e.g., medical writing, personal finance, or technical analysis).
In some cases, it pays to cover topics that no one enjoys writing about. It's okay to be flexible at the beginning of your journey–it will give you the chance to find your perfect match.
Step Three: Build A Portfolio
Create an online freelance writing portfolio of samples to show potential clients. Set up your website and social media accounts to document your journey.
Having an online presence will help you establish yourself as a professional writer, encourage clients to hire you, and allow them to see your credentials before they even call you for an interview. If you are looking for a good way to get some samples for your portfolio try writing a guest post for another blog or website.
Step Four: Set Your Prices
Find out what other freelance writers are charging for the type of work you want to do and set yourself somewhere in the middle. You may not be able to get paid as much as a seasoned writer, so be prepared to start at the lower end if you are new.
Prices can vary massively depending on the quality of your writing, how many words you are writing, and whether or not you provide search engine optimization for your content.
KashKick is a great find for gig workers, offering many ways to make extra money doing what you enjoy. Try it out - it's free! Here are five easy ways to start earning money on the site:
Play games (up to $125 each)
Test apps (up to $125 each)
Buy lottery tickets (an easy $8)
Try popular brands (always changing)
Answer surveys (quick cash in minutes!)
Step Five: Network
Network with writers in your field or industry. Generate leads by building relationships with editors at top magazines, bloggers who offer guest content opportunities, and other freelancers in the writing industry on social media. Create a list of prospective clients and follow up with them.
Step Six: Write For Practice
A great way to exercise your freelance writing skills is to practice writing. Find a topic to write about and get creative. It does not need to be a full essay–a quick 500 words will give you enough practice to work on your writing process.
Do this every day to improve your writing skills. Like with most things. the more you practice the better you will become.
Starting a blog is a great way to practice writing. Plus, a blog can double as a freelance writing portfolio and a possible way to earn passive income from your content.
Step Seven: Familiarize Yourself With Writing Tools
Top freelance writers use very specific tools to help them succeed. Take the time now to find out which writing software will work best for you and get familiar with it.
Google Docs – this allows you to write wherever you are. Sync your work to your phone, tablet, and laptop. This way if you come up with any great ideas you can quickly jot them down for later.
WordPress – a platform for long-form content and blogging. Some bloggers may ask you to upload your articles straight into their WordPress blog. So it's a worthwhile skill to learn.
Grammarly – this software highlights grammatical mistakes, and the basic version is free.
No matter what software you use, make sure to save your work often. You don't want to lose all of your hard work by accident!
Step Eight: Have Confidence
You are an expert at writing, so you should act like one! Keep it short and sweet–don't overwhelm clients with unnecessary information or your life story. Stick to the facts about what services you offer and why they might want to work with you.
Related: 90 Proofreading Jobs for Beginners Online
Questions New Freelance Writers Are Asking
There are several questions you may want to find out the answers to before applying for your first freelance writing job. You can find the details below to help you on your way to becoming a freelance writer.
What do I need to start freelancing?
You don't need anything special if you love to write. However, if you're looking to make a career as a freelance writer, it's always good to have a degree in journalism or English. A lot of companies will prefer that too. Don't worry if you don't have a degree though, the main things you need are a plan, a pricing system, and a client base.
Where do I find clients?
There are many ways to find your first freelance writing client. One of the most common is through friends and family or connections in your industry.
Start small, as you'll need to build up a portfolio before people will take notice, so start with lower-paying jobs such as blog articles and marketing content until you have gained experience.
What should my plan be?
Every freelance writer has their own approach to business, but there are a few things you need at the very least.
A well-written portfolio is necessary for any freelance writer to help with finding your first clients. You'll also want to create an email list of potential contacts that will grow as time goes on.
How do I know if my work is good enough for freelance writing?
There's no set standard to what makes a writer "good," but the task does require you to give your best effort.
Some people take online courses or read books on the subject but you can also learn from practicing and reading.
Related: How to Become a Content Creator
Start Getting Paid to Write Online
What type of writing do you enjoy most or have the most experience and talent in? Sometimes it just takes time and practice in order to write the perfect piece.
If you submit your articles, stories, or poems online and they are not accepted, don't get discouraged. Just understand that so many others submit their pieces at the same time. Simply remember that writing unique pieces that are interesting, well-written, and professional will further your chances to get paid to write online.
Freelance writing comes in many shapes and sizes, but at the end of the day, you decide what to write. If you start a blog, you have the ultimate say of what you will write and how you will write it. There is an audience for all kinds of writing topics and themes. You just need to find your voice and audience!
---