21 Ways to Get Free Steam Codes (Legit and Fast Ideas!)
We foster relationships with brands we use and trust. The testimonials on our site represent real experiences, but they don't guarantee you'll achieve similar results. When you make purchases through our links to our partners, we may earn a commission. Your support helps us continue this work. You can read our full disclosure here.
My husband enjoys playing games more than he probably wants to admit. Each year for his birthday or holidays, he asks for something related to his gaming, but they're not always cheap. Sometimes I even hesitate to make those purchases.
I found some help with gaming purchases, which includes the possibility of getting Steam codes for free. This has been a game changer for me. The amount of money I can save on my husbands' gaming has made a difference in our household.
Steam gift card codes are for the digital gaming world. If you need to find them at discounted or even free rates, let me tell you how.
Believe me, my husband is thankful as well.
21 Ways to Get Free Steam Codes
Thinking about the time you spend scrolling aimlessly through social media, you could actually be using that time to earn free Steam codes. There are many ways you can do this from the comfort of your home. All you need is your cellphone and internet.
Related: Get Paid to Watch Videos and Ads Online
Complete Easy Tasks and Offers for Free Steam Codes
You can complete many offers and tasks on various sites and earn points. Take advantage of these simple tasks to get free Steam codes.
1. InboxDollars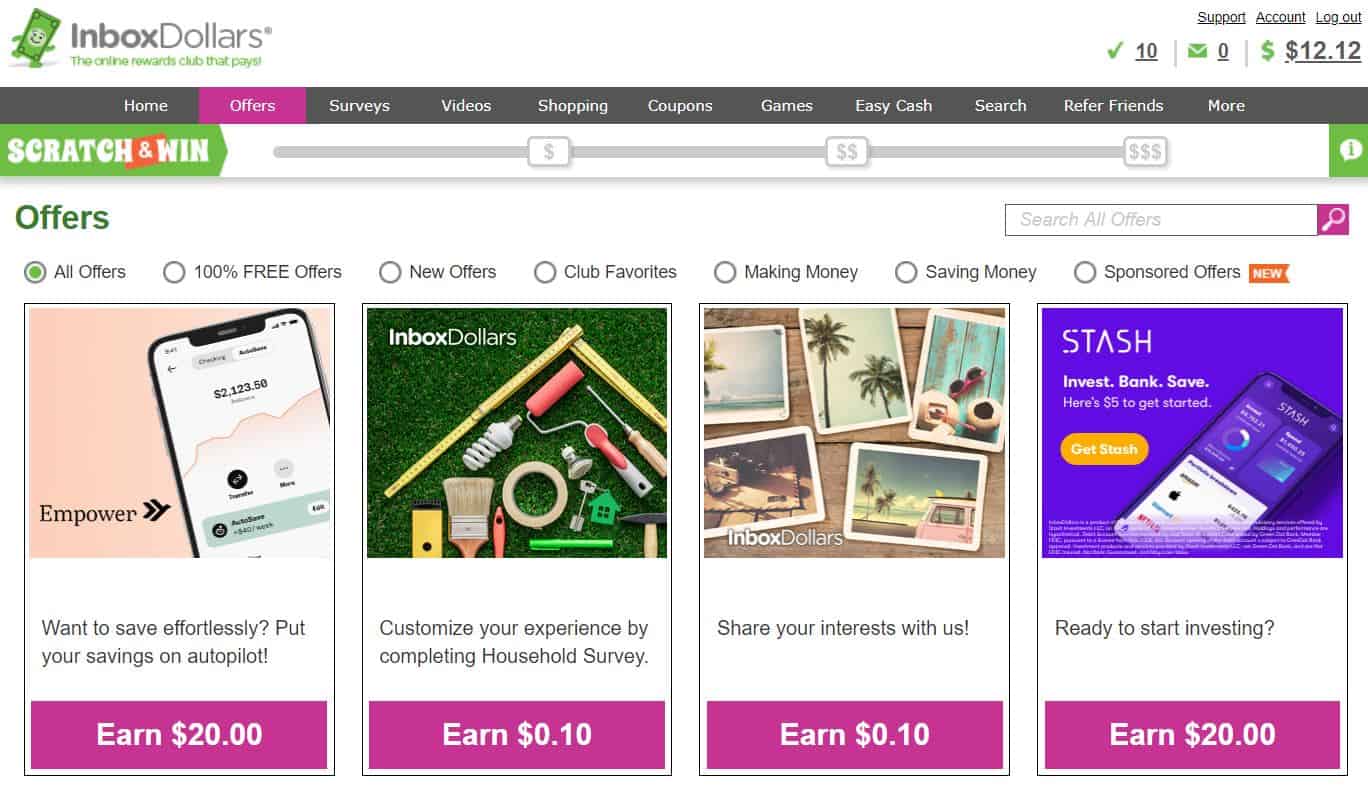 InboxDollars is an online marketing company and rewards club where users earn cash for everyday online activities. It's one of the most reputable ways to get free Steam codes without doing surveys (though the option is available).
As a member, you can get paid to read emails, complete paid offers, play games, shop online, or watch videos.
Just for signing up, InboxDollars will give you $5. You get paid in cash and can redeem that virtual money into gift cards such as Amazon or cash through PayPal. Using those funds, you can then transfer them into free Steam codes.
You must be at least 18 years old or older to create an account. You can read more about the company in our InboxDollars review.
2. Swagbucks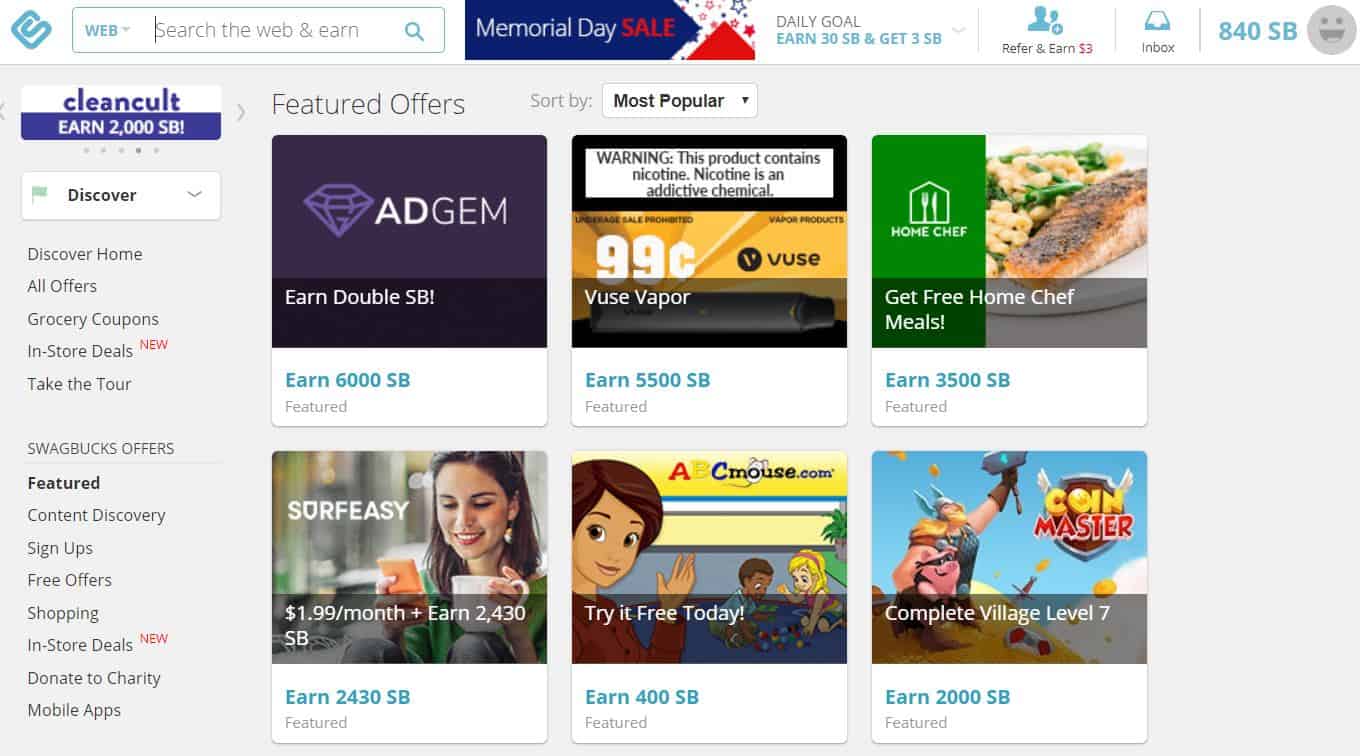 Swagbucks is a popular online rewards program. Throughout the site, you can find various offers to complete for points such as watching videos and searching the web. Exchange these points for cash and you're on your way to earning those free codes.
While Swagbucks does not offer free Steam codes directly, you can still redeem points for a GameStop or Visa gift card and PayPal cash. With these rewards, you can purchase your Steam codes.
To be eligible for an account, you must be at least 13 years old and have an active email account. You can get a $5 bonus when you sign up and use the platform!
To learn more about the company, check out our Swagbucks review.
3. MyPoints
MyPoints is an online cash back rewards program. When you shop using MyPoints, you get coupons to use towards popular retailers such as Walmart, Amazon, eBay, Target, and more. For every $1 you spend, you earn points.
The points that accumulate in your account can be redeemed for gift cards. The gift cards available are for stores like Best Buy and eBay or simply request a Visa gift card.
Get $5 free when you sign-up and take your first five surveys. You must be at least 13 years old to sign-up for an account.
To learn more about this opportunity, read our review of MyPoints.
Play Games for Free Steam Wallet Codes
A great option to earn free gaming codes is by playing games! There are several sites that will pay you to play games and you can use your earnings to get Steam codes for free.
4. Mistplay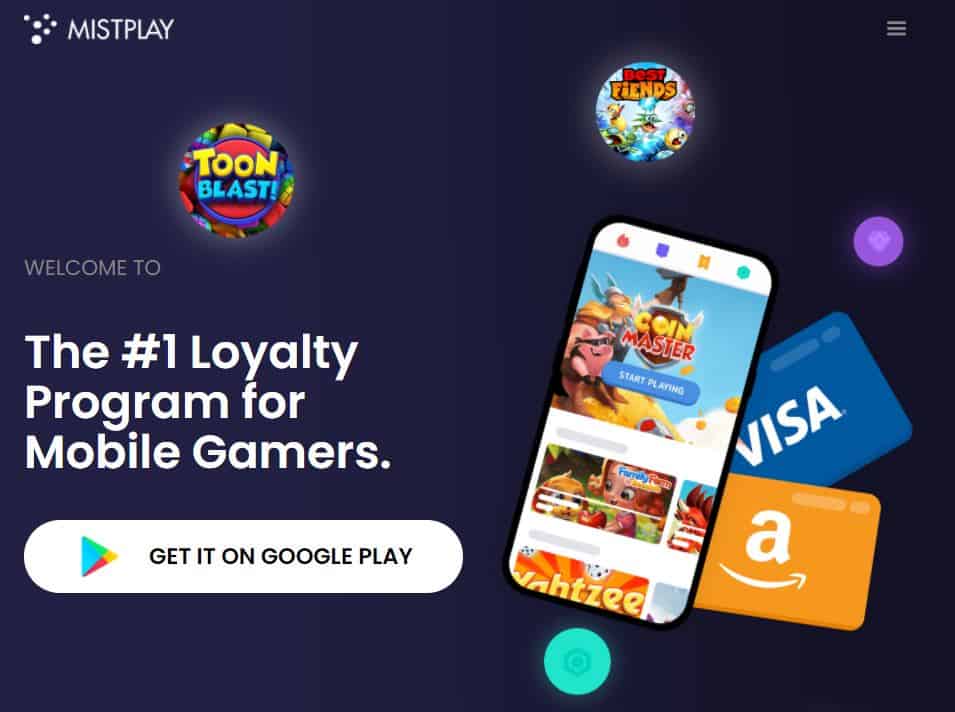 Mistplay is a loyalty program for mobile gamers. Play the games recommended to you in the app, collect units for the amount of time you spend on the games, and redeem those units.
Units can be redeemed for Visa or Amazon gift cards. Using your redeemed gift cards, you can turn around and get free Steam codes.
Get paid to play Solitaire, Yahtzee with Buddies, Bingo Journey, Clockmaker, and many more games as a Mistplay member.
Download the app on Google Play to start playing and earning right away. The app is rated 'T' for Teen.
5. KashKick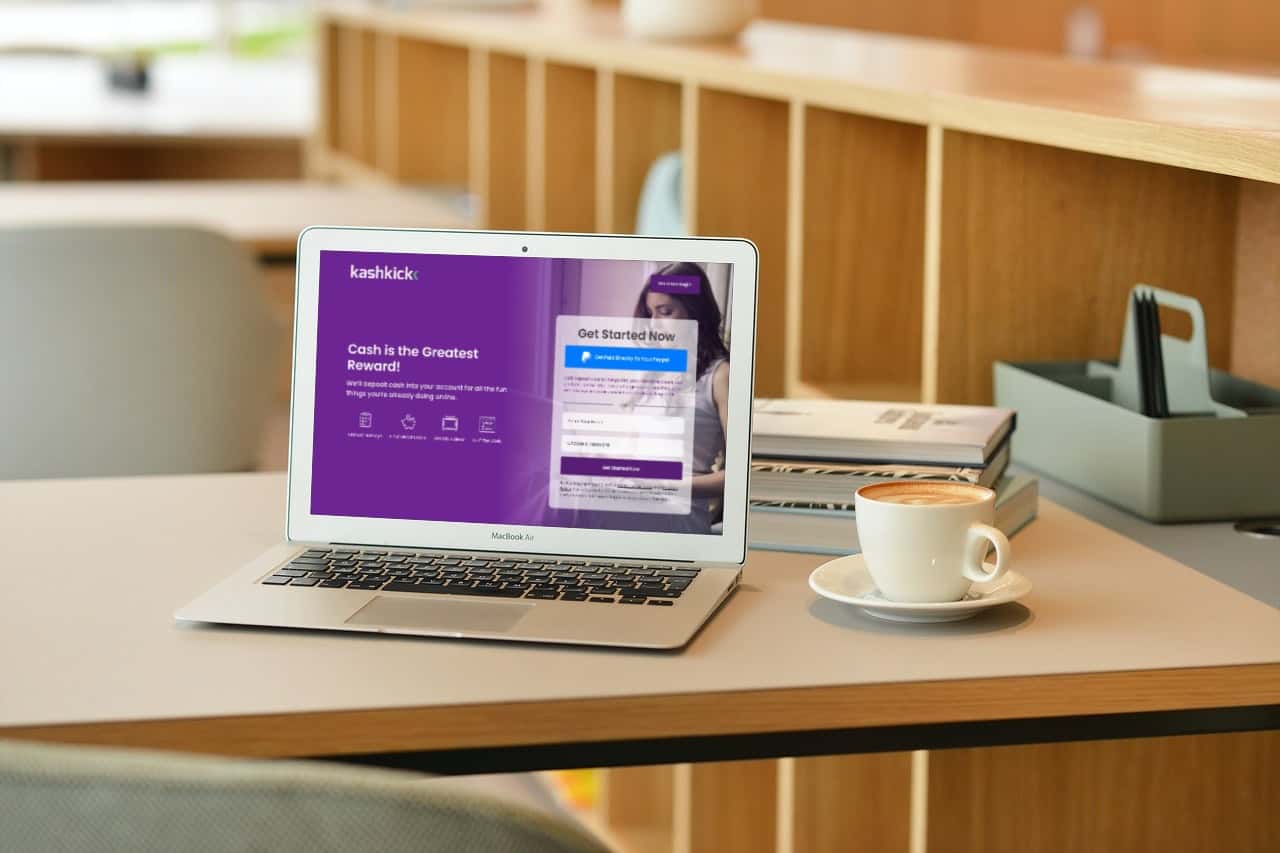 Kashkick is a platform that allows users to earn PayPal cash by completing tasks, offers, and surveys. You can't redeem your earnings for free Steam codes right on their platform, but you can use your PayPal cash to buy codes.
As long as you hold a balance of at least $10, payments are automatically sent to your PayPal account every two weeks. To create a Kashkick account, you must be at least 18 years old and live in the US.
Related: How to Get Free PSN Gift Cards
Fill Out Questionnaires in Exchange for Steam Codes
An easy way to redeem Steam codes is by answering high paying questionnaires online. The surveys are picked for you based on qualifying questions.
6. Pinecone Research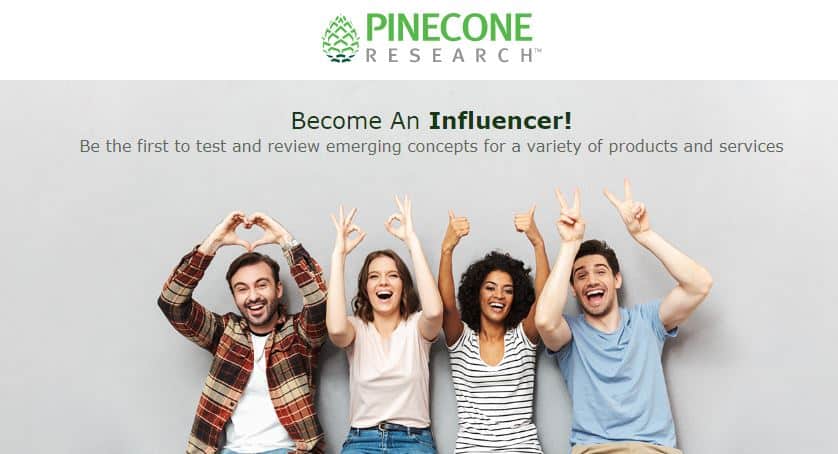 Pinecone Research is a survey panel industry focused on the improvements of products through research. Users share their opinions through surveys about products, earn points for each completed survey, and redeem their points.
At any time, you can redeem points for cash. Use the cash to purchase Steam wallet codes.
Users must be at least 18 years old to sign-up for an account. You can sign-up as a user from the US, Canada, or UK.
To learn more about PineCone Research, check out our review.
7. Opinion Outpost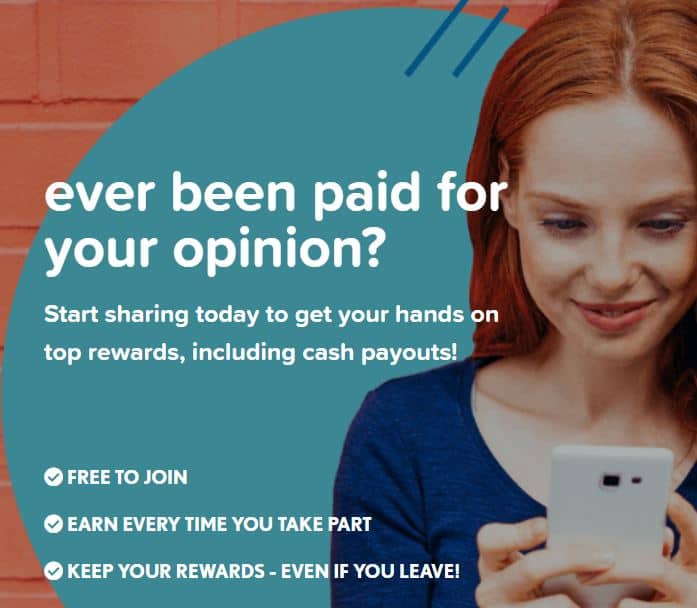 Opinion Outpost is a paid survey site that assists in connecting survey takers to studies conducted by large companies. Signing up is free and you earn points every time you share something either through surveys or product testing feedback.
Swap out your points for cash or gift cards for Amazon and Visa. Each reward gets you closer to free Steam codes.
You must be 18 years old or older to make an account on the platform.
Related: Opinion Outpost Review: Is It Legit?
8. Survey Club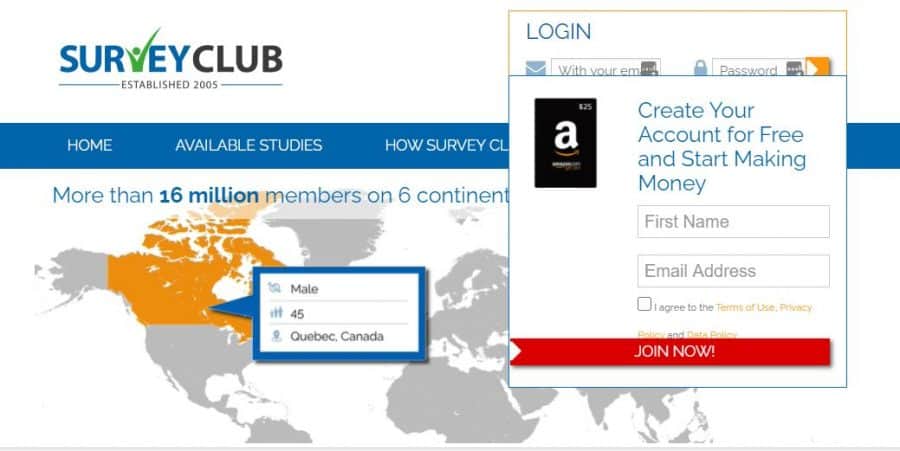 Survey Club is an online hub where you get paid to take surveys relevant to clinical research studies and other market research. The companies using this platform are seeking feedback from consumers about products.
When you sign up for an account, answer a series of questions and then you'll be matched with relevant surveys. Completion of each survey earns you a cash deposit to your Survey Club rewards account. You can then redeem for a free Amazon gift card which you can get Steam codes.
You must be at least 16 years old to sign up for an account.
Related: Survey Club Review
9. Survey Junkie
Survey Junkie is an online platform that pays users for their opinions. You earn points from each survey. Each survey will vary in the number of points you earn. Surveys range from attitudinal-based market research and behavioral research.
Turn your points in for PayPal cash or for Amazon and Target gift cards. These options are easily transferred into free Steam wallet codes.
Users must be over the age of 16 to sign up.
10. Toluna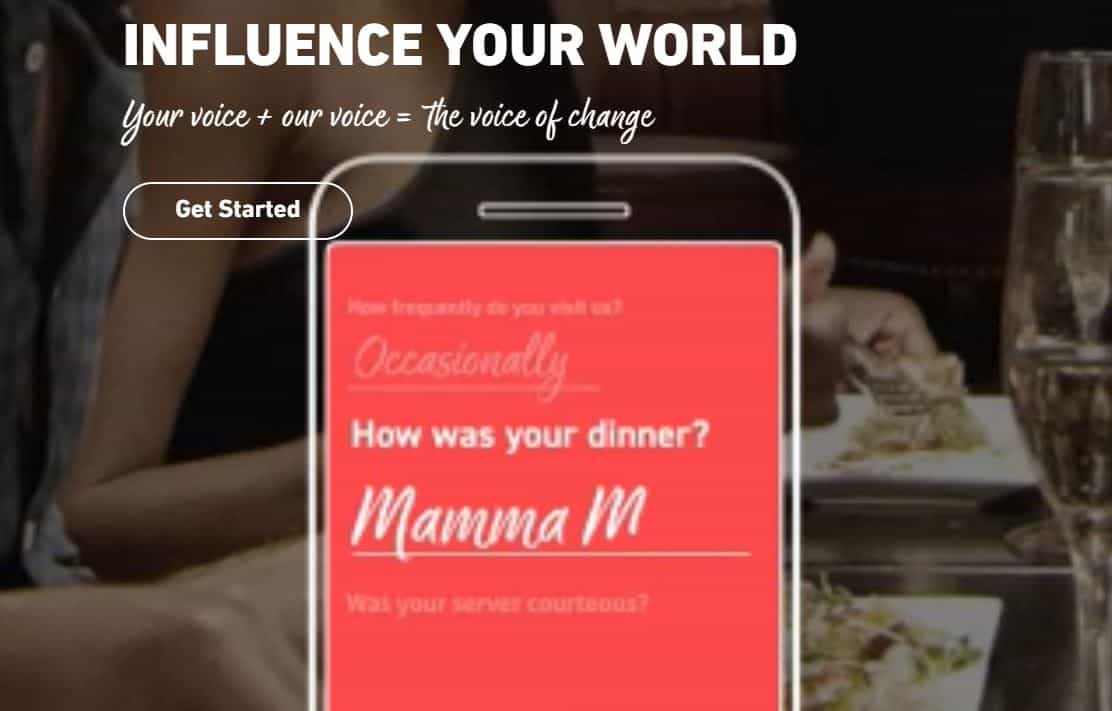 TolunaToluna is a survey company where members participate in a variety of market research opportunities to influence products. The surveys are created by companies that are market research agencies and brands.
Survey takers are rewarded with points that they can turn into cash or other rewards. Use the cash as a way to get free Steam codes.
Memberships are free and can be used by anyone who is 16 years old or older.
Related: How to Get Free Xbox Codes
Shop and Get Free Steam Codes with Cash Back
After spending money going shopping or just buying some necessities, it's nice to receive some cash back. It doesn't have to be much, but any cash back can be used towards those Steam codes.
11. Capital One Shopping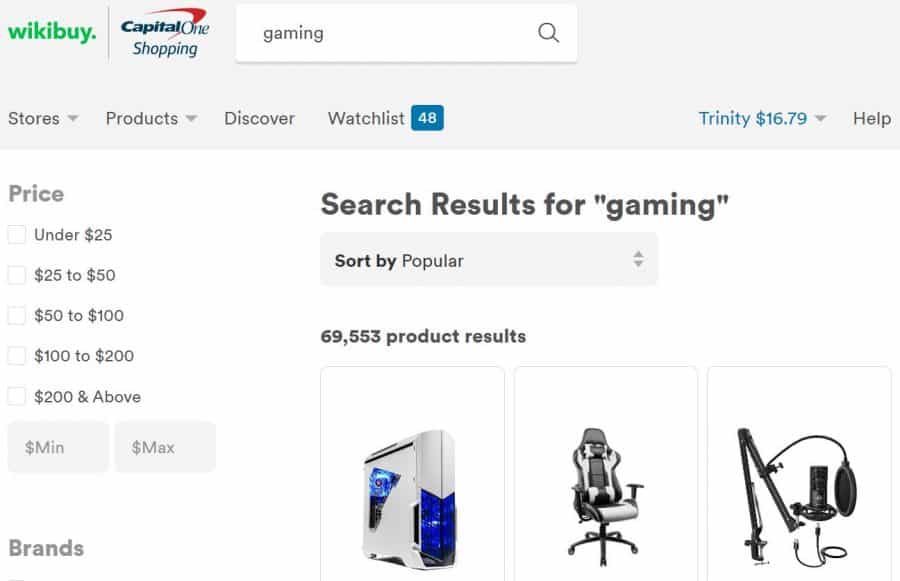 Capital One Shopping connects shoppers to better offers, automatically applying coupon codes, and tells shoppers when prices have dropped on items they have viewed. Search their site for your favorite products.
Capital One Shopping offers Steam codes on its online platform. The amount of each code varies. Instead of purchasing these Steam codes at full price, WikiBuy applies coupons at checkout to save you money. They will even show you if you are getting the best deal or if you can find Steam codes elsewhere for even less.
You can use Capital One Shopping to do all of your online shopping–that way you can save money and earn cash back on almost everything you buy. Then, use the credit to get free Steam codes.
12. Rakuten
Rakuten is an online commerce and retailing-based company. Install the browser extension onto your computer, shop, and get cash back on items you purchase. Any money you save is applied to your account once the transaction has been finalized.
Rakuten shares the commission they receive from stores with users, therefore, giving you cash back. You can cash out your money from your account in the form of a check or through PayPal to use toward getting Steam codes for free.
Sign up for Rakuten to earn a $20 bonus when you spend $20.
You can learn more about the company in our complete review.
13. Ibotta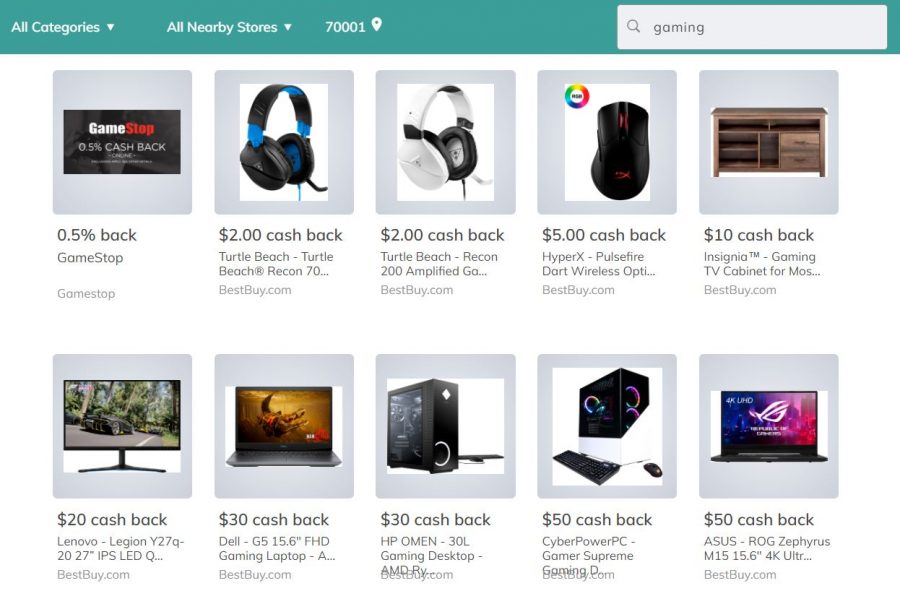 Ibotta is a mobile app enabling users to earn cash back on in-store or online purchases with proof of purchase. Simply submit your receipt or link your bank statement to have your account credited within 24 hours.
Rakuten vs Ibotta: should you sign up with both cash back apps?
Ibotta believes in users getting paid with cash and will send payments to your bank account or PayPal. Additionally, you can use Ibotta cash to make in-store purchases at participating retailers like Target. Scan your Ibotta app information at in-store checkout to redeem free Steam codes at your nearest Target.
Sign up to start earning with Ibotta.
14. Honey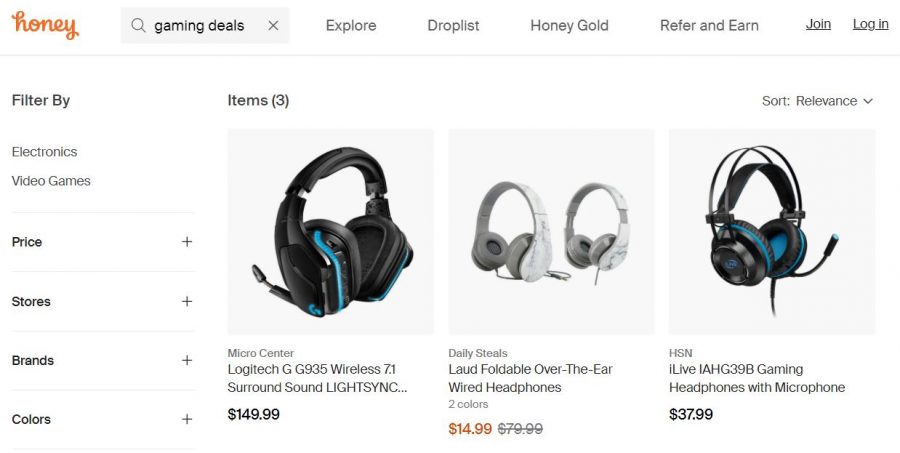 Honey is a browser extension that finds the best deals on the internet and applies coupon codes at checkout, saving you money in the long run.
Users can earn points with Honey whenever they shop using the browser extension and those points can be redeemed through PayPal or for gift cards.
Turn those redemption points into Steam codes and you're on your way to gaming happiness. Download the Honey extension for free to get started earning points.
15. Top Cashback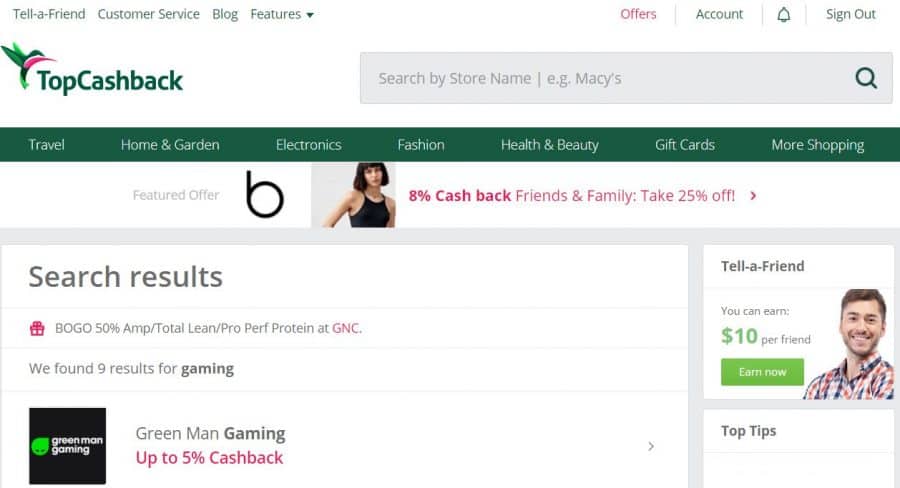 Top Cashback is a cashback website with dedicated sites for markets in major countries. Similar to affiliate marketing, when a shopper makes a purchase through the app to a retailer, the retailer gives Top Cashback a commission.
The money from the commission is given to the user, meaning they now have money in their Top Cashback account. Accumulate more cash back or cash out for a deposit from PayPal or a gift card to Amazon, Target, Walmart, and more.
Turn your cashback money into Steam codes by exchanging your redemption for codes. Sign up for a free TopCashback account to get started.
Other Easy Ways to Get Free Steam Codes
If you don't want to work for it, you'll have to ask for a free steam gift code. Whether or not you get it is up to the gifter!
16. Trade Gift Cards with Friends
If you have friends who enjoy playing Steam games, offer to trade something for a new code. For example, that gift card to Subway or Burger King might make a great bargaining chip for Steam codes.
17. Ask for Steam Codes as a Gift
For upcoming birthdays and holidays, ask your parents or grandparents for free Steam codes! It doesn't hurt to ask, especially if they already plan to get you something.
18. Bargain for an Allowance with Your Parents
Whether or not you already receive an allowance for helping with chores around the house, it never hurts to ask for a small incentive. Ask your parents to pay you in Steam gift cards for the work you already do. You never know what they'll say!
Pair Free Credits with Discount Steam Codes
The ultimate way to earn Steam codes is to use discounts for purchasing those codes. That way your credit will go even further. This is a win-win for gamers!
19. Gameflip
Gameflip is a hub for gamers and e-sports fans to learn and improve their gaming skills. With Gameflip, users can buy and sell games, gift cards, and gaming services.
With Gameflip, sellers post an item for sale and a buyer can purchase the product from them. This includes gift cards or Steam codes. The buyer and seller enter an agreement online to successfully exchange the goods for payment.
At checkout, buyers are able to use their credits balance towards the purchase. Users must be 18 years old or older to use the platform.
Related: How to Flip Money
20. G2A
G2A is a global digital marketplace used for the resale of gaming products. Users can search for the best prices on gaming products, such as Steam codes. After purchasing the codes at discounted prices, you can redeem the code on the Steam platform and use as you wish.
Steam codes are discounted everyday. Users are encouraged to check in often to find the best deals.
You must be at least 18 years old to create an account.
21. Raise.com
Raise is an eCommerce platform used for selling and buying new or used gift cards. You can find hundreds of gift cards for various retailers that can be purchased. Steam codes are among the gift cards being sold.
While not currently discounted, if you are a new member, you can get a $5 sign up credit to use towards purchasing Steam codes at face value.
Related: 25 Places to Work at 15
What are Steam Wallet Codes and How do They Work?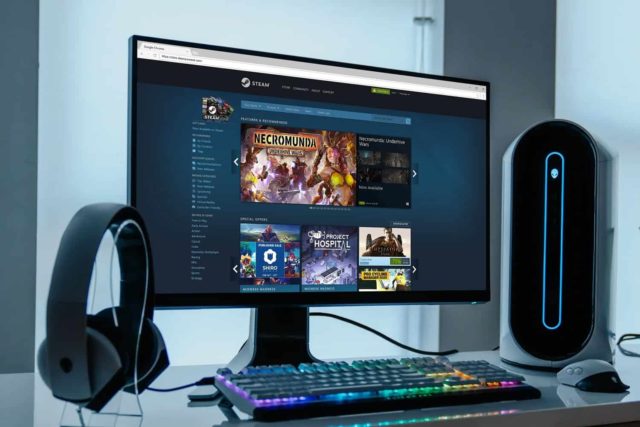 The software Steam is a video game digital distribution service. Within the application, users have access to a Steam wallet.
This is similar to having a digital wallet that you can actually make purchases with. It's an alternative to using your debit or credit cards.
To add funds to a Steam wallet, you need Steam wallet codes. To do this, you can purchase Steam gift cards online or in stores.
Once your purchase is complete online, you will receive an email with the code needed to redeem the funds. If you purchased the gift card from a store, the code you need is on the back of the card.
Simply enter the code in your Steam account and you're on your way to some awesome gaming opportunities!
What Do We Mean by "Free"?
Opportunities such as taking surveys, playing games, and shopping with sites like InboxDollars can help you get Steam codes for free. Earning cash back with rewards programs also gets you closer to those free codes.
Many websites offer compensation in exchange for completing tasks. The compensation comes in the form of free gift cards. Therefore, you will need to exchange your time and effort in order to earn free Steam codes.
The gift cards you earn can be used to redeem Steam codes, thus, earning free Steam wallet codes.
Where to Buy Steam Codes with Your Free Credits
Once you have earned your points for completing tasks and exchanged them for gift cards or PayPal cash, you can then purchase Steam codes from these popular places:
GameStop
Best Buy
Target
Sam's Club
Walmart
Walgreens
There are Endless Opportunities to Get Free Steam Game Codes
There are many opportunities you can use to get free Steam wallet codes. From surveys to shopping to playing games, there is no shortage of ways you can earn points to redeem towards codes. The online eCommerce marketplaces are secret gems to getting those codes at discounted prices as well.
The gamers in your family will be thrilled to know they can continue playing games at discounted and free prices. Additionally, your wallet will thank you for having a way to get Steam codes for free.
Which method will you use to earn free Steam gift cards? InboxDollars is a great place to start.
Related: How to Get Free Money
---
We appreciate the time you've spent reading this post and your interest is not lost on us. Your thoughts, questions, or experiences related to the topic are most welcome. Each comment adds strength to our community. We ensure every comment receives our attention, and we take the time to provide thoughtful responses. Once again, thank you for being a part of this conversation. Click here to leave a comment.