How to Get Paid to Hike Trails, Mountains, or Your Own Backyard
One of my favorite sites, Swagbucks, offers tons of ways to earn real cash online. If you're not already a member, give it a shot! Here are five things you can do to make easy money on the site:
Play games (up to $110 each)
Test apps (up to $150 each)
Submit receipts (easy cash)
Shop at your favorite stores (up to 10% back)
Answer surveys and polls (quick cash in minutes!)
Being out in nature is beneficial to your well-being. According to the University of Minnesota, being out in nature can benefit you by reducing stress, anger, and fear while also lowering your heart rate, blood pressure, and muscle tension.
Since being out in nature helps us feel better, it's only logical to find a way to get paid to hike out in nature for these exact reasons. Feeling healthy and making money at the same time seems like a recipe for a long and happy life.
If you are someone who is looking for this kind of lifestyle, then you will be pleasantly surprised to learn that you can get paid to hike. You don't have to have Mount Everest-level endurance to do this, either. However, some hiking knowledge and experience could definitely be helpful.
Learn how to make money hiking so that you can live a life that is fulfilling to you. If you are an aspiring hiker or someone with extensive knowledge about hiking, many of the ways to get paid to hike that are listed here will apply to you. Take comfort in knowing you don't have to make a living by being cooped up behind a desk all day while sitting in an enclosed office space.
Click the button ⬆️ to subscribe to my YouTube channel where I share real ways to earn money.
Our Popular Money-Making Offers
Sign up with each of the following companies to maximize your earning potential.
$10 sign-up bonus
Pays to take surveys, complete offers, shop online, and much more
100s of other paid tasks
Awards cash and gift cards
$5 sign-up bonus
Pays to play games, watch videos, answer polls, and much more
100s of other paid tasks
Awards cash and gift cards
12 Ways to Get Paid to Hike
Take a look at actual hiking jobs that could help you make the kind of money you want. You can turn hiking into an actual career if you find the right job that pays well.
1. Become a Park Ranger
Becoming a park ranger is not only a cool job, but it is also a well-paying job. A park ranger is considered a federal employee of the National Park Service, which means a salary and benefits package come with the job.
As a park ranger, you will need some sort of education and experience in order to apply. Check out the requirements for each position you are interested in to make sure you qualify. There are entry-level types of park ranger jobs so don't brush off this option just because you don't have the experience yet.
2. Become a Hiking Guide
Becoming a hiking guide is a great way to get paid to exercise. Become familiar with hiking trails in your area and promote your service. There are people who desire to hike, but just don't know where to begin. Sometimes, you will find inexperienced hikers on trails that are much more challenging than they are prepared for.
Be the guide they need and teach them where the easier trails might be so that they can work up to harder excursions. Also, help them steer clear of poisonous plants or dangerous areas like cliffs or quicksand. You can charge by the hour or by the day. You can also check with local "Welcome Centers" to partner with them to offer your services to tourists.
Related: How to Get Paid to Fish
3. Get a Job as a Campground Host
Campground hosting offers a unique way to get paid to camp and hike. Take a look at campgrounds in your area to see if any of them are hiring for this position. While campground hosts are mainly responsible for keeping the grounds clean and making sure campers are abiding by the rules, there are also some hiking duties that go along with the job.
Do some hiking around the campsite to become familiar with your surroundings, hike the trails to ensure camper safety, and offer suggestions to campers who want to explore. Test out any new hiking products or equipment you have onsite that campers can buy. Sell it to them with confidence knowing you have tried it yourself.
Related: Best Ocean Jobs That Pay Well
4. Become a Freelance Writer in the Outdoor Niche
Start a freelance writing career and get paid to hike while you write for hiking publications. You will need to have some knowledge or experience in the hiking world to write in-depth pieces for those publications. Personal hiking becomes part of the job in this field.
Make money for every post you write for your hiking clients. You can charge per post or make a deal to write a certain number of posts for a package price. Go out into nature and do some work-related research while getting paid to live in the wilderness.
5. Become a Nature Photographer
Photographers have the freedom and flexibility to go out and take photos of nature at any time of the day. During a hiking trip, a photographer can capture the beauty of a sunrise or a golden sunset and everything in between. Become a photographer and sell the pictures you take while hiking.
Think of magazines, online publications, or local businesses that would benefit from your scenic photos. Sell your pictures to them and make money doing something you love. Take your family hiking with you to grab encouraging family hiking trip photos. Or go on a solo trip and take pictures of what a good hiking trip can do for your soul.
Related: How to Become a Photo Editor
More Ways to Get Sponsored for Hiking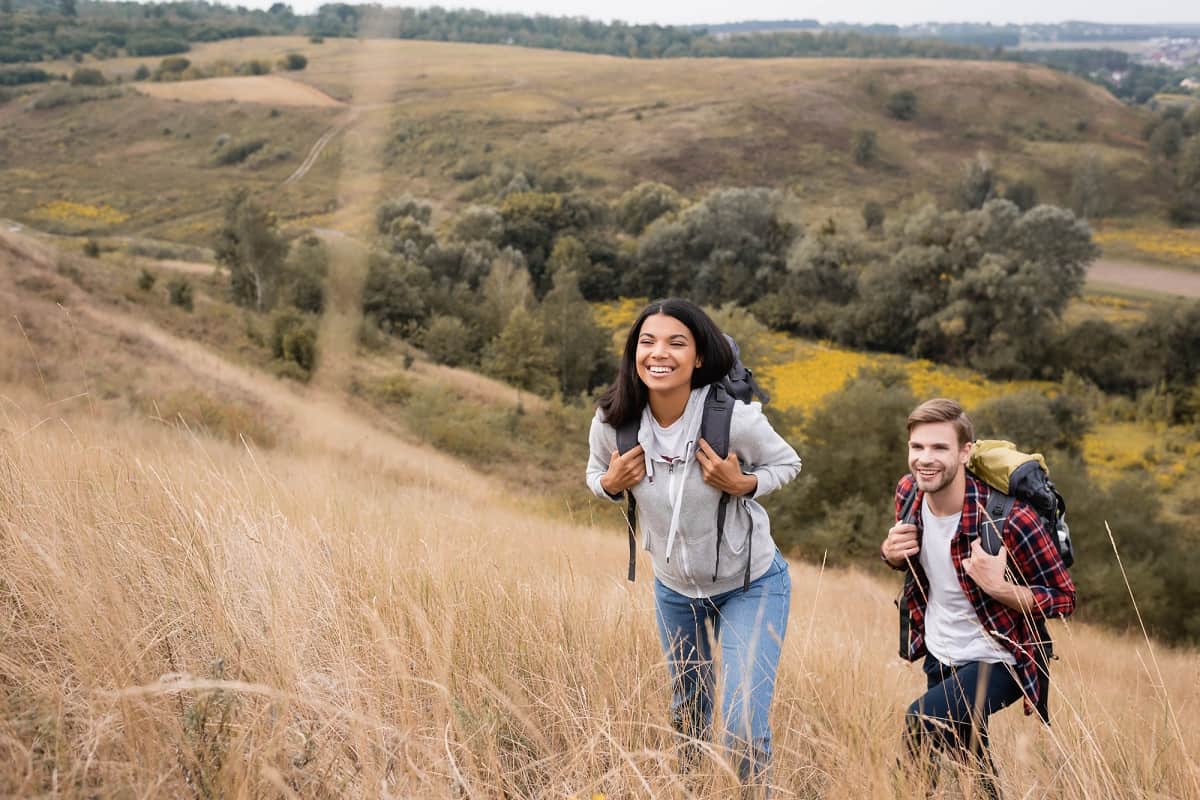 The following suggestions for how to make money hiking include how to get sponsored for hiking. Sponsored posts mean you actually get paid for advertising brands and companies while on hiking trips.
6. Start a Hiking YouTube Channel
YouTube is a popular platform people go to when they want to learn about something new or if they just want to be entertained. You can do both by starting a YouTube channel that is dedicated to hiking. Take your viewers with you on live hiking trips or post videos with hiking tips and tricks.
As a YouTuber, you can enter into an agreement with other brands or companies to produce a sponsored hiking video. Sponsored videos might look like you taking a hike while advertising a company's new water canteen or another brand's hiking shoes. Essentially, you would need to include the company or brand you partnered with somewhere in your video.
You can also include ads on your videos to help you generate a passive income. This would be helpful if you are considering how to get paid to hike the Appalachian Trail or take another backpacking trip. Take your viewers on the adventure with you as you hike one of the most exciting trails and make money from their views of your video.
Related: How to Get Paid to Hunt
More Popular Money-Making Offers
Earn more money in your spare time with these reputable companies.
Free PayPal cash
Paid surveys and web searches
Earn easy cash back
Get paid directly to your PayPal
PayPal, Visa, Amazon, etc.
Pays you to do NOTHING (with SJ Pulse)
Simply install the software
Participate in paid surveys & studies
7. Produce Hiking Tips on a Blog
Blogs are full of information that can help others learn a new skill or stay informed about current events. As a blogger, you can produce valuable content for your readers like tips for hiking or what areas readers should explore. Rate the hiking trails based on the level of ease to really help out your readers while they plan their own hiking expedition.
You can get sponsored for hiking by writing blog posts about hiking products or companies. Some sponsored posts can earn as little as $50 or as high as a couple hundred dollars depending on the scope of the assignment.
Related: How to Get Paid to Help Others
8. Become an Influencer to Fellow Hikers
Become a professional hiker in your role as a social media influencer and find companies to sponsor you. Create a social media page and post content that is centered around the hiking niche. Grow your following and increase awareness about how beneficial hiking is.
While you create your social media posts, you can advertise the hiking gear that you like to use. Tag the companies of those products so that they can see your page. Then reach out to them directly to inquire about how to get sponsored for hiking and showing off their products to your viewers.
Related: How to Get Free Nike Shoes
9. Become a Brand Ambassador for Hiking Gear
Brand ambassadors specifically advertise for brands they have an agreement with. For example, you would sign up with a hiking clothing company, receive some of their merchandise, and then take pictures while hiking and wearing their products. Write detailed captions about how the clothing makes hiking better.
If someone purchases the items you advertised through your special link or code, you make a commission on that sale. Find brands that you like and sign up to be their brand ambassador. Don't advertise for them until you have the agreement in place and you know how much you will make.
Related: How to Make Money Sharing Links
More Ways to Get Paid While Hiking
If you want to make hiking more of a side job versus learning how to turn hiking into a career, then consider these additional ways you can get paid while hiking. These aren't hiking careers per se but rather jobs you can get paid to do while doing your favorite hikes.
10. Star in a Hiking Film
Being an actor means you get to travel to exotic places, shoot scenes in a variety of settings, and take on the role of a character. All of these give you the possibility to get paid to hike while already on the job as an actor. Take on the role of a hiker or participate in movies that include hiking scenes.
Related: How to Become a Filmmaker
11. Take Your Classes Outside
Online teachers and some in-person teachers can take their classrooms into the great outdoors. Whether you are teaching actual hiking skills or just taking your yoga students outside for an adventure, you can go hiking and get paid to teach at the same time.
Additionally, you can create hiking courses and sell them on platforms like Udemy where people can purchase your course to learn the basics of hiking and work their way up to more challenging hiking trails.
12. Hike With Pets
Pet sitters are so important when it comes to caring for dogs while the owner is away on business or vacation where the dog cannot come. This means you will have to help the dog get their exercise and stay healthy in the owner's absence.
Consider how you can get paid to walk dogs in your care by taking them out for a simple hike to get them the fresh air they need. You will already get paid as the pet sitter so essentially you will be getting paid while hiking.
Related: How to Get Paid to Go on Vacation
Make Hiking Your Next Career Move
If you have followed along and learned how to turn hiking into a career that you truly are passionate about, then don't wait any longer to get started as a professional hiker. Gone are the days when you are pinned to only one location for 40 or more hours per week in order to make money. A hiking career is calling your name.
There are so many ways you can make hiking a full- or part-time job for yourself. Depending on what you want to do with your life, hiking gives you the opportunity to at least explore options outside of the walls of an office building.
Get paid to hike and start experiencing all that nature has to offer. Proceed with caution as you get familiar with hiking trails near you. Learn about all the ways to keep yourself safe and hydrated along the way, and you will surely have a positive experience as a hiker.
Related: Best Side Hustles for Men
---