How to Become a Mystery Shopper and Earn Money
One of my favorite sites, KashKick, offers tons of ways to earn real cash online. If you're not already a member, give it a shot! Here are five things you can do to make easy money on the site:
Play games (up to $125 each)
Test apps (up to $125 each)
Buy lottery tickets (an easy $8)
Try popular brands (always changing)
Answer surveys (quick cash in minutes!)
When my sister was in college, she landed a mystery shopping gig buying alcohol as a minor. Her job was to simply enter a gas station, grab a can of beer, and check out. She then had to report whether the employee asked for her ID or simply let her buy the alcohol and walk out of the store.
I get it- you might think that becoming a mystery shopper sounds questionable. But don't brush me off just yet. What if I told you it's really possible to get paid to be a mystery shopper? And, you don't have to be under 21 to test whether stores are checking IDs before selling alcohol to customers (that's just one example).
There are actual mystery shopper jobs that pay people to shop and give feedback about their experiences. There are several ways to do this, and some even include mystery dining at restaurants. If this sounds like something you would enjoy doing, then continue reading to learn how to become a mystery shopper.
The first thing to understand is that becoming a mystery shopper is typically more of a side hustle than a full-time job. If you have some free time in your week to complete mystery shopping tasks, then this could be the job for you.
Click the button ⬆️ to subscribe to my YouTube channel where I share real ways to earn money.
Our Popular Money-Making Offers
Sign up with each of the following companies to maximize your earning potential.
$10 sign-up bonus
Pays to take surveys, complete offers, shop online, and much more
100s of other paid tasks
Awards cash and gift cards
$5 sign-up bonus
Pays to play games, watch videos, answer polls, and much more
100s of other paid tasks
Awards cash and gift cards
What is a Mystery Shopper?
The term "mystery shopper" came from marketing research companies that use this sort of spy method to assess the quality of sales, customer experience, and other information about businesses.
A mystery (or secret) shopper is someone who goes into a specific business and shops as a regular customer and then reports back on their interactions.
During this visit, the shopper makes notes about their experience with the staff, product quality, and services provided and reports it all to the marketing company. This helps the company understand what they are doing right, where they can make improvements, and any complaints to be aware of. In essence, secret shoppers help companies be the best they can be so that they can make more money.
Does a Mystery Shopper Require a License?
If you are interested in starting your own mystery shopper business agency, you will need to comply with your local state's licensing requirements to meet eligibility.
However, if you are just looking at how to become a mystery shopper as a singular person, then there are no current licensing requirements. Keep in mind that it may be a good idea for bookkeeping purposes to have a separate account for your mystery shopping income to keep track of where your money is coming from.
Related: How to Get Paid to Review Products
Other Mystery Shopper Requirements and Qualifications
In some states, mystery shoppers can be as young as 17 years old. In other states, shoppers must be at least 18 years old. Research your state's requirements beforehand to understand the age restrictions.
Mystery shoppers should have reliable transportation so that they can drive to the businesses they will be reviewing. They should have great attention to detail and have a good memory so that they can recall as much as possible when providing feedback.
They must also have open minds and be unbiased when walking into an establishment. This will help them see the business for its true self and help provide constructive feedback.
Related: How to Become a Respondent
Mystery Shopper Salary or Pay Expectations
According to ZipRecruiter, the national weekly salary average for mystery shoppers is roughly $800. There are reports of weekly salaries being as high as $2,019 and as low as $221. The salaries range based on the area in which the shoppers live and how many opportunities secret shoppers are completing.
California is among the top states where mystery shoppers are getting paid the most along with Maryland, Massachusetts, New York, and Alaska.
Related: Best Stay at Home Mom Jobs With No Experience
How to Become a Mystery Shopper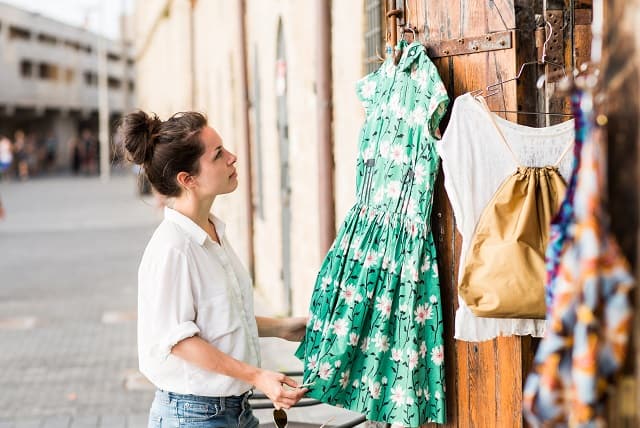 It is not difficult to become part of the mystery shopping world. Take a look at this guide to learn how you can get paid to mystery shop today.
1. Pick the Type of Shopper You Want to Be
As a mystery shopper, you can choose the types of shopping jobs you want to participate in. This means you can choose to be a restaurant shopper, department store shopper, airline shopper, and more.
Stores can range from clothing to electronics to jewelry and more. Ask yourself what kind of shopping you want to do so that you know where to apply for those mystery shopper opportunities.
Related: How to Get Paid to Test Electronics
2. Research
It's unfortunate that there are so many scammers and fraud mystery shopping advertisements out there. That being said, you have to be careful and research the companies you will be applying to. This will protect you from going with a company that is not legitimate.
According to the Federal Trade Commission, here are some things to look out for when applying for mystery shopper jobs to avoid being scammed:
Don't pay anything upfront
Avoid paying for mystery shopping jobs lists
Don't wire money as part of the job assignment
Never deposit a check into your bank account and then send money back to the company
If a company is asking you to do any of the things listed here in order to be a secret shopper, these requests are a good indication that the company is a scam.
Related: Companies That Pay for Ideas
3. Apply for Mystery Shopper Opportunities
Find the right mystery shopping job opportunities and begin putting in your applications for them. Use the Mystery Shopping Professionals Association (MSPA Americas) to find legitimate opportunities. The website will also display current scam alerts so that you can reference any requests you've gotten to see if they are scams.
One of the top places to look for a steady stream of mystery shopper jobs is through BestMark. It has been around since 1986 and has numerous reports from other mystery shoppers as being a legit company and as being helpful with finding jobs. BestMark refers to mystery shoppers as "field representatives" and joins into partnerships with shoppers on a contractual basis.
BestMark
is a legit market research company that hires mystery shoppers. Use referral code NY73715 when you complete the application to let them know I sent you!
4. Complete the Jobs
Follow the directions on how to complete your mystery shopper job and make sure you are submitting your report by the deadline to get paid.
Some jobs will have a form for you to fill out while others may request a written essay-style submission of your experience as a customer. You must submit whichever method you receive as part of your job assignment before the deadline.
5. Collect Your Earnings
After submitting your report and completing your job, it's time to get paid. Some of the jobs give you the option to receive your payment via direct deposit. However, there is a large majority that will pay by check in the mail.
Do your best to plan for those mailed checks for budget purposes. While a mailed check isn't the fastest way to receive your payment, it is often the least expensive way for marketing companies to pay you.
Related: How to Get Paid to Drink Wine
More Popular Money-Making Offers
Earn more money in your spare time with these reputable companies.
Free PayPal cash
Paid surveys and web searches
Earn easy cash back
Get paid directly to your PayPal
PayPal, Visa, Amazon, etc.
Pays you to do NOTHING (with SJ Pulse)
Simply install the software
Participate in paid surveys & studies
Questions New Mystery Shoppers Are Asking
Take a look at what other mystery shoppers are asking to get better insight into what to expect in this line of work.
Is mystery shopper a good job?
Anything can be a good job if it fulfills you in ways that make you happy. If you decide that becoming a mystery shopper is a good job for you, then the answer to this question is yes.
However, if you are looking for a job to make $5,000 fast, then this won't be a good job for that goal. It's up to you to decide what you deem is "good."
What is the best secret shopper company to work for?
A popular company to work for is BestMark. It is a market research company that partners with businesses looking for mystery shoppers.
As a field representative with BestMark, you will be assigned jobs to shop at and review companies. This helps to quickly connect you to mystery shopping jobs rather than having to apply for individual jobs by yourself. Simply apply on the website to get started with being matched for jobs.
BestMark
is a legit market research company that hires mystery shoppers. Use referral code NY73715 when you complete the application to let them know I sent you!
Is it hard to become a mystery shopper?
Typically, it is not hard to become a mystery shopper. The hardest part about it is making sure you are partnering with legitimate companies and not scammers. As long as you do your research and follow the steps in this guide to avoid those scams, the job should not be hard to do.
Related: How to Get Paid to Advertise for Companies
Why do companies hire mystery shoppers?
Companies hire mystery shoppers to ensure their businesses are operating according to policy, which usually means operating in a way to drive up revenue. There are certain rules companies have for their employees to follow. If employees are caught not following those rules, a shopper can point that out to the company so that changes can be made.
Mystery shoppers bring value and insight into many companies without being noticed. This is the best way to see how a company runs from the inside out.
It sounds like a sneaky way to spy on employees. However, we all know we act our best when authorities are present. If we have our guard down and don't know when someone is watching us, we act normally.
Can you be a full-time mystery shopper?
There are some shoppers who make a full-time income doing mystery shopping jobs. However, this is not the norm. Typically, you can look at a mystery shopper job as more of a side hustle to earn extra money each month versus replacing your full-time income.
Related: Best Apps for Delivery Drivers
Who Should Become a Mystery Shopper?
If you are reliable, detail-oriented, and can provide the valuable feedback companies need, then you should become a mystery shopper. It's not every day that you can make a difference in the operations of businesses without even being noticed by the employees.
Get paid to think, create change in employee environments, and update companies with new and innovative ways to appeal to customers. The company wants to satisfy the customer, which will bring in more money. Customers want to be satisfied with products and services. It is a relationship we all enter into when shopping, dining, and doing many other social things in life. You might as well get paid to mystery shop and help those companies maximize their earnings in the process.
Secret shoppers can make a huge impact on companies. If you want to be part of the impact, then learn how to become a mystery shopper with this guide. Apply for several jobs to maximize your earnings.
---