How to Become a Pet Sitter and Care for Animals In Your Home
We foster relationships with brands we use and trust. The testimonials on our site represent real experiences, but they don't guarantee you'll achieve similar results. When you make purchases through our links to our partners, we may earn a commission. Your support helps us continue this work. You can read our full disclosure here.
As a pet lover, there are many ways you can make money doing something you love. Playing, snuggling, and caring for animals is a dream job for so many. To make this dream a reality, it's important to understand how to start a pet sitting business that can become a success.
People often overlook the need for pet sitters, especially during busy seasons like summer and the holidays at the end of the year.
You might consider becoming a pet sitter and open your own home to pets for boarding or stay over at the pet's home for the necessary time frame. Whichever way you choose, it's important to know how to start a pet sitting business on the right foot so that you can have success now and in the future.
What is a Pet Sitter?
A pet sitter is similar to a babysitter. When animal owners need someone to entertain and care for their fur babies for a while or while they are away from the home on vacation, a pet sitter is often the person for this job.
There is much more that goes into becoming a pet sitter than just playing with the animal. There are care requirements such as specific diets, exercise routines, and medications. Also understanding what makes an animal nervous or what temperament an animal has will help prepare you.
Pet sitters can be found nearly anywhere, especially on sites such as Care.com. While Care.com is typically known for finding babysitters or nannies for children, there is also a section of its site dedicated to finding pet sitters. Care.com has connected many families to the right sitters for over 14 years and has earned an A+ rating from the Better Business Bureau.
Related: How to Start a Daycare Service From Home
Does a Pet Sitter Require a License?
In most cases, you will not be required to have a license to become a pet sitter. However, it is always best to check with your local licensing or government agency to ensure there are no requirements to obtain a license or any other type of permit. A pet sitter who offers boarding in their home may require a license.
Additionally, consider obtaining a business license to further establish the legitimacy of your pet sitting business. This can help when it comes to tax season and can also make you more favorable to future clients.
Other Pet Sitter Requirements and Qualifications
Many pet owners consider their pet part of their family and their heart. That being said, pet owners will want to have confidence in hiring someone to watch their beloved pets.
To be a highly qualified pet sitter, you must be someone who is reliable, trustworthy, and caring. If you are able to obtain qualifications such as animal care, animal first aid, or animal behavior training, this will enhance your services when you start a pet sitting business.
You will also need to be someone who has patience as some animals require more of your attention and energy than others. Insurance is also a good idea to have for any incidents that might occur, but it is not required.
Pet Sitter Salary or Pay Expectations
According to Glassdoor, the national average annual salary for pet sitters is over $27,000. Keep in mind that this salary will vary based on the area you live in and the number of pets you care for. The base pay ranges from $12 per hour up to $25 per hour across the states. The type of service you offer will also determine how much you will get paid.
Related: How to Become a Dog Groomer
5 Steps to Start a Pet Sitting Business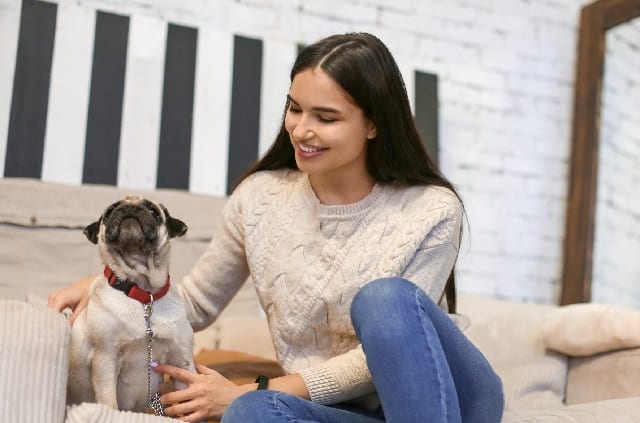 Starting anything can be overwhelming in the beginning. To make sure you are putting your best foot forward, consider these steps to learn how to start a pet sitting business.
1. Make a Business Plan
The first step in creating any business, no matter what it is, is to start with a business plan. Consider all of your expenses such as obtaining insurance and certifications so that you know how much money is being spent upfront. Then map out your budget and consider the schedule you want to have when you open to clients.
Additionally, it is the best practice to open a bank account for your business to keep your personal and business expenses separate.
Related: How to Get Paid to Read
2. Advertise
Make the opening of your new pet sitting business known to the world so that you can start accepting new clients. You can do this by putting an ad in the newspaper, displaying signs on your lawn for owners walking their dogs, posting on your social media pages, and joining neighborhood Facebook group pages.
Some owners are hesitant about taking their animal to a boarding facility and desire that special one-on-one care for their pet. They will often go to social media and make a post asking others for their experience and recommendations on a pet sitter. You can throw your hat in the ring of consideration by responding directly to their post.
Never miss an opportunity to promote your business. The shots we miss in life are the ones we don't take. There is someone out there in need of your services, you just have to find them.
3. Offer Services
Truly consider the kind of services you want to offer as a pet sitter. You might find that you prefer to care for a particular kind of animal over another. If you are afraid of a certain type or breed of animal, it's wise to advertise who your services will benefit so that you don't get caught up with an animal you aren't comfortable with.
Also, if you aren't at ease giving medications, mention in your services that you don't accept clients with medical needs. This could eliminate senior pets or ones with underlying health conditions.
To bring in more money, you can offer services separate from pet sitting. You can even offer dog walking services initially to boost your revenue and your client base for future pet sitting needs.
Related: Best Service Business Ideas
4. Ask for Testimonials
The best gift anyone can give you is the gift of a referral or a really nice review. Once you have completed a pet sitting gig for someone, don't be afraid to ask them for a testimony of your services. The more testimonies you can gain, the more others will be likely to work with you.
The testimonies should mention more than just "great job." To get the full benefits of what a true testimony can do for you and your pet sitting business, ask the client to specify the things you did well and how their animal was treated during your time with them. Post those testimonies on your social media page, business page, or even on your own website.
Disclaimer: It is best to establish a rapport with a client before asking for too specific of a review.
The nice thing about partnering with Care.com for your pet sitting services is that there is a space where clients can leave a review about your services right on your profile page. This way, potential clients already using the platform can see right away how great you are in your business.
Related: How to Make Money as a 13 Year Old
5. Set Your Rates
As a new pet sitter, your rates might start lower until you gain more experience. Consider researching other pet sitters in your area to determine a good range and what people are willing to pay. Additionally, remember that with each happy client you have, you can then raise your rates.
Your rates should be set based on the level of care you are providing. Think about ways you can enhance the services you are providing to each animal so that the owner knows what an exceptional experience they will have and you can charge more for being even more involved in caring for their loved one.
Consider travel expenses as well and the time you will be spending caring for the pet.
Related: Best Jobs for Stay-at-Home Moms
Questions New Pet Sitters Are Asking
New pet sitters have questions about starting this business. Take a look at some popular questions and gain additional insight for the benefit of your business.
Do you need insurance to be a pet sitter?
While not required, it is a good idea to have insurance if you start a pet sitting business. This means you are protected financially in the event of an incident. You can't plan for all of the variables in the world; insurance is one of those things that isn't bad to have just in case.
Related: Jobs That Feel Like You're on Vacation
What is a good name for a pet sitting business?
Coming up with a catchy business name can be fun, especially for a pet sitting business. Play around with some common words associated with pets or incorporate the type of pet you will be servicing. When all else fails, think of the activities you do with your pets or the way they react when they are happy.
Example words include: purr, bouncing, fetch, spunky, woof, puppy, kitty, pet lovers, pet, fur babies, fur child, four legged, wagging, etc.
Related: 100 Food Blog Name Ideas
What is the most profitable pet business?
There are several services you can provide as a pet sitter that can make your business even more profitable. Incorporate services such as nail trimming, grooming, dog walking, making organic pet treats, pet training, and more. These are highly sought after services so if you can already do something like this while pet sitting, your rates can be even higher.
How do pet sitters get clients?
Care.com is a great place for pet sitters to get clients. You can post your profile on the platform and the people already visiting the site will see you. In addition, you can post on your social media accounts and ask friends and family to share your business with others.
Pet sitters often get clients based on word-of-mouth. The more you can do to advertise and provide stellar service, the more clients you can attract.
Related: How to Get Paid to Ride Horses
Is being a pet sitter worth it?
Any job is worth having if you enjoy it and if it brings you a sense of fulfillment. As a pet sitter, you will be rewarded more in tail wags and licks to the face. If this is something that brings you joy then being a pet sitter is worth it.
Being a pet sitter can be a good thing for your health as well. Taking the dogs for a walk is good exercise for you as well. Petting cats has been known to decrease anxiety levels. Having a creature be so happy to see you makes your heart feel good. It's worth it.
Related: How to Get Paid to Exercise
Who Should Start a Pet Sitting Business?
Owning a business is not for the faint of heart. If you are someone who is dedicated, willing to work hard, and interested in making a difference for families in your area, then learning how to start a pet sitting business could be the right fit.
The only limits in a pet sitting business are the limits you place on yourself. Take on as many clients as you want, make your desired salary, and have a happy job as a pet sitter. You might get lucky and score a pet nanny position where you travel with families to care for their dog in different cities, states, and countries.
If you put in the work and you're committed to making this business venture a successful one, then it will be well worth it. Remember that it takes time to get anything going. Be patient, have a plan, and celebrate all success– big or small– along the way.
Related: Best Delivery Driver Apps
---
We appreciate the time you've spent reading this post and your interest is not lost on us. Your thoughts, questions, or experiences related to the topic are most welcome. Each comment adds strength to our community. We ensure every comment receives our attention, and we take the time to provide thoughtful responses. Once again, thank you for being a part of this conversation. Click here to leave a comment.