How to Start a YouTube Channel on Your Phone
We foster relationships with brands we use and trust. The testimonials on our site represent real experiences, but they don't guarantee you'll achieve similar results. When you make purchases through our links to our partners, we may earn a commission. Your support helps us continue this work. You can read our full disclosure here.
YouTube is a popular site for video content of all types these days. From educational to entertainment and news-related videos, you can always find something to watch on the platform. If you've ever considered having a space to create your own videos, here is where you can learn how to start a YouTube channel on your phone.
YouTube makes it easy for viewers to consume content. People have about an eight-second attention span so YouTube videos have to be appealing and catchy in those first few seconds to have a chance of becoming popular. The beauty of creating your own YouTube channel is that you get to decide what kind of content to create and share.
Not only is it fun to create a channel, but you can also make money from it. If you want to start a money-making channel, then this guide will show you how to create a YouTube channel on your phone.
What is a YouTube Channel?
A YouTube channel is your spot in the YouTube world. It's your very own account where you can upload content about whatever you want, pursuant to YouTube's rules and guidelines. You can use your own channel for fun or make it into a full-time job.
Viewers can subscribe to your channel to be notified every time you post a new video. Your channel also gets a special URL that you can incorporate into your own business or brand.
Does a YouTube Channel Require a License?
Starting a YouTube Channel doesn't require a license or any special training.
But it is important to understand that a business license may be required for accounts that make money depending on the area you live in. Check with your local laws about business license requirements and taxes.
For your own channel, there are standard YouTube licenses you may use when uploading your video. There are also "creative commons" licenses to understand when using graphics or audio that don't belong to you.
Related: Home-Based Business Ideas for Moms
Other YouTube Channel Requirements and Qualifications
Someone who has a YouTube account, aka a YouTuber, needs to be someone who is patient, consistent, and has thick skin when it comes to criticism. Patience is helpful in the beginning as it takes time for your channel to get in front of a larger audience.
Consistency is key in generating traffic to your channel because viewers want to see you are consistently posting new content. Thick skin will be beneficial because you will receive negative comments on your videos from others and it is important to either take it as constructive criticism or move on from it.
YouTuber Salary or Pay Expectations
Many YouTubers make their money by using ads on their channels. According to Intuit Mint Life, YouTubers make an average of $3-$5 per 1,000 video views. This income comes from displaying ads on the uploaded videos. This means that the more views on your videos you can get, the more money you will be able to make.
Related: How to Make Money Watching Commercials
How to Start a YouTube Channel on Your Phone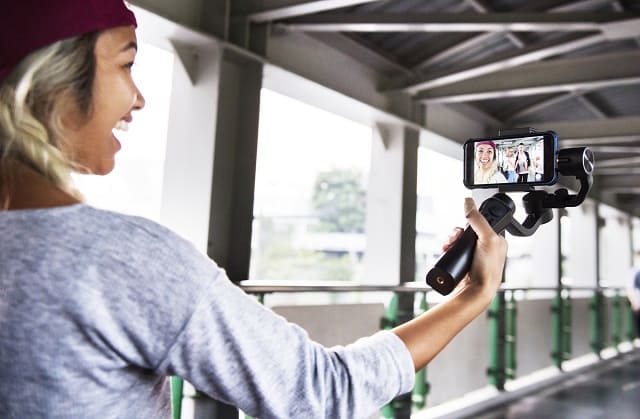 If you're ready to join the YouTube world and start posting your great content, then take a look at how you can start a YouTube channel from your phone. It is surprisingly not too difficult to do.
1. Create an Account on YouTube
Open YouTube from your browser on your phone. You will need to select the option to "request desktop site" from the browser settings to get access to all of the controls you need. If you don't already have a YouTube account, you can create one for free.
Once you are signed in to your YouTube account, click on your user profile avatar in the top right corner. If you haven't chosen a picture yet for your profile, this avatar will simply be the letter of the first name of the account. From there, a drop-down menu will appear and you will need to select "create a channel."
You will then be prompted to "get started." Follow the prompts and answer questions along the way that pertain to how you want to use your new channel. Maximize your channel by including any links you might have to your website so that viewers can go to your site for more information about you and how to work with you.
Related: Places to Sign Up and Get Money
2. Decide the Topic of Your Channel
Decide what kind of content you will be publishing. If you have a brand or business already, then create content that complements what you do already. If you don't have a business already, then ask yourself why you want to have a channel in the first place.
For example, you can become a product reviewer and get paid to share your opinions on household items you use every day. Share the products and services that make your life easier as a busy parent or share reviews on the toys that keep your kids happy for hours.
Is your channel going to be purely for entertainment or is there a larger purpose behind it? Once you have that figured out, then you'll want to create a content calendar that shows what videos you will be creating and posting each week. Remember, consistency is key so you will want to follow your calendar to keep up with publishing.
Related: How to Become a Makeup Artist
3. Invest in Your Equipment
It's possible to start your channel using just your smartphone to record videos. But if you're able, consider investing in some startup equipment to improve the quality of your videos.
Related: How to Make Money Editing Photos
4. Publish Your First Video
After you have recorded and edited your first video, it's time to upload it to your channel. This is the most exciting part to finally have content published on your site. Celebrate this milestone and keep uploading great content for your viewers.
In order to get your videos in front of more eyes, make sure to do keyword research on the topics your video covers. With proper SEO techniques, you can ensure that your video surfaces for different phrases that people search on YouTube and Google.
Related: How to Make Money With SEO
5. Advertise Your Channel
Don't forget to share your videos and advertise your channel on all of your social media accounts. The more eyes you have on your channel, the more others will share your content, and the more traffic you will receive. This is a crucial step in your success as a YouTuber.
Related: How to Promote Your Business
6. Monetize
Once you've gotten the hang of your new YouTube channel and you have a flow of content, views, and subscribers, consider monetizing your channel with ads.
Sign in to YouTube and select your account avatar in the upper right corner. From the drop-down menu, select "YouTube Studio." This will take you to your channel dashboard.
Use the menu on the left-hand side and scroll down to "Monetization." This will take you to a qualification page and will inform you if you meet the requirements to monetize yet or still have some work to do.
Additionally, you can become an affiliate marketer and partner with brands and businesses that you trust. In exchange for sharing your honest opinions on your YouTube channel, those partnerships will pay a commission for the sales you generate for those companies.
Related: How to Get Paid to Post Ads for Companies
7. Be Consistent and Listen to Your Viewers
Don't leave your subscribers and viewers hanging. Post consistently to your channel to keep driving up those views. The more consistent you are, the more viewers will keep coming back for more. If you aren't consistent, it will be difficult to have a successful channel.
Make sure to interact with your subscribers. During your videos, ask viewers to leave comments and tell you what they think of your content. It takes thick skin to listen to feedback from people sitting behind a phone or computer screen. But in the long run, you can use the information to learn what your subscribers like to hear from you the most.
Related: How to Become a Graphic Designer
Questions New YouTubers Are Asking
There are many parts of the YouTube puzzle to consider. Read what new YouTubers are asking to get a better handle on how to start a YouTube channel from your phone.
How much does it cost to start a YouTube Channel?
Having a channel on YouTube doesn't cost anything. However, there is an initial investment to consider for any equipment you wish to purchase to produce high-quality videos. This cost will vary depending on the equipment you purchase.
Is it hard to start a YouTube Channel?
The definition of "hard" will be different for everyone. However, if you can follow the steps listed in this guide to start a YouTube channel from your phone, then it shouldn't be a difficult process. Making it a successful channel might prove to be more challenging if you're not willing to put in the time and dedication to publishing consistent content.
Is it too late to become a YouTuber?
It is never too late to become a YouTuber. You will always have a unique perspective and a different story to share. Your content will be different from anyone else's because it has your creativity. Start a channel now and see how you flourish as a YouTuber.
Is YouTube a good career?
The term "good" is hard to define. Your idea of what makes a career "good" will differ from others. Essentially, if you are someone who wants to start a YouTube channel as a way to make money, then you have to be disciplined as if it were a job so that you can make it a success.
What are the disadvantages of being a YouTuber?
A couple of things to consider include that it takes time to make this a success. You will not become a YouTube success overnight. You have to be patient.
In addition, you have to be open to seeing comments and hearing negative talk about your content. You won't have the perfect content for everyone and some people like to let you know they don't like your stuff.
Some months, you might be working for less money than if you had a regular job. That's the price of being an entrepreneur YouTuber. You have to do much of the footwork yourself to be successful.
Related: Best Side Hustle Ideas for Men
Who Should Start a YouTube Channel on a Phone?
Starting a YouTube channel isn't for the faint of heart. Much like a freelancer or an entrepreneur in another field, there will be times of self-doubt and exhaustion when you're trying to make it work. If you are someone who can move past the challenges and overcome the doubt, you will be the perfect person to have a channel.
Start out on the platform posting videos just for fun to get a feel for how to use a channel. Spend time developing a relevant content calendar that people remember to come back to if they are looking for advice only you can provide. If you are more of the entertainment type of channel, you still should have a plan for your content.
Don't be afraid to put yourself out there and try something new. YouTubers have a way of making the world a better place one video at a time. Be the change you want to see in this world and create a channel that will make a difference to many.
---
We appreciate the time you've spent reading this post and your interest is not lost on us. Your thoughts, questions, or experiences related to the topic are most welcome. Each comment adds strength to our community. We ensure every comment receives our attention, and we take the time to provide thoughtful responses. Once again, thank you for being a part of this conversation. Click here to leave a comment.