How to Become a Filmmaker Without Going to Film School
We foster relationships with brands we use and trust. The testimonials on our site represent real experiences, but they don't guarantee you'll achieve similar results. When you make purchases through our links to our partners, we may earn a commission. Your support helps us continue this work. You can read our full disclosure here.
I remember looking at the graphics, hearing the loud booms, and feeling the wonder that only a film on the big screen could provide. It was a remarkable experience and one I wasn't likely to forget. It was exciting that a film like Avatar could overwhelm my senses in all these ways, which led me to wonder what it takes to become a filmmaker to create more of those sensations.
There is an abundance of creativity required to be a filmmaker and being able to see a script from a variety of angles is crucial to success. Bringing words to life on a screen takes dedication, talent, and passion. A filmmaker's skills advance following each experience. There is an evolution each time a filmmaker publishes their project.
If you're intrigued to learn how to become a filmmaker, then this guide is for you. Break into an exciting, fast-paced industry where you can make your mark on the world. Movies make breakthroughs every year with creativity and innovation. Learn how you can become part of the movement.
What is a Filmmaker?
By definition, a filmmaker is someone who directs or produces movies for the theater or TV. Famous filmmakers you may know of include Steven Spielberg, Quinten Tarantino, Spike Lee, and many more.
A filmmaker is the leader in a movie or show. He/she is in charge of that project from start to finish. It is a leadership role as this person is responsible for making movie productions, which includes leading and developing the picture.
Related: How to Become a Content Creator
Does a Filmmaker Require a License?
A filmmaker is not required to have a license in order to make movies. It is also not a requirement to have any kind of formal education. However, you will find that many jobs will ask for formal education as a contingency to apply for a job. It isn't a bad idea to have some knowledge beforehand.
Other Property Filmmaker Requirements and Qualifications
Filmmakers should have patience. Movies aren't easy to make and it takes a whole crew to make one come alive. That means you need to have patience with all the people involved in the making as well as anticipate that there will be hiccups in the projects.
A filmmaker should also have the ability to delegate. You will be in a leadership role that gives direction for everyone to follow. You have the responsibility to see this movie through and that means you can't do it alone. As the filmmaker, your ability to delegate will mean less stress for you.
Filmmaker Salary or Pay Expectations
According to ZipRecruiter, the national average annual salary of a filmmaker is $53,467. On the low end, some filmmakers report an annual salary of $26,138. The highest annual income reported is $84,617. The salary will vary based on your experience and the area in which the project takes place.
Related: How to Become a Photo Editor
7 Steps to Become a Filmmaker Without Going to Film School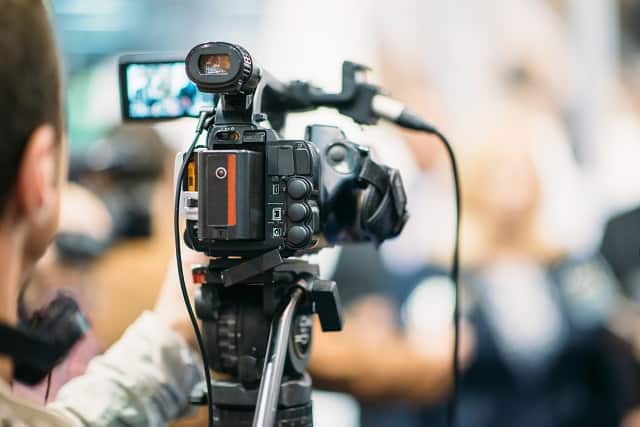 Take a look at the steps you need to take to learn how to become a filmmaker. It won't be a quick start to this new career, but the work you put in to get there will be beneficial.
1. Take Film Courses
You need to have some kind of knowledge about the film industry. While it is not required to have a license to film, it's still important that you bring some form of education to the table when applying for filmmaker jobs. If you choose to skip out on film school, consider taking other courses like the Filmmaking Course by James Cameron on Masterclass.
Mr. Cameron is an Academy Award-winning director known for his classic films Titanic, The Terminator, and Avatar. He has been in the industry for over 40 years. Originally born in Canada, Mr. Cameron moved to the United States in 1971 when he entered college as a physics major. He later dropped out of college to pursue filmmaking and is now one of the most sought-after directors.
Follow his course to learn the breakthrough approaches he uses in his processes to create stunning, memorable, and classic films. He shares how to develop storylines, ideas, and characters. Learning from him would be an incredible experience.
Related: How to Get Paid to Go to School
2. Watch Films and Take Notes
One of the best ways to learn how to become a filmmaker is to observe the films you love the most. Take notes on the camera angles, how often the cameras switch between characters, and even the background details.
There is much more to a film than the main story. Filmmakers need to consider the lives of those in the background, right down to the random children playing on the playground and the couple walking a dog across the camera view. Without including all of the little details, it can leave silent gaps in the film.
Watching films created by professionals like James Cameron can give even beginners a basic understanding of filmmaking without going to film school.
3. Take Entry Level Jobs
It might often be more about who you know than what you know when it comes to the film industry. You need a way in to get your chance to show others what you have. To do that, consider taking entry-level jobs in the industry to get a behind-the-scenes peek at how things work.
Related: Immediate Hire Work From Home Jobs
4. Make Connections
Take entry-level jobs in filmmaking as an opportunity to make connections during your time there and learn on your breaks. When you are ready to share your skills in filmmaking, you'll already know people who can potentially put in a good word for you. Entry-level jobs may not always seem alluring, but this can be a temporary sacrifice that can pay off in the future.
You can also make more connections at conventions, conferences, and other filmmaking events. Don't be shy! Get yourself out there, take in as much as you can, and build those relationships with others who might have a way to help you in your new career.
5. Start a YouTube Channel
Consider the ways you can start dabbling in filmmaking now. Start your own YouTube channel and post your videos there. YouTube has been known to find celebrities who started out using their own YouTube channel. Your movie-making skills on YouTube could be the break you need to get into some big projects.
Use various cameras and editing software to get comfortable with editing videos. These are baby steps, but the more experience you can gain, the more someone will be willing to work with you.
6. Make Your Own Films
No one is saying you only have to partner with Hollywood to be considered a filmmaker. Make your own movies and showcase them at festivals and other film events where you can get your work in front of an audience. You never know who will be watching.
Related: How to Become a Social Media Influencer
7. Ask for Referrals
Ask around if you know any friends, family, or other connections you might have in the film industry. Inquire if they know of any opportunities you can take advantage of to make this dream of yours a reality. Promote yourself and get your foot in the door in one of the more popular industries around.
Questions New Filmmakers Are Asking
Draw even more knowledge below from the questions new filmmakers are asking. You may be surprised by what you learn.
How long does it take to become a filmmaker?
There are a variety of answers to this question. If you are someone who wants to take the traditional route of going to film school, then you can participate in programs that award you a certification after completion. This route could take one to two years.
If you decide to learn on your own and gain the experience first, this could take time while you build your skills and make connections. There is no cut-and-dry answer. Everyone's path to becoming a filmmaker will vary and the time it takes to do so won't be the same for everyone.
Related: How to Become a Graphic Designer
How hard is it to get a job in the film industry?
As you can imagine, there are many who would do nearly anything to get into the film industry. Imagine crossing paths with celebrities and people you have idolized. Who wouldn't want a shot at that?
Not only would you potentially be able to meet these people, but also as a filmmaker, you have a chance to leave a lasting impression on the world through your creativity and movies.
How do I get a job in the film industry with no experience?
Getting into the industry in an entry-level job could be the best option. You may also consider starting out directing and making commercials to really hone in on your skills before the big leagues.
Is a film degree worth it?
Any kind of education is worth it. A film degree shows potential employers that you are dedicated and took the time to learn about the industry before applying. However, a fancy piece of paper will only get you so far. Your experience will speak louder than any degree will.
Are filmmakers in demand?
According to the Bureau of Labor Statistics, employment for filmmakers is projected to grow approximately 24% over the next decade. This is actually a much faster rate than other occupations.
How do beginner filmmakers make money?
The key to making money as a beginner is to not take "no" for an answer. Keep trying to distribute your film, get in front of people with free showings of your movie, and keep trying. You will experience more rejections than open doors. However, it only takes one "yes" to change your life.
Related: Best Side Hustles for Men
Who Should Become a Filmmaker?
The passion and the drive to want to become a filmmaker are overwhelming. There is so much potential to create the next big movie and it is exciting to think about how great it can be. You just need to catch your big break to make it all happen.
If you are someone who isn't afraid to go for what you want and understand that you will have to start from the bottom and work your way up, filmmaking can be for you. You have to have patience and learn from the best like James Cameron to know how to stand out.
Don't short-change yourself to hurry up and make it in the industry. Invest in yourself by taking courses, studying, and learning from others in your spare time. Commit to this new career and develop your dreams.
Related: How to Invest and Make Money Daily
---
We appreciate the time you've spent reading this post and your interest is not lost on us. Your thoughts, questions, or experiences related to the topic are most welcome. Each comment adds strength to our community. We ensure every comment receives our attention, and we take the time to provide thoughtful responses. Once again, thank you for being a part of this conversation. Click here to leave a comment.