How to Get Paid to Go Fishing (While Enjoying the Great Outdoors)
One of my favorite sites, KashKick, offers tons of ways to earn real cash online. If you're not already a member, give it a shot! Here are five things you can do to make easy money on the site:
Play games (up to $125 each)
Test apps (up to $125 each)
Buy lottery tickets (an easy $8)
Try popular brands (always changing)
Answer surveys (quick cash in minutes!)
If you could imagine a relaxing, stress-free way to make money, it's a safe bet to assume that you would jump at the opportunity to find a job that pays you for doing exactly that. The good news is that it isn't a dream; it can be a reality. One activity that alleviates stress and relaxes us is fishing.
Going fishing has been scientifically proven to have mental benefits. Being outside in nature exposes you to necessary nutrients such as Vitamin D and increases your mood, memory, and self-esteem. If this is intriguing to you in the least, then you will be interested to learn all the ways you can incorporate fishing into your day so that you can indulge in these benefits.
Luckily, you can get paid to fish. You can make money and create a healthy mental state at the same time. Find the best way to get paid to go fishing that suits your lifestyle from this uniquely curated list.
Our Popular Money-Making Offers
Sign up with each of the following companies to maximize your earning potential.
$10 sign-up bonus
Pays to take surveys, complete offers, shop online, and much more
100s of other paid tasks
Awards cash and gift cards
$5 sign-up bonus
Pays to play games, watch videos, answer polls, and much more
100s of other paid tasks
Awards cash and gift cards
11 Ways to Get Paid to Fish
There are actual ways to get paid to do something you love. Get paid to go fishing with the following jobs.
1. Join Fishing Competitions
If you are an experienced fisherman, then take a look at local fishing competitions that are happening near you. Fishing competitions can pay a healthy reward. Depending on the competition rules, you might have multiple chances to win such as a reward for the largest fish caught or the quantity of fish caught.
You will have to pay an entry fee, but it will be worth it if you end up winning. Enter as many competitions as you want throughout the year and get paid to fish.
Related: Places to Sign Up and Get Money Instantly
2. Become a Professional Fisherman
One of the more obvious ways to get paid to fish is by becoming a professional fisherman. Apply for lake or ocean jobs that need fishermen on their crew and go out to fish each day for work. You will get paid a wage by your employer.
You can also seek private routes and get paid as a contracted worker to fish for others. This could be going fishing for someone who no longer has the mobility to do so themselves. You could also get paid to remove fish from ponds, streams, and rivers to help with population control.
3. Give Fishing Lessons (In-Person or Online)
Fishing isn't an easy skill to learn. It takes practice to really know what you are doing. If you have this skill already mastered, then you could go fishing and get paid to teach others. Teach them more complex fishing methods like fly fishing or casting techniques.
Charge per lesson so that you are getting paid for the time you spend teaching others. If you keep your lessons on time, you could pack in a full day's worth of lessons with many clients who want to learn from you.
You can even record your training session one time and sell it over and over as an online course. Doing this can help you reach a much wider audience than just your aspiring fishermen neighbors. Check out Samcart's free trial and training that teaches you how to turn your digital fishing course into a $100k business model.
More Popular Money-Making Offers
Earn more money in your spare time with these reputable companies.
Free PayPal cash
Paid surveys and web searches
Earn easy cash back
Get paid directly to your PayPal
PayPal, Visa, Amazon, etc.
Pays you to do NOTHING (with SJ Pulse)
Simply install the software
Participate in paid surveys & studies
4. Become a Photographer
Start a business as a photographer and get paid for your stock photography of fishing sites. There are many establishments that would pay to have pictures of fish to fit the theme of their businesses. There are also many websites and businesses that would pay you for the use of your fish pictures.
Capture the beauty of the early morning light behind a fisherman, take pictures at fishing competitions, or accompany a family on a special fishing trip to capture the special moments. You have the opportunity to set your own prices for your photography skills.
5. Write Ebooks About Fishing
If you are proficient at writing, then you can use that skill to write an ebook about fishing. Talk about the best fishing spots you have ever visited to inspire readers to go there, give tips about successful fishing trips, and share your experience as a fisherman with readers.
You can choose to deliver books in an ebook format to help save on publishing costs. While it might take you some time to write the book, ebooks can generate a passive income for you for years to come.
Related: How to Sell Digital Products Online and Make Consistent Revenue
6. Become a Freelance Writer for Fishing Clients
Find fishing-related businesses and partner with them to be a writer for their publications. Get paid to fish by going out on your own fishing expedition as research for your next writing assignment with the company. Set your rates for your writing services to make the kind of money that you desire as a freelance writer.
More Ways to Get Paid While Fishing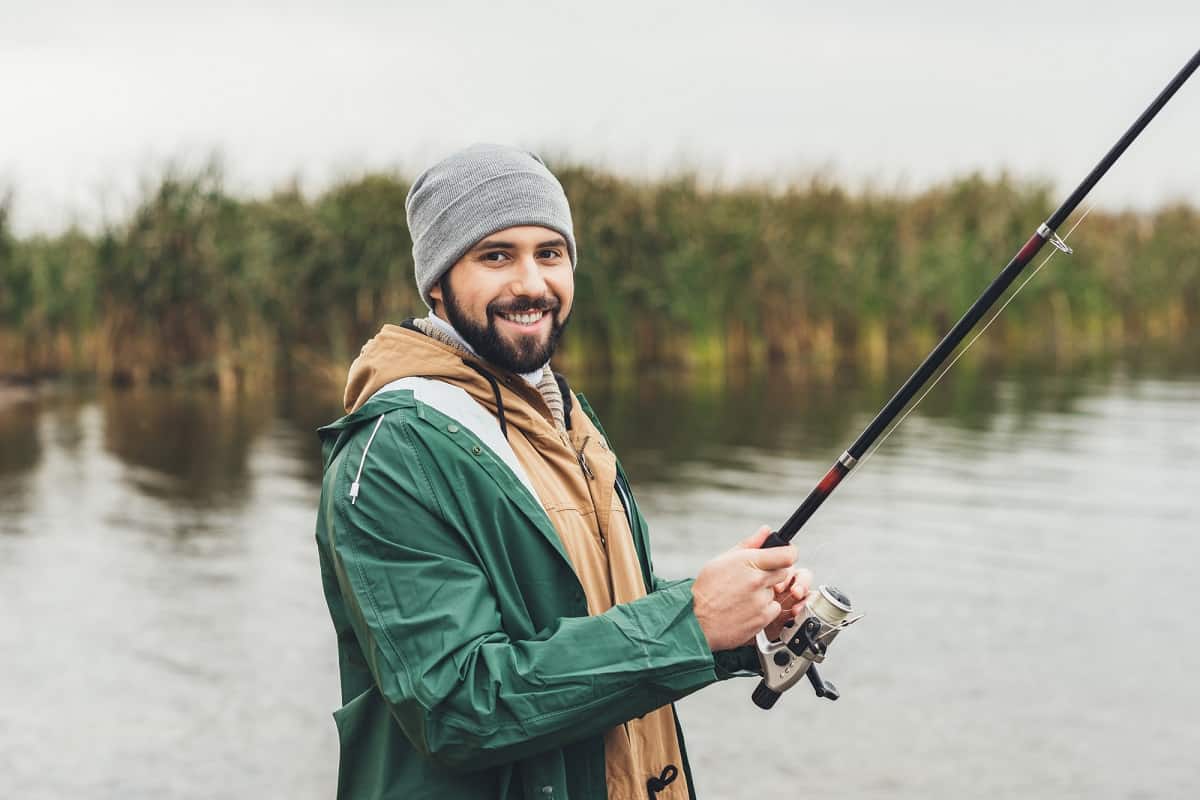 If I'm being honest here, fishing can be a lot of waiting around for the fish to bite. While you are waiting for that tug on your line, consider these ways to get paid at the same time.
7. Become a Proofreader
Nothing sounds more enjoyable than reading a nice book while going fishing. Becoming a proofreader who does the work during fishing trips could be the best of both worlds.
Proofreading is much simpler than it sounds. It's not editing, where you are expected to reconstruct a novel or other publication to make the story sound better. Instead, proofreading is all about reading a client's work, finding the grammar and spelling errors, and then passing the work back to the client. This sounds simple enough to do while sitting and waiting for some fish to bite.
If you have never done any kind of proofreading work, then take Caitlin Pyle's Proofread Anywhere free webinar to learn how you can begin making money as a proofreader. Understand how to set your business up for success and how to find clients who allow you to work from anywhere.
Related: How to Get Paid to Live in the Wilderness
8. Take Surveys on InboxDollars
Taking surveys for cash is a great way to pass the time. They don't pay a living wage alone, but you can couple them with other tasks like paid fishing trips.
Create a free account with InboxDollars to fill up your waiting time with surveys while you are fishing. InboxDollars is a well-known platform that has been paying members for over 20 years to complete surveys.
Surveys are a tool many companies use for market research, so your responses are valuable. That is why InboxDollars pays you to complete them. With InboxDollars, you will also get a $5 sign-up bonus. You can cash out your earnings through PayPal or request a gift card to Amazon, Target, Home Depot, etc.
Get Paid to Fish Online
Don't limit yourself in your quest for ways to get paid to fish. Think outside of the box to really maximize your earning potential and get an outdoor job doing something you love.
9. Play a Real Money Fishing Game
You might not have the time to go out on the lake every day to fish in person, but with the power of technology, you can actually get paid to fish on your phone. Skillz is a trusted platform that facilitates head-to-head real-money matches between players around the world. You can play for free or place wagers for the potential to win real money.
Fishing Tap Blitz is the only game I know of that pays you to go fishing. To play, you just cast your line, wait for your gauge to fill, and reel in your catch. Each fish you catch is assigned a level that awards a set number of points. The faster you make your catches, the more points you earn.
At the end of each round, the player with the most points wins the cash. Playing this game is a fun way to get in some fishing time even while stuck at home.
Enter the Skillz promo code APget5 and get FREE bonus cash with your first $5+ deposit.
Please Note! Cash tournaments are available in most of the world. Cash tournaments are not enabled in the following states: AR, CT, DE, IN, LA, ME and SD. If you don't live in a prize-enabled region, you can still play for free.
Related: Best Fish Table Game Apps
10. Start a Fishing YouTube Channel
YouTube is a hot place to go to when you want to learn something new or watch something entertaining. Starting your own channel about fishing could be both of those things. Whether you want to become a teacher of sorts and give fishing tips on your videos or you would rather set up a camera somewhere in hopes of catching a funny moment, a fishing YouTube channel could be your next meal ticket.
YouTube allows users to incorporate ads on their channels, meaning each person who sees your video will view ads that come up every so often. The YouTube channel owner gets paid for every ad view and ad click that takes place on their channel. Imagine having thousands of subscribers and viewers watching your video and getting paid for each of them.
Related: How to Get Paid to Hunt
11. Create a Blog With Fishing Tips and Tricks
Blogs are a great resource for readers to learn a new skill. You can start a blog about fishing and give readers tips about how they can take up this hobby. Give them tips and tricks about fishing, such as how to bait a hook, what season of the year is best for certain fish, where to go fishing, how to cook the fish, etc.
Think of all the ways you can add value to a potential fisherman's life and write about it. If you are known for providing value on your blog, your readers will come back to your site for more. On blog sites, you can get paid for displaying ads on your posts. This can quickly become a passive income for you.
12. Become a Brand Ambassador
Brand ambassadors get paid to promote products for other companies and brands. This can be clothing, jewelry, exercise equipment, etc. Find a brand related to fishing products and become its ambassador.
Get paid to fish with the company's equipment and share the good news on social media about the quality of the products. For each person who purchases the product using your unique code or link, you will earn a commission.
Related: How to Get Paid to Camp
Go Fishing for Your Mental and Financial Health
Fishing is more than just throwing in a baited hook and bobber and waiting around for hours for a bite. It is an activity that is beneficial to your mental health and financial success as well if you can make money from it.
There is an art to it and those who have mastered this art have been able to experience the benefits of nature coupled with a boost to their bank accounts.
Fishermen have been around for thousands of years feeding their families and selling their catches. What better way to continue a tradition than to immerse yourself in the fishing world. Choose one or multiple ways from this list that you can do to get paid to fish.
Related: How to Get Paid to Ride Horses
---