10 Refreshing Ocean Jobs That Pay Well for Water Lovers
Try Bingo Cash, the ultimate bingo app for turning your skills into extra cash while enjoying colorful and engaging head-to-head matches. Win up to $83 per game and experience the classic bingo thrill in the comfort of your own home. Test your daubing skills and become a big winner today!
Bingo Cash™ is FREE to download and play! However, cash tournaments are not available in the following states: AZ, IA, LA, SC & WA.
Millions of people hate sitting in an office building every day. Staring at the same walls day in and day out can lead you to wish you had a job that was outdoors and far away from your cubicle.
Daydreaming about a new job is one thing; but what if you could actually make that a reality? If you are someone who enjoys the outdoors, specifically the ocean and beach, then it is time for you to make a switch to a career on the ocean.
Being around the beach and ocean just brings a whole different level of clarity to life. You are at nature's whim and connected to the earth in such a non-distracted way. Making this a way of life could be exactly what you need to feel fulfilled in life.
Take a look at some ideas for jobs on the sea. You will be pleasantly surprised at how easy it can be to land some of these jobs. Some of these ideas are for jobs on the ocean without a degree so no further schooling will be required of you.
One of my favorite sites, Swagbucks, offers tons of ways to earn real cash online. If you're not already a member, give it a shot! Here are five things you can do to make easy money on the site:
Play games (up to $322 each)
Test apps (up to $150 each)
Submit receipts (easy cash)
Shop at your favorite stores (up to 10% back)
Answer surveys and polls (quick cash in minutes!)
Our Popular Free Guides
How to Start a Permanent Jewelry Business - If you are patient, have social skills, and love interacting with others, then a permanent jewelry business may be for you.
How to Become a Sleep Consultant - Help parents and babies, and be the difference for families worldwide who are desperate for more Zzzs in their life as a sleep consultant.
How to Become a Proofreader - There are five basic steps to working from home as a proofreader. As long as you're willing to put in the work, you can become a proofreader!
10 Unique Careers in the Ocean
Find your next career opportunity by hunting through this list of potential ocean jobs that pay well. Stop living behind office walls and go explore what more there is to see on this planet.
1. Marine Biologist
One of the top options for careers on the ocean is marine biology. For starters, this one will require a degree. But the rewards from that degree and to be able to say you have one of the top outdoor jobs working with ocean animals is worth it. It is an exciting career and rewarding in many ways.
As a marine biologist, you will work with the smallest animals in the ocean, saltwater organisms. Specifically, it will be your job to study how these organisms interact with their ecosystem. This is fascinating because an estimated 50-80% of all life on earth is found underwater. You can expect to make over $60k per year as a marine biologist depending on where you land your ocean job.
Related: Best Online Jobs for Introverts (to Escape Social Anxiety)
2. Lifeguard
One of the best careers for beach lovers is being a lifeguard. This is one of the best summer jobs that does not require a degree. However, you will need to undergo extensive training and certification to ensure you are well equipped to help people who might need it.
On a quiet day, lifeguards get to take their posts in the sun and enjoy the ocean breeze while also working on their tan. If there is an emergency to tend to, you will need to be alert and ready to assist. Lifeguards are crucial to relaxing beach days for families and individuals.
3. Scuba Diving Instructor
There are many beachgoers who want to learn how to scuba dive. They want to experience the ocean and the life beneath the surface. You could be the person who helps them meet this bucket list item to go scuba diving.
Scuba diving instructors need specific certifications to ensure they are providing accurate information to students. It is your job to make sure they are being safe, know how to utilize their equipment properly, and learn how to navigate the area they are in. Lessons typically include multiple classes before someone can pass a scuba diving course, which gives you job security.
Related: How to Start a Worm Farm
4. Aquatic Veterinarian
An aquatic veterinarian is one of the higher-paying jobs working with ocean animals. Think of a veterinarian, but for marine animals. You would help animals who get washed up on shore, sick animals in an aquarium, or tend to privately owned aquatic pets.
Go to school for the knowledge and experience you need to make this a successful career change for you. There is a reason why an aquatic veterinarian is among the most exciting careers in the ocean. You can expect to make a healthy income as an aquatic veterinarian.
KashKick is a great find for gig workers, offering many ways to make extra money doing what you enjoy. Try it out - it's free! Here are five easy ways to start earning money on the site:
Play games (up to $125 each)
Test apps (up to $125 each)
Buy lottery tickets (an easy $8)
Try popular brands (always changing)
Answer surveys (quick cash in minutes!)
5. Underwater Photographer
Photographers don't have to be limited to just getting paid to take pictures on land. There are so many beautiful things to see underwater. You can even specialize in underwater maternity shoots. Whatever you can imagine, you can make it happen underwater.
Use your techniques to capture the pure light of the sun that hits the ocean. You can capture animals underwater and witness the beauty of the shining scales of fish. There is so much you can capture as an underwater photographer.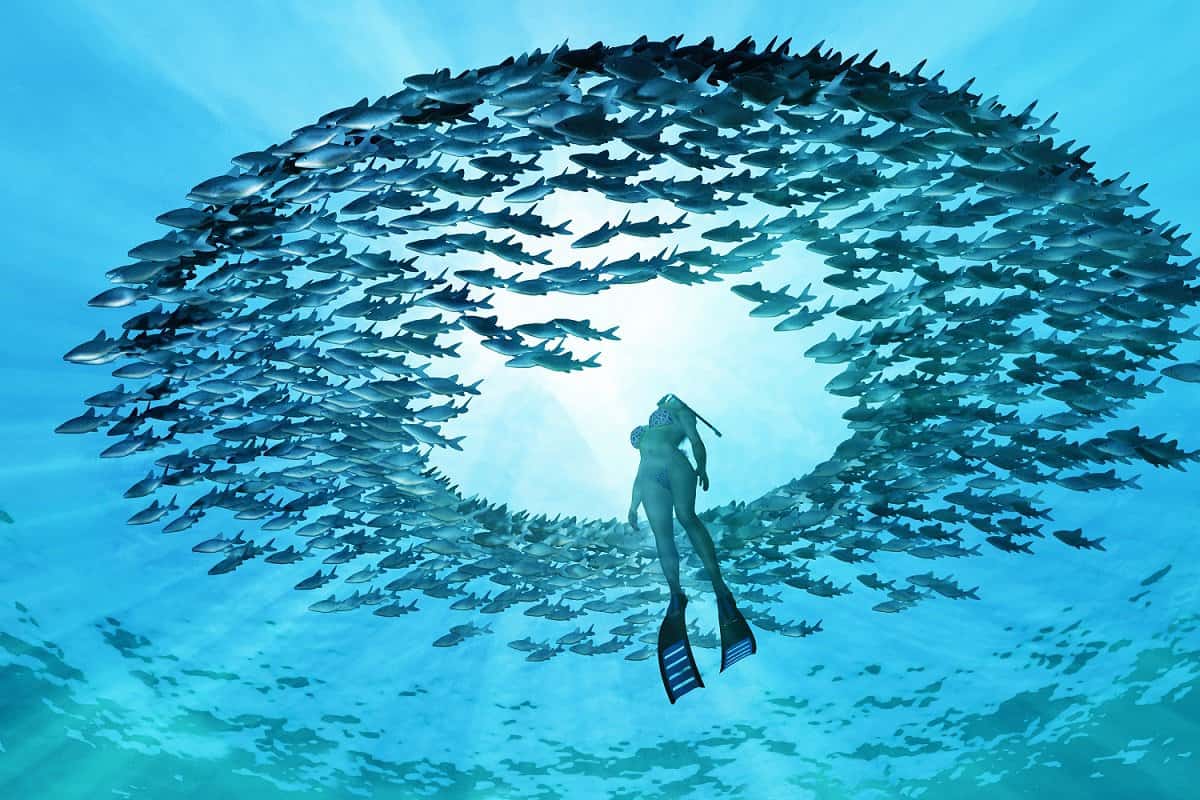 6. Beach and Ocean Blogger
As a blogger, you can write about anything you want. That being said, you can choose to become a beach and ocean blogger who specializes in topics about marine life. Travel to various beaches to report on your experience with them. Keep updated on any news that comes up about the ocean and write about it. Your viewers will appreciate the information.
Bloggers can make money from their blogs by including ads on their posts. You can get paid for every view and/or click that takes place on that ad. Your blog can also include affiliate links, which allow your viewers to make purchases using your special link or code. You will make a commission for any of those sales.
7. Cruise Ship Attendant
One of the more common careers in the ocean is a cruise ship attendant. You get to live on the sea and work on a cruise ship helping travelers have a great vacation. There are many perks to being a cruise ship attendant, but each cruise line will offer its own packages.
As a cruise attendant, you get to make a salary plus any tips from the people you tend to. Make their cruise an experience they won't forget. During your downtime, you can explore the port locations and learn about new countries.
Related: How to Get Paid to Go on Vacation
8. Navy Officer
Navy officers are known for spending long periods of time on a Navy ship in the middle of the ocean. If you are truly interested in finding careers on the ocean to explore, joining the Navy could be a great option for you. Make a military salary and take advantage of all of the military benefits in exchange for your service to our country.
Navy officers can take on a variety of roles. Choose one that best suits your interests and skills. You can re-enlist each time your contract is up and make a true career out of this opportunity.
9. Ocean YouTuber
You have likely seen many YouTubers make money from their YouTube channels. This is because they receive many views on their videos, which makes them eligible to get paid by YouTube. You can start your own YouTube channel about your experiences on the ocean.
Take your viewers on explorations with you. This could be on deep dives, surfing, or taking a boat out on the water. Whatever way you choose to explore and enjoy the ocean, you could get paid for it. Opt in for ads on your channel so that you can make money for each viewer who watches your videos. You can also include affiliate links to make even more money with your ocean YouTube channel.
Related: How to Get Paid to Walk Dogs
10. Fisherman
A perfect choice when it comes to jobs on the sea is becoming a fisherman. Your job would include fishing in large quantities to bring back seafood for people to enjoy. As a fisherman, you could have a partnership with restaurants and markets to be their supplier so that you can make top dollar for your fishing skills.
This job won't be just going out, casting a line, and getting lucky with some fish. It could be a challenging and sometimes dangerous job; but getting paid to fish could be a very lucrative option.
Inspire Your New Career With Careers in the Ocean
Don't keep settling for a career that isn't fulfilling to you. There is so much more of this world that is waiting for you to explore it. Changing careers can be scary, but it could be exactly what you need right now. If you are someone who isn't currently employed but needs some inspiration about what careers to pursue, consider an ocean job.
Careers on the ocean aren't talked about enough, which is surprising given that the ocean covers more than 70% of this planet. Make a difference for generations to come by helping to keep ocean jobs alive and exciting. Start your career sooner than later so that you can enjoy what this earth (the liquid part) has to offer.
---