14 Selfless Ways to Get Paid to Help Others Online or In Person
There is no better feeling in the world than when you are able to help someone else. The feelings of happiness and satisfaction wash over you after you've helped someone in need achieve their goal.
If helping others is something you'd like to do professionally, there are several ways to get paid to help others. It all starts with you and how you want to get involved with solving other people's problems.
Fortunately, you can help in the online space and offline. This gives you the flexibility to do good deeds for multiple people while living the lifestyle that you choose. Being that person who helps other people gives you a sense of purpose in this life.
One good deed can create a ripple effect that could end up being big enough to make a change in the world. Let it all start with you by offering different ways to help others. Getting paid for it just sweetens the deal.
One of my favorite sites, Swagbucks, offers tons of ways to earn real cash online. If you're not already a member, give it a shot! Here are five things you can do to make easy money on the site:
Play games (up to $322 each)
Test apps (up to $150 each)
Submit receipts (easy cash)
Shop at your favorite stores (up to 10% back)
Answer surveys and polls (quick cash in minutes!)
Our Popular Free Guides
How to Start a Permanent Jewelry Business - If you are patient, have social skills, and love interacting with others, then a permanent jewelry business may be for you.
How to Become a Sleep Consultant - Help parents and babies, and be the difference for families worldwide who are desperate for more Zzzs in their life as a sleep consultant.
How to Become a Proofreader - There are five basic steps to working from home as a proofreader. As long as you're willing to put in the work, you can become a proofreader!
How to Get Paid to Help People Online
The online space is where many people flock in order to find help for a variety of needs. Check out how you can be a helping hand to others online.
1. Give Advice Online
Think of how you can pave the way for companies and brands where your advice online could make a difference in the future for consumers. If you desire to get paid to help others online, sign up for sites like InboxDollars, Swagbucks, and Branded Surveys.
Taking surveys for cash helps companies understand what people are thinking, learn how they make decisions with their finances, and understand the type of products that are needed. Join these companies, give your advice through surveys, and make money for the time you spend completing them.
With these sites, you will need to create a free account to start taking the surveys. Get paid to think about your own experiences, formulate opinions on various topics, and share your conclusions. Your account is then credited with money or points that you can use toward redemptions of monetary prizes.
Prizes include free gift cards to big stores like Target, Amazon, Home Depot, and more. If you would rather have the actual cash, PayPal transfers are also possible.
2. Offer Virtual Assistant Services
Virtual assistants help companies big and small complete tasks that they need assistance with. From replying to emails to scheduling meetings or organizing files, virtual assistants offer a variety of skills that can appeal to nearly every company out there.
Help established businesses or start-up companies gain the momentum they need to increase their revenue. Some small tasks that might seem easy to you could be something companies are struggling to keep up with.
If you aren't sure where to start yet in your virtual assistant business, then download this free workbook to really dive into what being a virtual assistant can look like for you. Learn how to land clients, what the core services are that you can offer, and the ins and outs of having your own VA business.
3. Proofread for Online Businesses
Work from home helping others by offering proofreading services to online businesses. You have seen the endless amount of blogs, websites, newsletters, and emails out there that are written to entice readers. Those written words wouldn't be able to do their job if not for proofreaders making sure there are no mistakes within the content.
Become a proofreader to help businesses with content creation. This isn't the same thing as editing. Proofreading is simply ensuring there are no grammar or spelling mistakes.
Learn from Caitlin Pyle with her free proofreading webinar. This webinar prepares aspiring proofreaders to learn how to attract clients, understand if proofreading is right for them, and how proofreading can be done from anywhere.
4. Create a Self-help YouTube Channel
YouTube is a highly accessible website that allows users to create their own channel to produce the kind of content they want. This means you can create your own self-help YouTube channel to get paid to help others online. Make videos about topics like how to cook steak, change a tire, invest money the right way, and so on.
Each person has their own strengths and weaknesses. People will look to YouTube to find help for things that are in their weakness zone. Your channel could be exactly what they need.
The great thing about YouTube is that you can monetize your channel by allowing ads on your videos. For each viewer who checks out your video, you can make money from their ad views or ad clicks. It's a simple way to make a passive income.
5. Become a Life Coach
Life coaches are all the buzz these days. There is a life coach for nearly every aspect of your life that you might need help with. These are not therapists or counselors; they are people with specific knowledge, skills, and experience to help you find your way in whatever challenges you might be facing.
Some examples of coaching include business, marketing, nutrition, weight loss, postpartum, financials, spiritual, and more. Find something that you would be comfortable teaching to others and work from home helping them.
Life coaches typically serve their clients through video chats, electronic messaging, and voice messaging. You get to choose your rates and what kind of service you offer. Becoming a life coach is a purposeful way to get paid to help people online in their own life struggles.
Related: How to Start a Consulting Business
How to Get Paid to Help Others In Person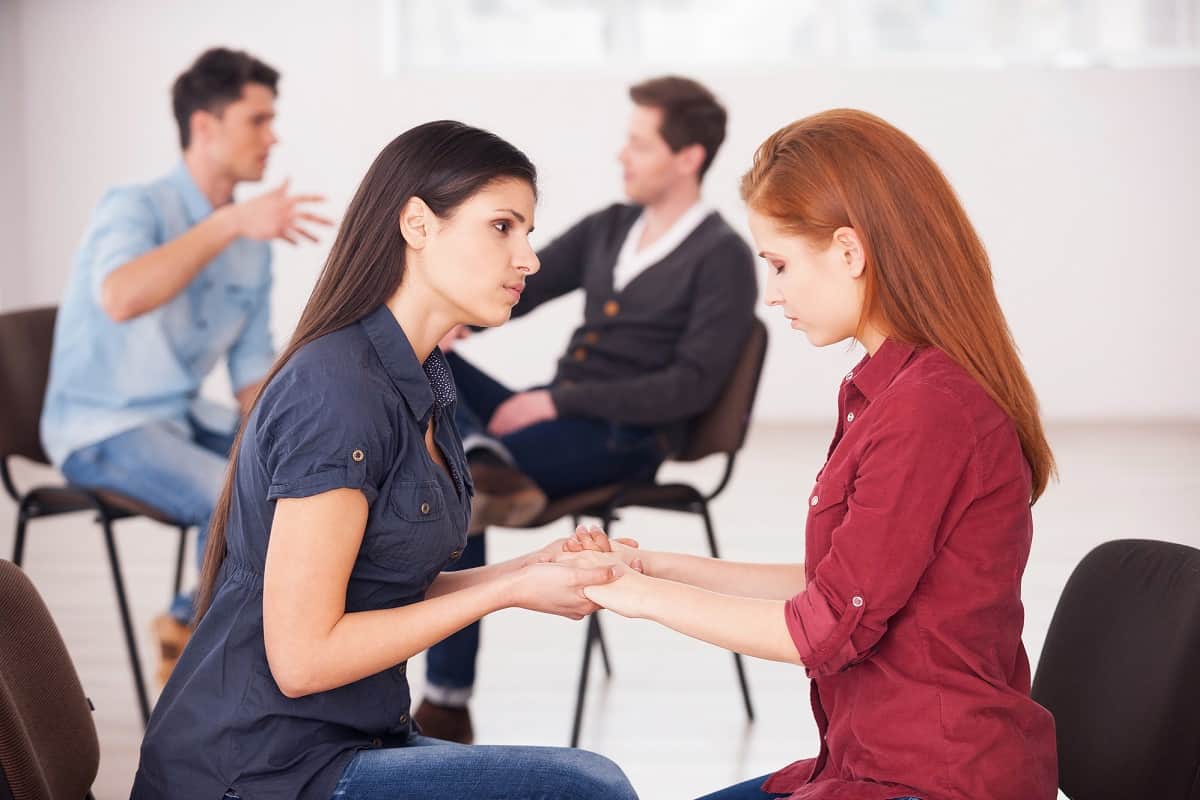 Online isn't the only way you can use your skills and experience to get paid to help others. Go into the real world to offer hands-on services to those in your area.
6. Microblade Eyebrows
There aren't many ways that you can get paid to help others while also feeling good about yourself. If you become a microblader, you can do exactly that. Help others boost their confidence by giving them flawless-looking eyebrows. You would be amazed at what a cosmetic touch-up can do for a person's life.
As a microblader, you would have a special skill to turn someone's unsightly eyebrows into a work of art. You would also be helping them to save time since they won't have to worry about filling in their eyebrows or shaping them each day.
Microbladers have been known to make upwards of six figures per year. While attending school to become an esthetician is a great step, it's not a requirement in order to offer microblading services (in most states). You can actually learn the skill by taking an online microblading course.
The procedure is similar to that of a tattoo artist. Feel good about the service you are providing to help others live a life of boldness by becoming a skilled microblader. Find out more about the opportunity by taking Amber Arrington's free Sassy Wink Academy microblading webinar.
Related: Sassy Wink Academy Microblading Review
7. Assemble Furniture
You know how difficult it can be to assemble furniture, especially if you don't have the patience or skill to do it. Assembling furniture from Ikea tends to turn into a day-long job. If you are someone who enjoys a good project, then you can get paid to help others with their furniture assembly needs.
Advertise your services in your neighborhood, on local Facebook groups, or join a company like TaskRabbit. TaskRabbit specifically connects customers to people like you who can assemble furniture pieces for a fee. Charge per hour or per project depending on how much money you wish to make.
8. Be a Test Subject
Test subjects help others by testing out products and services before they become available on the market for others to buy. It's a way that companies ensure their products or services will sell well once available.
Pave the way for these companies to design successful products and services by giving them feedback on your testing experience. Products for house cleaning, beauty, clothing, toys, and more are always needing testers.
Sign up with companies online or connect with local businesses to offer your testing services. Come up with your desired rate that you want to be paid for being a test subject.
9. Deliver Groceries With Instacart
Instacart has really changed the way it helps others by offering customers a way to order their groceries to be delivered to their homes. This is a safe, convenient way many choose to do their grocery shopping to save them time from having to go into the store themselves.
As an Instacart shopper, you can fulfill those orders for people in your community. Simply sign up for an account and start accepting orders once your profile has been approved.
Shop for the items on the order then deliver them to the customer. You can make a base rate with Instacart plus any tips the customers choose to give you. Help others with their grocery shopping needs and get paid.
Related: Instacart Shopper Review
10. Start a Cleaning Service
There is never enough time in the day to do all the things plus clean the house. This is where you can come in and save the day. Get paid to help others by offering cleaning services. You can choose to accept payment per hour or per square footage of the location you are cleaning.
A cleaning service business doesn't have to be just house cleaning– you can clean office spaces, medical facilities, and other businesses as well.
11. Offer Laundry Services
Whether it be for a stay-at-home parent looking for an extra set of hands or for an elderly person needing additional support, many people have extenuating circumstances that you could alleviate. In this way, you can get paid to help other people by offering your laundry services.
Visit a busy parent's home once a week to help with laundry needs for the children. This will save parents so much time and energy while they are busy shuffling children off to school, going to activities, and making sure they are putting food on the table. For families with children, keeping up with the laundry is almost like having another full-time job.
You can also connect with local senior living communities to provide a laundry service to elderly residents who just don't have the energy to do their own laundry anymore. Launder, press, and fold their clothes the way they prefer. In this way, you can also help them relive the memories of the days in which they used to do kind deeds for the people they loved.
Related: How to Get Paid to Be a Penpal
12. Start a Home Daycare
Childcare is a top priority for many families to find. Between working hours and running errands, parents need reliable, quality care for their children when they are unable to be present. Consider beginning your own legal home daycare to get paid to help others.
Taking care of children is a job that has many rewards and benefits. You get to charge the rate you want for keeping other people's children safe in their absence. Think of ways you can enhance the quality of care so that more parents will want to use your service for their children.
Related: How to Become a Babysitter
13. Become a Surrogate
One of the most selfless ways you can get paid to help others is by becoming a surrogate for parents in need. During a time when many couples long to have a baby of their own, but cannot, you could be the hope that they long for.
As a compensated surrogate, you could make tens of thousands of dollars to carry out a pregnancy to full term and then birth the baby. Surrogates can potentially make a full-time income with one pregnancy. While pregnancy is not easy by any means, it is a temporary sacrifice for a life-changing reward for you and for the intended parents.
14. Become a Doula
The absolute most vulnerable time in a woman's life is when she is giving birth. She is nervous, exposed, and at the mercy of her baby's progress through her body and out the birth canal. She needs help, reassurance, and expertise. Get paid to help mothers like her and become a doula.
Assist birthing women during this life-changing event. Massage their backs, help put pressure on their hips, encourage them to eat for strength between contractions, and just be there to support them.
A doula's job is much more than just watching a baby come into the world. It is also a second set of hands guiding the woman through the transition of becoming a mother as she delivers her newborn baby. Your services will be priceless to women desiring that extra level of care and help.
Related: Best Short Certificate Programs
Get Paid to Help Others Online and Offline to Make the World Better
It is only by the acts of everyone together that this world can become a better place. When people band together to help one another, it is only then that humans can actually thrive. Be part of the solution and help others if you can.
It's not just about getting paid in return for helping– there's something about making a difference for someone else that can be even more rewarding. Taking surveys to enhance the products of the future, providing life coaching services, or even doing the grocery shopping for someone else are some of the ways to enrich the lives of people around you. Each job online and offline makes a promise to serve others, which has an impact on how the world continues to evolve.
Related: How to Make $50,000 Fast
---